*Invited Session*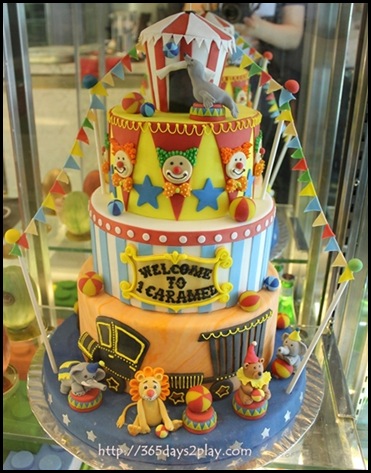 The cake says it all. Welcome to 1 Caramel! Don't you just love all the cutesy little clown faces and the adorable lion? If only someone would buy me this birthday cake instead of a boring old chocolate cake! I feel happy just looking at this.
With a name like 1 Caramel, it's not difficult to guess what they specialise in. Sweet treats galore, they have stuff like Baked Alaska, Mille Feuille, Earl Grey creme brulee and even 5 types of soufflé! This picture here is of the Raspberry lychee rose pannacotta with lychee-lemon compote. You have to try this exquisite little thing. Somehow it's the perfect combination and I really love the rose and fruity taste.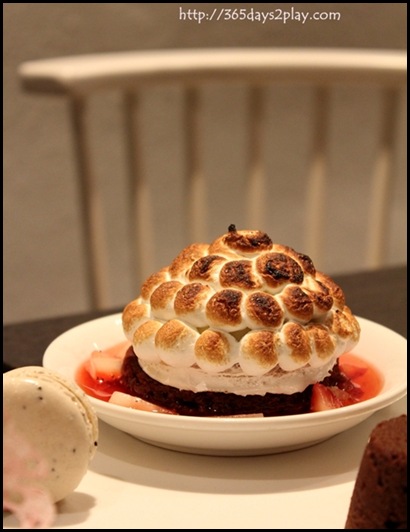 Baked Alaska – The only other time I've seen this in a Singapore menu was at The Ship.  Pretty good. The meringue was sitting on top of a decadent piece of brownie. It was an acquired taste for me, having meringue together with brownie. The macaron on the side was really nice! I wouldn't mind having seconds!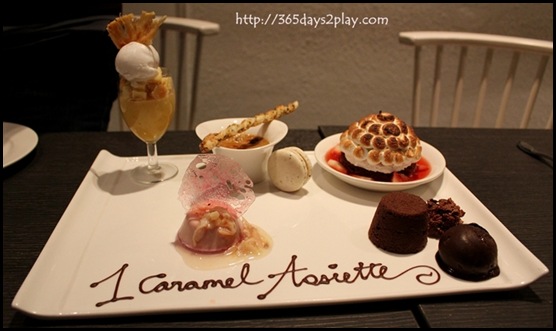 Each of the desserts can be ordered individually at $14. Or you could mix and match 3 – 5 desserts for between $16 – $24. Assiette means plate in French. I'd definitely recommend the panna cotta, Earl Grey creme brulee and the Death by Chocolate at the very least. I tell you, you have to believe them when they name their chocolate cake so. It takes a while to even swallow one mouthful because it is so rich.
~~~
More dessert pictures further down in the post. 1 Caramel doesn't just serve desserts, they also specialise in brunch menu items. Don't ask me how they got into this combination, but it just seems to work.
~~~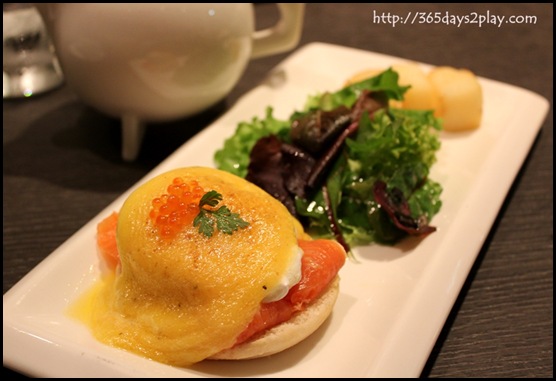 Traditional Eggs Benedict with smoked Salmon $14 – This is really good. This is like the perfect combination. Poached eggs with salty smoked salmon on a toasted English muffin. I don't think I can ever eat plain eggs Benedict again.You should check out Mr Keropokman's photo of the ooooozy yolk. Mine glopped all over the place so I shan't torture you with the photo.