For a good part of the wedding, I'd been cracking my brains to come up with something creative yet still wedding worthy if you know what I mean. Didn't really want a live band or singers because seriously, you spend a bomb and people hardly even notice that they're there. Those who do happen to sit near the stage and I know of people who have complained of the noise!
I wanted something a little whimsical, to sort of make me feel better that I didn't get to have a garden wedding. A garden wedding is something that is so pretty, and I think most brides would consider it, but to be realistic, most guests hate garden weddings thanks to the Singapore weather! And trust me, as a bride, you don't want to be worrying about whether it's going to rain either. I made the decision not to have a garden wedding, but I still wanted to have my cake and eat it.
And that's when I thought of having a candy bar! It doesn't seem such a common thing for now, and I hope I'm one of the first few to set the trend going! One of the best parts about preparing for my wedding were the parts where I was researching on candy bars. So many whimsical and eye popping candy bars pictures out there!! With all manner of variations from the types of candy to whether you want biscuits, macarons, cupcakes, canapes and what have you!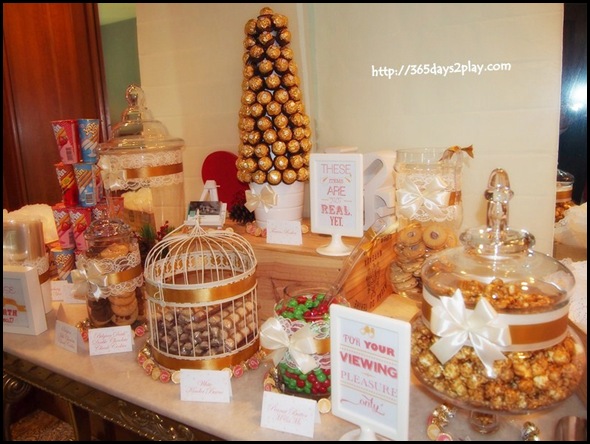 I was so lucky to be able to get a sponsor JOandJARS to come set up a Candy Bar for my wedding! Check out the little goodies they provided!