One of the most memorable meals in Taiwan was when we went to try out this Steamboat/Hotpot restaurant near the Shilin MRT station. Seriously, I'm not really a big fan of steamboat. The steamboat restaurants I have tried in Singapore are all similar styled. You order slices of meat, you cook the meat in your chosen soup, you eat. Really, there's nothing  differentiating the various steamboat/hot pot restaurants, except perhaps for the soups themselves, and even then, that's just one aspect. If I had to choose a favourite in Singapore, it would have to be JPot, because at least some of their meats are marinated or prepared in a slightly more appetising way.
So, when the dishes started arriving at Quan, I was seriously completely bowled over. Really amazed at their creations. This is one blog review where the pictures will do more to describe the situation than what I could ever pen down in words.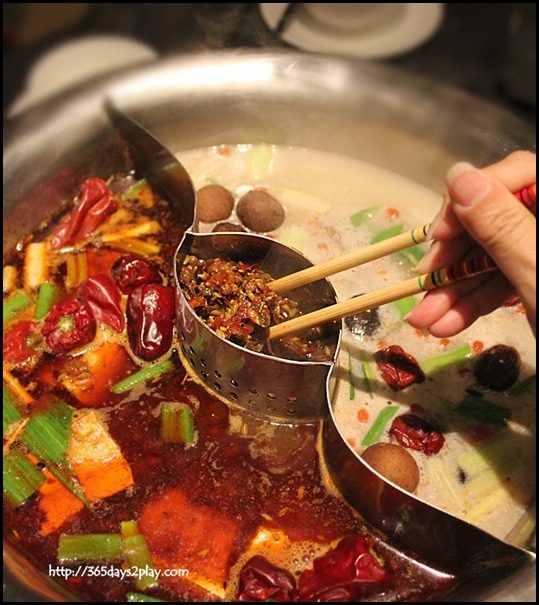 Sichuan Style Spicy Soup and Tonkotsu Soup
First up, the hotpot POT itself. A humongous metal tureen sized pot divided into 2 portions for the 2 soups, plus a middle portion to hold the chilli spices. The pot itself is specially designed such that you won't burn yourself if you touch the sides. A live fire instead of a hot plate is used too. Sometimes slow is better than instant gratification.
We weren't given a choice, but a word of warning for anyone who dares to take the Sichuan Style Spicy Soup. You might not be able to feel your tongue after eating that soup. Living in Singapore, it's inevitable that you might encounter spicy food that is too spicy for you to tolerate. Your tongue burns for a while. The usual scenario.
A very interesting thing happened to me whenever I bit into any of the items fished from the Sichuan soup section. My tongue just started to buzz and tingle! I've never ever experienced such a thing before. It didn't feel painful but it was really weird! In any case, authentic Ma La is not meant to be simply spicy. Pure spiciness is easy to achieve, just dump in a truckload of chillies! You will be able to detect nuances in the flavours in a good Ma La.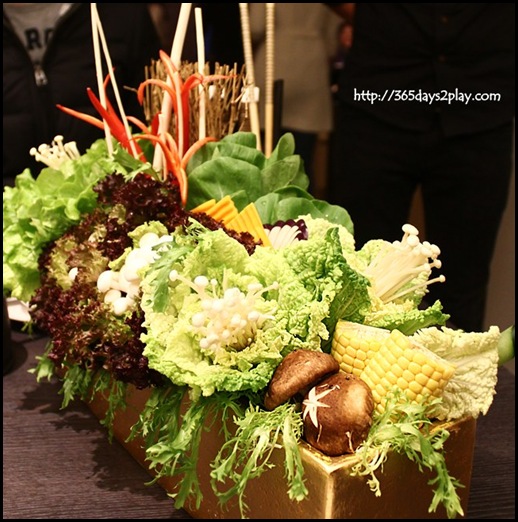 This appeared soon after our soup appeared.You wouldn't be faulted for thinking that this is part of the restaurant's flower decorations. How innovative is this? Vegetables dressed to look like a garden shop display.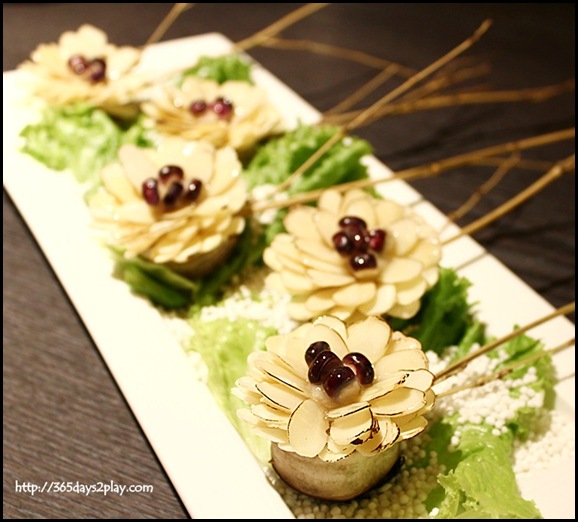 Deep-Fried Minced Shrimp and Eggplant NT320 SGD$15
This is actually seafood wrapped in eggplant for the bottom bit, and almond flakes for the "flower bit". Simply exquisite and delicious.