The Garden Slug is a laid back cafe in Telok Kurau that has quite a character. I think it's quite evident right, from the name of the cafe! But most importantly, because it is situated next to the popular Telok Kurau animal clinic, there are quite a number of cats roaming around. They take no notice of you and have no desire to move from their seat even if they are not welcome at the table. When I visited again earlier this year with my parents and the Partner, a kitty had taken up permanent residence on one of the seats, as a result, the Partner had to sit at the side of the table! But we are cat lovers so we felt lucky to be graced by the cat's presence. I guess you could call this the very 1st cat cafe in Singapore, sort of!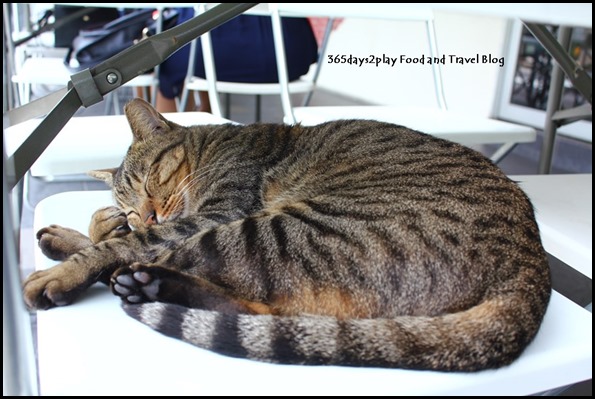 This was our 2nd visit to The Garden Slug, the 1st visit being back in 2011, so we were familiar with the healthy yet hearty dishes served here. Alas, they didn't have the lovely seafood broth I so wanted!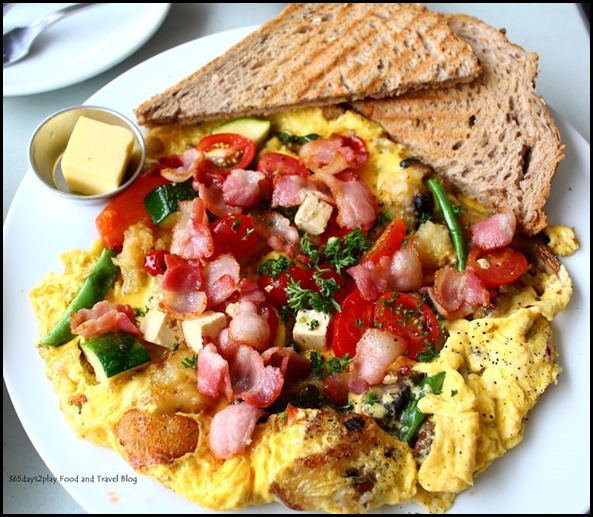 Ohmelette with bacon, cheese veggies $12
I can't resist eggs for brunch so I got this omelette dish. It's really appealing the way they put the ingredients on top of the eggs instead of wrapped up and hidden inside. The Partner was particularly attracted to all the lovely pieces of bacon calling out to him.