The Garden Slug is a laid back cafe in Telok Kurau that has quite a character. I think it's quite evident right, from the name of the cafe! But most importantly, because it is situated next to the popular Telok Kurau animal clinic, there are quite a number of cats roaming around. They take no notice of you and have no desire to move from their seat even if they are not welcome at the table. When I visited again earlier this year with my parents and the Partner, a kitty had taken up permanent residence on one of the seats, as a result, the Partner had to sit at the side of the table! But we are cat lovers so we felt lucky to be graced by the cat's presence. I guess you could call this the very 1st cat cafe in Singapore, sort of!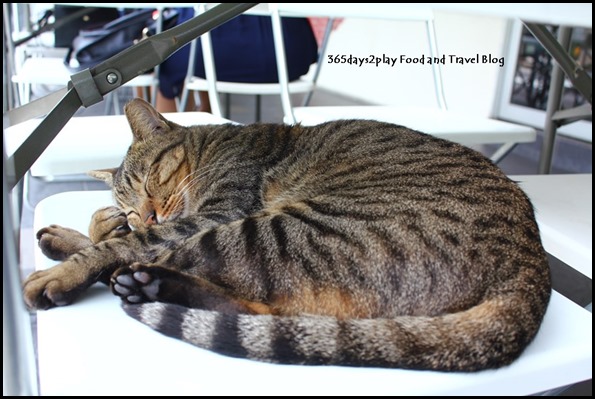 This was our 2nd visit to The Garden Slug, the 1st visit being back in 2011, so we were familiar with the healthy yet hearty dishes served here. Alas, they didn't have the lovely seafood broth I so wanted!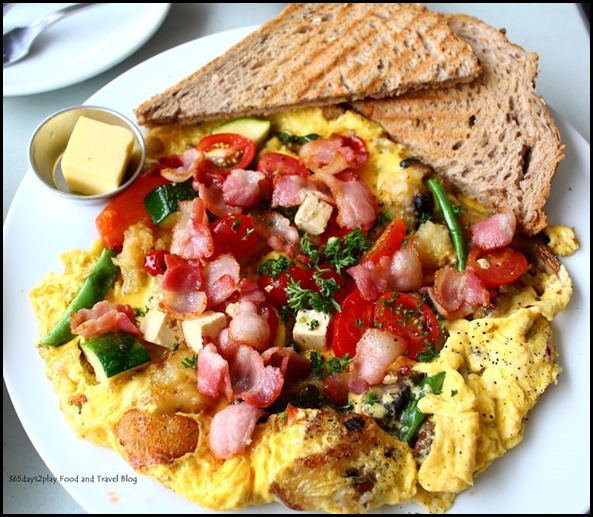 Ohmelette with bacon, cheese veggies $12
I can't resist eggs for brunch so I got this omelette dish. It's really appealing the way they put the ingredients on top of the eggs instead of wrapped up and hidden inside. The Partner was particularly attracted to all the lovely pieces of bacon calling out to him.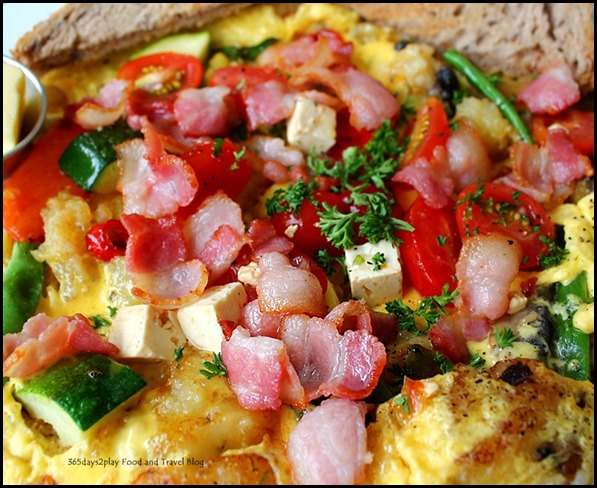 Closer look at the delicious omelette.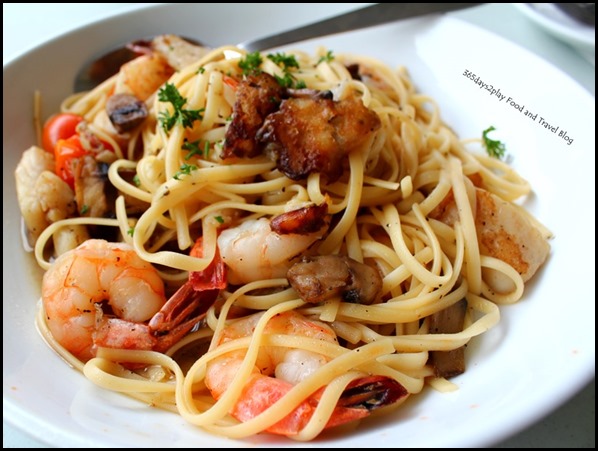 Seafood Pasta in white wine sauce with shrimp, fish, mushrooms and cherry tomatoes $17
This was also another excellent dish with a generous amount of ingredients. I liked the white wine sauce base, which was almost broth like. A good recommendation for people who don't like heavy cream based pastas.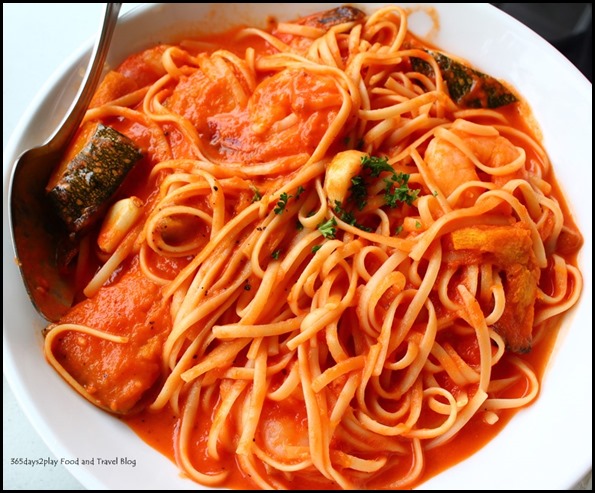 Juicy Shrimp and Roast Pumpkin Pasta with whole oven-roasted garlic cloves $14.90
My father who is a pescetarian ordered this dish. I think it is probably one of the healthiest dishes on the menu. Pureed tomatoes are excellent, especially for men! The prawns were much better this time round.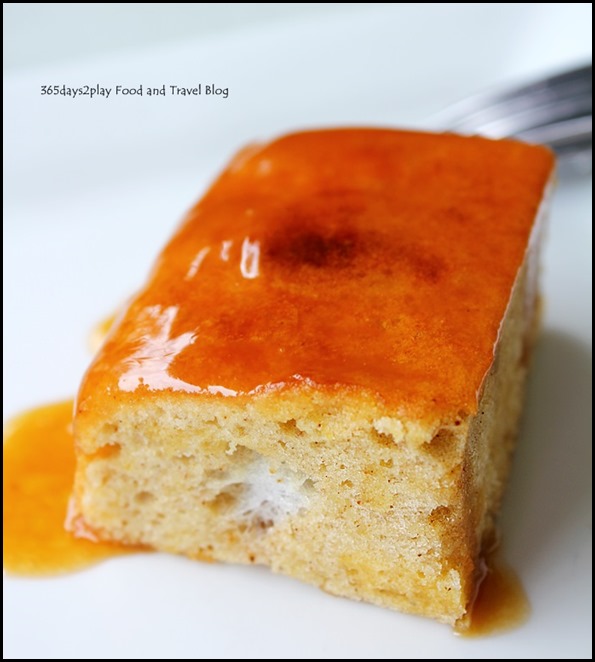 Warm Sticky Toffee Spiced Cake $3
We were still feeling slightly peckish after the meal so we decided to share a tiny cake. Cakes nowadays are getting so exorbitantly priced, with slices often going for above $10. Some times you just want a small sweet ending to your meal, and not another ton of bricks. The cake was pretty plain tasting actually, with the flavour coming mainly from the sticky toffee.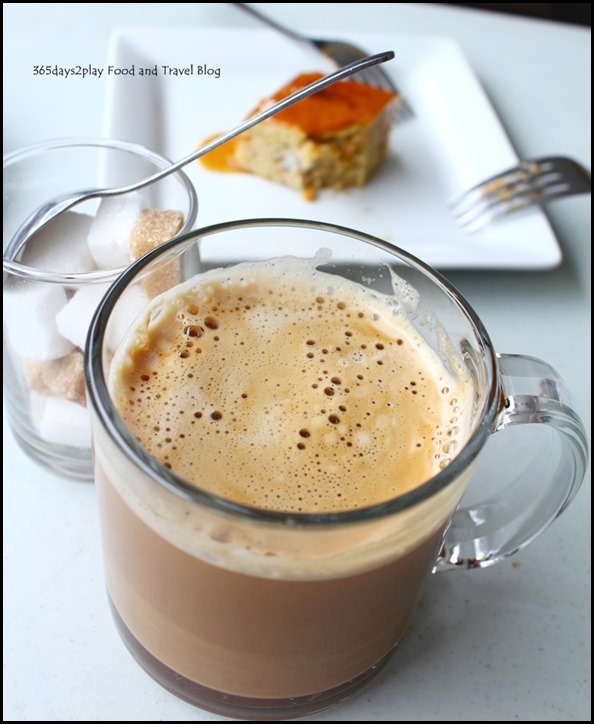 Last and least was the coffee. Not the best thing in town I'm afraid. Give it a miss.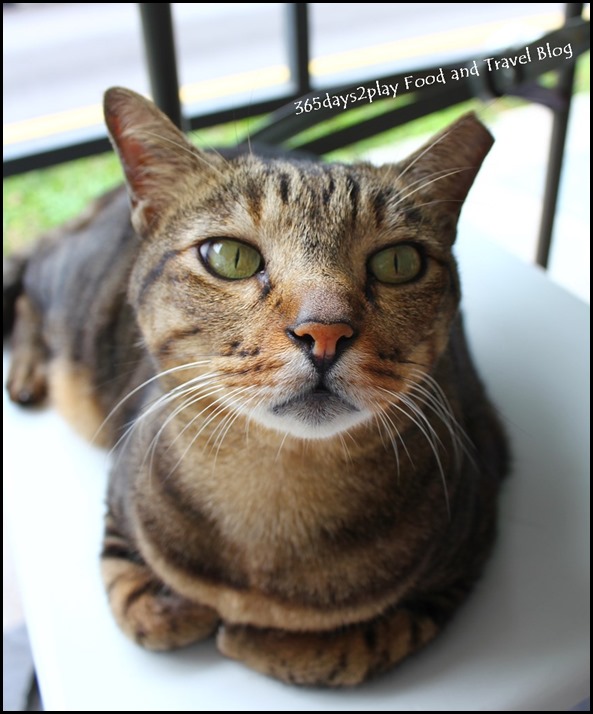 Our dining companion for the meal
---
Read about my 1st visit to The Garden Slug
Read about other places to eat in the Eastern side of Singapore
Add me on Facebook, Instagram and Twitter if you want to be kept up to date with the latest happenings in the food and lifestyle scene in Singapore!
---
The Garden Slug — Eat Drink Don't Think!
55 Lorong L Telok Kurau, #01-59/61 Bright Centre, Singapore 425500 [map]
Tel/ Fax: 6346 0504
Open Daily: Mon — Tues 6pm-10pm    Wed — Thur 10am-10pm  
Fri — Sun 9am-10pm   Public Hol 9am-10pm
Go to their website for the full menu with pricing.