I found out about The Garden Slug only a few weeks ago and I had this impression that it had opened just a while back. The 2 guys at the next table thought the same thing too because I overheard one guy boasting to the other that he likes to take his GF to new places. Turns out, The Garden Slug has already been around for almost 5 years! Such a pity that I only knew about it recently!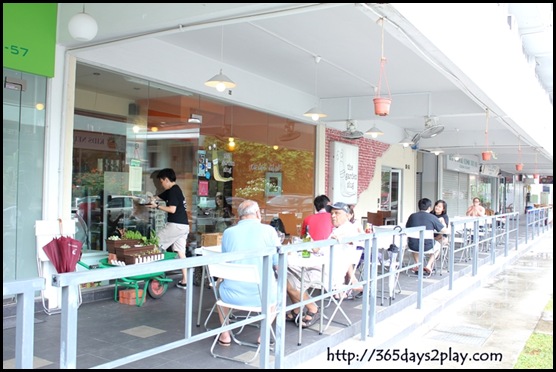 I love the Al Fresco seating along the row of shop houses. It's extremely close to the road, but hardly any cars drive by so it's totally fine. Love this place and love dining by the road! It kind of gives me the Holland Village / myVillage vibe for some reason, even though this is the only cafe along this stretch, with veterinarian clinics flanking both sides I think. When we were there, it kind of drizzled a bit. Made me feel like I wasn't in Singapore!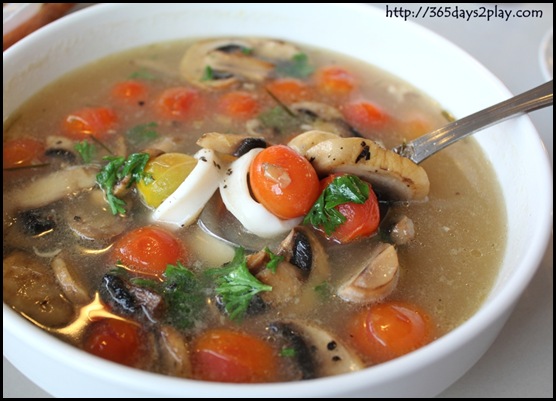 Chunky Asian Seafood Broth — This is pretty hearty, thanks to the chock a block ingredients! The Partner opted for just soup, without the pasta, yet he could hardly finish it. I love the taste of the soup. It has an Asian zing to it, and is the type of soup where you keep wanting to have spoonful after spoonful. The ingredients tasted very fresh, and the tomatoes were particularly sweet. Love the burst of sweetness in every bite. Although it is a bit pricey at $17+, I would most definitely order this again. In fact, what I would do the next time would be to order mains and have the soup to share amongst 4 people.
Roasted Pumpkin with Prawn Pasta — My pseudo vegetarian mother ordered this. Being tomato based, it's a damn healthy pasta dish. She liked the tomato sauce and the al dente pasta. The prawns weren't so fresh though.
Ultimate Fish Sandwich — For some reason, I have been in a fish and chip mood for the longest time! I didn't want to have to order fish and chips again, so I thought I'd settle for a fish sandwich. The fish did satisfy the fried fish craving in me, but I did think the fish was over fried. Also, the fish to bread ratio seemed a bit miserable. And lastly, too much mayo. The veggie sticks look pretty dry and unappetising, but I can appreciate their efforts to provide something healthy on the side.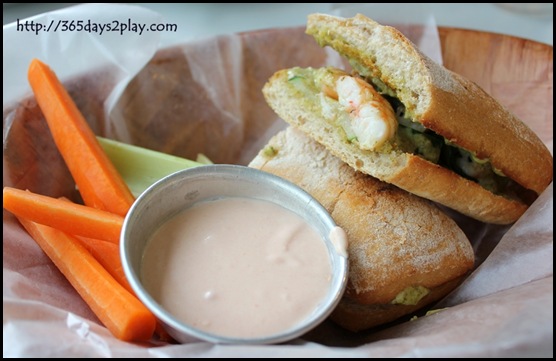 Pan-seared shrimp zucchini with pesto aioli — My father ordered this and enjoyed his sandwich. He said the combination of shrimp and zucchini with pesto aioli was delicious and hit the spot.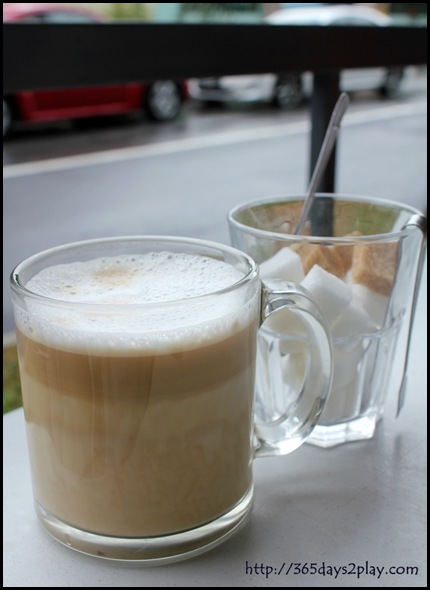 Cafe Latte — Quite nice, but not quite up there with the big boys. A bit too milky and not strong enough in my opinion.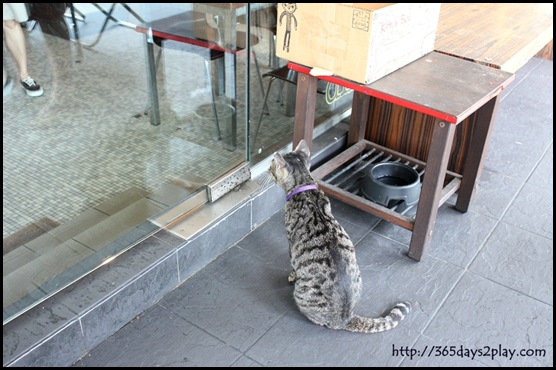 One reason why I like the place so much is because there are quite a number of resident kitties roaming around! If you're not a cat lover, don't worry lah, the cats don't stop to chat at all, although I wish they did, but they just totally ignored me. It seems this kitty knows the trick already. Sit there and look pitiful until someone notices. The box on the stool seems to be a "kitty bed". So cute!
This is a different cat from the one above. He crossed the road and hit pay dirt with the gentleman who was really very generous with his pats.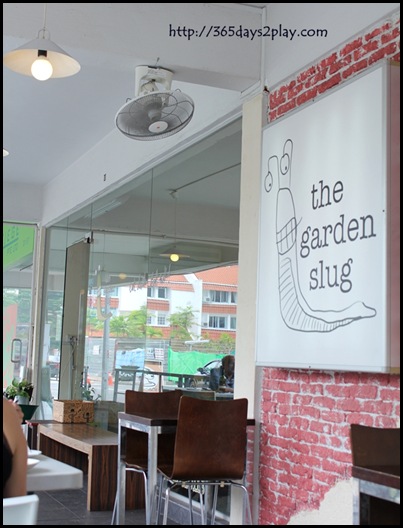 The Garden Slug, for once, not a pest.
Definitely going to return again for the wonderful seafood soup. The menu is quite extensive too. I spotted a number of items I would like to try out the next time, and it seems their breakfast/brunch dishes are rather popular. There is air-conditioned seating inside but I think it's more relaxing to sit outside, watching whatever that goes by.
The Garden Slug — Eat Drink Don't Think!
55 Lorong L Telok Kurau, #01-59/61 Bright Centre, Singapore 425500 [map]
Tel/ Fax: 6346 0504
Open Daily: Mon – Tues 6pm-10pm    Wed – Thur 10am-10pm  
Fri – Sun 9am-10pm   Public Hol 9am-10pm
Go to their website for the full menu with pricing.