Singapore Restaurant Week will be back from 7 to 14 October 2012 with an extensive list of quality restaurants. Organised by DiningCity.com, this popular week-long gastronomic affair has attracted an impressive list of more than 100 restaurants in Singapore.
During SINGAPORE RESTAURANT WEEK, all participating restaurants will offer exclusive three-course menus for lunch and dinner priced at $25*+++ and $35*+++ respectively. *DiningCity Star-Awarded restaurants charge a supplement of $15 for lunch and $20 for dinner.
I have attended Restaurant Week a number of times. The experience I had earlier this year (Restaurant Week is held in March and October each year) was astounding. Really, my dinner at Brasserie Les Saveurs St Regis Hotel remains one of my most memorable dining experiences this year! I was really looking forward to the start of the booking period when Sixth Sense Communications contacted me to attend a preview of the upcoming Restaurant Week. What can I say, Lucky Me!
We sampled a total of 3 restaurants in the hip Duxton Hill area during the Restaurant Week Media Preview. Appetisers at Praelum Wine Bistro, Mains at La Maison Fatien Singapour and Dessert at Buyan Restaurant. Each course was accompanied by a wine from WineUniverse.
Praelum Wine Bistro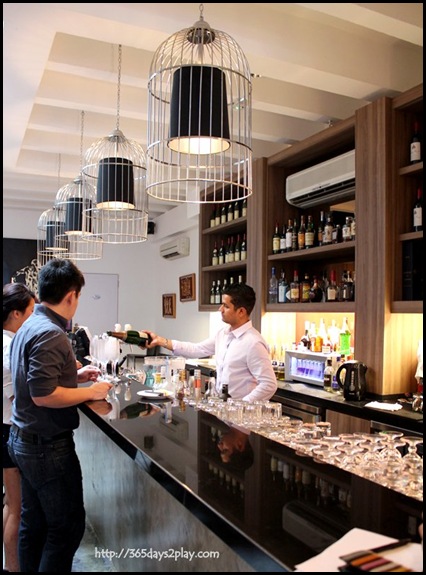 Love the half-caged lights from the ceiling!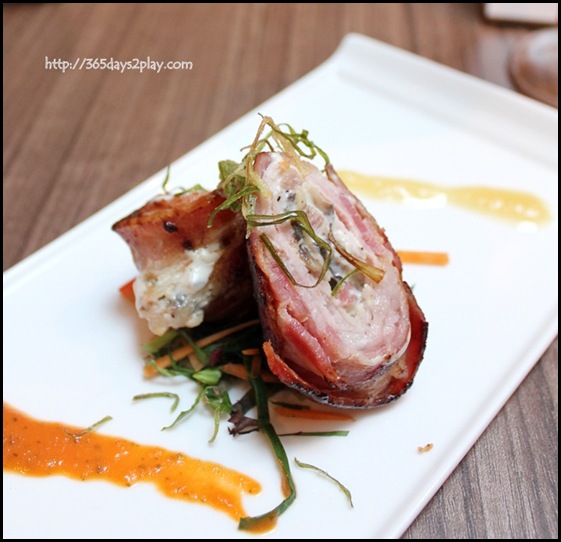 First up, Roasted Pork Parcels comprising of sautéed Portobello mushrooms in cream cheese and fresh herbs stuffed into a pork loin parcel and wrapped in bacon slices, pan-seared and then slow roasted. An apple mash spiked with cinnamon was served for a touch of sweetness to the savoury dish.