Singapore Restaurant Week will be back from 7 to 14 October 2012 with an extensive list of quality restaurants. Organised by DiningCity.com, this popular week-long gastronomic affair has attracted an impressive list of more than 100 restaurants in Singapore.
During SINGAPORE RESTAURANT WEEK, all participating restaurants will offer exclusive three-course menus for lunch and dinner priced at $25*+++ and $35*+++ respectively. *DiningCity Star-Awarded restaurants charge a supplement of $15 for lunch and $20 for dinner.
I have attended Restaurant Week a number of times. The experience I had earlier this year (Restaurant Week is held in March and October each year) was astounding. Really, my dinner at Brasserie Les Saveurs St Regis Hotel remains one of my most memorable dining experiences this year! I was really looking forward to the start of the booking period when Sixth Sense Communications contacted me to attend a preview of the upcoming Restaurant Week. What can I say, Lucky Me!
We sampled a total of 3 restaurants in the hip Duxton Hill area during the Restaurant Week Media Preview. Appetisers at Praelum Wine Bistro, Mains at La Maison Fatien Singapour and Dessert at Buyan Restaurant. Each course was accompanied by a wine from WineUniverse.
Praelum Wine Bistro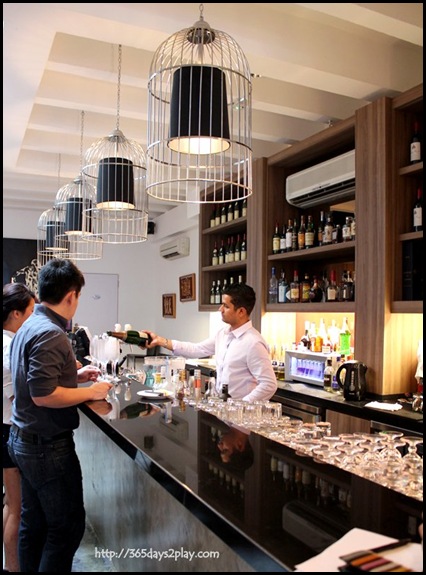 Love the half-caged lights from the ceiling!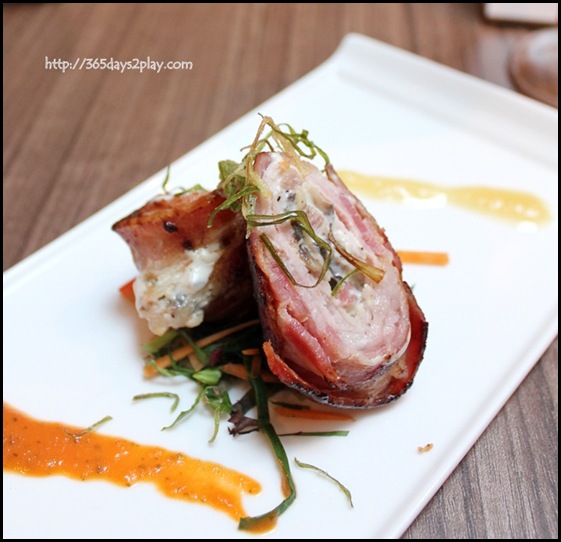 First up, Roasted Pork Parcels comprising of sautéed Portobello mushrooms in cream cheese and fresh herbs stuffed into a pork loin parcel and wrapped in bacon slices, pan-seared and then slow roasted. An apple mash spiked with cinnamon was served for a touch of sweetness to the savoury dish.
A very eye-catching and pretty substantial starter. It was very delicious, as all things wrapped in bacon are apt to be. Despite the bacon and the pork, the appetiser wasn't overwhelmingly meaty as the cream cheese and apple mash helped to balance the flavours out.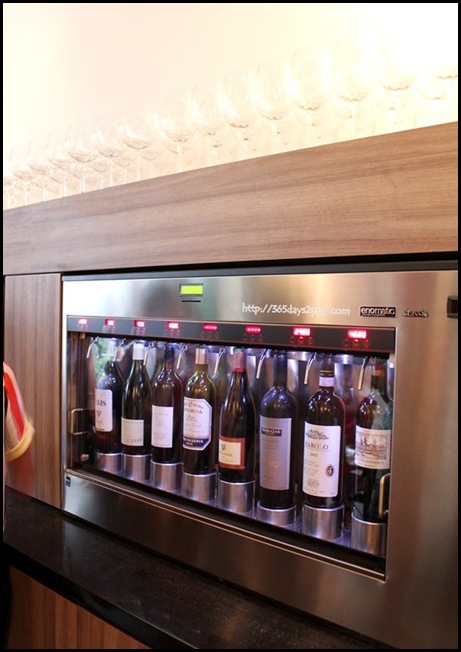 Praelum Wine Bistro, as the name suggests, actually is a restaurant that is about enjoying wine and cocktails together with good food. Praelum was opened by wine aficionado Elizabeth Lin only in December 2011. Elizabeth still has a day job as a banker so Praelum is run by Head Sommelier and General Manager Gerald Lu, who used to work for the IndoChine Group of Restaurants.
As you can see from the photos above, Praelum has even installed this cool looking machine called the Enomatic Wine Serving System. The Enomatic Machines are activated by cards, which allow wines to be dispensed at tasting portions, half and full glasses. You can see the prices displayed prominently above each label so you will know how much each portion costs. It's self-service but if the novelty's worn off after the 5th glass, waiters are on hand to top up your glass. If you've always wanted to sample many wines during the course of your meal but do not want to end up drunk or broke, this sounds like the perfect place to do it. Tasting portions for all the wines you wanna try!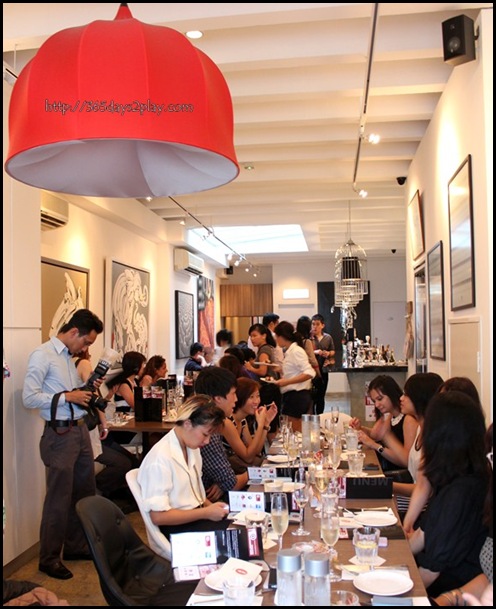 La Maison Fatien Singapour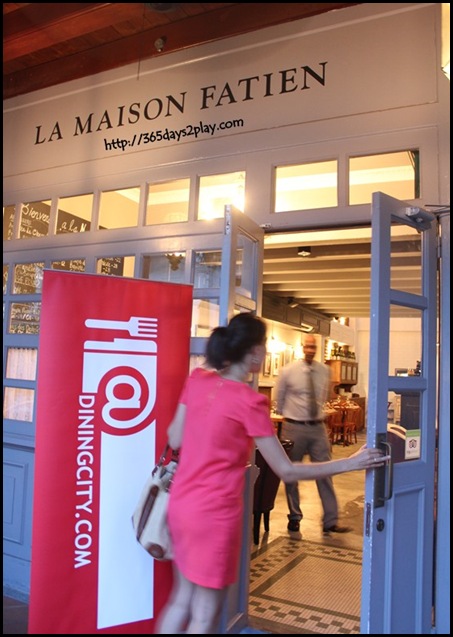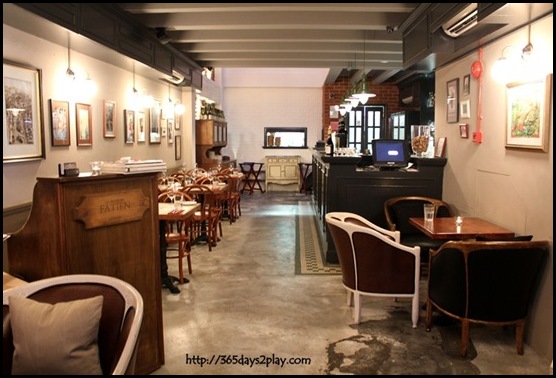 I love the decor! This is the 1st floor and the 2nd floor looks different but equally great!
Next stop, La Maison Fatien Singapour. I have a confession to make. When I heard of the name La Maison Fatien some months back, I was like, what kind of idiotic name is that? Fatien sounds like some Chinese kungfu school or something. Which rich young punk has now started a French restaurant and couldn't think of a better French name? Turns out, La Maison Fatien has a very illustrious history dating back to the 17th century! The Fatien family owns a private estate located in Burgundy France. The mansion estate boasts a bed and breakfast and is also a wine-making house, where the family produces "Maison Fatien Pere & Fils".
BUT, the real turning point….is when the French waiter greeting me at the door said "Welcome to La Maison Fatien", instantly, the Chinese Kungfu School was transformed into Restaurant OOH LA LA!!!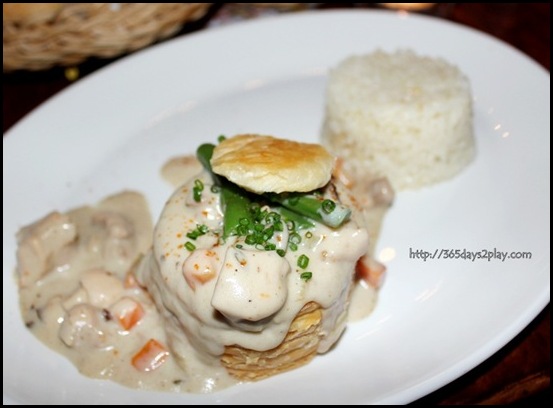 For the mains, we had Chicken Vol au Vent which was basically a puff pastry shell filled with a cream sauced baked with chicken. The chicken was tender and the cream sauce was tasty. However, I thought the Vol au Vent was a tad dry. Instead, I paired the cream chicken with the rice and I thought that was a much nicer pairing. Like many of my fellow diners, we were surprised to find rice included a Western restaurant, and equally surprised to find that it's actually very common in France.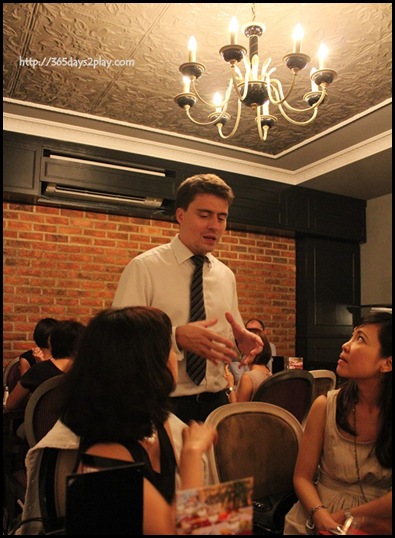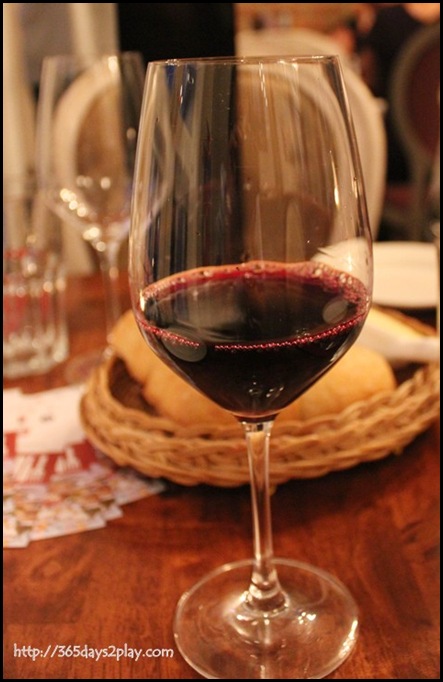 One of the lovely wines we sampled during the course of the evening.
I always love a nice bit of bread before the meal. I dare say this is the hottest piece of bread I have ever been served to date. It was so hot, I dropped it like a hot potato. I'm not quite sure if I liked the texture of the bread, it kinda had a slight kueh texture, even though it was bread. The highlight though, was the accompanying butter. My advice to you? Slather on as much butter as possible, double what you normally do because this butter was FANTASTIC. Smuggle the leftover butter home. I didn't, but you can.
Creamy and with character, it totally put life into the bread.
Buyan Restaurant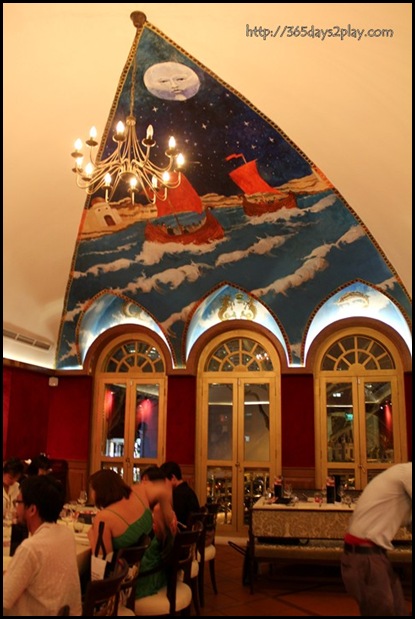 And last but not least, Buyan Restaurant. Seriously, I am astounded by the fairy tale interior of the restaurant. I mean the exterior of the various Duxton Hill shop houses belie the enchanting restaurant interiors! The name Buyan btw is from a Russian Fairy-tale, and I believe the pictures depict scenes from the fairy-tale. The dining area is also in a setting reminiscent of a period Russian banquet hall.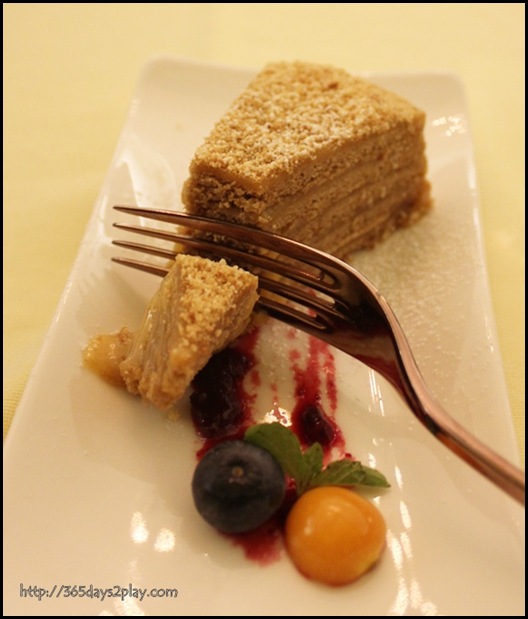 Buyan is Singapore's first premier Russian restaurant. And for dessert, we enjoyed a traditional Russion Honey Cake, which is a layered shortbread filled with sweetened milk, served with mixed berries compote. I didn't think the cake tasted of shortbread. On the contrary, it tasted of very compacted biscuits. A few people were afraid that this dessert would be too sweet, but I didn't think so at all. I quite liked the sweetened milk which had been boiled for several hours. The cake was slightly dry and rough. Maybe more sweetened milk or a sauce would be nice, but on the whole it was still a pretty nice cake. My first Russian cake ever!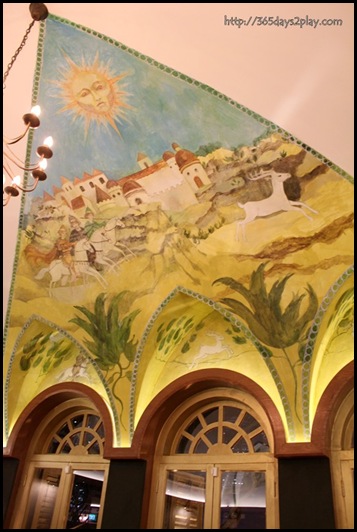 And thus ended my Media Preview of Restaurant Week 2012. A truly wonderful evening for me. I definitely want to revisit each of these restaurants again, be it through Restaurant Week or some other normal day.
How to get a table at Restaurant Week 2012
For YOU my friends, you get to savour a 3 course meal at these restaurants and more if you make a reservation for Restaurant Week. Simply go to www.restaurantweek.sg to make your bookings from 12 September 2012 onwards. This is a dedicated website with unique technology for online and real-time reservations.
HOWEVER, if you have an Amex Card, you get PRIORITY BOOKING from 5th September 2012 onwards, only applicable for Cards issued directly by American Express in Singapore. Check your email for the password. Yours truly happens to have one, and I can tell you that some restaurants are already fully booked!! ACT FAST!
As a co-sponsor of SINGAPORE RESTAURANT WEEK, BMW Asia dedicates 7 October 2012 (Sunday) exclusively to BMW owners. BMW owners can also make bookings for other days of that week but this will be subject to availability. This means, you get to try Restaurant Week before anyone else because Restaurant Week officially starts on 8th October!
Alas, if you don't have an American Express card, and if you don't own a swanky BMW, you can still beat the common folk by being a friend of DiningCity. Subscribers to the DiningCity.com newsletter can enjoy advance booking from 10 September 2012. To sign up for the newsletter, simply log on to www.diningcity.com/singapore. Two days earlier than the common folk, better than nothing right????
**Thank you to Carlyn from Sixth Sense Communications, American Express, Dining City and the 3 restaurants for the invite and wonderful evening!
Praelum Wine Bistro
4 Duxton Hill S089590
Tel 62385287
Fax 62385286
Email: gerald@praelum.com.sg
http://praelum.com.sg
La Maison Fatien
76 Duxton Road Singapore 089535
Tel: (65) 6220 3822
Fax: (65) 6220 8747
Email: mail@lamaisonfatien.com
http://lamaisonfatien.com/
Buyan Russian Restaurant
9/10 Duxton Hill, Singapore 089593
Tel : 6223 7008
Email: info@buyan.sg
http://www.buyan.sg/
Wine Universe
http://www.wine-universe.com.sg/