I'd been avoiding Double Bay for a long while now after my 1st visit there. Not that the food wasn't good, it probably was. I have a thing about fish. I only like certain types, and if it isn't the type I like, no matter how well you dress it up, I will not be able to fully appreciate it 100%. It happens they didn't have any type of fish I liked, so I never went back again.
Recently, my colleagues chose Double Bay as the venue for a birthday celebration. I didn't object (anyway I was outnumbered), since I was hoping to find some other dish I would like. Turned out to be a pretty good evening after all.
The Mussels in Tomato broth was really good. We ordered this as a starter, but apart from the broth being a little hard to share, I really have nothing but good words for this. The tomato broth was so tasty I wish I could just take the pot away from the rest and slurp up the goodness myself. The mussels were very fresh and had a nice bite to it. Apparently, no salt is added to this dish at all. All the flavours come naturally from the mussels. It can get too salty sometimes so when ordering, get the chef to give a good rinse to the mussels so there are no hidden traces of seawater.
You know what? It seems one can make the same mistake twice. I ordered the Barred Cod, thinking that it was cod, my favourite fish. Turns out it isn't cod at all! Man…I was quite disappointed because I felt the fish was tough and cardboardy. The pureed potato was nice to look and tasted good, but it didn't fill the gap. It felt more like a thick sauce rather than a substantial staple.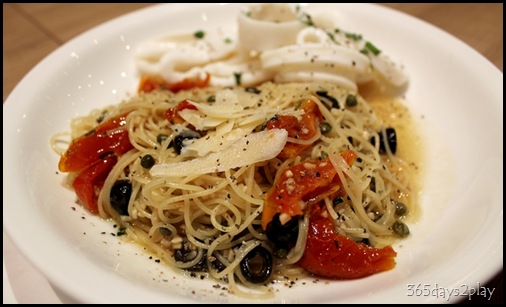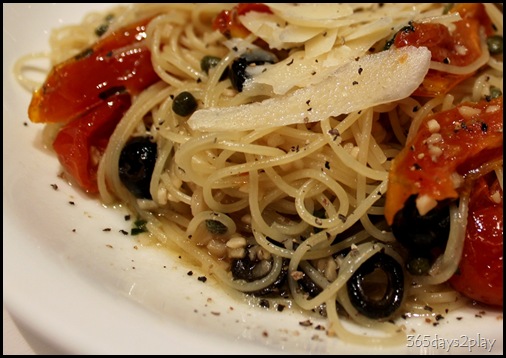 Pasta Aglio Olio with Squid — This looks like a really healthy aglio olio, with all the olives and tomatoes. The squid was pretty bland though. Even the waitress knew this and had warned my colleague in advance not to order this dish. Nevertheless, the next time I'm there, I'm going to order this. Shall treat this as a delicious vegetarian pasta, and if the squid is done well, that's a bonus.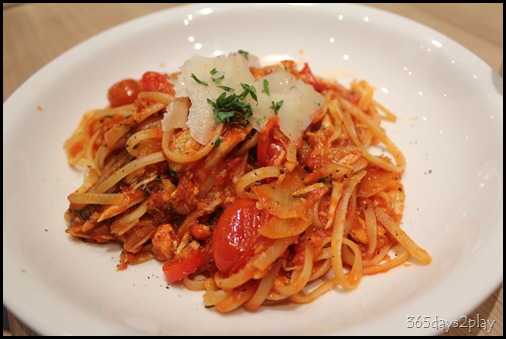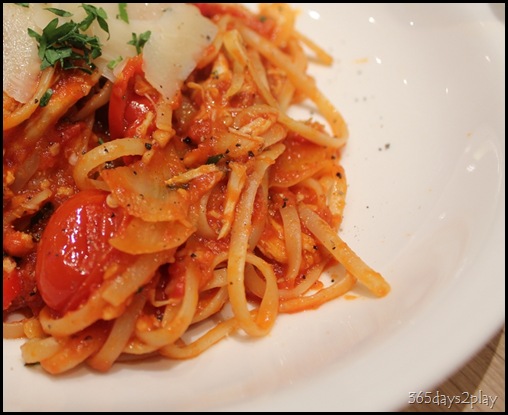 Crabmeat linquine — The ultimate star of the main courses we ordered that day. Chock full of crabmeat! Everyone who ordered this loved it!
Fish and Chips — Can't remember what the person said. But I personally would advise against ordering fish and chips so that you can test the true skills of the chef.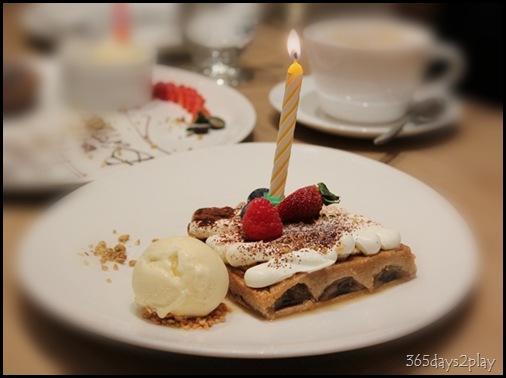 Banoffee Pie — It's not often you get something like this in Singapore, although it's common in the UK. According to Wikipedia, Banoffee pie is an English pastry based dessert made from bananas, cream, toffee from boiled condensed milk (or dulce de leche), either on a pastry base or one made from crumbled biscuits and butter. Damn good, made tastier by 7 people having to share this.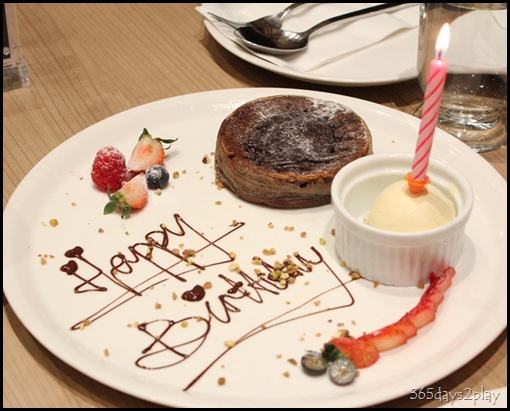 Molten Chocolate Cake — Doesn't look like the usual molten chocolate cake, but rest assured this was oozing with chocolatey goodness. I gotta come back again to Double Bay just for their desserts!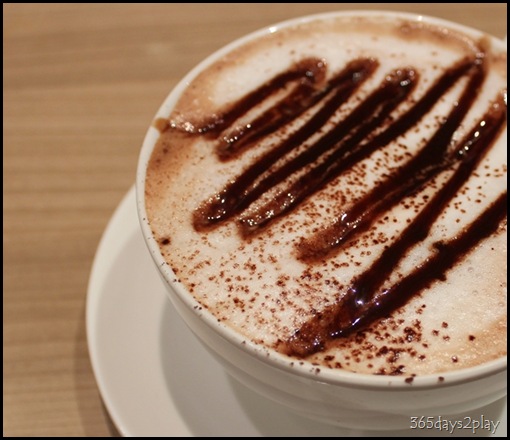 Hot Chocolate
Double Bay Australian Dining & Bar
Tel : +65 6334 6530
Fax: +65 6334 6107
Raffles City Shopping Centre
252 North Bridge Road, #01-22A
Hours of Operation
Monday to Sunday
11.30am to 2.00am