Salt Grill & Sky Bar has always been on my list of restaurants for special occasions thanks to the good food, exquisite presentation and amazing near 360 degree views of Singapore from the 55th floor of ION Orchard. But to dine here costs a pretty penny which is why it is reserved for special occasions. But did you know that Salt Grill & Sky Bar has a "sibling" in the form of Salt Tapas & Bar located at Raffles City shopping centre, which offers dishes at much more wallet friendly prices?
Salt Tapas & Bar is an extension of the existing "Salt" Brand by celebrated Australian Chef Luke Mangan. The menu has recently been revamped and now presents quality modern tapas with an Australian twist, at affordable prices. I am always wary about tapas places as the portions tend to be miniscule while charging full appetiser prices. Not so at Salt Tapas & Bar. Quite a number of the dishes we tried, in particular the brunch menu items, are large enough to be considered as mains. And the amazing thing is that the pricing is comparable to cafes you find in Singapore, and we are talking about food from a celebrated brand name located in the heart of town! This is probably one of the best kept secrets and I wish I'd known about it earlier!
The brunch menu is particularly worthwhile checking out for its affordable prices. For example French toast with clotted cream and Okinawa ice cream at $15, or scrambled eggs with ratatouille on toast at $15 or even the grilled sirloin with mash, salad and poached egg at $18!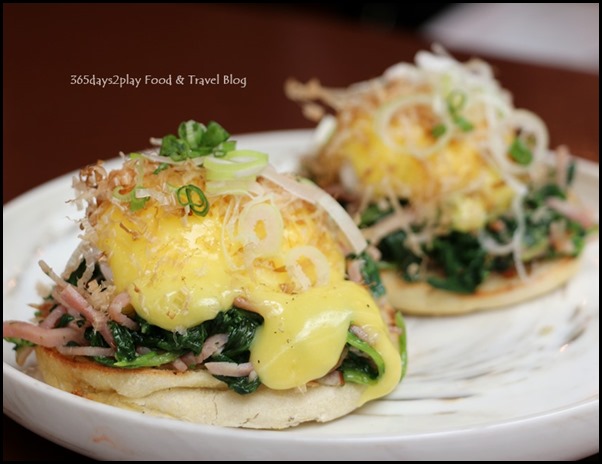 Egg berentine with bonito flakes – $14 
We tried the eggs Berentine which the waiter told is is a cross between Eggs Benedict and Eggs Florentine. Basically what it comprises of is a sous vide egg blanketed by Hollandaise sauce, sitting on a bed of ham shreds and spinach, served on a delicious English muffin. It's easy enough to find Eggs Benedict in cafes in Singapore, but done with English muffins I find that rarer. Love the use of English muffins because it's a tougher piece of bread and soaks up the gooey goodness without crumbling up easily.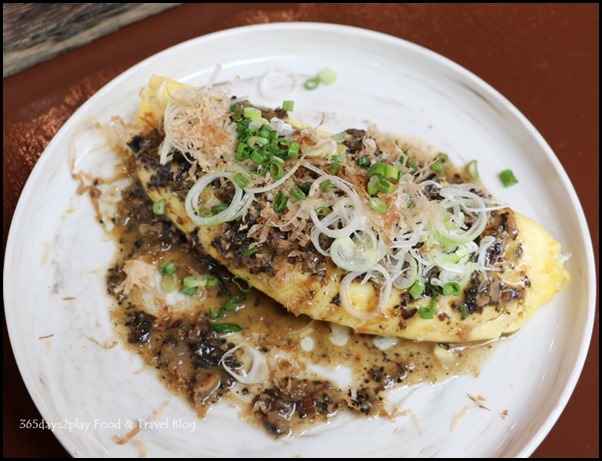 Cigar omelette with mushroom cepe sauce and green onions- $15 
This was goooood! Omelettes normally stand quite well on their own without needing any sauce but this deliciously savoury cep sauce made the omelette stand out from the usual suspects, yet without overpowering it.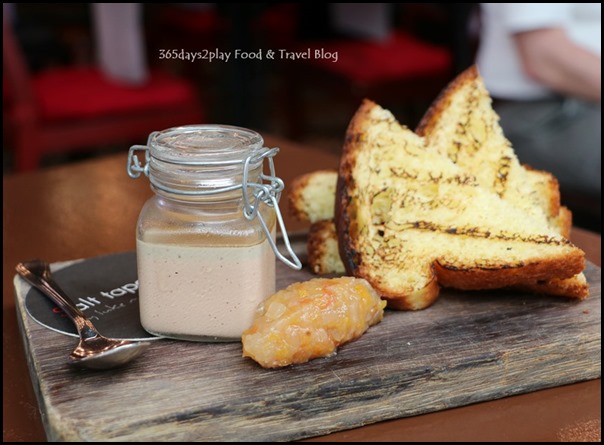 Chicken liver & foie gras parfait, pear chutney, toasted brioche – $19 
We also tried a number of dishes from the nibbles section. Couldn't resist getting one of my favourite appetisers, this chicken liver & foie gras parfait. Aside from the difficulty in getting the rather solid contents out of the jar and onto the crumbly brioche, I quite enjoyed the intense flavour of Salt Tapas & Bar's variation of foie gras pate. The pear chutney was a lovely palate sweetener on its own as well as when paired with the parfait.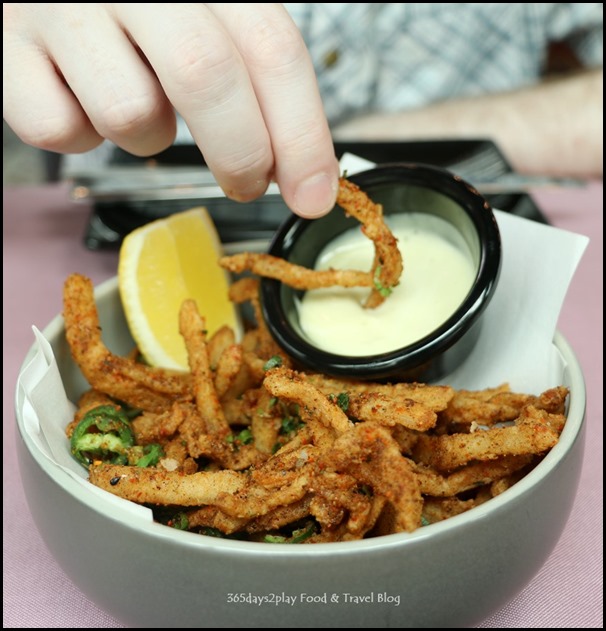 Chilli salt and pepper squid, yuzu mayo – $14
Also couldn't resist ordering this, which I kept picking at throughout the meal.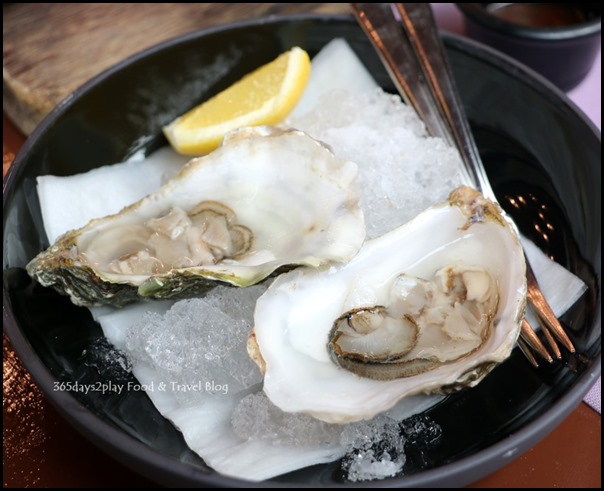 Oyster served natural, nam jim dressing – $6 each
A little on the small side, we ordered this to jazz up our meal.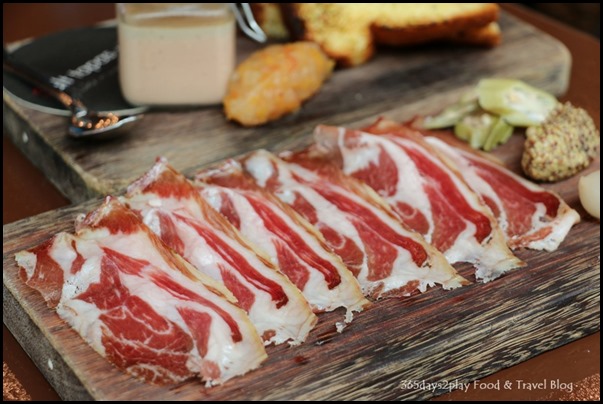 Coppa Ham – $10 
This is similar to prosciutto except it is dry-aged and not brined. Very tasty and we ate it as accompaniments to our eggs.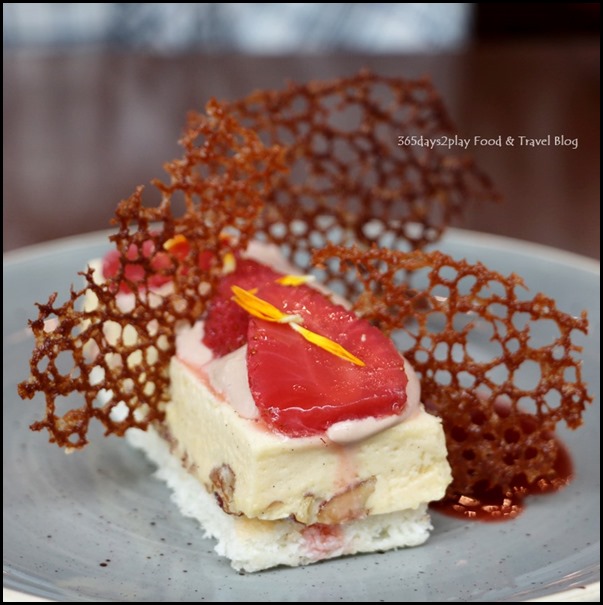 Dulce de leche & salted pecan semifreddo, strawberries, wafer – $13 
We didn't realise it when we placed the order but this is actually something like an ice cream cake. Come to think of it I haven't had a simple ice cream cake in a very long time, and this was just a perfect combination of fresh fruit, ice cream and cake base, with the salted pecans adding a bit of crunch.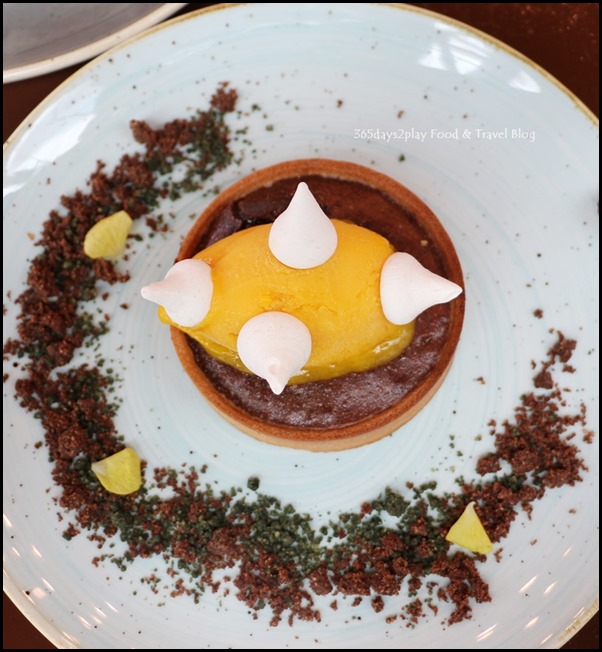 Gooey chocolate tart with mango sorbet – $14 
Apparently highly recommended, however the tart mango flavours on rich chocolate did not quite cut it for me. Of the lot, I liked the buttery tart base the most.
---
Add me on Facebook, Instagram and Twitter if you want to be kept up to date with the latest happenings in the food and lifestyle scene in Singapore!
---
Salt Tapas & Bar
#01-22A Raffles City Shopping Centre
252 North Bridge Road, Singapore 179103 (It is on the outside of Raffles City Shopping Centre, facing Raffles Hotel)
Tel: 6837 0995
https://www.facebook.com/SaltTapasAndBar