When I was at Marina Bay Sands, I chanced upon this most charming looking place. I was instantly mesmerised by the glass cake display. Row upon row of delightfully colourful cupcakes and cakes! It was quite hard to tear my eyes away and I just had to take out my camera to capture it all. The cakes look so pretty, it's just so hard to say NO and walk off! Walk away we did when I first saw it in the afternoon, but I succumbed and went back again in the evening! As with all pretty things, I had to know if it was really as good as it looked.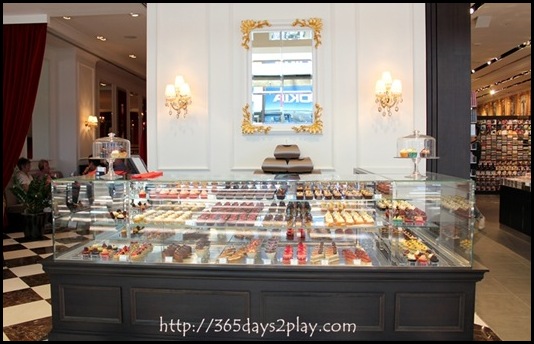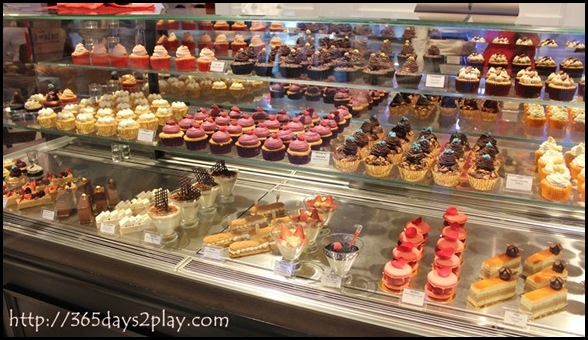 Isn't that so pretty? Cake porn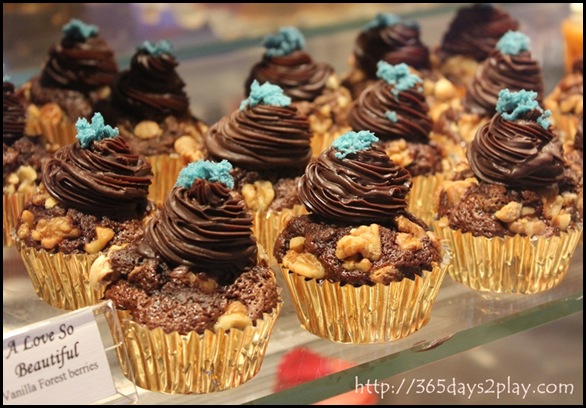 A love so beautiful….such aptly named cupcakes!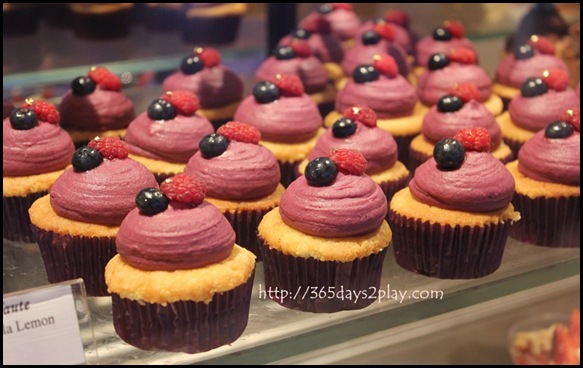 Who designs these stuff?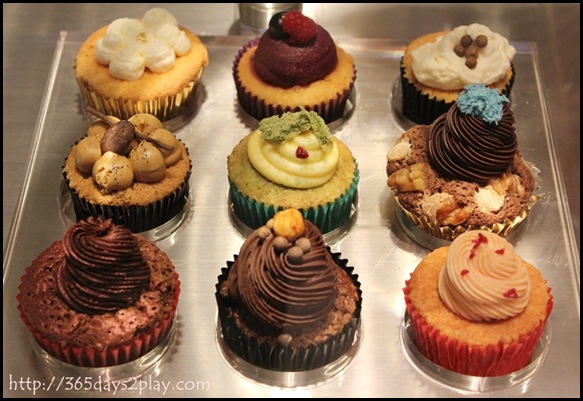 9 different cupcake flavours, $6 each
The cakes go for $9 while the cupcakes go for $6. We tried the chocolate cake. It's mostly mousse with a hard biscuit layer at the bottom. I have to say, Canele's version is better, and cheaper. If you like mousse, you may go for this at High Society, but if you are like me, and want a cake that is a bit more solid (ie with at least a cake layer in it), go for Canele's instead.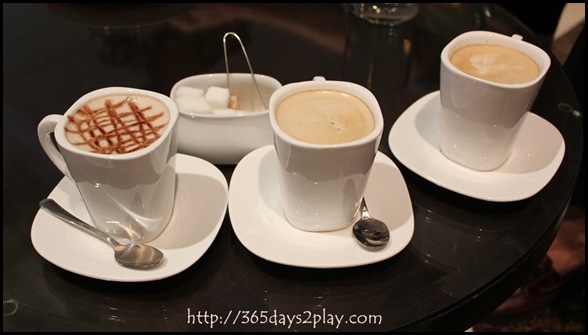 The latte was average and if I am not wrong, cost $7. The hot chocolate was a TOTAL DISASTER. Never mind that it was not rich and creamy. The hot chocolate did not taste of chocolate at all! It had a weird burnt tea flavour, and if you'd had me blindfolded, I would never have guessed it was hot chocolate. It was that bad. The staff were kind enough to make me another cup, in case there was something wrong with the 1st cup, but no, it was the same bad taste. I really wonder what sort of chocolate they use? I asked the staff and they said they used a chocolate syrup. I've never come across a hot chocolate made like this before!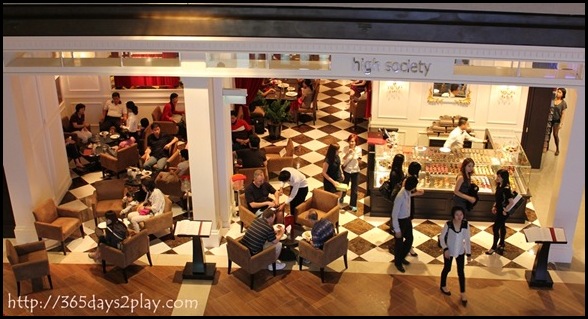 High Society serves meals as well as desserts and drinks. I would like to come back to try some of the dishes on their menu. The prices are pretty affordable with main courses going around $15 — $30. But no way am I going to order another hot chocolate from there again, and it wasn't cheap either for a hot chocolate! I do recommend that you go gawk at the cake display if you are in the vicinity!
High Society Cafe/Restaurant
Marina Bay Sands Shoppes
Address: 10 Bayfront Avenue, Singapore 018956