[CNY Media Invite]
And just like that, we've moved into 2018 and it's now time to talk about Chinese New Year 2018 instead of Christmas 2017. A couple of weeks back, I had the privilege of having a sneak peak at what Hai Tien Lo Restaurant at Pan Pacific Singapore has in store for family reunions, CNY gatherings and Lo Hei luncheons. Hey come to think of it, I celebrated Christmas with a Champagne Brunch at Pan Pac, and I got to celebrate CNY early at Hai Tien Lo. Good times

Available from 22 January to 2 March 2018, Hai Tien Lo will be offering a grand total of eight reunion set menus featuring everyone's favourite CNY delicacies. There will also be one nutritious vegetarian set menu. Scroll down to see pictures of a selection of dishes from the set menus.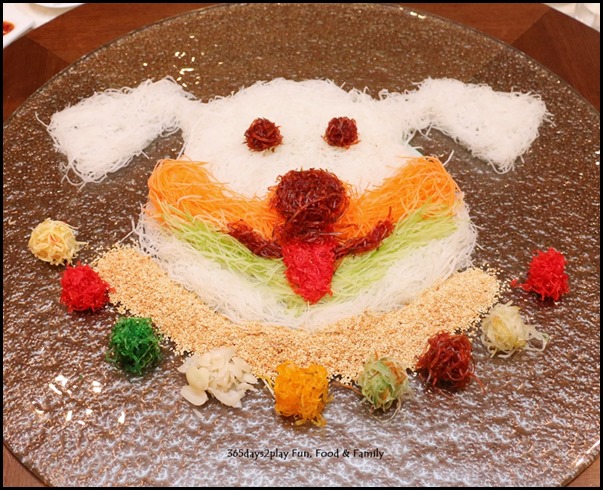 Eight Treasure Wealth and Health Yu Sheng
This is a combination of the 2 Yu Shengs above specially done for the media tasting.  The Wealth and Health Yu Sheng contains imperial swiftlet's net, Boston lobster and baby abalone amongst other things, while the Fortune Yu Sheng contains crab meat, bbq chicken roll and scallops. Advanced order is required for the dog-shaped Yu Sheng. Interestingly, there are 2 dog-shapes to choose from. One has smiling eyes, while this one pictured above has round eyes. Note that the Yu Sheng does not contain any raw fish. There are a total of 6 Yu Shengs to choose from, including a vegetarian one.
Double-boiled fresh and dried scallops with dried oyster and mushroom in supreme chicken stock
Excellent tasting soup, very smooth and slightly thick in texture. Great that the soup retained its warmth thanks to the burner pot.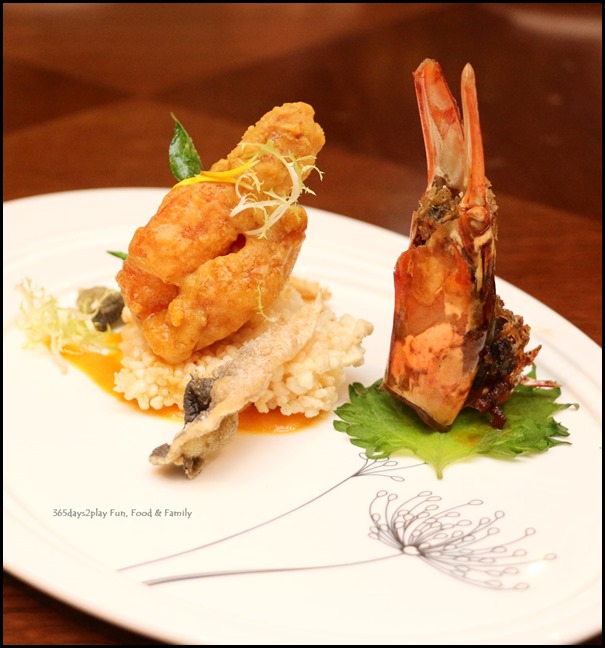 Sauteed king prawns with crispy fish skin in salted egg yolk sauce
A really succulent piece of prawn made even more decadent tasting with the grainy salted egg yolk sauce. I'm always wary of salted egg yolk sauce that is too smooth, it means very little salted egg yolk went into it. The crispy cracker was good to mop up any remaining sauce, but only if you pick it up with your fingers. If you use utensils, your neighbouring diners might end up partaking in your dish.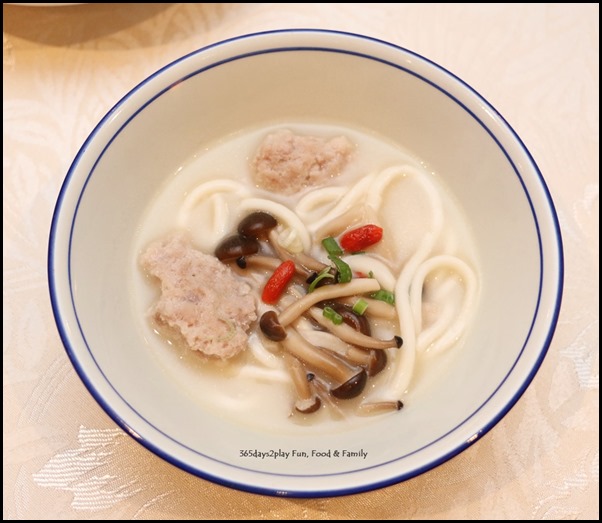 Poached fish noodles with minced pork and mushrooms in fish bone broth
Chinese New Year menus can get a tad predictable so it was really good to see this interesting dish the menu. These are no ordinary noodles, but noodles made from fish flesh. I really liked the texture and taste of the noodles, and how well it went with the savoury fish broth.
Steamed grouper fish with preserved meats
Fresh tasting fished livened up with preserved meats.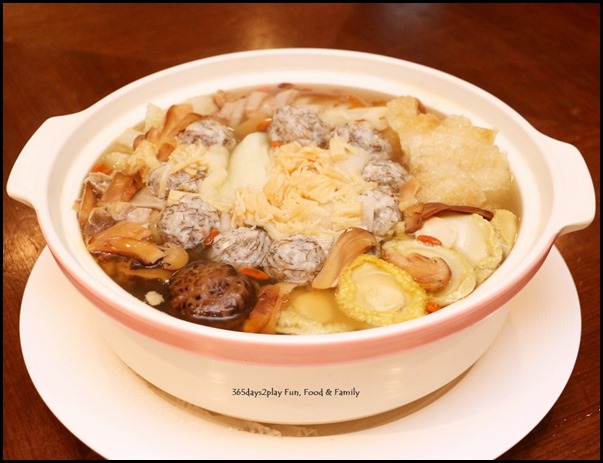 Classic Auspicious Treasure Pot (Poon Choi aka Pen Cai)
You will notice that Hai Tien Lo's version of this pen-cai comes in a thinner than usual broth. Thinner as in not thick, although still very flavourful thanks to the premium ingredients that went into the pot. Aside from the usual abalone, fish maw and scallops, there is even pork tendon and pig tripe!
Classic Auspicious Treasure Pot (Poon Choi aka Pen Cai)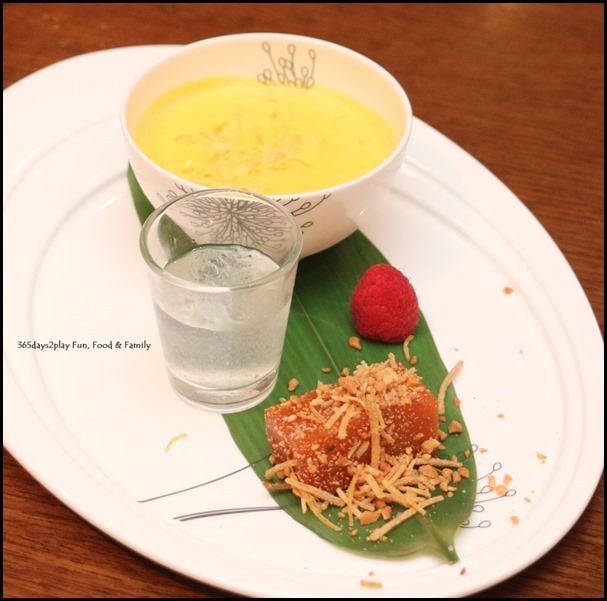 Prosperity CNY cake coated with peanuts and shredded yam AND chilled cream of mango sago with snow swallows
Another interesting take on dessert, this time featuring birds nest with mango sago. Yes that little shot glass contains birds nest, which tastes strangely bland when eaten alone, but so good when paired with the mango sago. CNY cake is a must have for me, I love the stickiness and sweetness of it. The peanuts and shredded yam were just the thing to give it a bit more texture and bite.
---
Add me on Facebook, Instagram and Twitter if you want to be kept up to date with the latest happenings in the food and lifestyle scene in Singapore!
Other reviews of Pan Pacific Singapore
---
Hai Tien Lo
Pan Pacific Singapore, 7 Raffles Boulevard, Marina Square Singapore 039595
Opening Hours : Lunch – 11:30am to 2:30pm  |  Dinner – 6:30pm to 10:30pm
Tel : +65 6826 8240
Email : celebrate.sin@panpacific.com
Chinese New Year Menus