Calling out to all scone lovers out there, I've found another good place to have scones! And this time it doesn't involve having to step into a posh hotel nor spend a fortune on it. In fact, these scones can be found right smack in the heart of Orchard Road. There's no better reason to stop for a cuppa and some scones than a hard day's worth of shopping, right???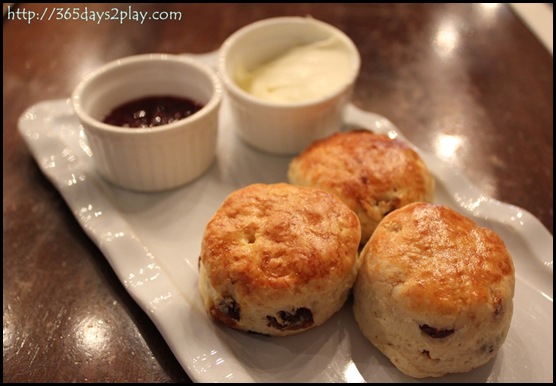 I present to you, Oriole Cafe's scones! 3 raisin scones with Devonshire clotted cream and raspberry grappa jam for only $6.50, which means just over $2 per scone! This IS undoubtedly the cheapest scone deal I have come across! And for goodness sakes, you get clotted cream with it! It's not the best clotted cream (it feels lighter than usual) but it's clotted cream nonetheless! The scones are real tasty too. They're light and airy and fresh. Paired with that cream and jam, and washed down with some good coffee, it'll put a zing in your step so that you have enough energy for round 2 of shopping!
I hear Oriole Cafe makes a good cuppa but I have yet to try. In fact, the menu looks pretty interesting too. Too bad I was only there for a quick meeting with someone. Thanks Chek for introducing me to this place! Definitely going come back again soon to sample more of their dishes.
$5.50 Iced Lemon Tea — Not sweet enough. Hah, that's usually the case when it is not pre-sweetened. I can never bring myself to pour in the entire contents of the sugar syrup pot…
Click here to see the best places in Singapore to get scones!
Oriole Coffee
96 Somerset Road #01-01 Pan Pacific Serviced Suites Map 
(It's just opposite Brotzeit when you come out of the Somerset MRT station)
Phone: 6238 8348
Operating hours:
Mon-Sat 11:00 am – 11:00 pm ; Fri & Sat  11:00 am – 12:00 am ; Sun 10:30 am – 11:00 pm
9 Raffles Place #01-23/23A Republic Plaza I Map
Phone: 6438 3843
Operating hours: Mon-Fri 8:00 am – 6:00 pm