Interesting that this place still exists still. I'd thought it would be long gone, but Steph from The Girl at the Traffic Light Junction reminded me that Tea Cosy still exists.I find it quite weird and I can't really put my finger to it. I dined here once, about 5 years ago. Then, the cafe part of Tea Cosy was but a small portion of the entire store. It was as if you had walked into a tiny vintage knickknack and bookstore, and suddenly huddled behind the shelves are people sipping tea!
I guess the vintage knickknack business didn't go too well for as you can see it's mostly cafe now, with the retail goods relegated to becoming part of the decor. The menu has expanded too I believe. You can get full meals here, and they do an afternoon tea set too from 2.30pm — 6pm. I almost got the tea set, but I wasn't sure if there would be enough food to justify $29.95 for 2, based on what was stated on the menu.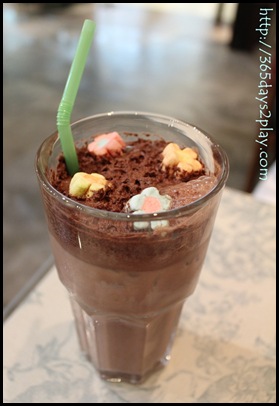 Iced Chocolate with marshmallow flowers $6.96 + $0.50 for the ice — For those who like rich chocolate drinks, this is really good. It was a bit pricey, but for a huge glass I guess it's reasonable. Notice the huge layer of dark chocolate at the top? Do not taste it at all costs because that has not been sweetened! If you like your drink even richer, stir that layer in! Never been a fan of marshmallows so I didn't try the flowers.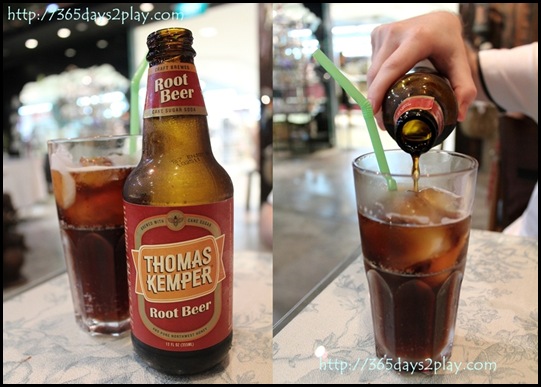 Rootbeer $4.95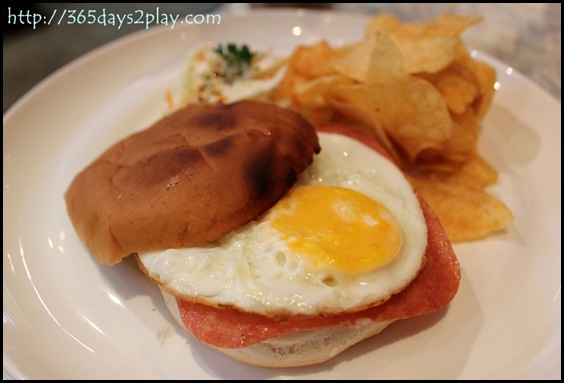 Old Faithful Club Sandwich $10.95 — For the life of me I would not have thought that this would be called a club sandwich, but that's what it says on the menu. I would say it is a very nice and simple version of a ham, egg and cheese sandwich. I love the texture of the bun. It's so soft and has an almost melting texture in the mouth. Plus there's this cheese spread they use which is really tasty.The ham is nothing spectacular, but the entire combination is good. They normally fry their eggs till the yolks are fully cooked, so be sure to ask for them done sunny side up if you want the yolk runny. I had this at 4pm because I was feeling peckish, and still managed a steak dinner at 8pm.
Society Cafe is also on the 5th floor. If you want someplace bright, where you can watch the world go by, go to Society Cafe. If you want an intimate setting, go for Tea Cosy. There were quite a number of young punks there with their girlfriends. (Although if you really wanted to impress your girlfriend, choosing a cafe within a mall isn't exactly all that impressive, in my opinion)
Tea Cosy
Plaza Singapura
68 Orchard Road #05-10 Singapore 238839
For Reservations, please call: 6341 9318