Was recently invited to attend a Norwegian seafood dinner organised by the Norwegian Seafood Council, held at the newly opened FiSK Seafoodbar & Market. I've always had an extra keen interest on things related to Norway simply because years ago, I used to work for a shipping company with strong Norwegian links. And I've also been to Norway, most expensive trip of my life so far, even though air tickets were only $400 on Qatar Airways. Yes.
When the Norwegian Seafood Council invites you to a seafood dinner, you'd be an idiot to say no. Because you know that the seafood that they are going to serve is going to be one of the best and freshest you can possibly get in Singapore. I mean or else why host a dinner right? But not just that, if the venue is at the restaurant whose owner, Frank Ní¦sheim, is also in the business of importing Norwegian seafood into Singapore (Snorre Food), you make sure to cancel all other appointments on that day specially to attend this dinner. No-brainer right?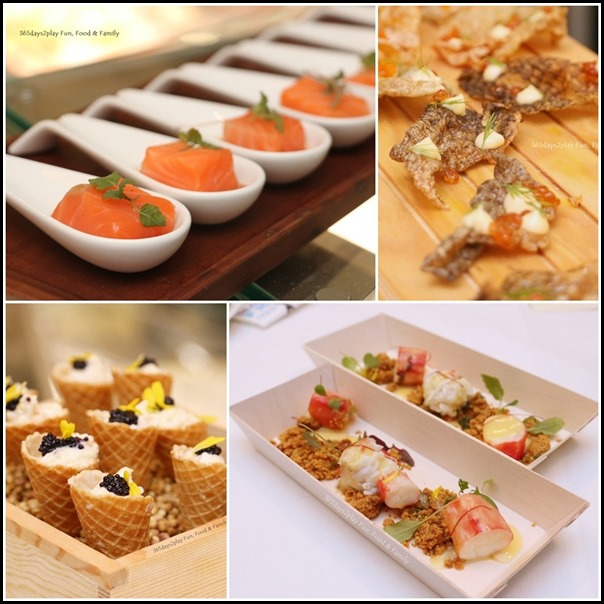 Apparently Norway is a very good place for seafood to grow. Because of the ice-cold and crystal clear waters, all Norwegian seafood grows slowly and develops a taste and texture that is sought after by chefs and connoisseurs. The story does make sense, because why do people live in such harshly cold conditions, if not for the fact that they can obtain a good product from the land, or sea in this case?
The food at FiSK was undoubtedly very good, even if frozen seafood was used. Seriously, the average person probably can't tell. I couldn't anyway. They all tasted mouth-wateringly good, so delicate and full of flavour. Actually fresh is not always better than frozen. It depends on the method of handling. If the fish is blast frozen within a short period of being caught, vs a non-frozen fish that has been left languishing out in the open for a long time, you know the frozen one is going to be better.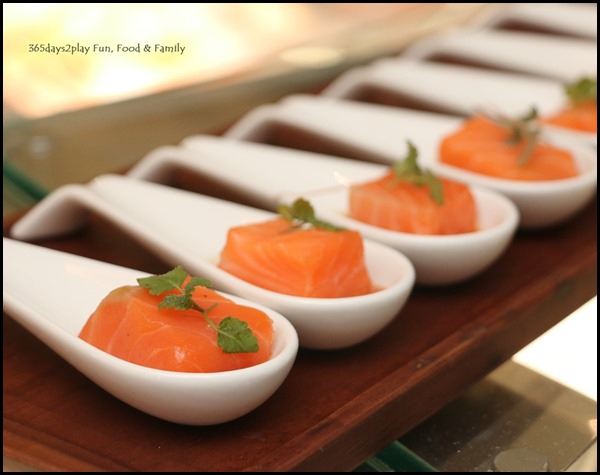 Salmon
So good. Just tastes so much better than the salmon you get from the Japanese chain restaurants.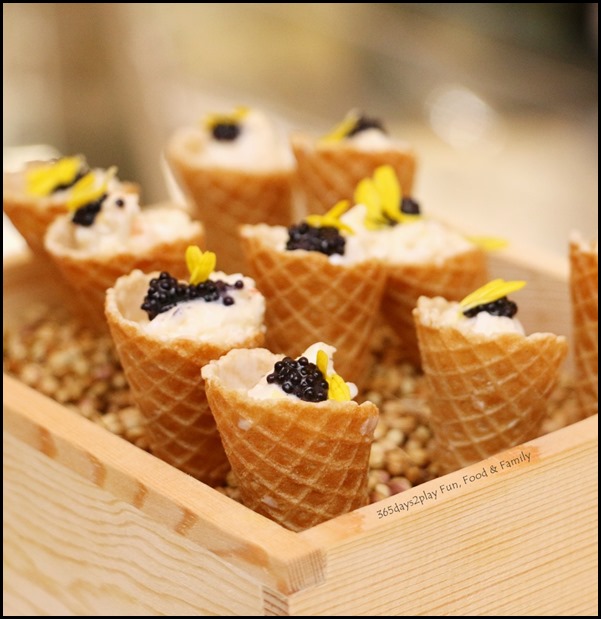 Lobster salad in seaweed cone
I like this new way of eating lobster salad!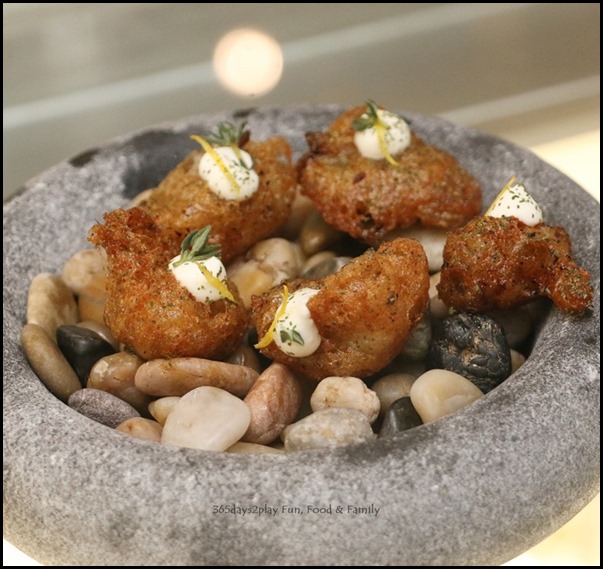 Rainbow Trout with lemon cream fraiche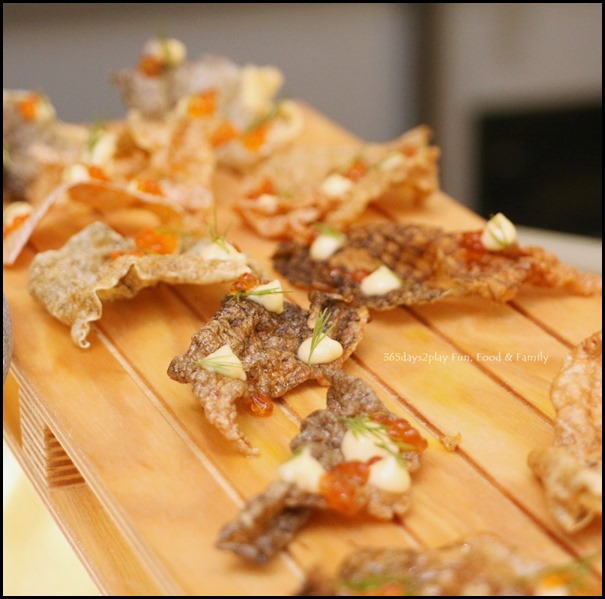 Salmon Skin with smoked mayo and roe
Slightly different from the super crispy types that you get from Chinese restaurants.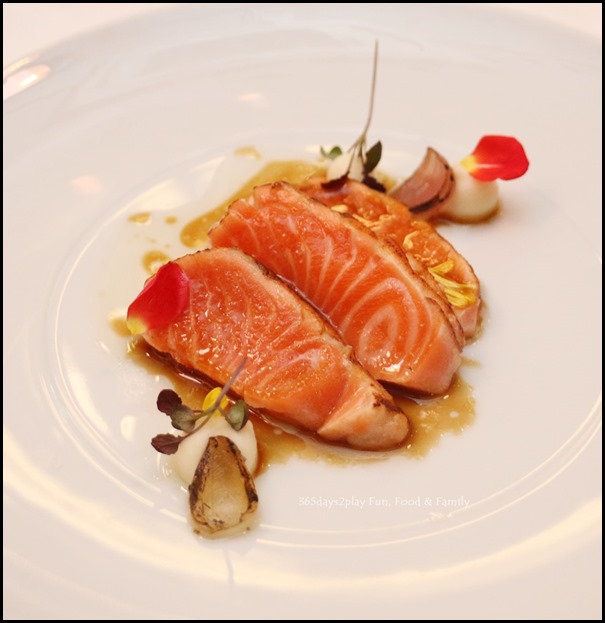 Trout Tataki (Charred trout with celeriac reduction and horseradish oil)
Very tasty, whether raw, seared or cooked. It lends itself to so many ways of preparation.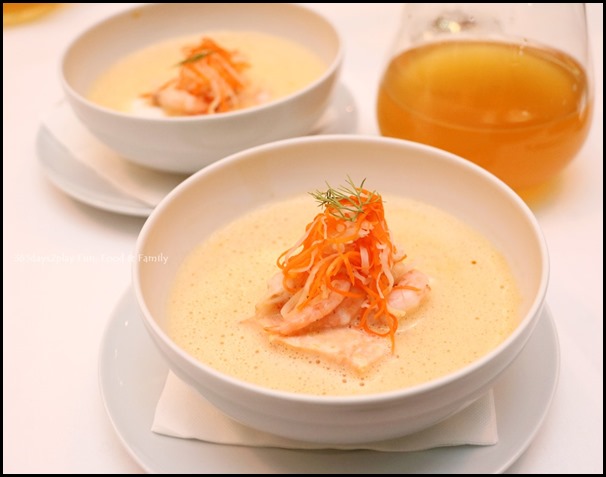 Creamed Fish & Shellfish Soup (with crudite of heirloom veg)
One of the most impressive soups I have had in a while! The broth was so full of flavour, and it may look creamy, but it tasted quite light. I could have drunk heaps of it. The seafood in the soup also retained their tenderness, and did not suffer from being overcooked as is common in a lot of soup places.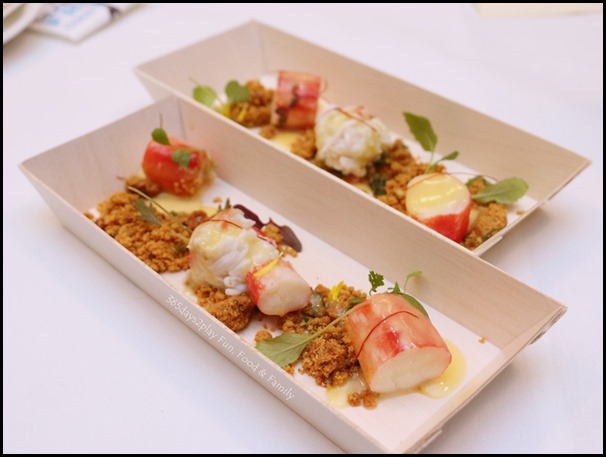 Steamed King Crab with curry leaves and milk crumble
Oh my, this was surely the highlight of my day. I feel like I cannot look at crab the same way again. Those succulent, sweet and tender morsels went so well with the mildly spicy curry leaves. The milk crumble added a very nice crispy crunch. You know that milk crumble and curry leave mixture could adorn any dish and it would be great! The best part is it was just so easy to devour the crab, no mess at all unlike at the Chinese restaurants where you have to get your hands stuck in.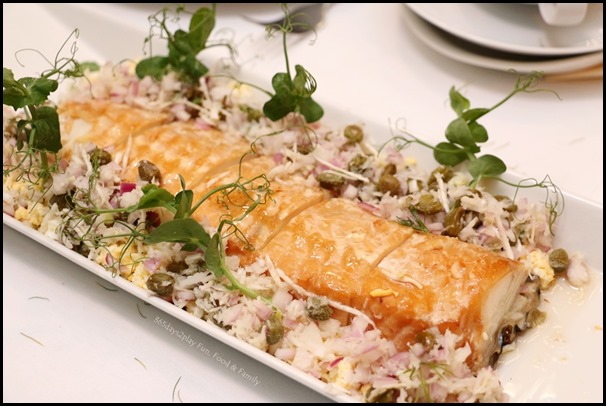 Hot Smoked Wolf Fish (with hard boiled egg, grated horseradish and brown butter)
Of the lot, I probably enjoyed this the least because I'd already eaten a lot and this tasted a little dry, especially when compared to the earlier dishes which were lightly prepared or raw. Still, I managed one piece.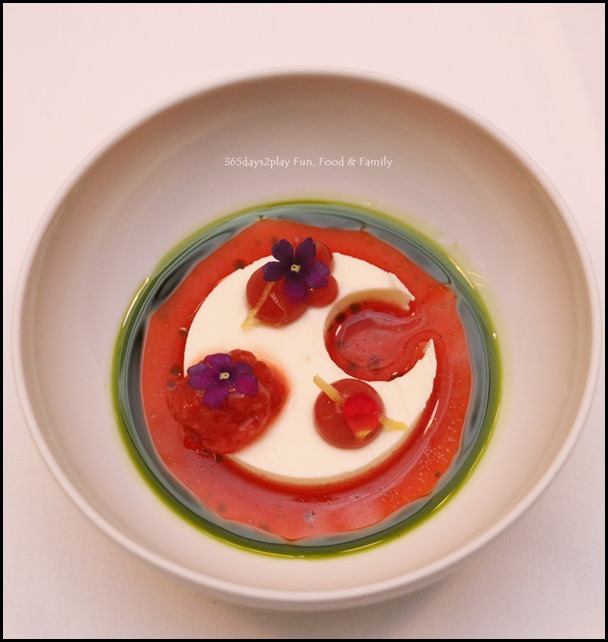 Sour Cream Mousse (strawberry consomme, preserved lemon, basil oil)
I'm not a fan of berries or fruit desserts but this was a fabulous dessert! Who knew that a sour cream jelly like pudding would go so well with strawberry soup? And that basil oil which sounds like it ought to make its appearance in savoury dishes and not sweet, actually enhanced the dish. It's herby flavour made me think of strolling in the woods or something. A very nice end to a very nice evening.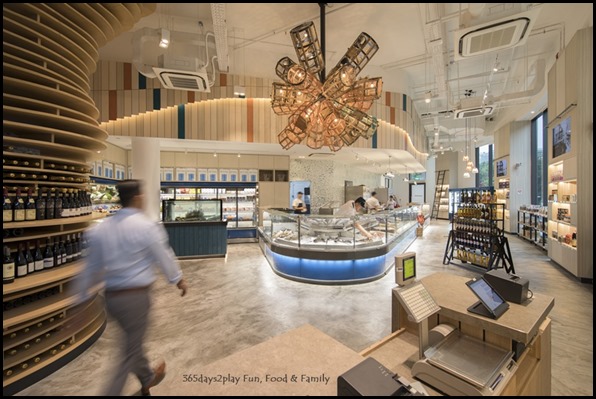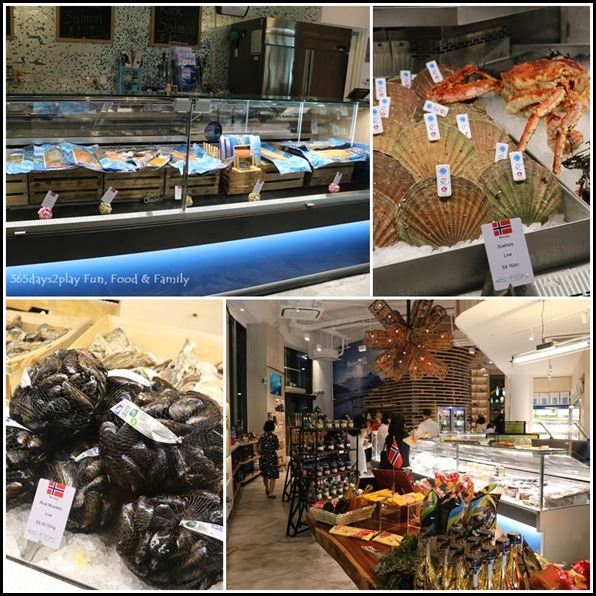 If you're planning to visit FiSK, do leave ample time to check out the seafood counter and food market. Preferably do not make plans after your meal because you're likely to want to buy up a storm and you'll need to bring home the produce immediately. If you're coming for dinner, you'll have to shop first because the market closes at 7pm.
---
Add me on Facebook, Instagram and Twitter if you want to be kept up to date with the latest happenings in the food and lifestyle scene in Singapore!
---
FiSK Seafoodbar & Market
30 Stevens Road #01-01 Singapore 257840 (Located within Novotel Mercure but facing the main road)
Operating Hours:
Monday: 11:30am to 7:00pm
Tuesday — Saturday: 11:30am to 4:30pm / 6:00pm to 10:00pm
Sunday: 11:30am to 7:00pm
Monday to Sunday 10:00am to 7:00pm (Seafood Market)
Tel : +65 6732 0711
Email : seafood@fisk.com.sg
Website : www.fisk.com.sg
Menu : http://fisk.com.sg/seafoodbar/menu.html