**British Indian has changed its name to Anglo Indian**
It's no secret that I love exploring the sights and sounds of Shenton Way. Working here may be dreary, but visiting Shenton Way as a tourist sure is fun. I highly recommend taking a stroll along this part of Singapore, if you don't already work here. Even if you do, come here during off peak hours and you might spy a side of Shenton Way you never knew existed.
Since it was my day off yesterday, I took the opportunity to pose as a tourist. It sure helps to wear casual clothes and tot a fat ass camera amongst the suit and tie types. The One Shenton Way Building has a number of new eateries to offer. Yup, that's the gold coloured building which can be seen from the ECP. To think that just a few years ago, this place was so run down you wouldn't think twice about going there. I should know, I used to work opposite One Shenton Way!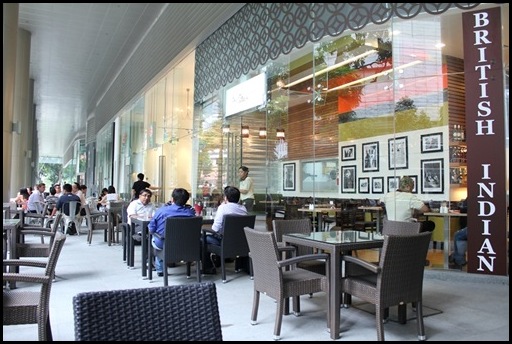 We walked past The Bank (yes it is a restaurant), past Sumo Salad, past Jewel Coffee and finally stopped at this most charming restaurant called British Indian Cafe & Bar. Even though I'd originally set out to find a nice sandwich place, British Indian really caught my eye. Prices looked pretty affordable so we sat down for lunch.

They offer set lunches Monday to Friday from about 11 — 2.30pm. For $12, you can get choose a meat or vegetarian curry of the day plus daal, salad, naan and rice. For $15, you can choose 2 curries (no daal) plus salad, naan, rice and also a dessert. It was 2.35pm but the staff gladly obliged to extend the set lunch offer to us.
Turns out that there were only 3 curries of the day so it was a great idea to get 1 $12 set lunch and 1 $15 set lunch. That way, we got to sample all 3 curries in addition to the daal, without having to repeat any dish.
Picture above shows Chicken curry, Mutton Curry, Daal and Fish Curry from left to right.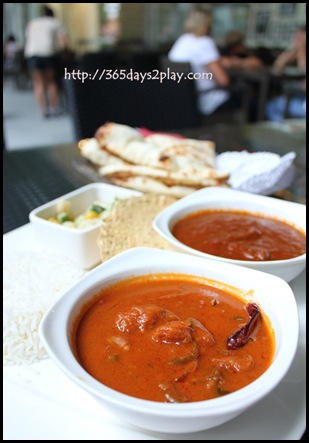 The highlight of the entire meal has got to be the fish curry. The curry was so tasty! It was light, with a tomato based flavour and was of just the right spiciness for me. The fish slices were so tender and I wished there was more of it! Between the 2 of us, we mopped up the entire dish and I very nearly wanted to lick the bowl clean as well.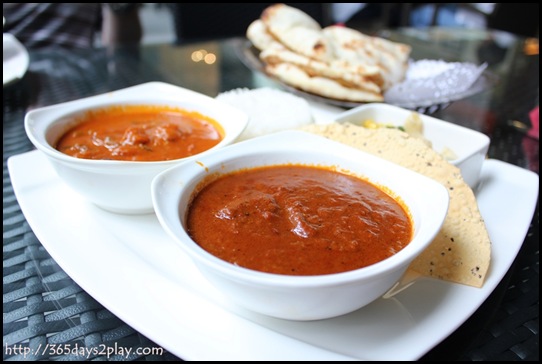 The mutton curry was also very tasty, and heavier than the fish curry. There were huge bits of mutton in the dish, more than the fish slices I feel. Curry went really well with the rice as well as the naan. Only grouse was that the mutton curry was a bit too spicy for me or I would also have finished the entire bowl.
The daal and the chicken curry were unfortunately just average when compared with the fish and mutton curry. Didn't really like the buttery chicken curry.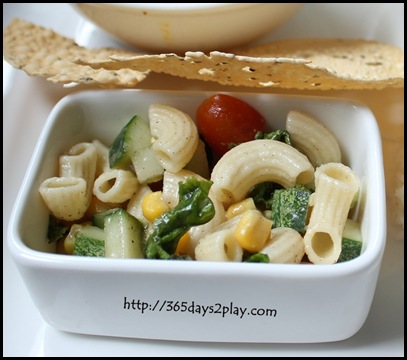 This was the salad that came with the set. I don't know if I've ever seen macaroni served in an Indian meal before. I'd much rather they provide a cucumber raita, I love those!
Is it just me or do you find that a macaroni salad seems oddly western for an Indian restaurant. Then again, they do call themselves British Indian. In fact, the next time I'm here, I'm going to order the British Connection (aka fish and chips). Comes with madras curry sauce. Fish and Chips with curry sauce will be a first for me in Singapore and I'm actually really looking forward to having that.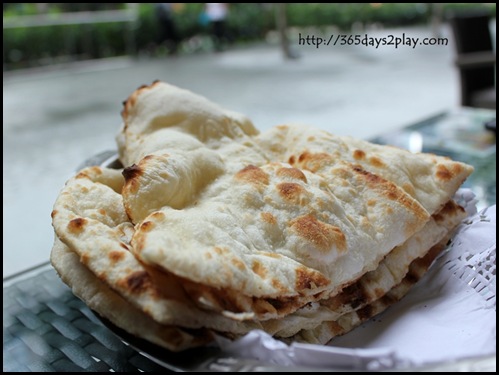 Four slices of naan were served along with the meal, in addition to the steamed rice. I love it that I don't have to choose between rice or naan because the fact is that I love both! The naan and the rice served here were fragrant and tasty. No complaints at all.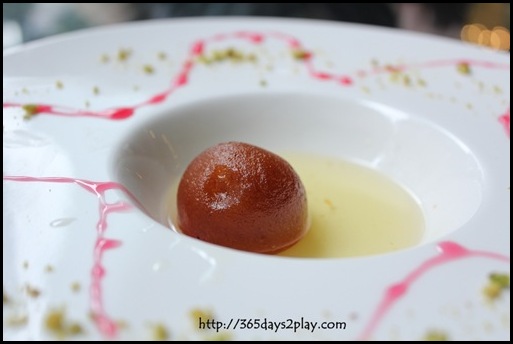 And last but not least, the Gulab Jamun dessert. Gulab Jamun is a dough made of milk solids and flour, deep fried and dunked in a rose and spice flavoured syrup. I think a lot of people may find this dessert too sweet, but I think it's absolutely delicious! I can't say that I've eaten many versions of Gulab Jamun so I can't tell if this is the best or near the best, but whatever the case, I thoroughly enjoyed the dessert. To the extent that I really wanted to order some more! Delicious, mmmmm!!!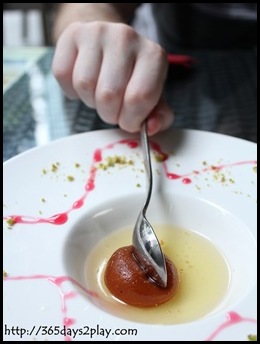 Why is it so tiny?!?!
Love the big open space dining concept. You can also sit in the air-conditioned restaurant, but no one did so for obvious reasons. Love it that it was a cloudy and drizzly day yesterday, it just made me feel like I wasn't even in Singapore! British Indian is right opposite the Singapore Stock Exchange. Can you see the reflection of One Shenton on the facade of SGX?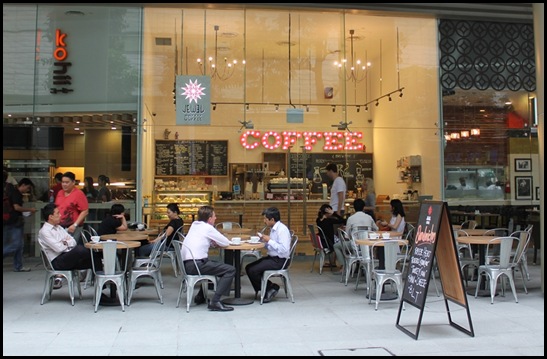 And after your curry, you can hop on to Jewel Coffee for the mandatory afternoon cuppa. Coffees aren't cheap in Shenton Way! A flat white will set you back $5.50! I'd forgotten how expensive things are in the central business district!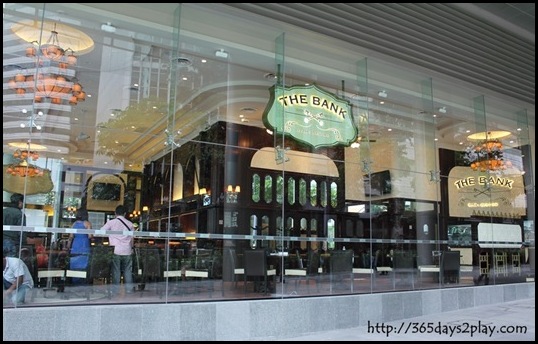 You could rob The Bank, but alas, it isn't open yet.
Seriously, how cute is that??? I wonder if the owners were former bankers.
For a full list of restaurant and cafe reviews, click here.
British Indian Cafe & Bar
1 Shenton Way, #01-08, Singapore 068803
Tel/Fax : +65 6636-9410
Email: BIcafebar@hotmail.com