Do you still remember the area where the old Burger King and Long Beach Seafood Restaurant was? That place, also known as Raintree Cove has recently gotten a complete makeover and is now entirely transformed! No more buildings at Raintree Cove, now it is a quiet little haven for people to stroll about, gather, sit on swings or simply chill under the stars! If you're wondering where to eat at East Coast Park now, click on the link.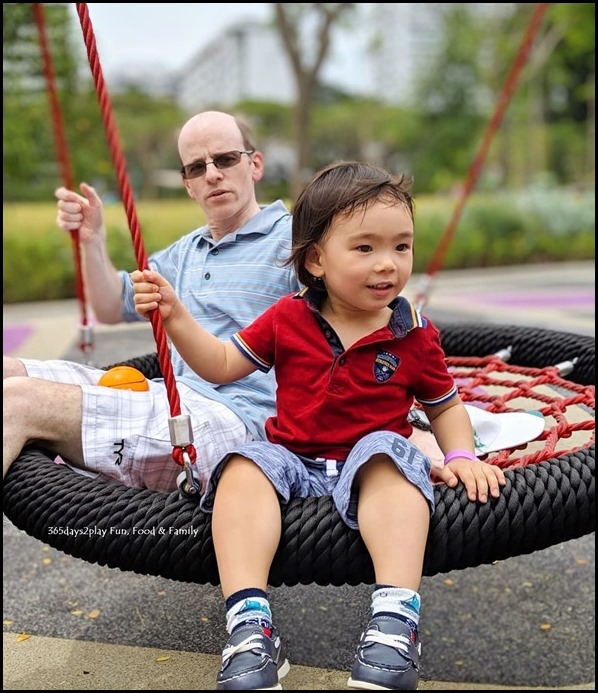 Don't mind Papa's expression. Perhaps the swing is going too fast for him??
We had a lot of fun playing at the swings area. Thanks to this swing net thingy or what you might call it, the 3 of us even managed to get a family shot together! The adults might even have more fun here. I saw a mother of 4 children screaming and laughing hysterically as her husband tried to swing her higher and higher!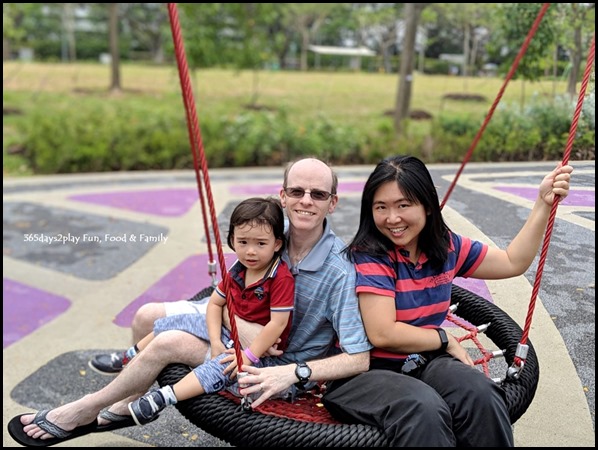 There are even those nostalgic swings from decades ago, you know the ones where you can face each other and use your legs to make the swing move, but I didn't venture to that area to take photos.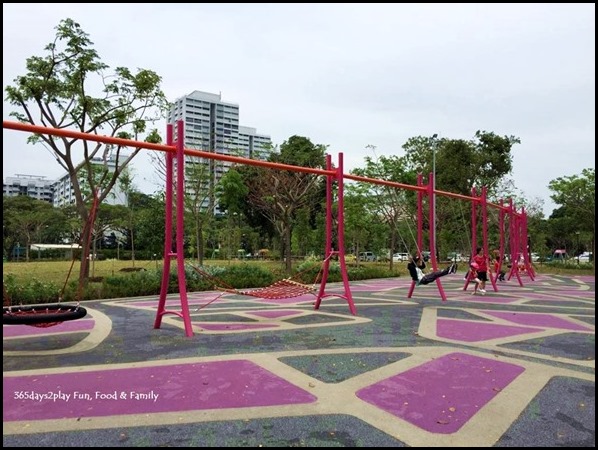 This is really more of a chill out place / nostalgic feel place rather than a playground you would deliberately come all the way for. If you want a huge proper playground that would excite the children, you have to go to the Marine Cove playground a few hundred metres away.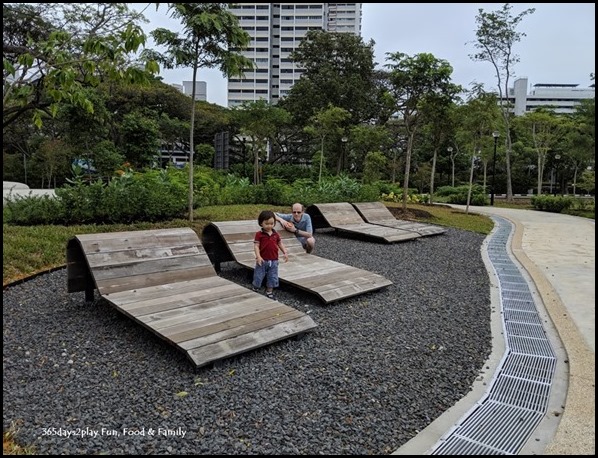 This is the other thing that would catch your eye when you are at Raintree Cove. I don't know what you would call these, giant sun loungers or deck chairs? It so happens we visited the park today after a bout of rain so it was a nice 28 degrees. I can't imagine anyone wanting to use this on a normal hot day, you'd be baked within minutes! But I am told that this could be a chill out place early in the mornings or in the evenings, or even a place to stargaze at night. Now that's an idea and I'd certainly want to return at night to enjoy a bit of stargazing, or realistically in Singapore's lit up night sky, a bit of cloud gazing instead.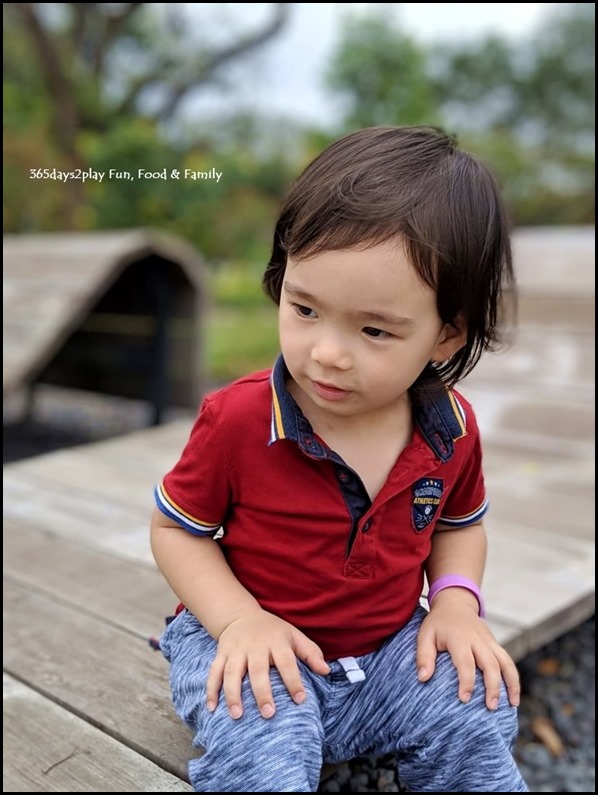 A good spot to take photos too, if the toddler is willing.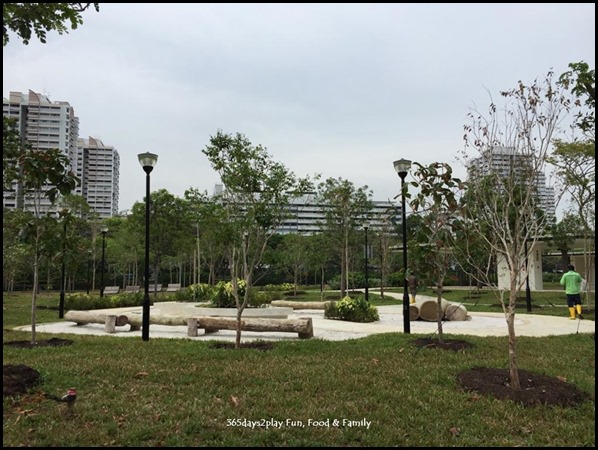 Logs on sand, a mini-obstacle course of sorts. Probably something the kiddos may like, biophilia is the key word these days aka a return to nature. Or, a place the Instagrammers may like.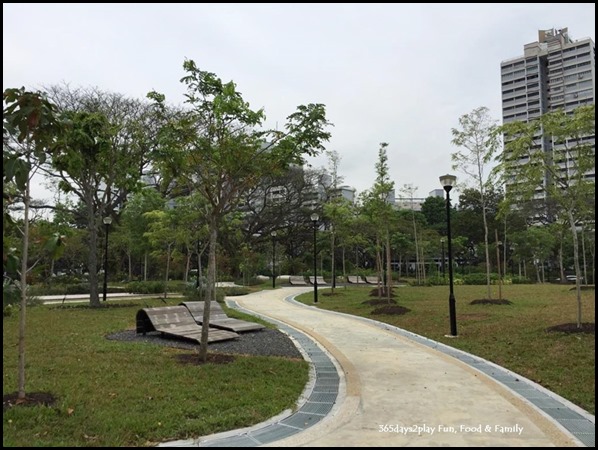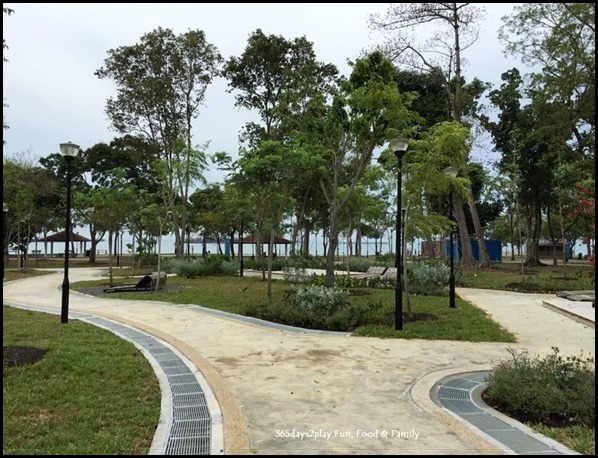 Yup… no more eateries at Raintree Cove for sure. It's a back to basics quiet place now. But if you want a bite to eat, there's actually a lot of cafes and restaurants at East Coast Park just a short stroll away.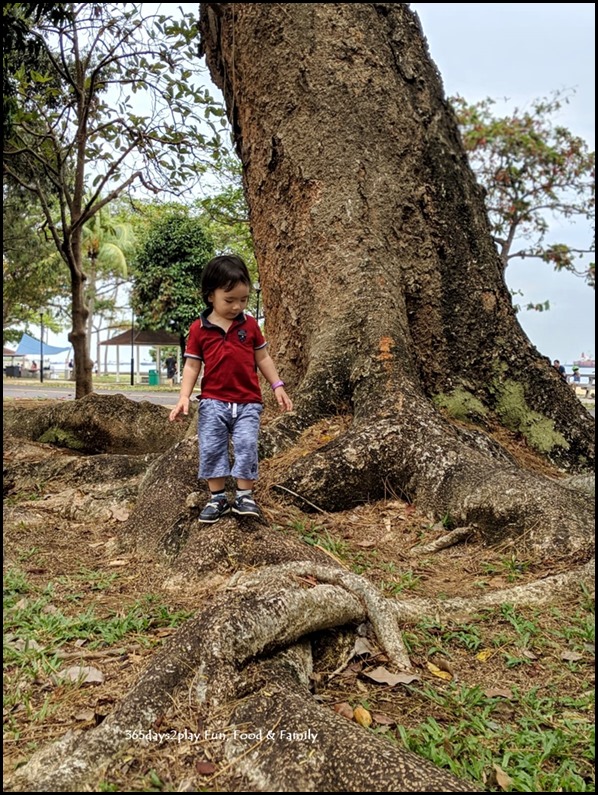 We didn't spend too much time at Raintree Cove, but that doesn't mean we went home. On the contrary, this generous tree here supplied its roots for 45 minutes of fun! It's been the in-thing for Edward these few months, trying to balance his way across the tree roots. We've been to Pasir Ris Park, Kallang Riverside Park and East Coast Park amongst other places for Edward to indulge in this. I love it that he's having so much fun outdoors like this. Experts say that you need to spend at least 1 hour outdoors. It's where kids learn skills that books don't teach, and also it's good for the eyes. I've even read an article that says you need 5 hours a day outdoors! We are certainly not the most outdoorsy of families so we do actually have to make a conscious effort to hit that 1 hour at least!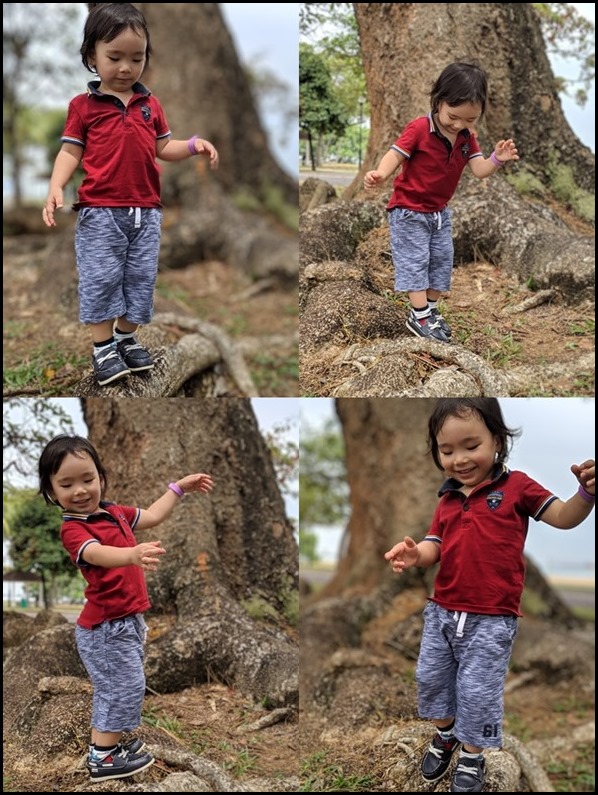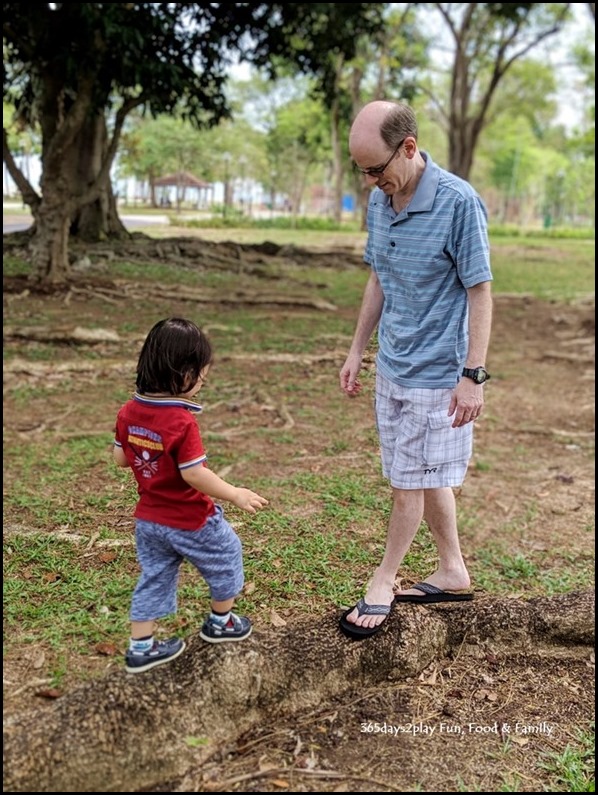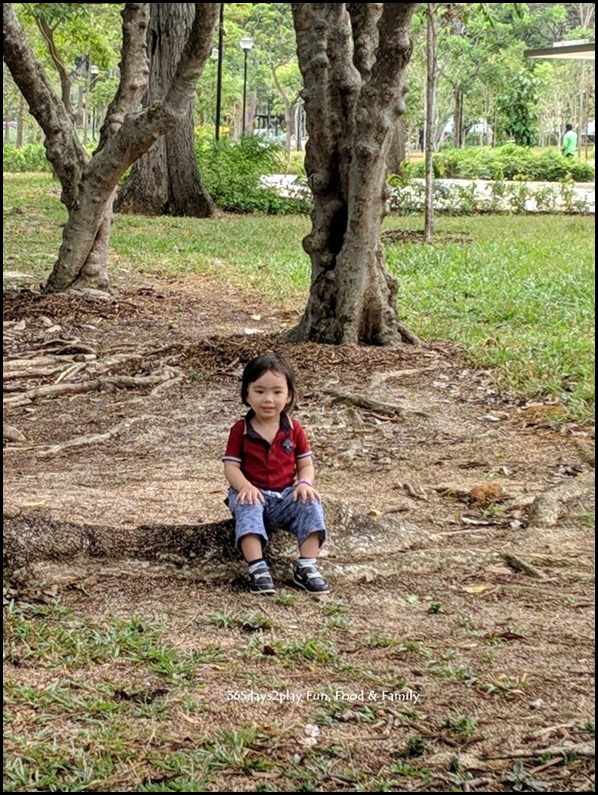 ---
Add me on Facebook, Instagram and Twitter if you want to be kept up to date with the latest happenings in the food and lifestyle scene in Singapore!
---
Raintree Cove
1018 East Coast Parkway Singapore 449877 (Carpark C3 or C4)