*Media Invite*
It's going to be Chinese New Year again and apart from Christmas, Chinese New Year is something I really look forward to each year. Unlike many people I know, I actually love visiting relatives, having relatives over to my place, all the CNY goodies and also the Ang Pow! This is possibly my last year to receive Ang Pows for CNY so I must celebrate doubly hard!
Last Tuesday, I was invited to partake in a Chinese New Year feast at the Crowne Plaza Changi Airport. This Chinese New Year, Crowne Plaza Changi Airport's award winning restaurant Azur is presenting special lunch and dinner festive menus from January 22, 2012 to February 6, 2012. Diners can indulge in culinary treasures from the festive menu with an array of gourmet dishes from its international buffet. Along with the festive menu, guests will enjoy complimentary Prosperity "Lo Hei" Yu Sheng prepared fresh at a live station.
So before anyone else has done so, I've already done my Lo-Hei. In fact, my first Lo-Hei for 2012 was all the way back in October 2011 at Thai Village (can you beat that!). The dishes we had at the tasting session were a sampling of the best dishes available for the festive buffet.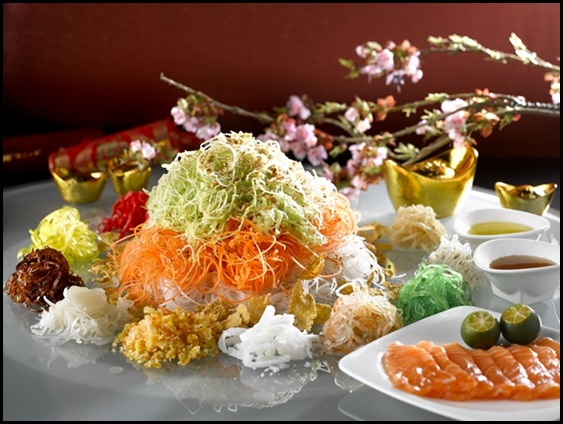 Everyone likes to do the Lo-Hei (Yu Sheng) as it's quite fun to toss the ingredients as high as possible. It can be quite a rowdy affair with accidental splatters. I think I found some shreds of vegetable in my hair one year! Definitely don't wear your best shirt on that day. But while people like tossing the Yu Sheng, most don't enjoy eating the dish all that much. I personally take a few mouthfuls worth and then I start fishing for the salmon and the crunchy golden nuggets.
The Crispy Salmon Skin and Abalone Yu Sheng at Azur Restaurant is quite different from the norm. For the 1st time ever, nobody was interested in the golden nuggets. Instead, everyone was fishing for the crispy salmon skin, which I can tell you is really delicious and far more interesting that plain old crackers now.
**For the festive buffet, diners will enjoy complimentary Prosperity "Lo Hei" Yu Sheng prepared fresh at a live station (only Salmon slices and no Abalone or Crispy Salmon Skin). Whether it's Yu Sheng for 2 people or Yu Sheng for 20 people, the chef will still prepare it for you! So couples, you will still be able to partake in the good fortune! The Yu Sheng with the Abalone and Crispy Salmon Skin is for takeaway only.
The Salmon and Abalone Yu Sheng in Chef's special dressing "Ginger Shoyu" was nicely laid out. See the huge bowl of crispy salmon skin? Yummmm. The abalone was nice too but mostly lost in the huge pile of salad. The Ginger Shoyu sauce was very nice as compared to the cheap sweet sauce used in most other places. Scroll to the end to see pictures of the tossing!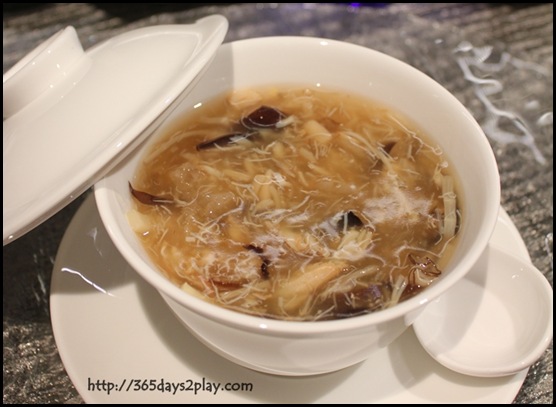 Next up was Treasures from the sea (Fish Maw, Sea Cucumber, Crabmeat, Dried Scallop). This is the type of soup that would be featured in most wedding banquets if the wedding couple chooses not to go for sharks fin. But at Azur, they have jazzed up the soup with lots more ingredients. I found the soup to be flavoured very well with the ingredients used. It was hearty and there was a lot of bite. As you can see from the pictures, it really is chock full of ingredients. The soup was a tad too starchy though and I had to stop at half a bowl in case I couldn't eat the rest of the lunch.
Steamed Garoupa in Pickle Chilli and Crispy Pork Lard — Now fans of pork lard, you surely have to try out this fish as it's practically swimming in it. Those crispy brown things are the pork lard! I had a tiny nibble of it, don't want to be at odds with my doctor, and it was sooo good. The fish itself was tender and fresh tasting. Surprisingly, the pork lard didn't make the fish taste oily and for me, there wasn't a noticeable pork flavour in the fish as well, which is a good thing. Instead, what I detected was a hint of sweetness in the soya sauce due to the pickle chilli. For ease of serving, garoupa fillets will be served at the buffet instead of whole fish.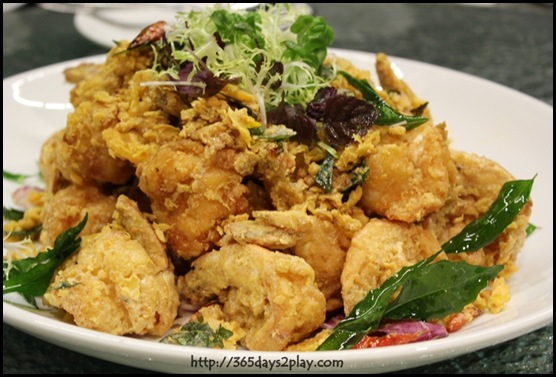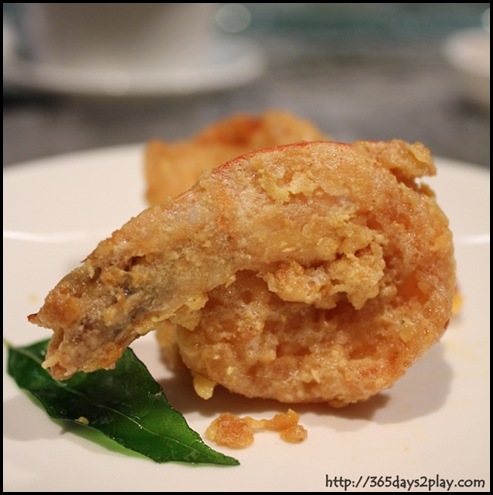 Sautéed Sea Prawn with Planta Butter and Salted Egg — I love prawns, especially salted egg prawns! I was happy to see that the Chef had included liberal amounts of curry leaves, which I love munching on. I have a curry plant (or is it curry leaf plant) at home and I add the leaves to plain rice just to give it a little extra fragrance. Cumin does the trick too. The prawns were nice but I would have preferred more salted egg. This tasted more like butter prawns or prawns fried in batter. Prawns were also a little tough.
Roasted Chicken with Miso and Sesame — Oh this roasted chicken dish was EXCELLENT. The meat was so tender and juicy, with the chicken skin roasted perfectly to a slight crisp. The sesame seeds added an interesting dimension to the chicken. Only chicken thigh is used as the Chef knows that chicken breast on a buffet line tends to go dry and tough very fast. Here's a chef that admits the disadvantages of a buffet line and adjusts his dishes accordingly so that your meal still tastes great. You would think that all restaurants would know this, but how many times have you been to a buffet and eaten tough rubbery meat and soggy vegetables?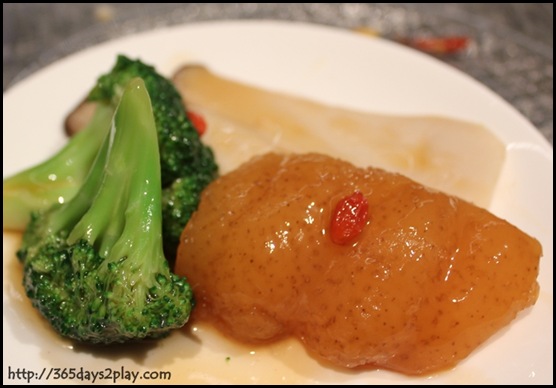 Braised Sea Cucumber with King Mushroom and Seasonal Vegetable — The sauce in this dish was savoury and delicious. It was lovely to eat the crunchy broccoli cooked in this sauce. I haven't eaten sea cucumber all that much to appreciate the finer details, and it always seems a bit tasteless to me. Those who love sea cucumber, you can get your fill of it at Azur as the pieces are huge. King mushrooms were also very nice but I would advice you to slice it up on your plate first as it is too big to put into the mouth whole.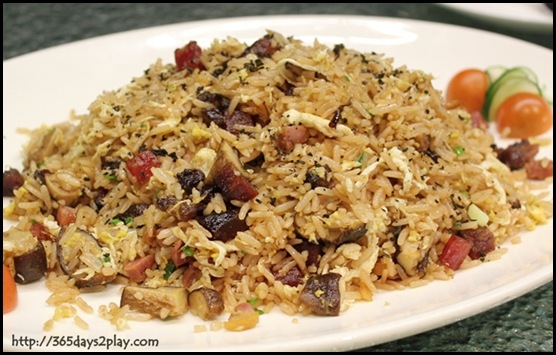 Wax Meat Fried Rice with Tea Leaf and Scallion — I liked this dish very much as well. The fried rice was light, fluffy and didn't taste oily at all. The chef was very generous with the waxed meats. There are 3 types of meat (waxed duck, waxed sausage and waxed pork) in there although they kind of look the same if you're not scrutinising hard. The salty flavours of the waxed meats enhanced the fried rice even more.
Pu Erh Tea leaves were used when cooking the rice to give the rice extra fragrance. Pu Erh was chosen as it has a more discernable flavour as compared to other tea leaves, but don't worry about overdosing on it. The tea flavour is barely detectable for me and the dish tasted great. It must have been one of those flavours that worked behind the scenes. BTW, if you see black flecks, they are tea leaves and not burnt bits!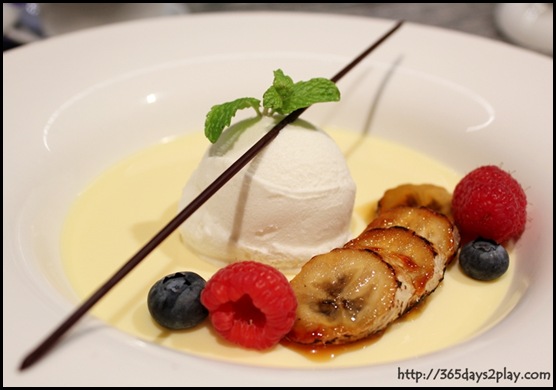 And last but not least, Chilled Milk Pudding with Caramelized Banana and Coconut Ice Cream. The coconut ice cream was really fantastic. The ice cream was creamy and the coconut flavours were really strong. The milk pudding was very much milder in taste such that after eating the coconut ice cream, I was barely able to taste the milk pudding. You should try the milk pudding first before tackling the ice cream. After feeling so satisfied with the coconut ice cream, and polishing off the bananas, I sat back to relax and forgot to eat the chocolate stick!
~~~~~
You can enjoy all these dishes at Azur's Chinese New Year Buffet. Apart from the dishes we sampled above, other signature dishes include Sliced Abalone Salad, Coq Au Vin-Stewed Red Wine Chicken, Signature Drunken Prawns in Herbal Broth, Golden Roast Suckling Pig and even Singapore Style Wok-Fried Chilli Crab. I am told that Azur does a mean Chilli Crab. There is no ala carte Chinese New Year menu.
During the festive period, Azur will continue to serve the best of eastern and western international cuisines such as the ever-popular selections include Boston Lobster, Fresh Ocean Oysters, Sashimi Selection, Roasted Leg of Lamb, Thyme rubbed Wagyu of Beef, Cantonese Style Stewed Pork Knuckle and Roasted Meats.
I believe most restaurants will be serving the more traditional 8-10 course dinner for Chinese New Year. Azur at Crowne Plaza is one of the few places that will be doing a buffet for Chinese New Year. If you want to celebrate Chinese New Year, without having to eat the same thing as your mother and your grandmother, a buffet would be a viable solution.
Chinese New Year Buffet Lunch
January 23, 2012, Monday to January 24, 2012, Tuesday – S$58++ per person
January 27, 2012, Friday to January 29, 2012, Sunday – S$48++ per person
February 3, 2012, Friday to February 6, 2012, Monday – S$48++ per person
Chinese New Year Buffet Dinner
January 22, 2012, Sunday — S$98++ per person
January 23, 2012, Monday to January 24, 2012, Tuesday – S$88++ per person
January 25, 2012, Wednesday to February 6, 2012, Monday — S$68++ per person
Prosperity "Lo Hei" Yu Sheng
Available for takeaways from January 15, 2012 to February 6, 2012
"Double Happiness" Abalone and Salmon Yu Sheng — S$88++
"Wealthy Crowne" Abalone Yu Sheng — S$68++
"Eternal Prosperity" Norwegian Salmon Yu Sheng – $48++
(Prepared and packed in an elegant takeaway box. Serves 8 )
Prices are subject to service charge and GST.
Azur
Crowne Plaza Changi Airport
75 Airport Boulevard
Singapore 819664
Tel : 6823 5354
Click here for Non-festive Menu
Operating hours:
Ala carte: 6.30am — 10.30pm (Daily)

Buffet Breakfast: 6.30am — 10.30am (Daily)

Buffet Lunch: 12pm — 2.30pm (Mon — Fri)

Buffet Dinner: 6.30pm — 10.30pm (Daily)

Weekend Changi Brunch: 12.30pm — 3.30pm
~~ A very special thanks to McGagh Communications and Crowne Plaza Changi Airport for hosting the wonderful CNY lunch!~~