Do you love Pororo Park, the kids indoor playground located at Marina Square? If you love Pororo Park, you'll be glad to know that sister outlet Tayo Station has recently opened late August 2018 at Downtown East in Pasir Ris! Tayo Station is actually quite different from Pororo Park, so it's definitely worth a visit even if you have already visited Pororo Park.
Tayo Station is themed around the South Korean animated series (Tayo The Little Bus) and comprises the following main play areas:
Tayo's Road Circuit
Poco's Hinoki Play
Gani's Playground (jungle gym)
Cliff Ball Pool
Toddler Play area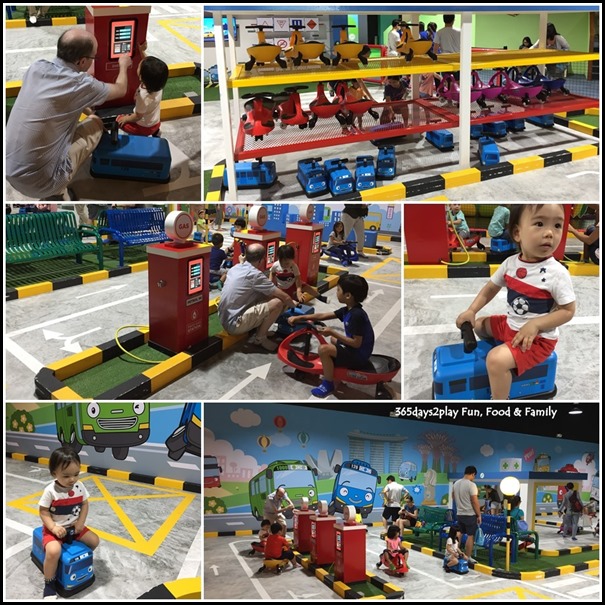 Tayo Station Road Circuit
For Edward, Tayo's Road Circuit was definitely the unique feature and highlight of our time at Tayo Station. This is where the kiddos can ride on mini vehicles and propel themselves (using leg power) around the road circuit. Unlike other indoor playgrounds which may have a small area for vehicles to perhaps move in a straight line or a loop, the road circuit here is pretty sizable, and includes a garage as well as a petrol pump area! Edward had a fantastic time pretending to fill up his vehicle, and he was stuck there for quite a while too. And because the area is fairly large, it allows for the road circuit to be more realistic, with vehicles going in both directions (or perhaps all directions!).
Do watch out for your kids though, because collisions can sometimes happen, which unfortunately it did for Edward. Some kid in a bigger vehicle rammed into Edward's little toy bus and he fell backwards onto the floor!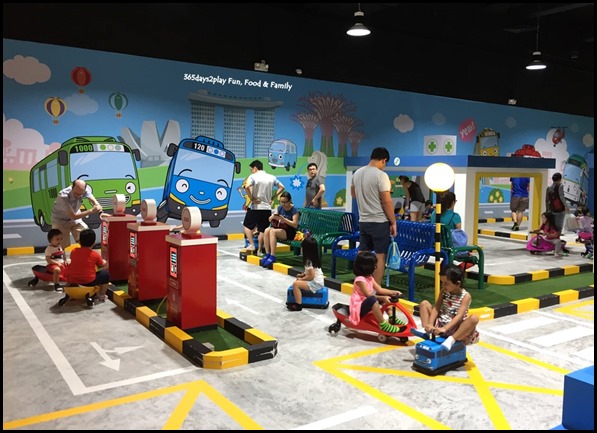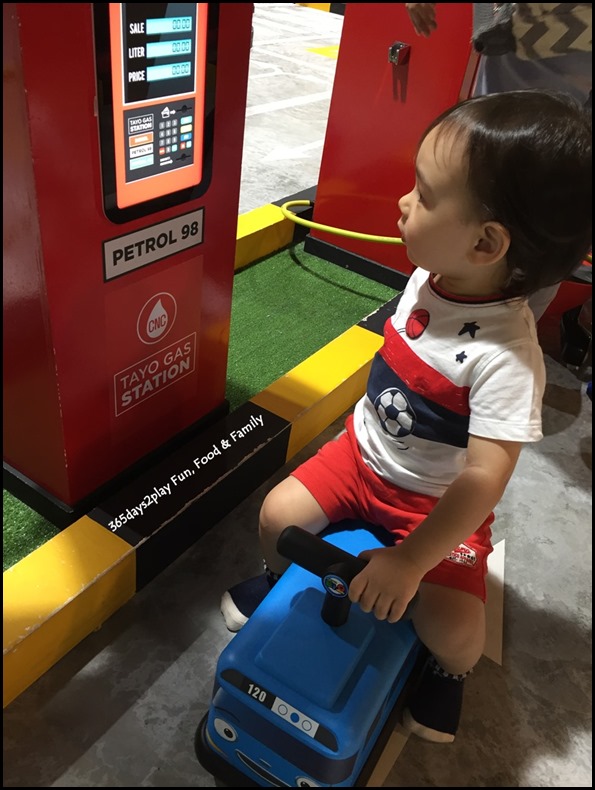 Papa, why do you say that petrol is expensive? It's free!!!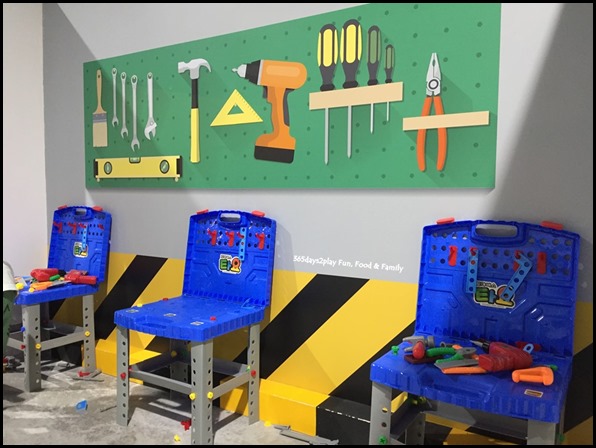 The garage toys, but most of the kids were too absorbed driving around to stop for long at the garage.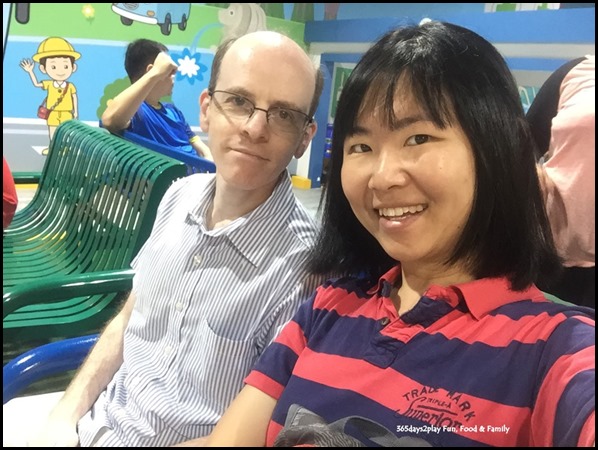 These legit looking park benches are really useful for being in the thick of the action and allowing us to keep watch on Edward without too much effort.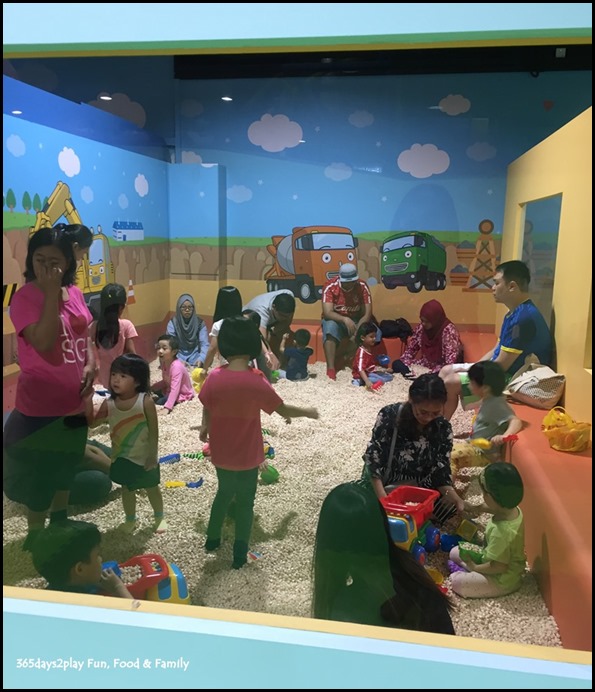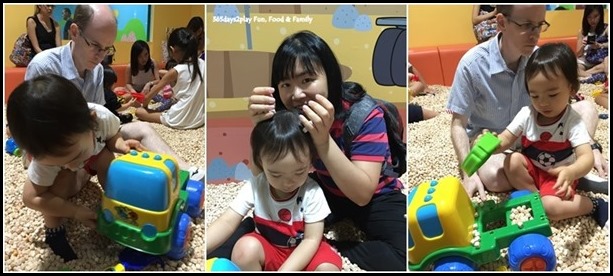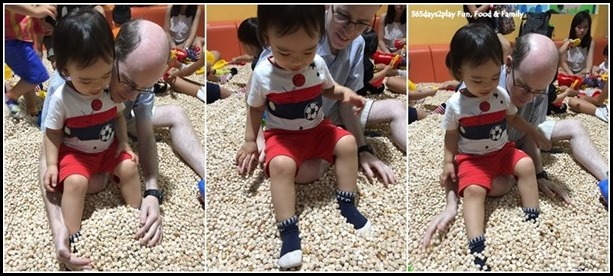 A lot of the younger children loved the Hinoki play area. Can you see us parents loved it too? I tried to pour an avalanche of hinoki cubes onto Edward's head while Papa tried to bury Edward's feet! Would be nice to have buckets or toys where the children can pour the hinoki cubes into. Or an marble run type contraption for the kids to pour and watch the cubes rolling downwards would be cool too!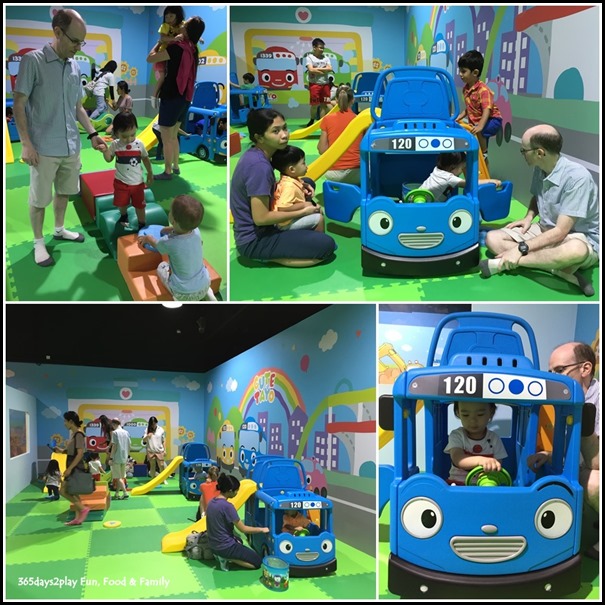 The toddler play area where Edward spent quite some time driving the bus! He really loves driving any vehicle he comes across so it wasn't any wonder that he zoomed straight for that. Parents be careful with the doors of the buses though, because just like real vehicles, those doors can slam on small hands if some kiddo tugs hard at the door! Btw I like it that the buses and slides are at a low height and really suitable for toddlers.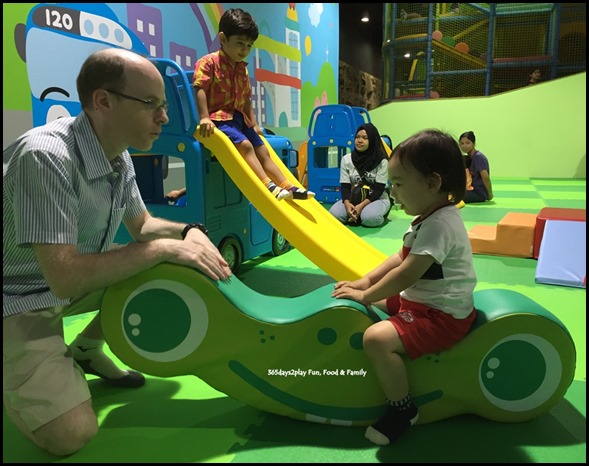 Edward, did you know you are sitting on the frog's eyeball?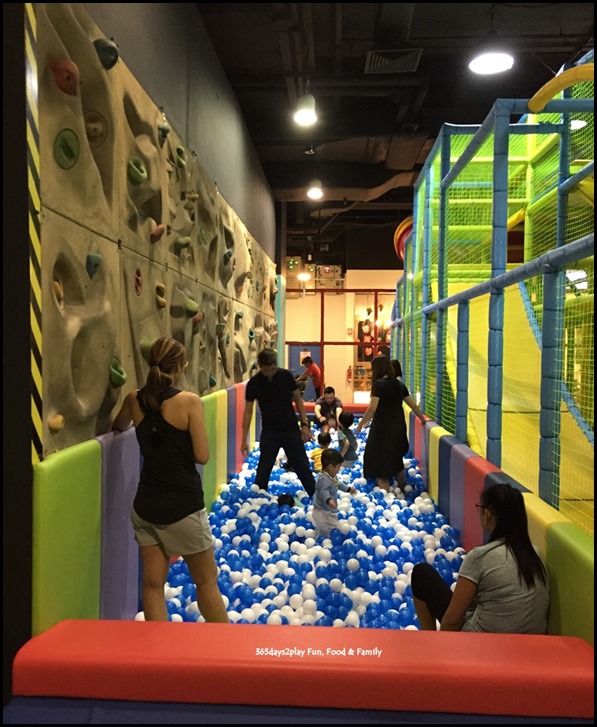 Here's the ball pit and climbing wall area. Edward has his phases with the ball pit and last month he wasn't in a ball pit mood so we didn't visit this area. I think the rock climbing area is a fantastic addition too, because once again, how often do you find that in a normal indoor playground? I know there are specialised rock-climbing facilities for kids elsewhere, but some kids just want to have a quick go at it or just to try out so this would be a great opportunity. Just be careful not to fall into any kid directly below!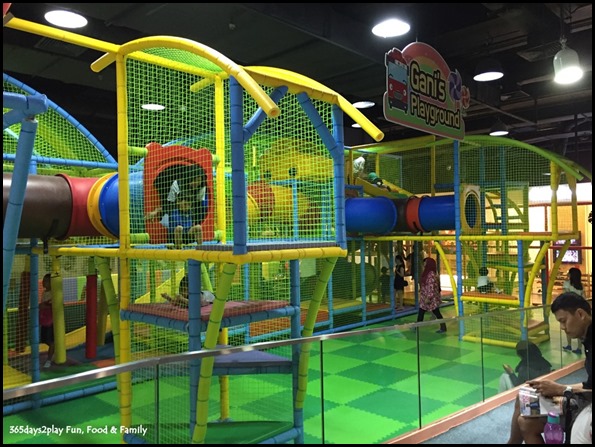 Here's the jungle gym area, quite a sizeable one with lots of tunnels. Great for the kids, not so for the parents oops!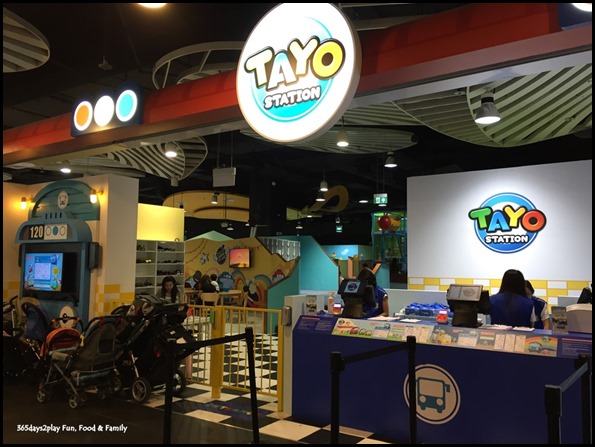 Do note there is no cafe at Tayo Station, although there is a small seating area with tables and chairs if you have brought your own food and drinks. Food isn't an issue though because the entire Downtown East building is teeming with restaurants and cafes, including a number of eateries directly outside Tayo Station, so where to eat should be the least of your worries.
---
Add me on Facebook, Instagram and Twitter if you want to be kept up to date with the latest happenings in the food and lifestyle scene in Singapore!
Read my reviews of other indoor playgrounds in Singapore
---
Tayo Station
E!Hub, Downtown East, 1 Pasir Ris Close, Level 3, Singapore 519599
Opening Hours : Mon – Fri:  11.00am – 8.00pm 
                           Sat, Sun, PH & School Holidays: 10.00am – 9.00pm
Email : info@tayostation.com
Website: http://www.tayostation.com
Telephone: +65 6283 7900