When TWG first opened in Singapore several years back, everyone was keen to go check out this gilded and Parisien looking tea salon. It was quite unlike all the other tea houses we have ever seen, not that there are many to begin with in Singapore! I for one was attracted by the tai tai look. But because prices were so steep, I just couldn't bring myself to dine at TWG more than once. $45 for a tea set where you get less food than at a posh hotel, I would frankly rather have my tea at the hotel! IF, however you just purchase the loose leaf teas without any fancy packaging, ie basically the tea leaves are just packaged in a paper bag, that in itself is quite affordable.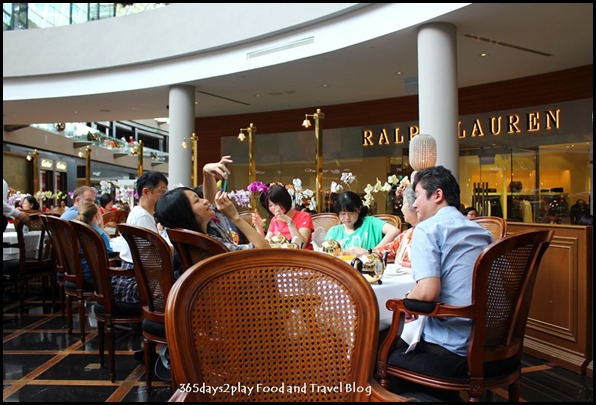 Recently, I went to check out TWG's menu again and it seems that there are new additions to the menu. They still have the $40 plus dollars sets, which I find are not value for money. However, if you order the main courses or brunch dishes, those are pretty okay. For example:
Pan-seared sea bass $26
Marinated cod fish $28
Wagyu Steak $35
Grilled Chicken $26
Wagyu Burger $24
3 mini-burgers $24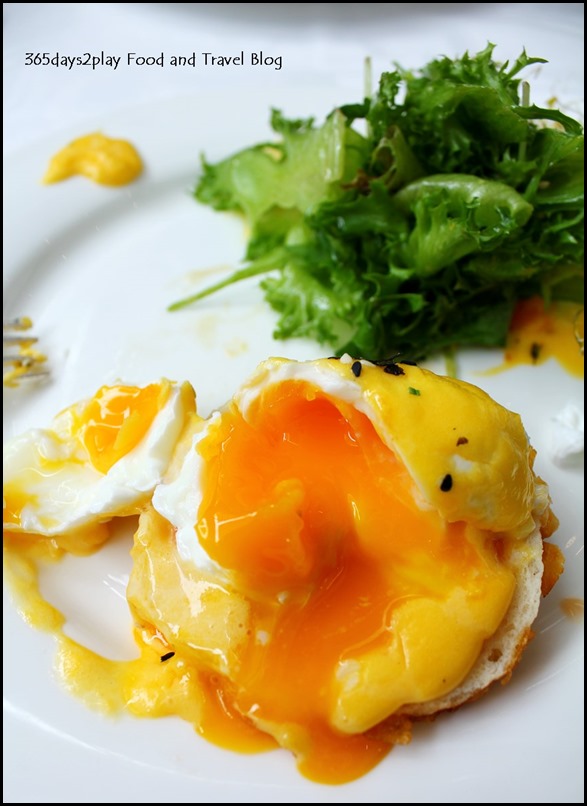 Eggs Benedict (Homemade toasted English muffins with 2 poached farmhouse eggs served with creamy hollandaise sauce and a choice of smoked salmon or turkey $19
The Eggs Benedict was what I ordered, under the all day dining menu. These days my mind goes weak when I see eggs benedict on the menu, but not so long ago, it would have been the English Breakfast that I would have ordered as I wanted a bit of everything! The good thing about eggs benedicts are that they are not fried. I hope you like this egg porn picture because there are few food items that turn me on as much as a flowy yolky egg!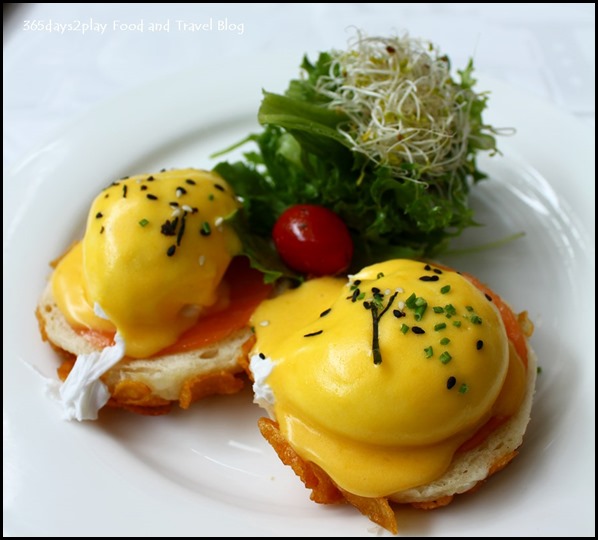 This was how the eggs benedict looked like before I did the egg cutting ceremony on it. I like it that a muffin base is used instead of bread as it has more structure and is better at soaking up the egg yolks. The muffin was nice but just a little on the tough side. Hollandaise sauce was also made well, not so creamy until I feel like I'm eating butter. The eggs were cooked just a little bit too long so a bit of the yolk had started to harden. Hence you can see for my 1st picture I had to pretty much dissect the entire egg before seeing the yolk ooze. I also liked the alfalfa sprouts and fresh lettuce accompaniment, which also warrants the slightly more expensive than usual cost of $19. But on the whole, for TWG, and for a location such as Marina Bay Sands, I thought this was a good value for money.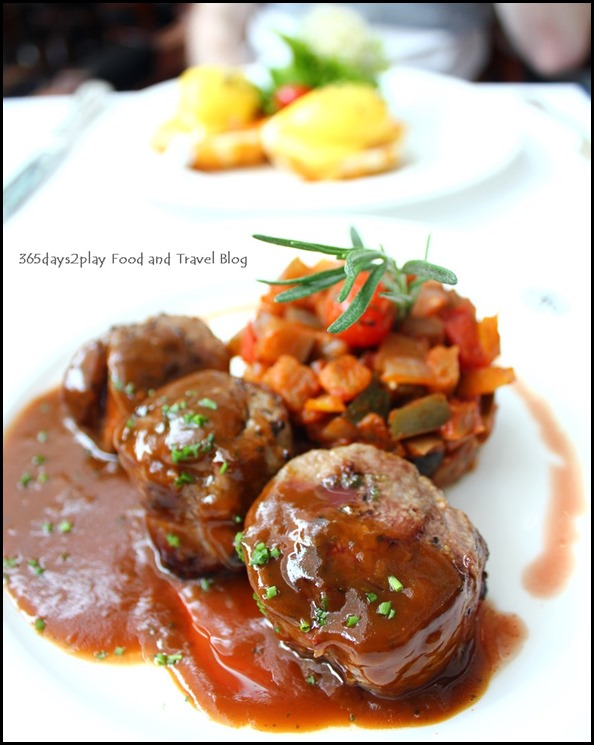 Saddle of Lamb seasoned with cumin, oregano and rosemary accompanied by a ratatouille drizzled with a rich brown sauce infused with Silver Moon Tea $28
We were not too sure with how the lamb would turn out, given that TWG doesn't strike us as a proper restaurant. But we were pleasantly surprised to find that the saddle of lamb was quite good as well. The meat was tender, and the seasoning was well chosen. Not too sure if we managed to detect any tea taste in the sauce, but it was a good dish on the whole.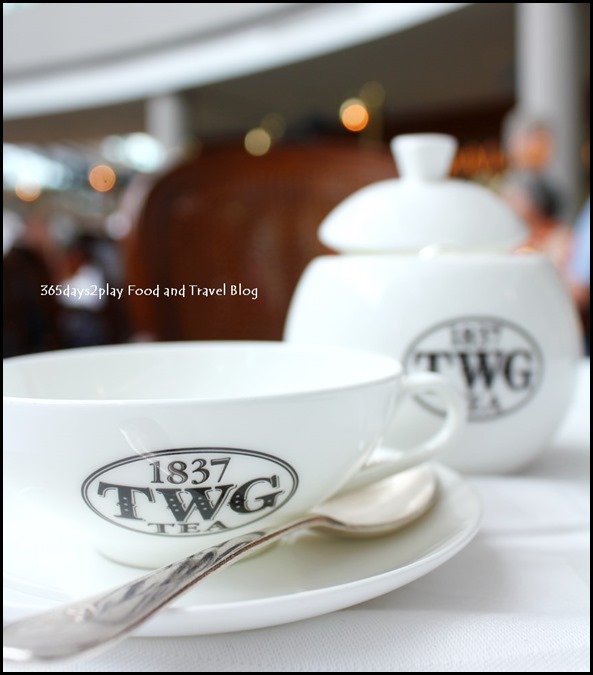 In the end, we didn't order any tea at TWG as it didn't seem to complement the dishes we were having. While TWG's teas may be nice, I wouldn't really recommend ordering the tea if you want to keep your costs down. A pot of tea is pretty expensive at about $10.
I would also advise you to steer clear of the sets because the teas and the tea pastries are the most exorbitantly priced! The teas cost about $10. The cost for the tea pastries are also ridiculous to the point of being funny. The following all cost $9, and are normal sized:
Madeleines with Earl Grey Fortune, 3pcs
Financiers with Martcha, 2pcs
Muffins 2pcs
Scones, 2pcs
Caneles,2pcs
But the piece de la resistance? A croissant costs $8!!!!! That really takes the cake. But I suppose that is the price to pay, if you want to have afternoon tea at TWG. If you want to enjoy TWG tea without breaking your wallet, order dishes from the all day dining menu! That's my tip and you heard it here first!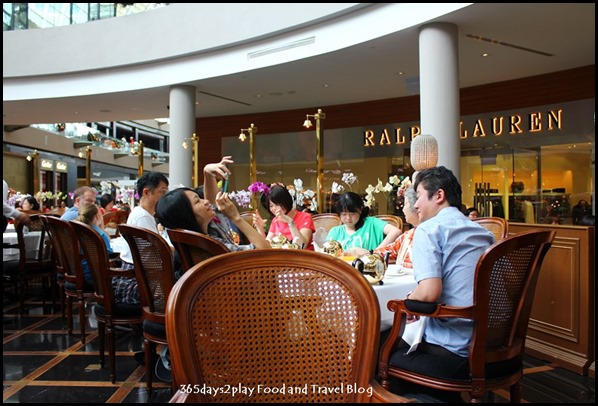 This is the TWG Tea Salon on the Bridge. Pretty exciting to have tea on a bridge I must say, with people passing underneath! Btw have you heard of the French tea brand Mariage Frí¨res that has been around since 1854? Check out their website. The similarity with TWG is uncanny!
---
Read about my 1st visit to TWG back in 2010
Add me on Facebook, Instagram and Twitter if you want to be kept up to date with the latest happenings in the food and lifestyle scene in Singapore!
---
TWG Tea Garden
The Shoppes at Marina Bay Sands
2 Bayfront Avenue, B2-65/68A
Singapore 018972
Tel: +65 6565 1837
Opening Hours:
Monday to Sunday 10 am – 11 pm and until 12am on Fridays, Saturdays and the eve of public holidays
Other TWG Tea Salon locations http://www.twgtea.com/ourlocations.html
TWG Weekday Menu     TWG Weekend Menu (at TWG Tea Garden MBS)