If you haven't already heard the news, Santi, one of Marina Bay Sand's celebrity restaurants will close for good on 11 March 2012. The news came as a sad shock to me because I had a really wonderful time there last year when the Partner surprised me with a sumptuous dinner at Santi followed by a stay at MBS.
I suppose the thought of whether Santi would ever be around permanently must have crossed the minds of many ever since the passing of chef Santi Santamaria a year ago on 16 February 2011. Still, when Santi the restaurant didn't close soon after, I began to think it would be around longer. Hence the reason why I delayed this post for so long! So I guess it's now or never…. I don't know if they still have space available, but if they do, and if you have spare dough, you really have to give Santi a try by 11 March 2012!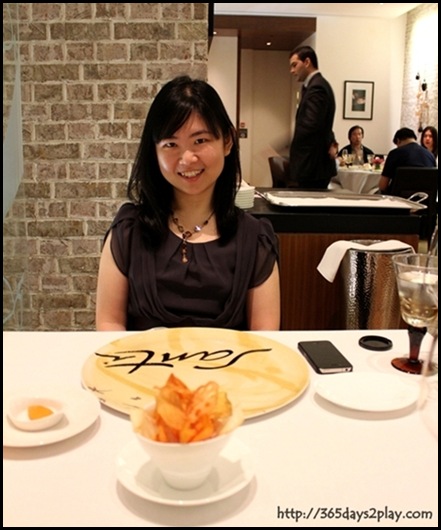 Me and the Partner at Santi. We got a nice seat overlooking the Shoppes.
For me, Santi was a wonderful experience right from the minute I stepped into the restaurant. Absolutely love the rustic decor, with the reddish grey bricks and wooden floor. You know how it is when you enter an expensive and high class restaurant. You feel like you have to watch your every move in case you do something that's against the fine dining etiquette. I liked it that dining at Santi didn't give me that kind of feeling. It was pretty relaxing, and the staff were not snooty at all. On the contrary, they were ever ready to accommodate any request, to the extent that after presenting you with the menu, they would ask you if you need any ingredients to be substituted out.
The meal itself was undoubtedly an expensive affair. A main course costs $90. A starter also costs about $90. However, the restaurant surprised us with quite a number of extra dishes, or amuse bouche if you will. Even a small dessert was thrown in. So for the $$$ spent, it does still feel like value for money. It's too bad they are closing in one week, I would have liked to go again!
Forgive me if I am unable to name the dishes or provide a better description of the taste, it was 5 months ago! I don't know why I procrastinated so long. I guess I do know why. I wanted to write a perfect piece, to commemorate a perfect dinner.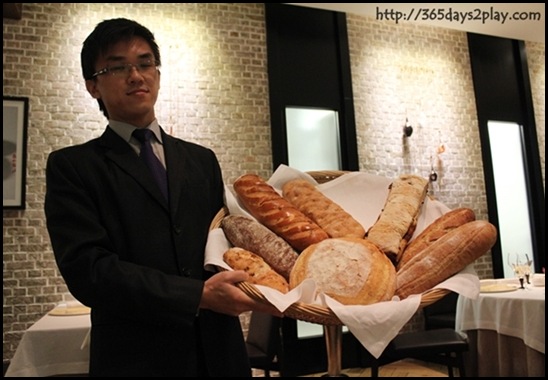 Selection of crusty breads to choose from. You can have as much as you want. I liked the olive and onion bread a lot. All the waiters looked so spiffy. I wonder where they will go to next.
Baby Calamari starter $70 — We ordered this starter to share. The service was so good that the restaurant halved the dish for us without us even asking.
Duck breast, or was it thigh? — One of the amuse bouche Santi offered to us. The meat was so tender and flavourful, which increased our expectations on the main courses!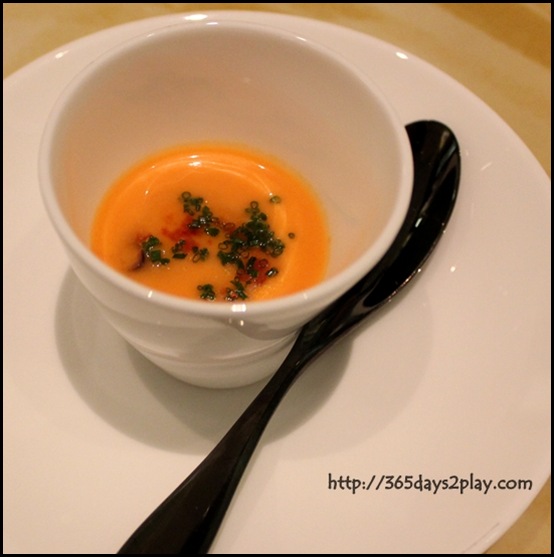 Ok I have no idea what this was….Some gaspacho I think. But I'm sure it was good.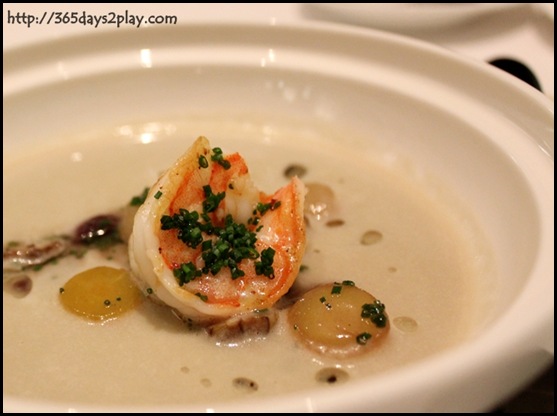 Prawn Bisque — This small bowl of soup really whet the appetite.The prawn was succulent and firm. The soup was fresh tasting and had just the right amount of creaminess.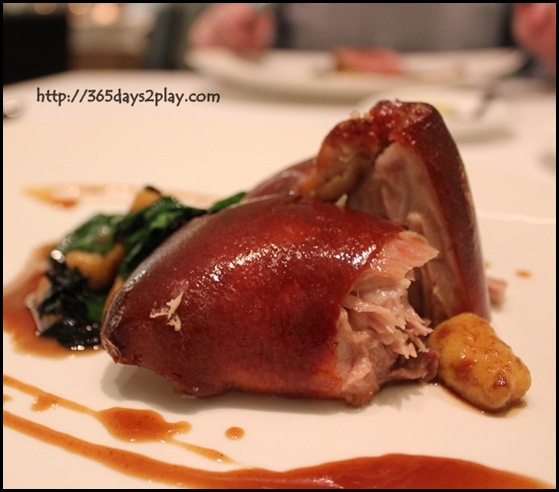 Suckling pig with sweet and sour sauce $98 
This was what I ordered for my main course, which I am told is the signature dish at Santi. It is so carefully prepared, you have to wait 45 minutes for it to be served. (But it's okay because you will be eating your starters and amuse bouche, and conversation will be flowing so it will hardly seem like a 45 minute wait) And it was worth the wait I can tell you that. This suckling pig was the most tender piece of pig I have ever eaten I believe in my entire life up to then. No suckling pig at any Chinese restaurant has ever come close, in terms of tenderness! Every morsel I put in my mouth literally melted away. The flavour was exquisite. It was just total enjoyment to be eating this dish. I wish it would never end. The accompanying sweet and sour sauce (not the Chinese type) went well with the meat, although I can say that the meat was so good it didn't even need any sauce. If you have the chance, perhaps in Spain, order this.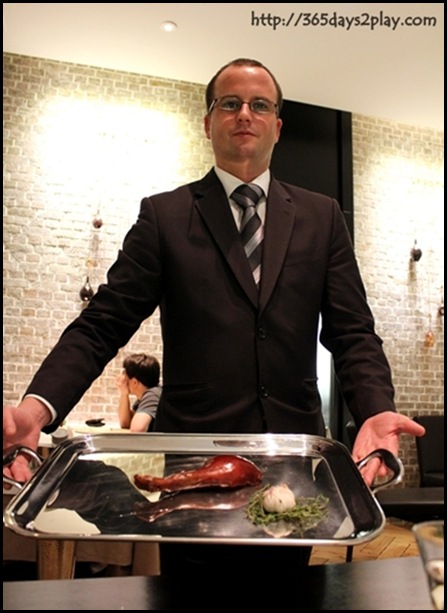 And a picture of our waiter, who did a masterful presentation of cutting up the pig in front of us. Thank you for being so nice and sporting to pose.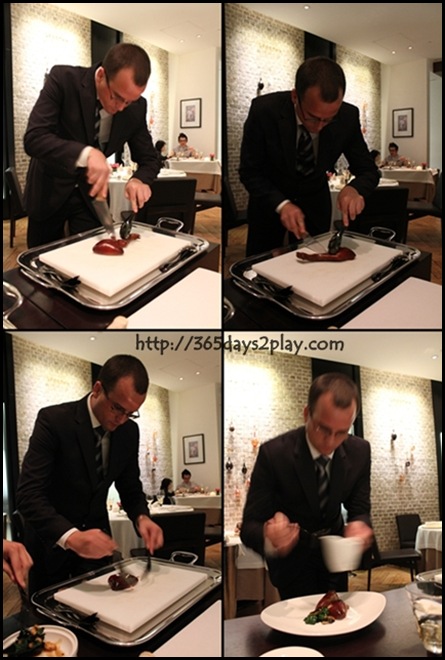 It was pretty awesome watching this guy in action. I realise I love watching chefs doing their theatrics as well! (Just ask my Bread Chef the number of times I've taken photos….)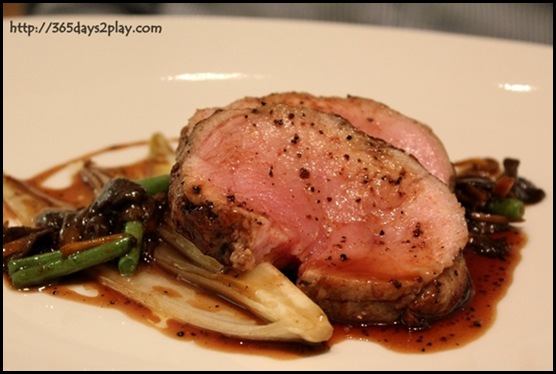 Veal with Endive — This was what the Partner ordered. I can't remember anything about it now, except for the fact that it was very good. 🙂
Complimentary dessert of peach ice cream, slice of peach and jelly.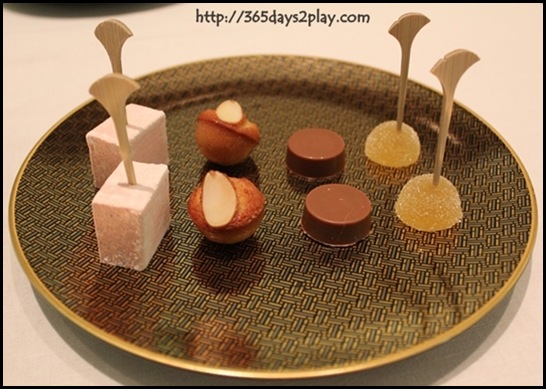 Petit Fours to end off the meal….if you still have space.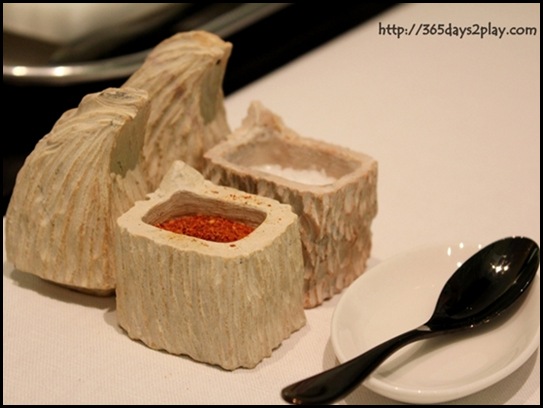 Like their salt and chilli flakes
~~Goodbye Santi Singapore. I will miss you!~~
Santi at Marina Bay Sands
Casino Level 2, 10 Bayfront Avenue
Tel : +65 6688 8501
Email: santi@marinabaysands.com
http://www.marinabaysands.com/Singapore-Restaurants/Fine-Dining/Santi/
http://www.canfabes.com/en (The Santi restaurant in Spain)