It's no joke, the number of hot pot restaurants that have been opening in Singapore of late. Just this week, I attended 2 media tastings of new hot pot restaurants. Well, Spice World Hot Pot from China will certainly make you sit up, not least from the spiciness of its mala hot pot broth. If it doesn't creep you out, order the barbie doll dressed in wagyu beef, or how about a mala Teddy Bear / Hello Kitty sitting in your soup broth?
Spice World Hot Pot, founded in 2003 is one of China's top 10 global hotpot brands. The Sichuan mala broth is its signature soup broth. No artificial flavouring, MSG or flavour enhancers are used, and instead, the soup bases are first brewed in Sichuan China using deep forest peppercorns from Hongya farmlands, chillies from Guizhou and Sichuan, before being further processed in Singapore.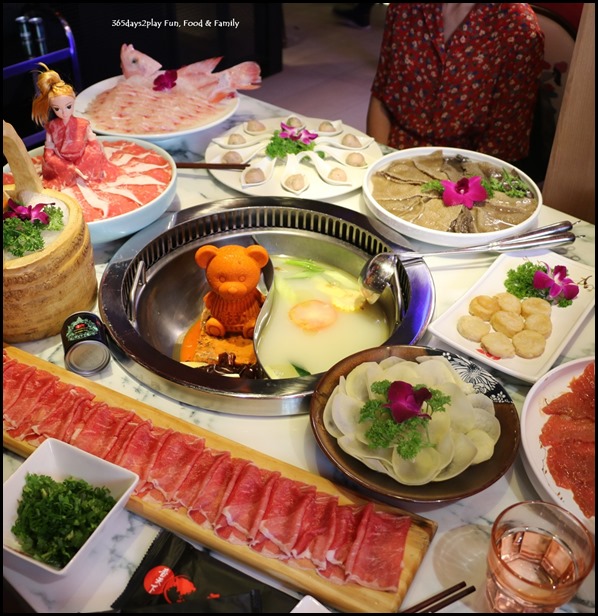 Yes you eyes are not fooling you, that's literally a Teddy Bear shaped out of mala soup and beef oil. For the luxury of watching Teddy or Hello Kitty slowly melt into the broth, it will cost you an additional $9.90. Might be worth the price if you have many Instagram followers, and let's be frank, it's actually quite fascinating to watch poor Teddy plop into the soup and dissolve away….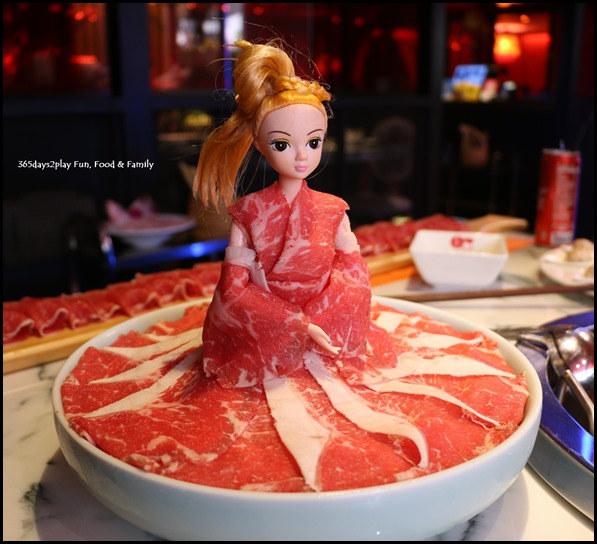 Barbie Doll dressed in Australian M8 Wagyu Beef $38.90
When this arrived at the table, I thought it was a pretty creative way to present the meat. It was only after I posted this same photo on Instagram that I discovered many people found this to be disturbing or creepy. One person even said that it is akin to undressing the doll as you take the meat slices. Ok that totally did not cross my mind because I only ate the "skirt" pieces and didn't manage to get to the upper half… Jokes aside, the meat was really tender and tasted great when swished in the broth for a few seconds.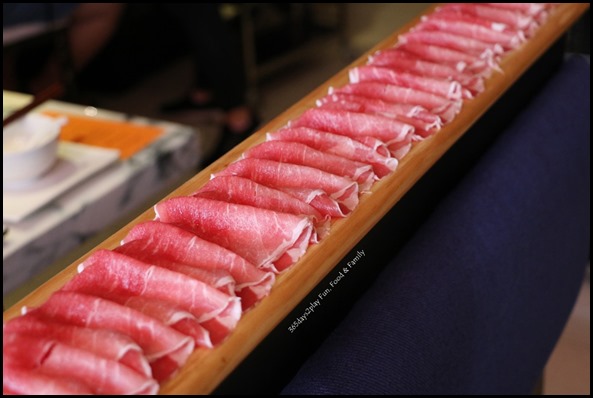 Australian mutton slices on 1 metre plank $28.90
Make space for this plank of meat because it takes up the entire length of the table!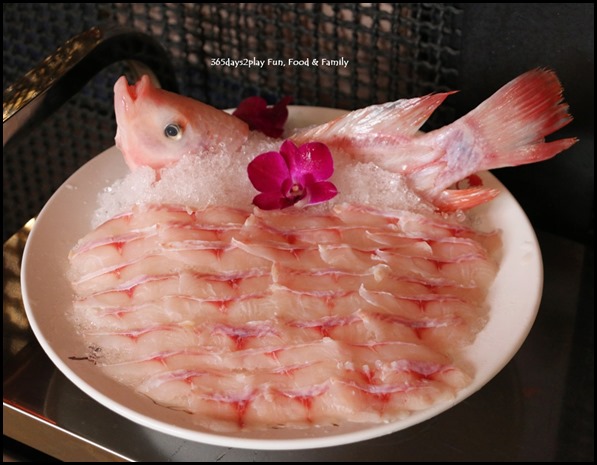 Red Tilapia
My mother who loves fish found this to be fresh and sweet tasting. I ate a few slices too and enjoyed them.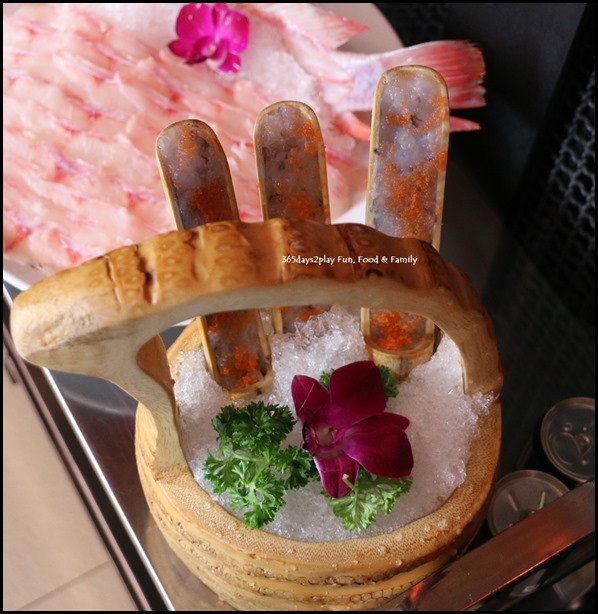 Shrimp paste $18.90 which you scrape into the broth in little lumps like balls. Actually not bad. I usually avoid things like fishballs etc because they take up stomach space. I prefer to feast on the meat slices instead, but thanks to the 100% shrimp paste with tobiko (fish eggs) blend, it tasted more "home-made" instead of being largely made of fillers.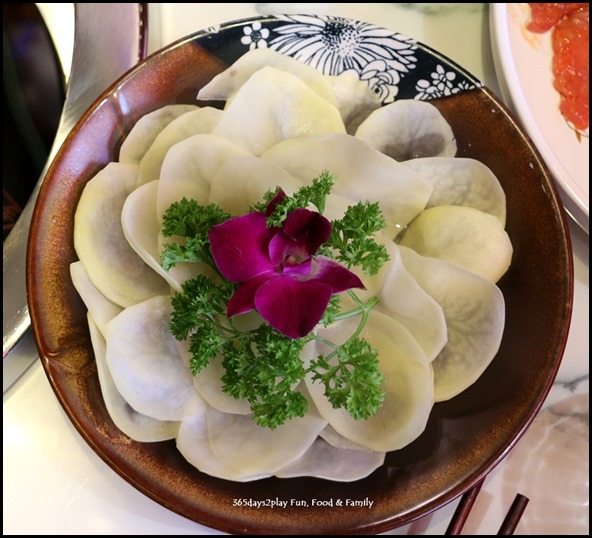 Beautiful potato slices because you can't just eat only meat.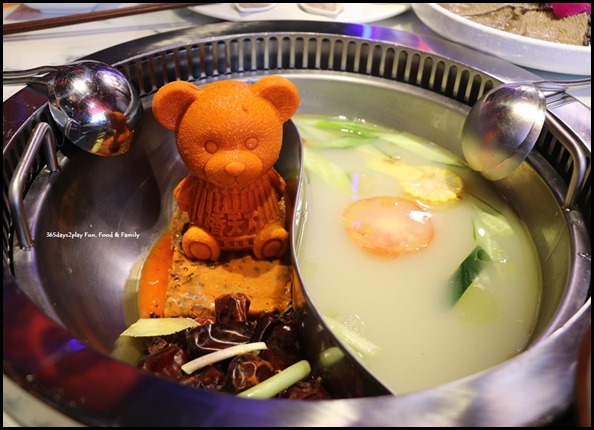 Here's another picture of Teddy staring at you before meeting his fate. I dunno, the intense orangy colour makes it look like an angry bear. Can't blame him though, he's made out of fiery ingredients!

Oh if you want to order Teddy, you have to be quick as there are only 8 servings daily.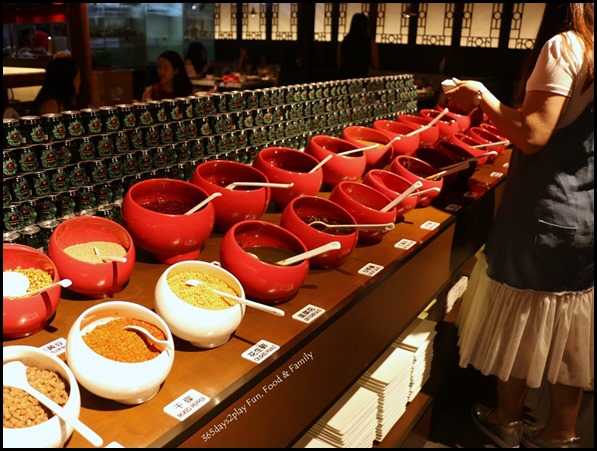 The sauce and condiments counter. Those rows and rows of cans contain the "numbing oil", which you can pour into your mala broth to up the ante.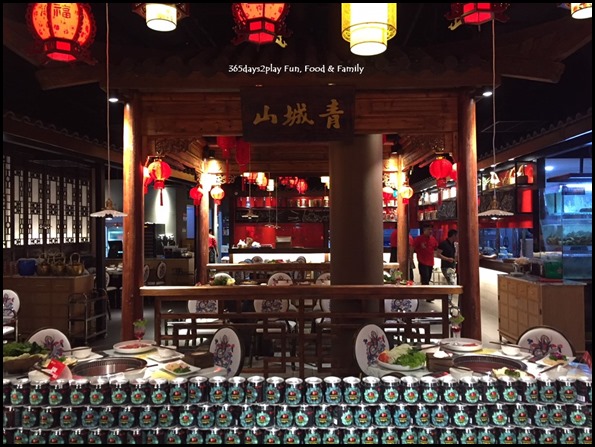 This is the inner half of the restaurant, which has been decked out to look like a traditional Chinese wood-clad restaurant. The other half nearer to the entrance has a modern chic decor, with mirrors on the ceiling and clear red glass panelling.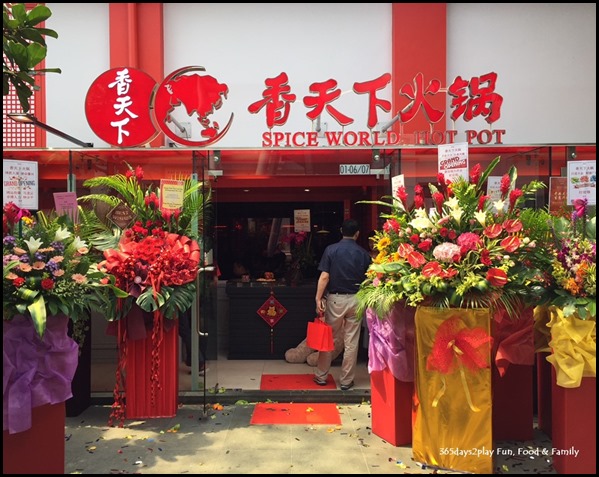 On the whole, I enjoyed my hot pot meal at Spice World very much. The food tasted fresh, and was all presented in a very palatable and eye-catching manner, and the mala broth was really good too. The experience was quite memorable, and in this day and age where we can hardly catch up with new restaurant openings, this is one place I would actually consider returning again.
*Mother's Day Promotion 12th to 14th May 2018 – Complimentary rose jelly dessert for all ladies and free soup broths for anyone bringing their mothers to Spice World
---
Add me on Facebook, Instagram and Twitter if you want to be kept up to date with the latest happenings in the food and lifestyle scene in Singapore!
---
Spice World Hot Pot (香天下火锅)
Clarke Quay, River Valley Road #01-06/07 3B Singapore 179021
Tel : 6265 9777
Facebook: https://www.facebook.com/spiceworldsingapore
Instagram: @spiceworldsg
Opening Hours : Sunday — Thursday : 10.30am — 4am | Friday — Saturday : 10.30am – 6am