I had a good brunch with my parents and the Partner at South Coast some months back, and I was looking for a reason to return. The reason came along in the form of Australia Day. What has Australia Day got to do with me? Actually nothing at all. In fact, you should read about New Zealand Day instead. You see, the Partner hails from New Zealand, and if you're from either New Zealand or Australia, or if you've lived there a while, you'd know about the "friendly rivalry" between those 2. Speaking of friendly rivalry, I have to ask South Coast why on earth they have a picture of a surfing kiwi bird on their website?
I happened to find out that South Coast, which is owned by an Aussie, was going to have an Australia Day party. So of course I had to attend, just for the laughs of it. Saw on their Facebook about this thong chucking game they were going to have and I really wanted to see that! My first instinct was of course to think that they were going to have an underwear throwing competition (you know those Aussies can think of anything), but then I realised that thong is Aussie slang for flip-flops! I could not find a video of Thong Chucking, but I did discover about Wellie Wanging…
The Partner was not at all keen to partake in an Australia Day meal, especially when he heard that I wanted him to wear his All Blacks T Shirt there! Oh but partake he did, cuz I didn't offer him a choice. In the end, we had a really good time there!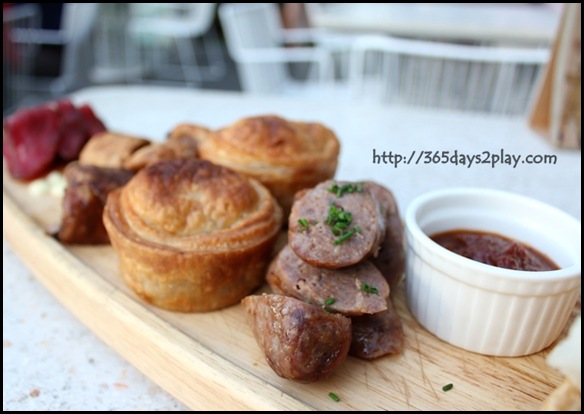 We had the Australia Day Platter for 2 – Sugar Cured Angus Beef, Kangaroo and Lamb Pies, Sausage Rolls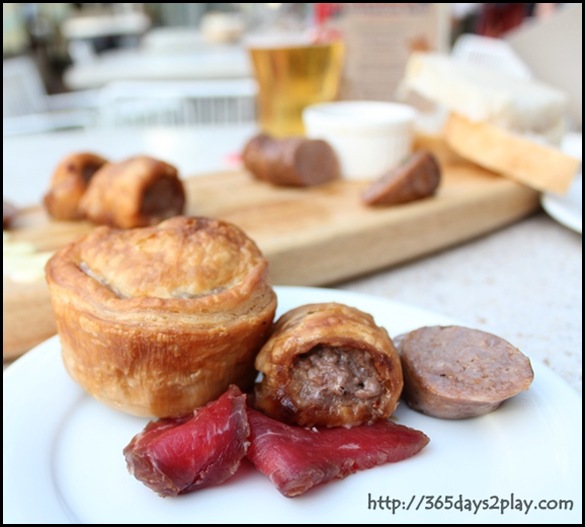 Closer shot of the items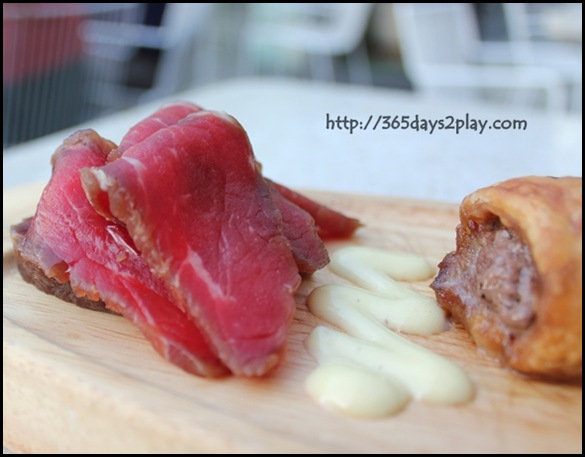 Sugar Cured Angus Beef
The sugar cured Angus beef had a really interesting flavour. First of all, I have never heard of sugar cured, let alone taste it. I'm mostly accustomed to the usual smoke/salt cured types. Obviously, the beef had a sweeter taste. Also, the texture seemed rather different, firmer yet squishy. I don't really know how to describe it, but I enjoyed the sugar cured Angus beef nonetheless. I tried checking their usual menu and it doesn't seem to be available on normal days.
Sausage Rolls in the front, kangaroo and lamb pies in the middle
The sausage rolls that you get in Australia and New Zealand are very different from those available in Singapore, in that the filling is of mince meat. In Singapore when one hears sausage roll, one would think of a long sausage in a bun, like so. I like both types, but if you've never tried the Aussie/NZ version, you have to do so! Love these sausage rolls at South Coast. The mince was juicy and encased in a lovely pastry that wasn't reeking of oil. For some reason the platter also came with some sausages. No complaints man, those sausages were TASTY!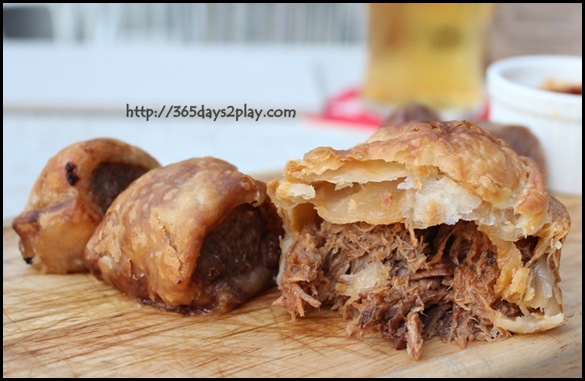 Kangaroo and Lamb Pie on the right
Kangaroo and Lamb Pie was also nice. The pastry used was similar to that of the sausage rolls so it was enjoyable as well. The sausage rolls $14 are available in the normal menu. The kangaroo pies $18 are available too, but with pork instead of lamb.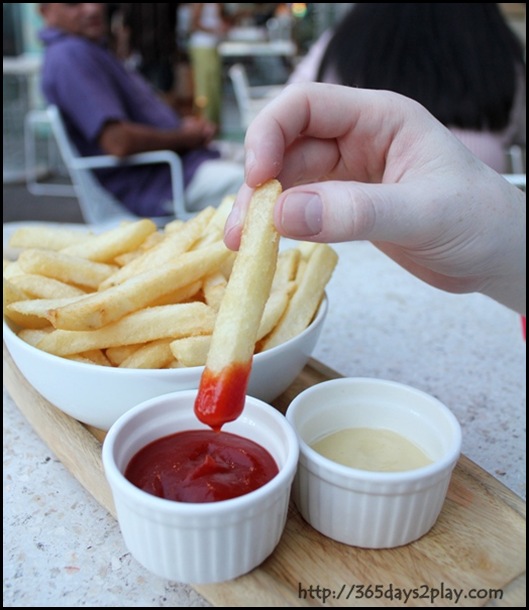 Fries $8
We were still feeling a little peckish after the Platter for 2 so we ordered some fries to share. The fries were delicious and I just couldn't stop eating them even though I ought to have been full enough. The fries were crispy on the outside and still fluffy on the inside, and they were served piping hot!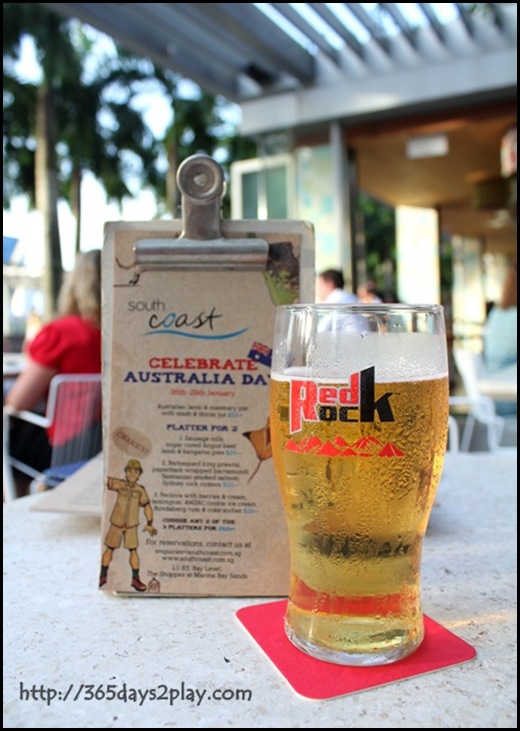 Red Rock Beer, and cartoon of Steve Irwin in the background
What's Australia Day with no beer?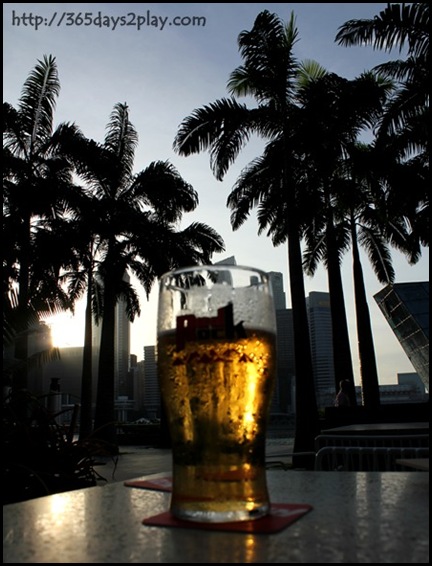 Ice cold beer after a hard day at work?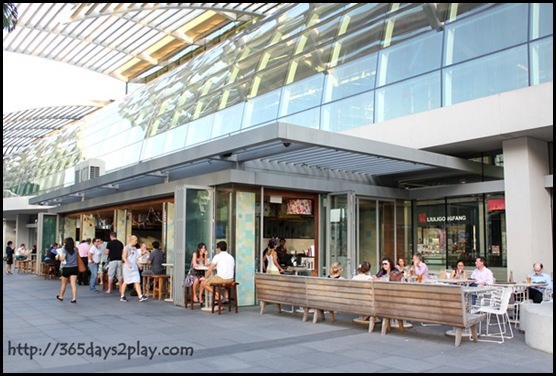 Most of the seating at South Coast is actually al fresco. I don't like sitting inside as it is too dark and the fans are too strong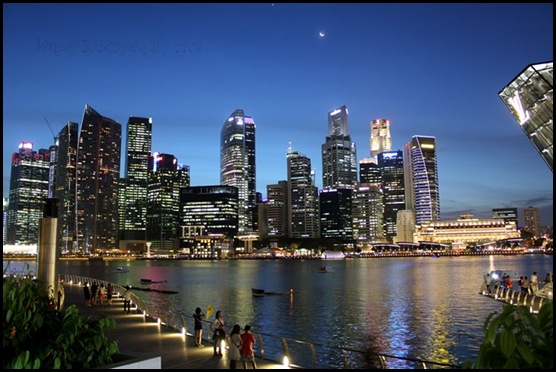 View of Singapore's Central Business District from my vantage point at south Coast.
In the end, we never did stay late enough to see the thong chucking. Argh what a waste. If you're in the vicinity of Marina Bay Sands, do check out South Coast's menu. A number of items I would like to try out. Really, bone marrow fritters, that's definitely what I will order when I go there again.
Read about my previous visit to South Coast for brunch.
South Coast (Australian Bar & Bistro)
L1-85 The Shoppes at Marina Bay Sands, Singapore City, Singapore 018972
Open 7 days a week, serving breakfast, lunch and dinner.
8am — midnight Mon — Thurs
8am — midnight Fri — Sun
Email enquiries@southcoast.com.sg
Phone +65 6688 7600