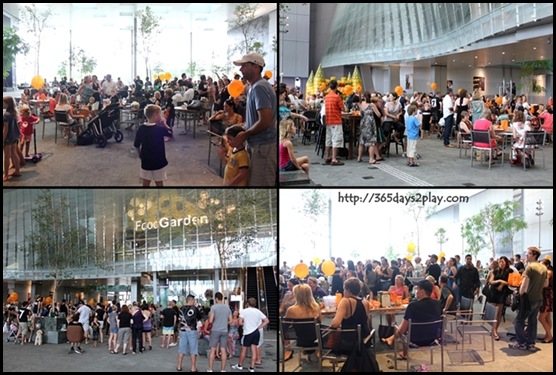 Were you at the Waitangi Day Celebrations at The Exchange today like I told you to do? Here's what you missed out! The turnout was quite huge, beyond my expectations actually. A lot of people were wearing All Black shirts or having shirts with the words New Zealand/NZ on them. So patriotic! Which Singaporean would wear a shirt saying Singapore?
The great thing about holding the event at The Exchange is that there is a huge open space on the ground floor of the Asia Square building (kind of like as big as the open space at the National Library). The kids were running wild there as its Sunday and all the office types are safely at home.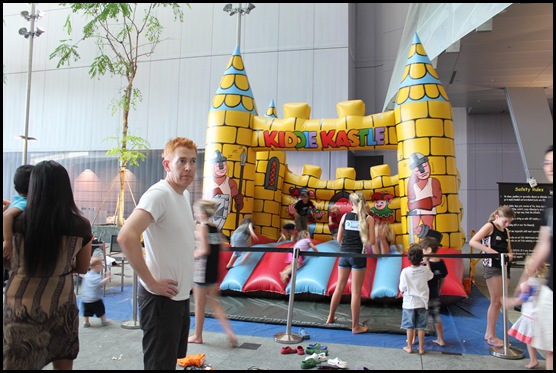 This guy refused to get out of my photo, okay so he shall be in it!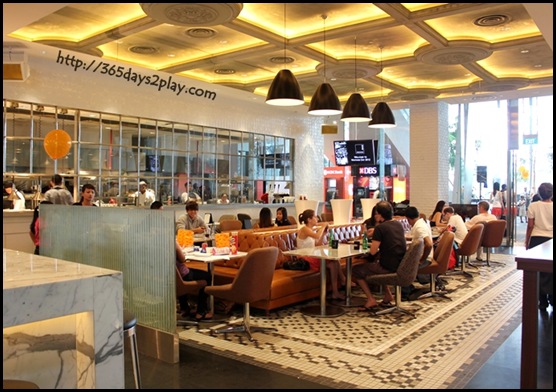 I stayed indoors in the comfort of the air con. The Exchange itself is also very spacious.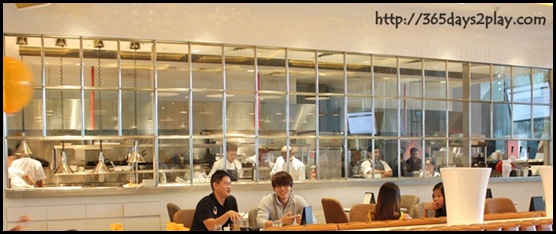 They have a see through kitchen that spans the restaurant seating area. Very good for entertaining yourself if you're bored with your dining companion.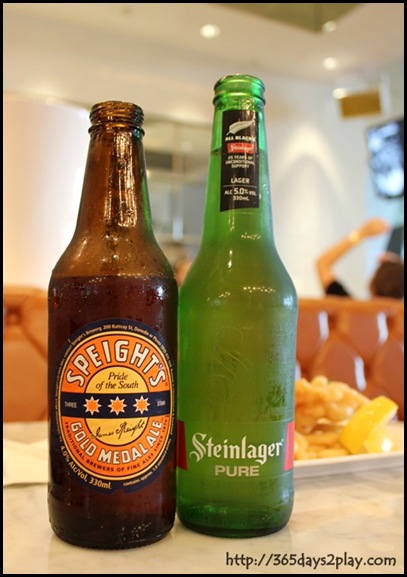 The long awaited New Zealand beers! It's really hard to find NZ beers in the supermarkets this is the 1st time we have 2 different brands of beer on the same table! It's a miracle! I can't tell which I prefer more, Steinlager or Speights. Love them both though. I thought I saw several people buying cartons of beer back but I realise that they won them in the lucky draw! LUCKY!!! They're not cheap if you're having them at The Exchange, $13 bottle. Ok not cheap compared to how much they'd cost back in New Zealand.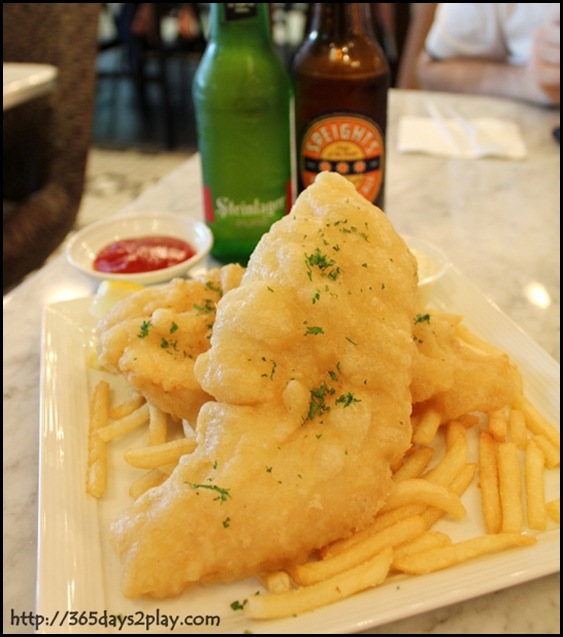 The Exchange normally isn't opened on Sundays, so just for Waitangi Day celebrations, they had a special Waitangi Day menu. I ordered the Fish and Chips. 2 huge pieces for $18. Very nice! The dish was served piping hot, which is exactly how I like it when eating fried food. The fish was ultra flaky, had an almost melt in the mouth texture and was so fresh tasting! The batter coating was also pretty tasty although it was a bit thick. If there was more of the tender fish and less of the batter, it would have been totally perfect. Fries were so so, and a bit short, like left over fries. The Fish and Chips are labelled as Battered Haddock in the normal menu.
Definitely would come back to try this again. We didn't order anything else as the fish and the beer filled us up for dinner! Group Executive Chef Kacey Whaitiri-Roberts, a kiwi native who previously worked for Gordon Ramsey at Claridge's London and Emmanuel Stoobant's Saint Pierre group of restaurants, looking forward to sampling more of their stuff. Check out The Exchange's menu here and bar nibbles here.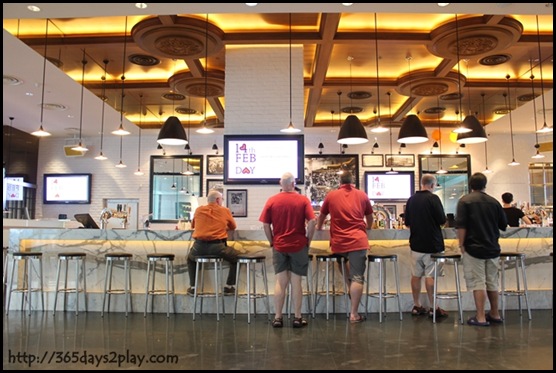 These people know where their priorities lay.
Check out this link for more Kiwi dining places in Singapore
The Exchange
8 Marina View, Asia Square Tower 1, #01-05, Singapore, Singapore 018960
Tel : 66361200
Breakfast : 8am — 11.30am  Lunch: 11.30am — 3pm   Dinner : 5pm — 1am