*Media Invite*
Now here's a place that is really old school and out of the ordinary. Have you ever heard of restaurants located within condos? Marine Parade Road may sound familiar to you, especially if you live in the East, but unless you've travelled past sitting on the upper deck of a double decker bus, you probably might not know of the existence of a row of shops within the Laguna Park Condominium. A row of trees and hedges pretty much block the shops from view, and they are not allowed to advertise. 
I happen to know of its existence because this was the route I would take on my way to my secondary school eons ago, but even I, who have lived in the East all my life, have never ventured past the fences to check what was there. My hazy memory tells me there used to be some hairdressing salon there once upon a time.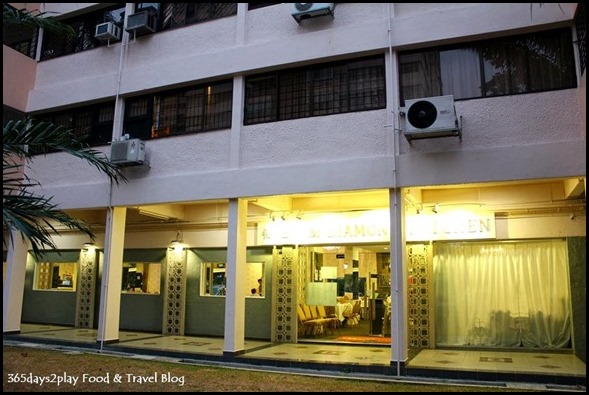 Anyway, Diamond Kitchen is one of the new kids on the block, having taken over the premises formerly occupied by some other restaurant. I am told that the owners, young entrepreneurs Josh Chow, 30 and Lambert Chen, 27 wanted to serve up Chinese seafood dishes in a restaurant setting, at cze char prices, hence the off the radar location. I think it's a really smart move because they do have some what of a captive audience with the people living at Laguna Park, as well as all the other condos nearby but no other restaurants within walking distance.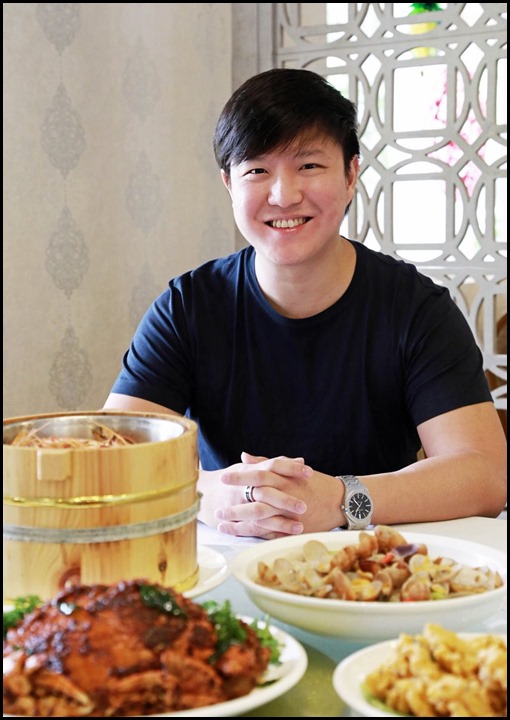 This is Josh Chou, one of the owners of Diamond Kitchen, who looks younger than his 30 years…. The family is in the gem business, hence the name Diamond Kitchen. In case you were wondering. I have to agree, the name is rather befitting, as it really is a shiny gem of the East. In a way, I'm glad Diamond Kitchen is located in this quiet community, because that's exactly the type of place i want to go for quiet family dinners. My mother accompanied me for this tasting and we both agreed that would have to bring my father here to check it out.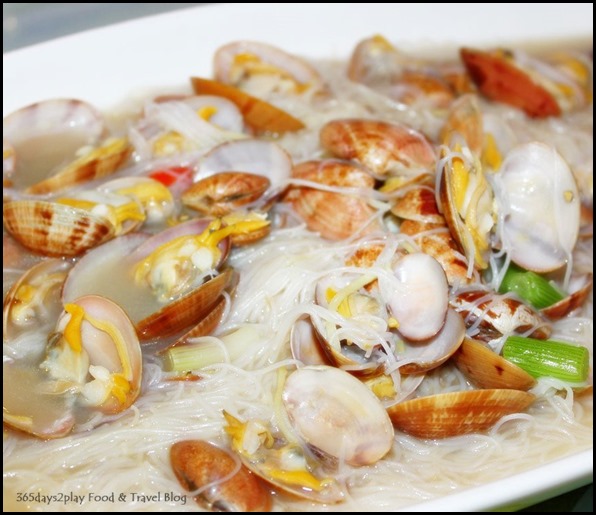 Superior Stock Clam Bee Hoon $12 / $18 / $24
First up for the tasting, the Clam Bee Hoon in superior stock. This is a really comforting dish, and if you want a simple meal, you could definitely order this. It is usually served inclusive of black pepper, but you can request for it not to be added. I thought the broth was pretty light tasting but still tasty. Personally, I would have preferred more stock. My habit is to take several sips of the broth or soup first (especially if it tastes good) before diving into the noodles and then finishing up with more broth.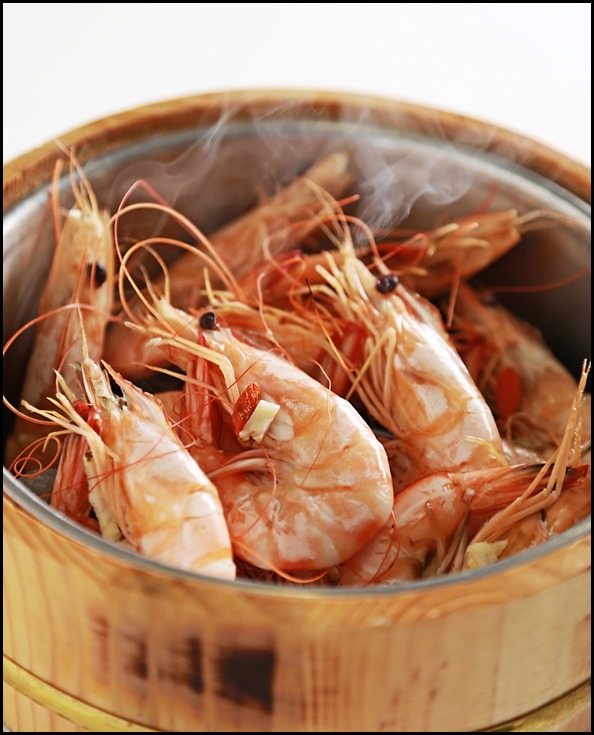 Sauna Prawns $24 / $36 / $48
For the life of me, I cannot remember if I have ever come across sauna prawns before. My hazy memory seems to remember a time long past in my childhood when I might have had this, but certainly not in recent years. I am told Sauna Prawns are quite common in Malaysia, and it is no wonder because the Chef de Cuisine Kevin Lau, who has more than 25 years of experience under his belt, is a Malaysian.
Sauna Prawns are basically live tiger prawns put on top a layer of hot stones. Herbal stock laced with Chinese wine, wolfberries and dang gui (Chinese Angelica) is poured over the prawns and the prawns are allowed to steam for several minutes in the "sauna bath". This method is used to imbue a subtle herbal fragrance and taste, without masking the freshness of the prawns. Indeed, the prawns were simply succulent after the sauna treatment, with lingering notes of herbal goodness.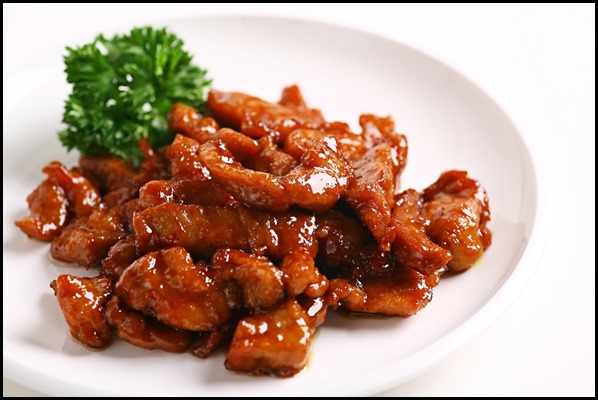 Champagne Pork Ribs $12 / $18 / $24
For those who want to dive head first into such dishes without having to waste energy on removing bones, Diamond Kitchen's version of pork ribs would certainly please you. I happen to be part of this group. You can't really taste any champagne which is used in the secret sauce, but what it does is to add a certain crispness and sweetness to the flesh as well as helping to tenderise it. Definitely a crowd pleaser although the pork pieces seem to be a little on the small side. I guess it is because the bones have been removed, resulting in a smaller look.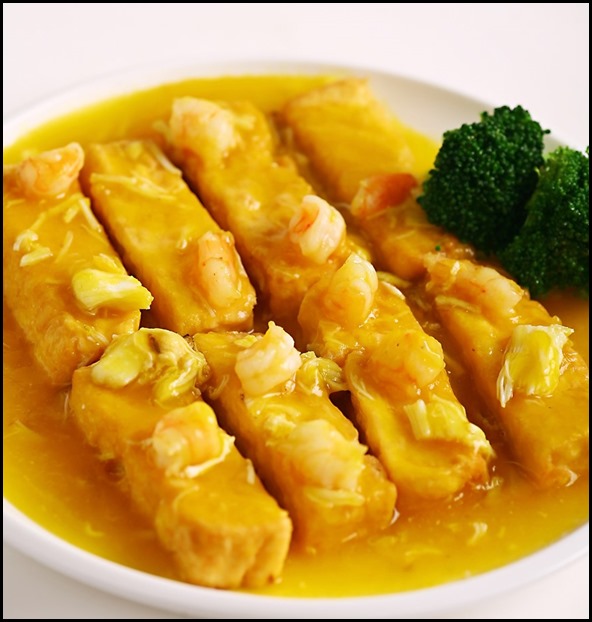 Pumpkin Tofu $12 / $18 / $24
This is a MUST ORDER if you are coming to Diamond Kitchen. Don't leave without ordering it! Chef Lau makes his own bean curd at the restaurant and you can taste the difference as compared to other Chinese restaurants! I found the skin to be eggier in taste and more robust in texture. The sweet pumpkin sauce was gloriously sweet and rich I almost wanted to drink it.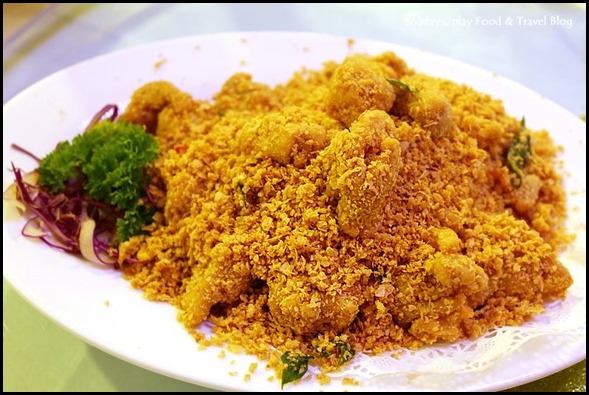 Golden Cereal Chicken $12 / $18 / $24
For those who love cereal prawns, this is similar except it's chicken. I loved the juicy chicken pieces that were very tender and tasty. Compared with the other dishes, this one seems more ordinary, so if you have too many dishes you want to order, you can give this a miss.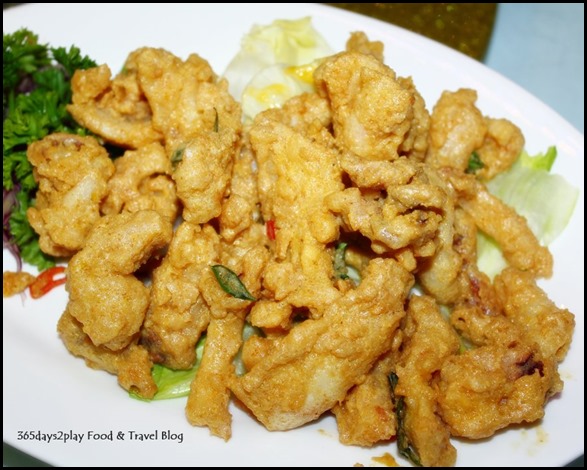 Salted Egg Sotong $12 / $18 / $24
This is another MUST ORDER dish!!!! Throw the diet and the doctor's orders out the window and just order this thing!!! At least have one piece, although it's really hard to stop at one! Not the pretties of pictures, but that's because of the lashings of salted egg on the sotong. The sotong, or squid, or calamari if you will, was really tender, slightly bouncy and piping hot. I'm salivating again as I type this! Need I describe more? And I don't know how the chef does it but this dish didn't taste greasy at all.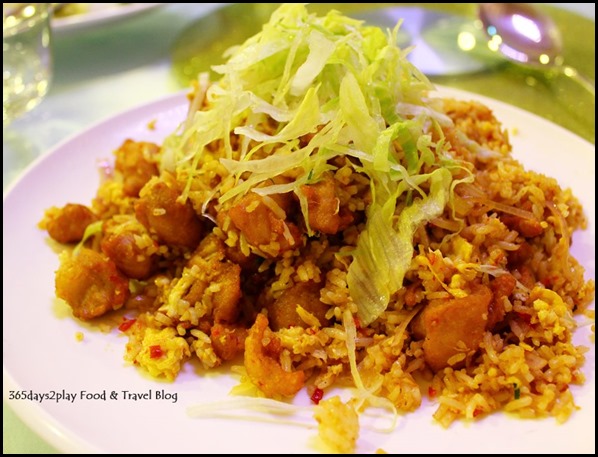 Gan Xiang Fried Rice $8 / $12 / $16
This was the 1st of the two dishes we tried where the house's speciality Gan Xiang Sauce is showcased. In the fried rice, the gan xiang spices are not that discernible. Although the chicken pieces are delicious, I thought the fried rice to be a tad lumpy.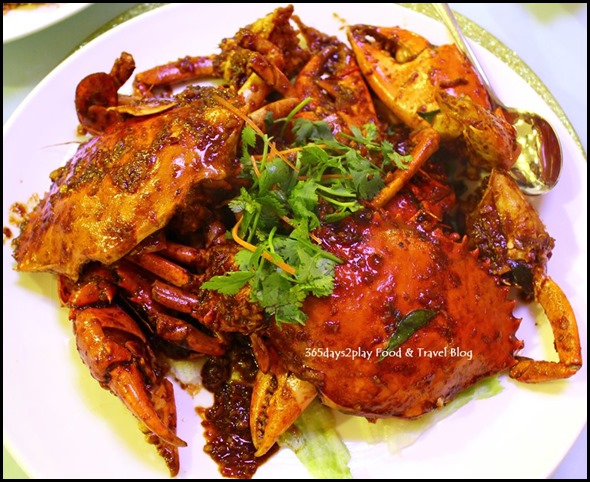 Crab in Gan Xiang style, est $55 per kg
If you like the Gan xiang sauce, try the Gan Xiang Crab instead. The gan xiang sauce is prepared by dry-frying hae bee hiam, curry powder, lemongrass, dried chilli, tau cheo (fermented soy bean paste) with other secret ingredients.
The gan xiang sauce was really addictive on the crab. It is spicy and savoury at the same time, and paired with the deliciously fresh crab, I was licking my fingers and totally not caring about the fine company in front of me. It's times like these when I wish the chef could have just peeled all the crabs and piled the flesh in front of me so that I could just commence shovelling it into my mouth. I've always thought myself to be a chilli crab and salted egg crab person, but after trying this Gan Xiang crab, I now know my taste repertoire has increased. MUST ORDER!
Last but not least was the Orh Nee aka Yam Paste ($12 / $24). Sorry no picture for you, but it is one of the best orh nee I have ever eaten. It is more creamy and liquidy than usual, which I have just found out, is how I actually like it. Even though I was next to bursting, I finished nearly the entire bowl! So Good!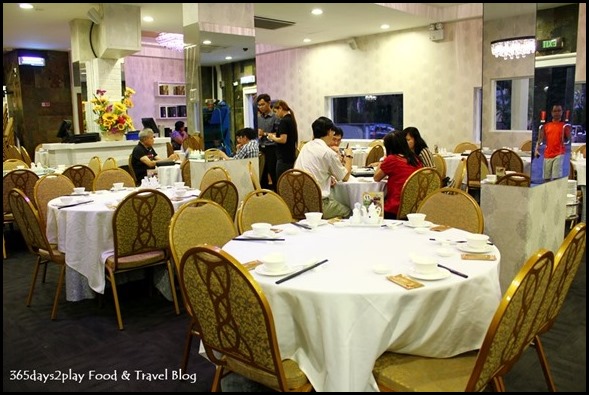 It is brighter during the day because of the numerous windows around. The restaurant can accommodate 200 diners.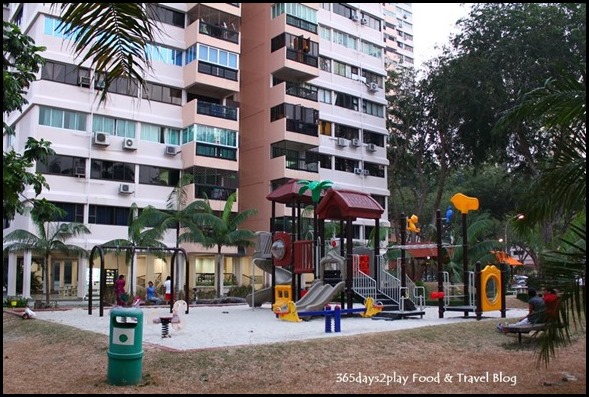 If you're bringing children, there is a playground (with sand!) right in front of the restaurant. Parking costs $1, pay upfront to the security guard.
---
Add me on Facebook, Instagram and Twitter if you want to be kept up to date with the latest happenings in the food and lifestyle scene in Singapore!
---
Diamond Kitchen
5000F Marine Parade Road , #01-22/23 Laguna Park Condominium Singapore 449289
Tel : 6448 0629
Website : Diamondkitchen.com.sg
Hours : Daily 110am — 2.30pm, 5.30pm — 11pm