Last Saturday, I was privileged to be invited by Royal Caribbean International for a media tour of the biggest cruise ship in Asia, the Voyager of the Seas. It is the 1st cruise ship to be docked in our newly opened International Cruise Centre, that was specially built to cater to ships of a larger size, that Harbour front Cruise Terminal is no longer able to accommodate.
As with all "first time ever" occasions, there was a party of sorts, lion dance, freebies and free makan! We didn't stay too long at the International Cruise Centre though. If you ask me, it looks pretty plain as compared to our award winning Changi Airport. We rightfully spent the bulk of our time on the vessel itself, of which I ended up taking well over 250 photos. I have to make a mental note to myself not to go wild on the photos again. I took 6 hours to sift through the photos and edit them for this post!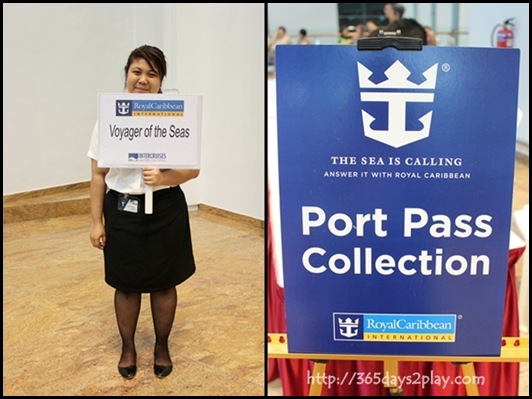 Lots of RoyalCaribbean staff were milling around to ensure that nobody got lost. But actually, there was only 1 ship docked at the International Cruise Centre on Saturday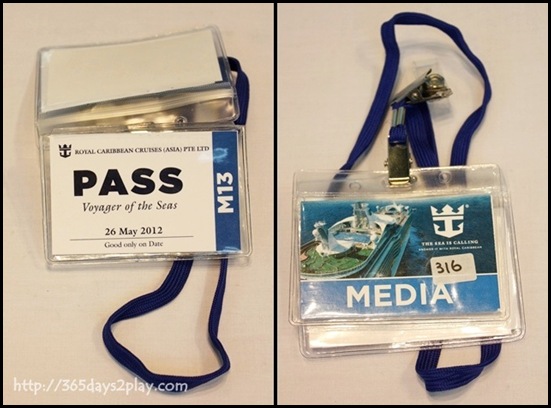 Hee hee hee…It always feels just a little bit weird to be called Media, because we tend to associate that with the Newspaper and TV big boys, but really I am glad for Social Media and all the opportunities it has brought me.
On the Media Tour with me were Alvin from OMY, Walter from Cool Insights and HP from Hpility.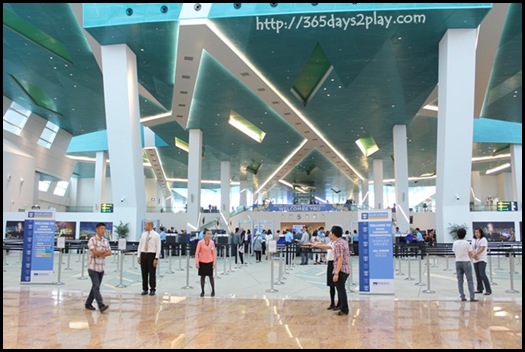 Tell me if you don't think that the International Cruise Centre looks a bit ugly, or is it that I just don't like the green roof?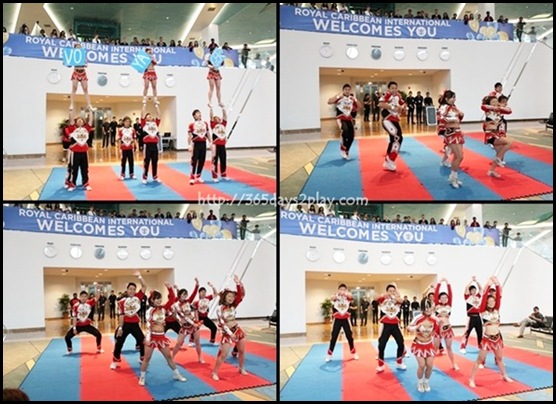 Cheerleaders giving a resounding welcome to all the early birds.I was there at 11am for the Media Tour but guests were allowed to board at their own leisure until 9pm that night.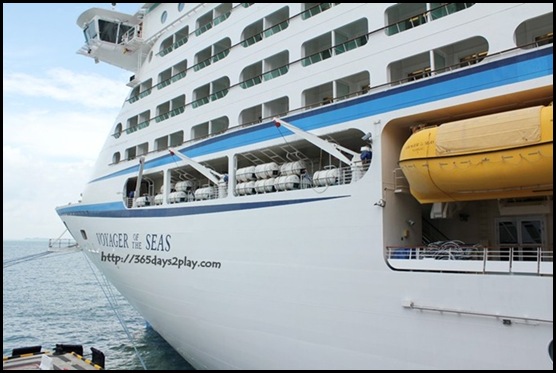 Oooo, the first glimpse of the Voyager. Did you know, I have never been on a cruise ship? How sad is that??? I've been on an oil tanker though, that is also of a similar size, how's that heh. And I've also been on several ferries, like the ferry to Bintan or Kusu Island. But of course my most memorable ferry was the one from Dover to Calais ferry. Anyway ferries are totally different from cruise ships!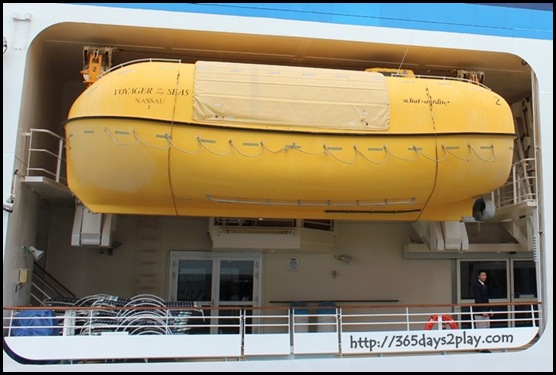 Do you know what this reminds me of? The Titanic…Good to know that the cruise conducts a safety drill for all passengers.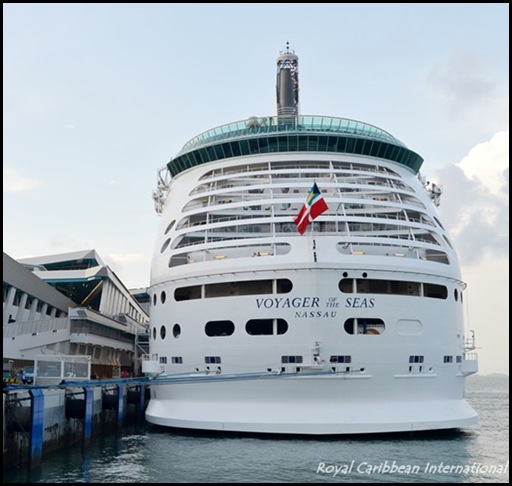 Front view of the Voyager.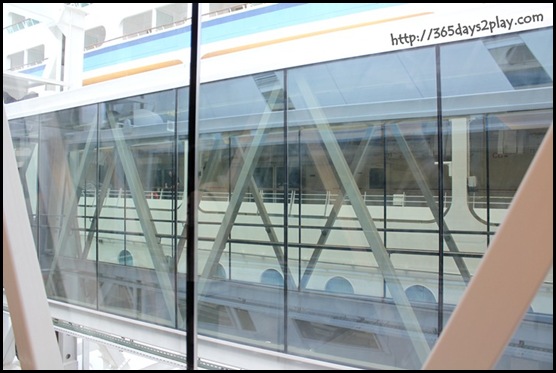 Getting nearer! Gotta walk through this damn long connecting bridge!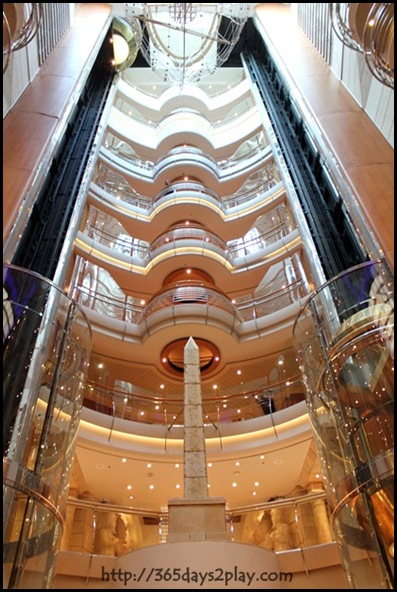 Our first glimpse of the inside of the Voyager. SO DAMN AMAZING. So posh looking! The 1st thought that went through my head was, I gotta get myself some tickets on this cruise!
Hey guess what, our first stop was to visit the Casino Royale! How did they know that Casinos are my favourite thing????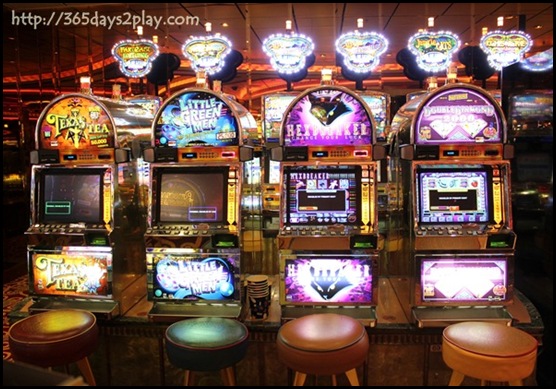 OMG. Do you know how hard it is to take a photo in a casino? Basically you're banned from doing so anywhere in the world, due to security reasons. The only reason why I could do so is because when the ship is at port, the Casino is not in operation, so we were therefore allowed to take photos. Felt so lucky!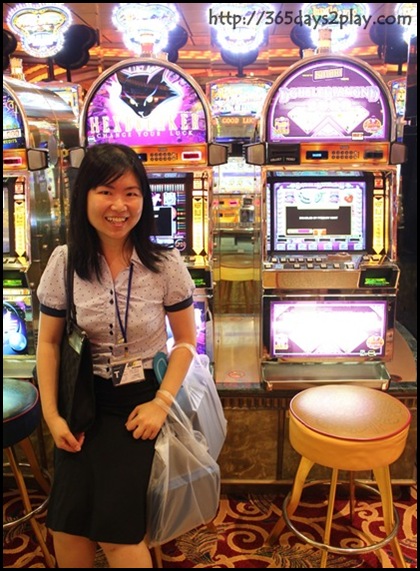 Just had to have my photo taken. I mean when's the next time I can do so in a casino? The slot machines are my favourite game. Actually it's the only game I've ever played in the casino. To me it's like playing computer games and I adore the flashing lights and ching ching ching sounds from the machine!
Look at my 2 tak glam plastic bags. One of them is Hpility's. He passed his bag to me so that he could look better in his photo. Silly me should have asked him to hold the bags for my turn!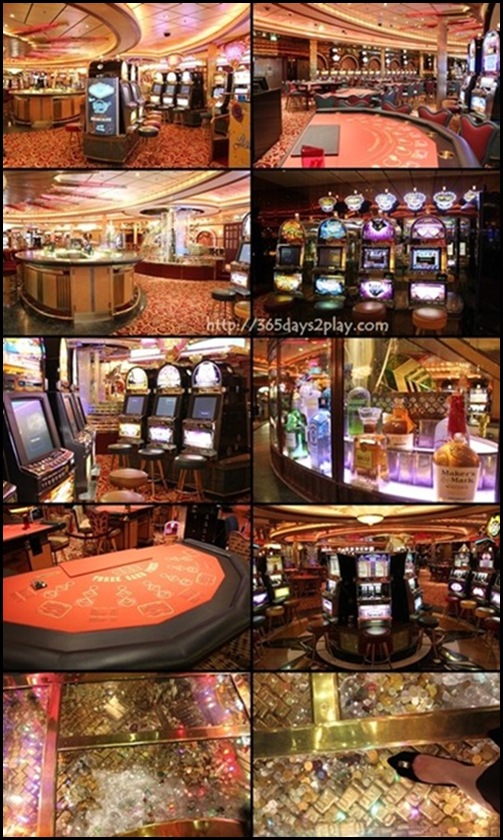 And so I spent the rest of the day in the Casino. That's all folks. Okay just joking.
More photos coming up! Stay tuned!
While waiting, please vote for me at the Singapore Blog Awards 2012. I'm a finalist in the Food Category. Please press VOTE ME and it's only successful if you see the words VOTED come up!