One of my favourite restaurants Zafferano has recently come up with their new Italian Saturday set brunch and it is a brunch to behold. You might just have to hold your stomach too as you leave the restaurant because the set brunch is chock a block full of food!
There are a total of 4 courses, but it's not one dish per course. Being generous as Italians are, they have have numerous mini dishes within each course. You could almost think of this brunch as being a 10 course brunch (more in fact), with a buffet dessert just in case there is a shred of doubt that you're not next to bursting. And the interesting thing about this "The Italian Table" brunch it's that it's not an egg-based brunch. I was wondering when the eggs would feature, but I realise that egg-based brunches are more an Aussie/UK/US thing. The dishes in this brunch are what the Italians would normally have for brunch.
Check out the pictures below and read about my favourite dishes from the Zafferano brunch.
~~~ Starters ~~~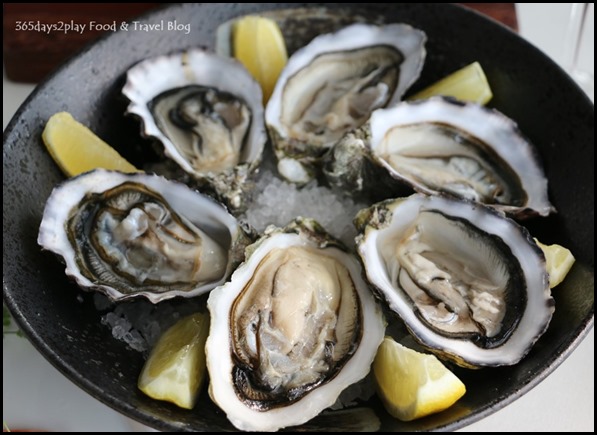 Live seasonal oysters — Self explanatory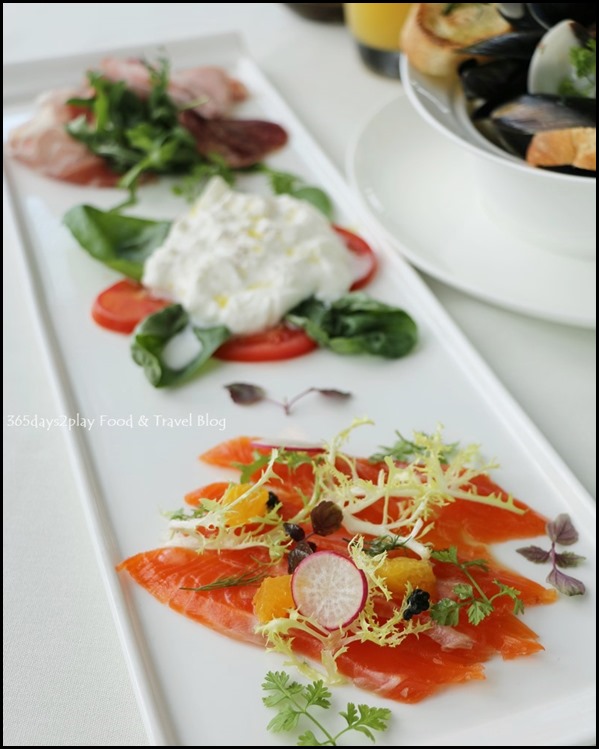 Marinated fjord trout, avruga caviar, orange
While I am not a fan of fish, I do love sashimi, smoked or marinated cuts. Trout was finely sliced and had a delicate flavour. Disappeared in a jiffy.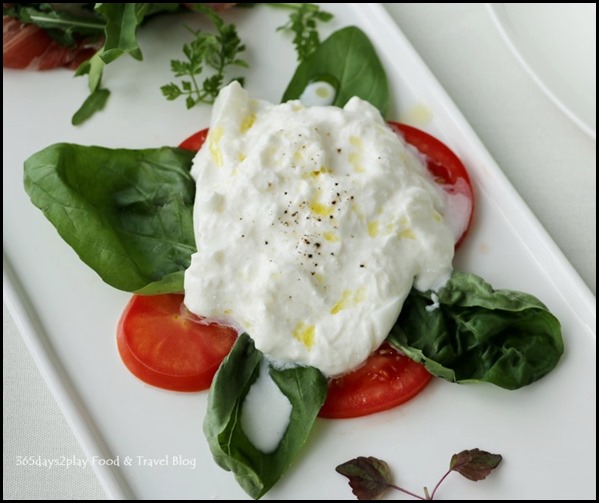 Freshly imported Italian burrata and tomatoes
My absolute favourite from the cold dish selection, and if I am not wrong, probably the favourite of all who attended the tasting that day! Amazingly pillowy soft and creamy, I could eat this for the entire meal and be satisfied. If you've never tried burrata before, you must! It's mozzarella cheese combined with cream into a magical concoction. The best ones taste fresh, and are soft and creamy.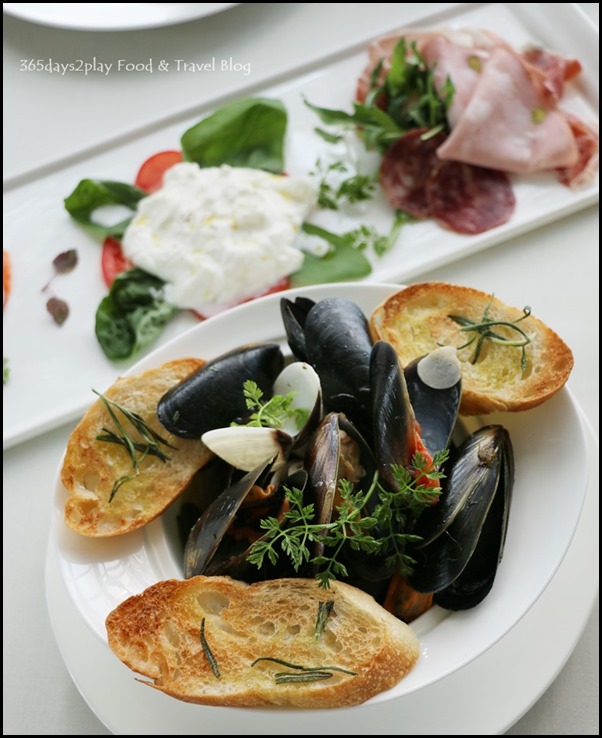 Vongole (Stewed clams and mussels, rosemary croutons). Prosciutto (24 month "Pio Tosini" ham, pistachio "mortadella", Iberico "salami" in the background on the right.
The Vongole was the other stunning dish of the day in my opinion. The mussels and clams were cooked just right so they were really soft and tender. I've had one too many rubbery mussels from mussel speciality restaurants to know it takes some skill to get it right. And the broth, oh my, the broth. So rich in flavour I wanted to chuck all the shells out and spoon up big scoops of it. If only there was more broth! And the crispy baguette, just the perfect combination.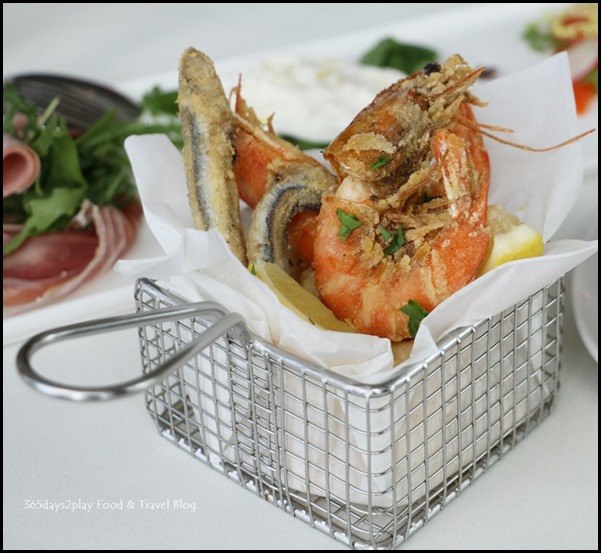 Deep fried calamari, prawns and anchovies
Thought this was average, but ended up snacking on it throughout the meal.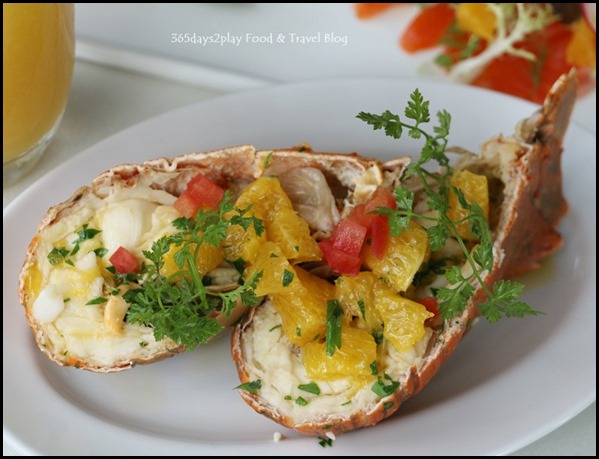 Baby lobster flambe with brandy, cocktail mayo sauce
~~~ Pasta ~~~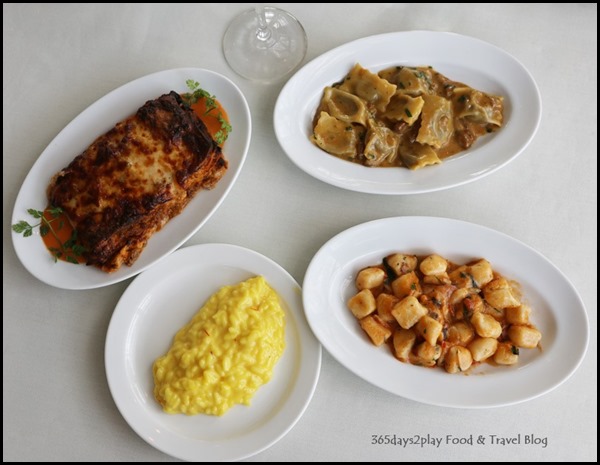 All the pasta options will be served at the table in small tasting portions. After tasting all, you get to decide which one you want more of.
Pasta choices :
Lasagna in mince beef ragout, bechamel sauce
Homemade veal ravioli with porcini mushroom sauce, truffle emulsion
Hand-crafted potato gnocchi, fresh seafood, white wine sauce
Superfine risotto Acquerello with Iranian saffron
My favourite has got to be the risotto. I'm not usually a fan of risotto but this version was fantastic. It seems to be just cream and rice as far as I can see, but what an intense flavour!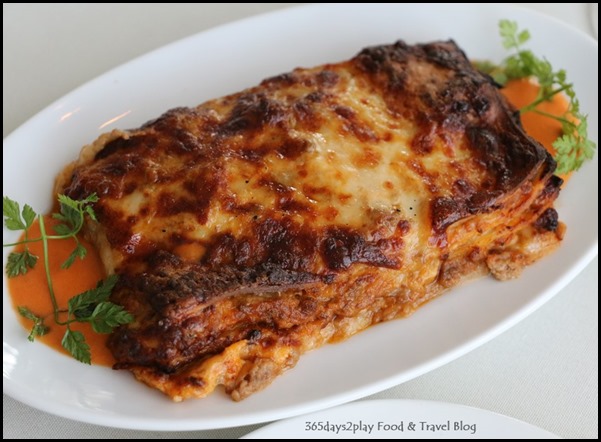 Another look at the Lasagna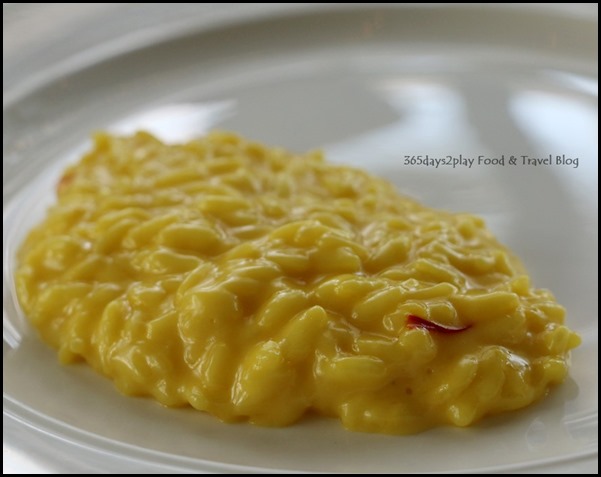 Another look at the delicious risotto, flavoured with saffron and god knows what other secret ingredients.
~~~ Mains ~~~
The mains were nice, but after a stunning start to the brunch, these felt just average. The pork was not as tender as described on the menu, which is a pity because I have been to Zafferano previously and eaten their slow cooked pork, which was melt in the mouth. I also had the most tender beef short rib there. So it's a pity the brunch mains didn't shine.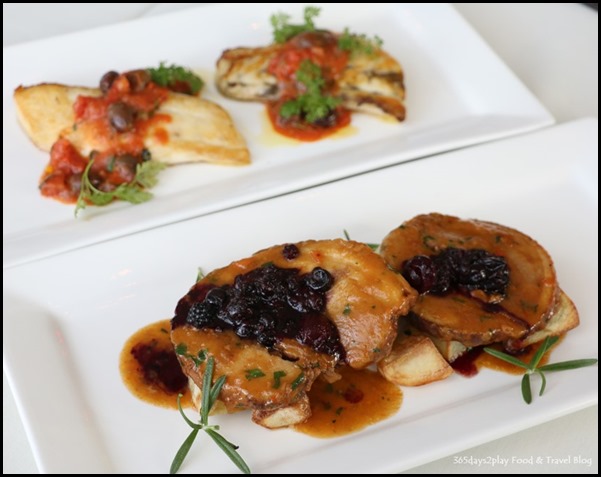 Slow cooked pork belly with potatoes and berry sauce (front) and oven-baked seabass with tomatoes, olives, capers and fresh herbs (back)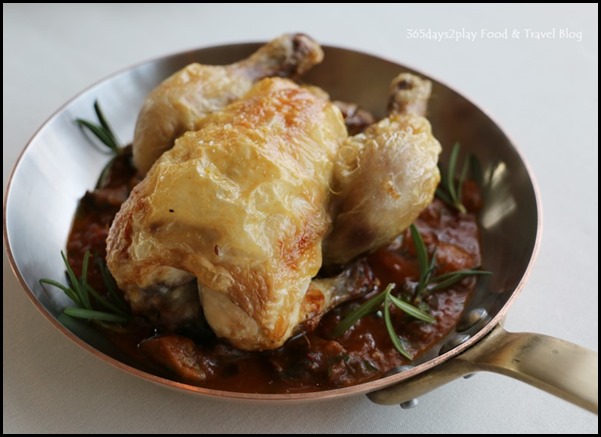 Roasted whole French spring chicken with bell pepper, red onion, mushrooms
~~~ Dessert Buffet ~~~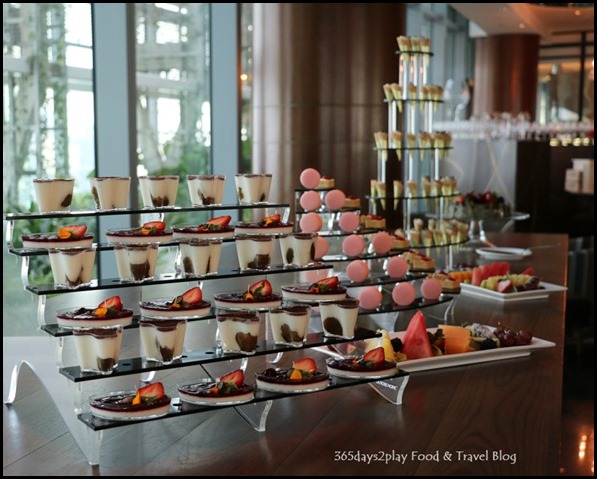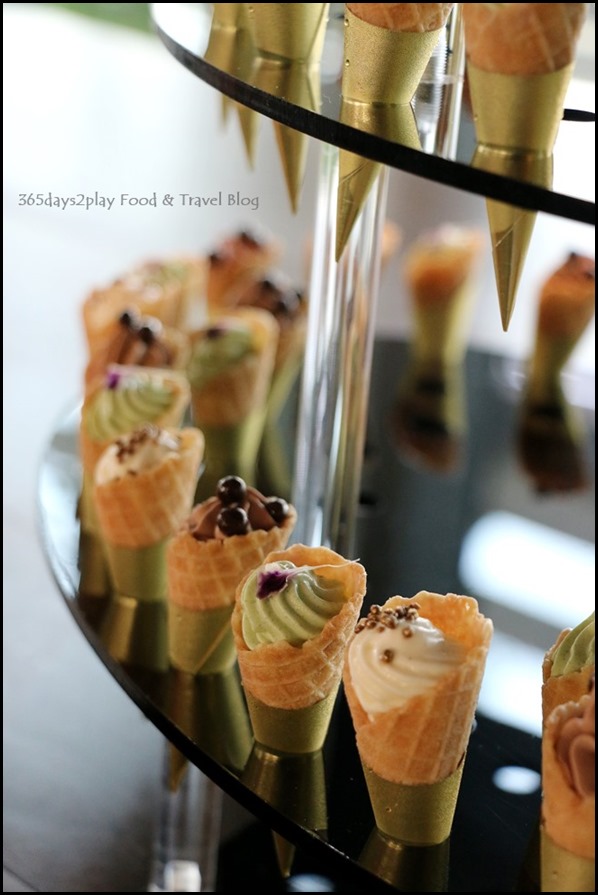 One of my favourite desserts of the day. Delightful to crunch into the mini ice cream cones to get to the flavoured cream.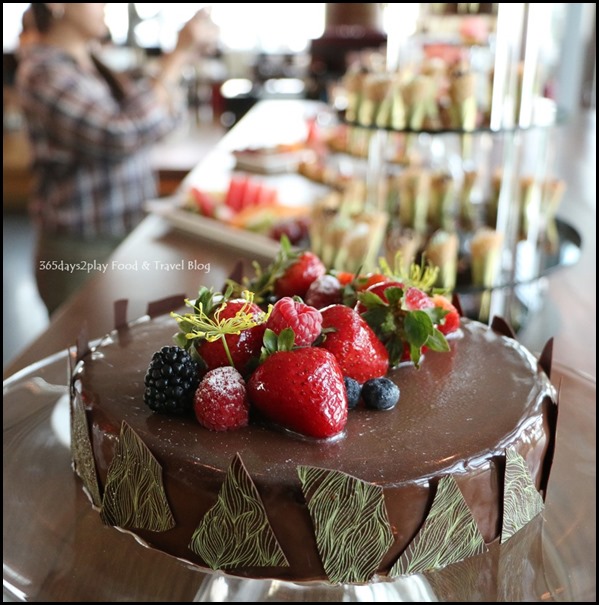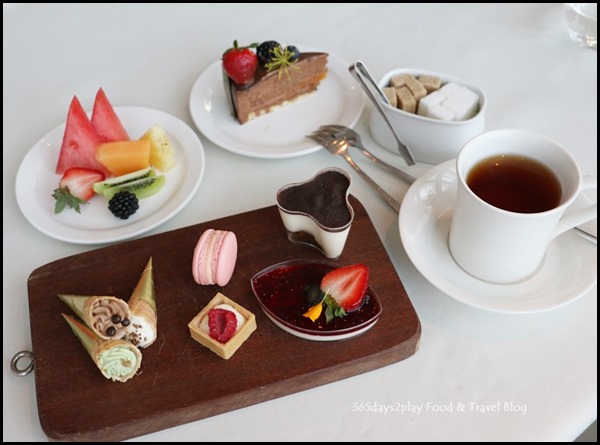 The panna cotta was also fantastic. My only grouse is the dish was so shallow, so it was really hard to get at the cream at the bottom.
Congratulations if you've managed to make it all the way to desserts!
---
Add me on Facebook, Instagram and Twitter if you want to be kept up to date with the latest happenings in the food and lifestyle scene in Singapore!
Read about my previous occasions to Zafferano
Amazing Steak – https://365days2play.com/2013/10/27/zafferano/
Restaurant Week – https://365days2play.com/2014/10/26/zafferano-restaurant-restaurant-week-oct-2014/
New dinner menu – https://365days2play.com/2015/03/10/dinner-at-zafferano/
---
Zafferano
Ocean Financial Centre, Level 43
10 Collyer Quay, Singapore 049315
LUNCH
Monday — Friday:
11.30am — 3pm (last order 2.30pm)
DINNER
Monday — Wednesday:
5.30pm — 11.45pm (last order for food 10.30pm)
Thursday – Saturday:
5.30pm — 1.00am (last order for food 10.30pm)
Brunch
First and Last Saturday every month 11.30 am — 2.30pm
Closed on Sundays
T +65 6509 1488
F +65 6509 1565
E info@zafferano.sg
Zafferano's Italian Saturday brunch The Italian Table' is served from 11.30am till 2.30pm, and priced at SGD88++ per person inclusive of free-flow of soft drinks, juices, coffee and tea, SGD108++ per person with free-flow Prosecco and SGD138++ with free-flow of champagne. Available on the first and last Saturday of each month.