Recently, I was invited to the newly revamped The SQUARE at Novotel Clarke Quay. As a gluttonous person, my heart did a leap of joy. I always love looking at the wide array of food, so nicely displayed, and in such great variety. These days, restaurants are starting to become more creative. The SQUARE is one such restaurant, and it features a "live cooking station" where you are able to get your pastas customised and cooked to your desire.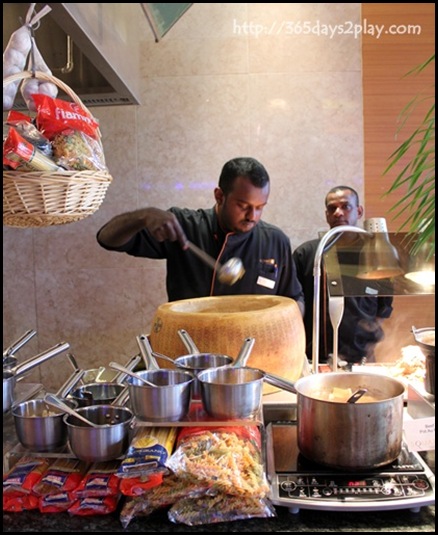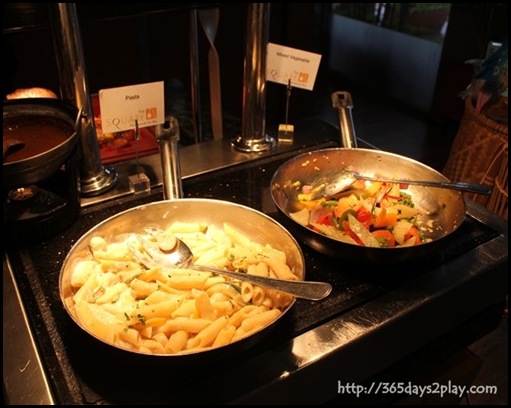 The Pasta station is one such station where you can order and customise your pasta on the spot. This ensures that the pasta is al dente and not soggy from soaking in the pasta sauces!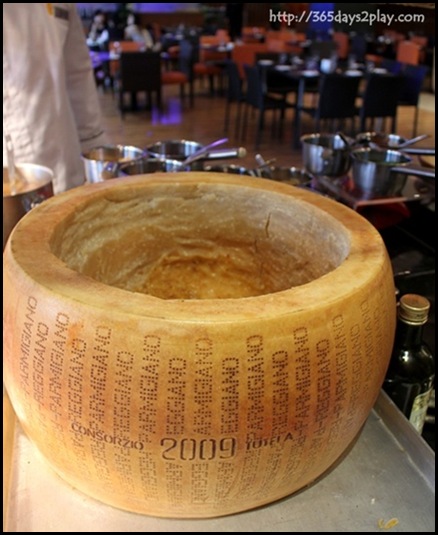 The Chef will even stir the hot pasta in this wheel of cheese. The heat from the pasta will melt the cheese and coat the individual bits of pasta, enveloping them in delicious cheese!
And it's not just Western pasta but local noodles that The SQUARE offers.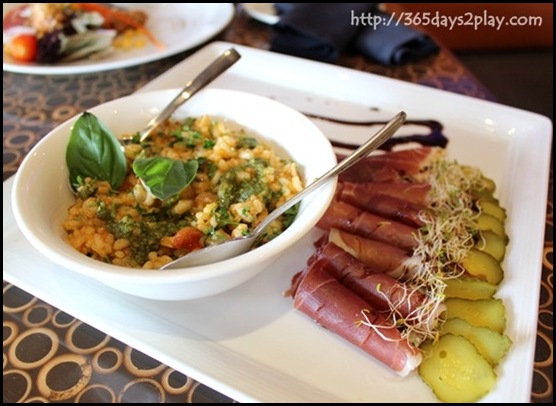 The risotto is also another must try. The individual grains of rice are cooked so perfectly that every bite is moist and bursting with flavour.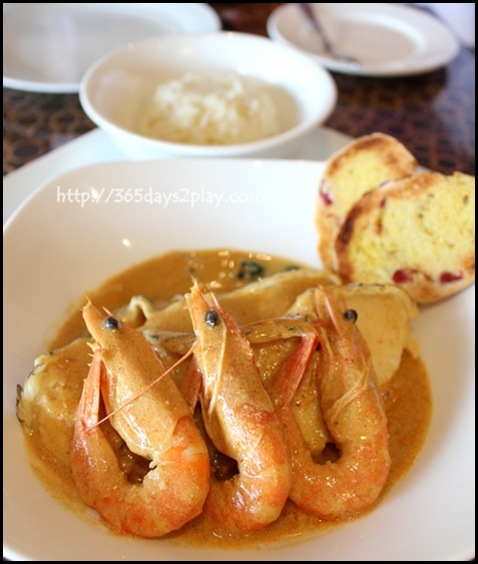 These prawns and curry cod fish were from the Ala Carte menu so you won't be able to get this from the buffet.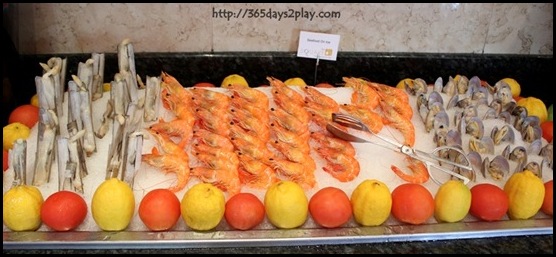 Succulent fresh seafood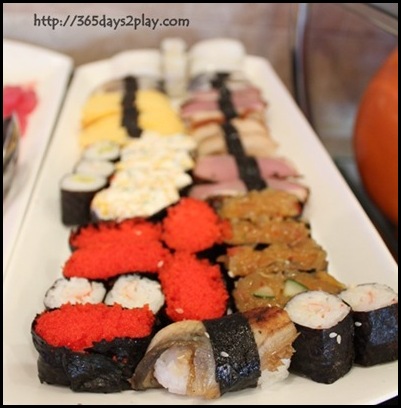 The sushi platter was a little boring though. Nothing that piqued my interest frankly. I normally go for the raw fish slices on rice type of sushi.
I have a soft spot for pate on bread, and I actually consumed a whole packet in New Zealand.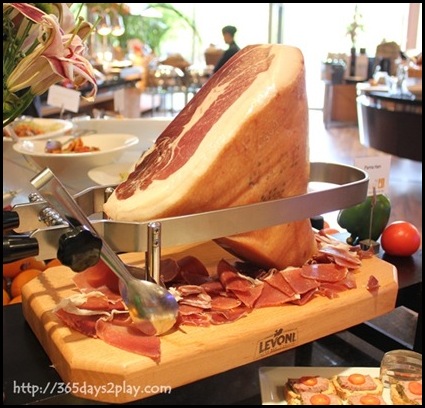 For those of you who cannot get enough of Parma ham, here is your chance. Unlimited slivers of Parma. The whole leg is there so I'm sure that's more than enough for the most enthusiastic of eaters.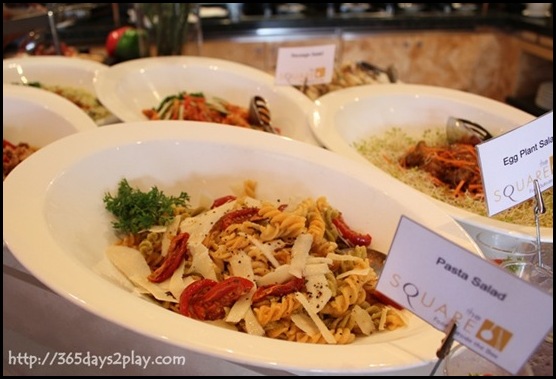 The satay and sausages are cooked periodically when stocks run low, to ensure freshness. Satay was really good, which is surprising for a buffet. I have never had good satay at a buffet. Guess their method of small batch cooking really helps!
These are some of the items I tried. Yes I like to take very small portions so that I can taste more things. And I like going back to the buffet table many times so that my food is still hot.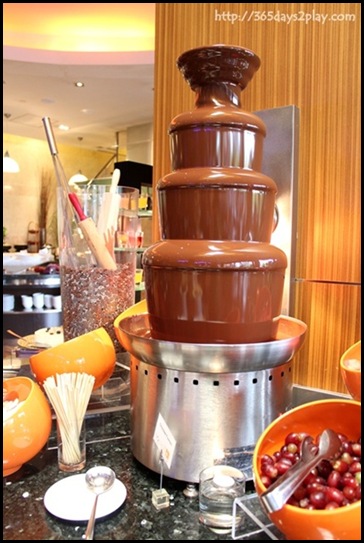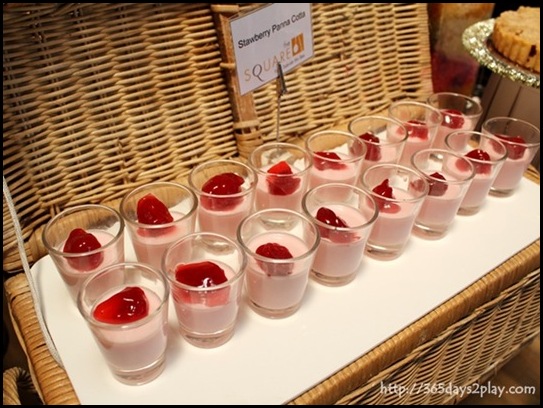 If you're a lover of Panna Cotta, you have to come to The SQUARE. When I was there, they had at least 3 to 4 different flavours of Panna Cotta.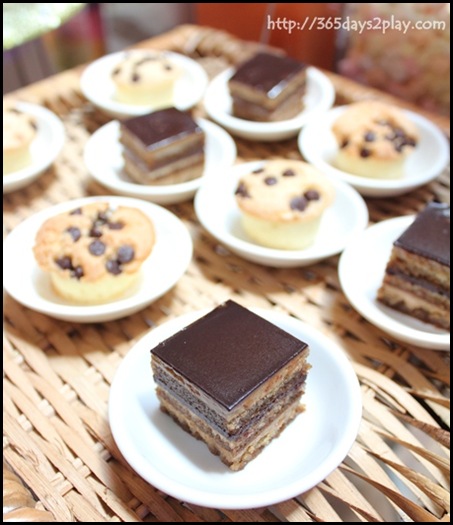 Decadent and chocolatey Opera cake. If I had more space I would have had more of these.
Coffee, latte, cappucino etc available at the buffet.
*Thank you Novotel Clarke Quay for the kind invite.
The Square Restaurant
Level 7 of the Novotel Singapore Clarke Quay
177A River Valley Road, Singapore, 179031
Tel : +65 63383333
Fax : +65 63392854
http://www.thesquarerestaurant.com.sg/menu/
Lunch: Adult – $38++ ; Senior Citizen — $25nett ; Child $20 ++
Dinner (Sun — Thur): Adult – $48++ ; Senior Citizen $30nett ; Child $30++
Dinner (Fri — Sat): Adult – $58++ ; Senior Citizen — $38nett ; Child $38++
I love it that Senior Citizens get a discount. And a huge one too! They pay even lesser than children for dinner. This is a very good reason to take your parents or grandparents out, you busy working professional!