In conjunction with Sentosa's 40th anniversary celebrations, I was invited to attend Sentosa's BBQ by the Beach pre-launch party last Thursday. You can attend too but you have to be quick because this special BBQ will only be on until 22 July 2012.
Sentosa BBQ by the Beach
Date : 13 – 22 July
Time : 6pm — 12mn (Last order at 10.30pm)
Venue : Siloso Beach (Between COASTES and Azzura Beach Club) Take the Sentosa Monorail from the 3rd floor of VivoCity and stop at Beach Station, the last stop.
Admission :$29.90++ (includes $30 worth of vouchers redeemable for food and drinks, but excludes entry fee into Sentosa)
Tickets available at:
– Call 6279 1767
– Email exquisite_tastes@sentosa.com.sg
– Sentosa Ticketing Counters 
Apart from my company family day held at Sentosa Wave House and KM8 which has since closed down, I don't believe I've had ever dined on the beach, at least not under the moonlight! In fact, as my guest and I arrived very early, we managed to snag a table on the jetty. So we were actually dining amidst the lapping waves, definitely a first for me. It was a really breezy evening and I was thankful to have brought along a hair clip or I would have been like a mad woman. Scroll down further to see pictures of the Sentosa BBQ by the Beach party, complete with crooning guitarists!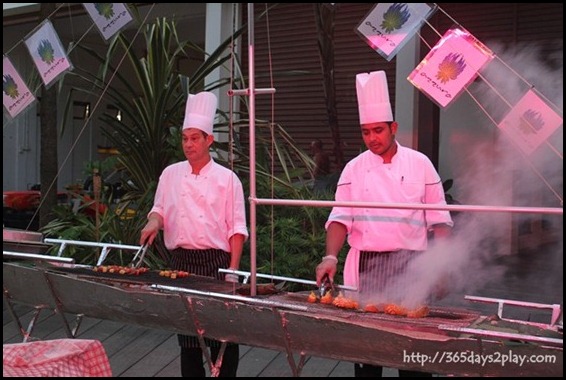 You can watch the chefs grill the food right before your very eyes. And there are quite a few methods of doing the BBQ. Picture above is what we would associate with the usual kind of barbecue.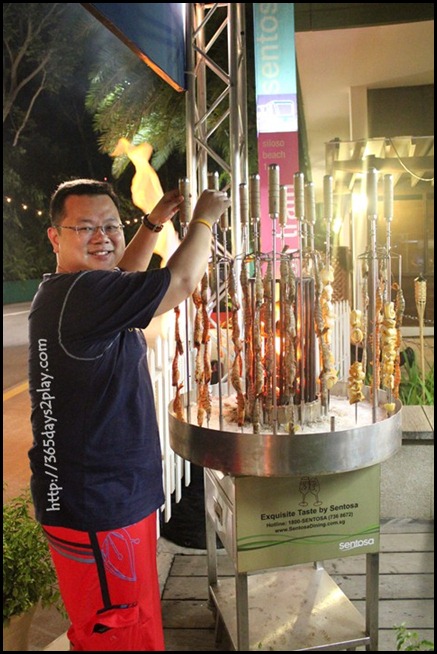 This is the vertical grill, as demonstrated by my dining companion.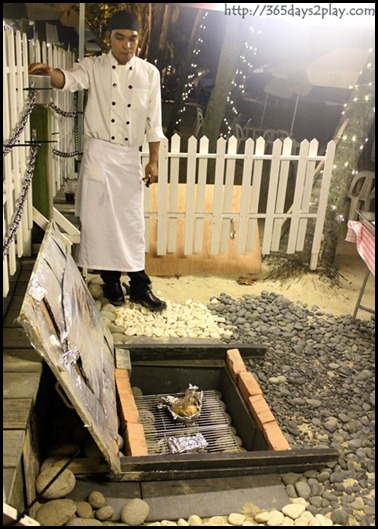 This is the way the Hawaiians do it, via a traditional Hawaiian underground oven known as the imu. It's the same as what the Maoris of New Zealand would do, except in New Zealand they would call it a Hangi. And I don't think they would use the metal grill either.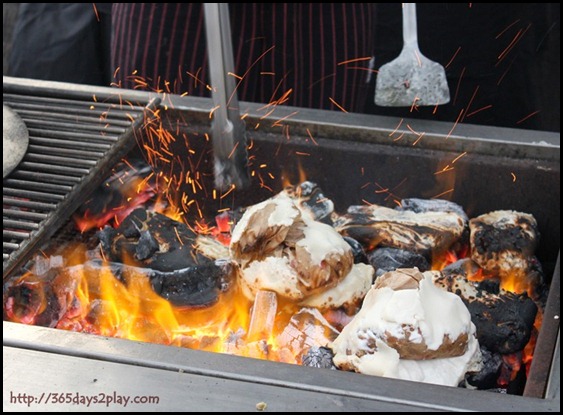 BBQ Beef Skewers $10 — Very tender and juicy. One of my favourite dishes of the evening. I had 2 servings of this!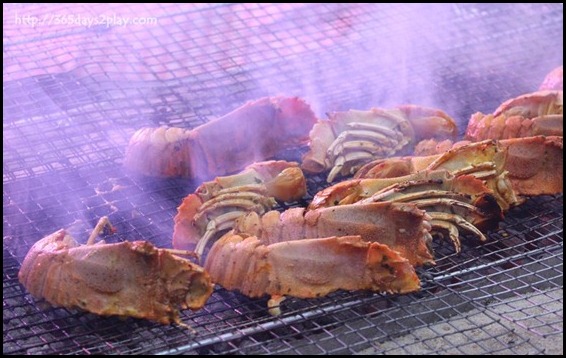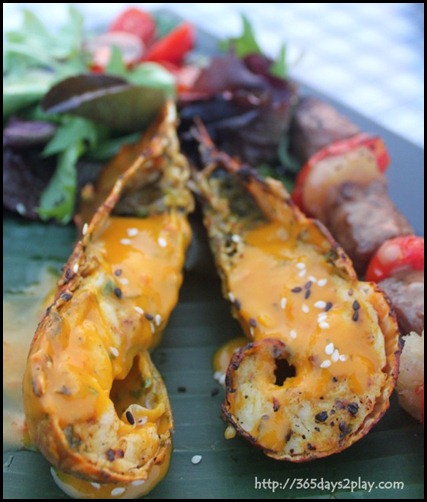 BBQ Mango Butter Crayfish $12 — Pretty tasty, but the mango butter sauce overwhelmed the BBQ flavours of the crayfish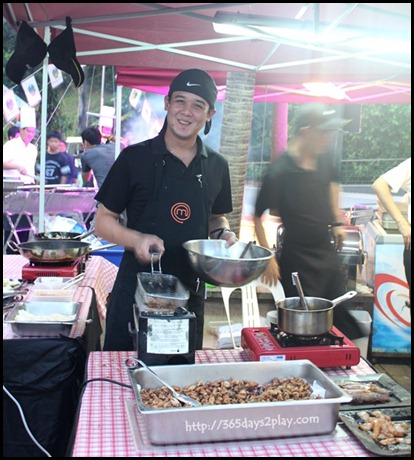 Tiger Beer Crispy Baby Squid $12, fried till really crispy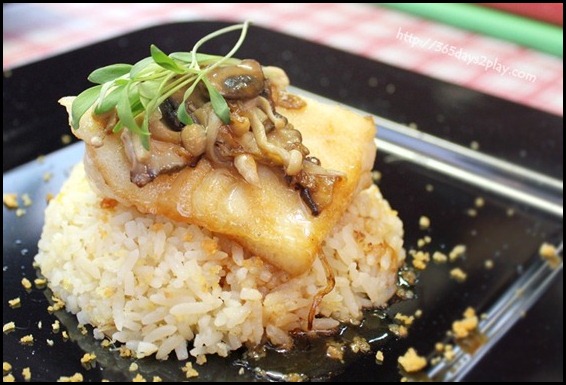 Bonito infused Cod Fish with sautéed mushrooms and garlic fried rice $18 — Cod was very tender. Wouldn't mind if the cod had a stronger flavour though.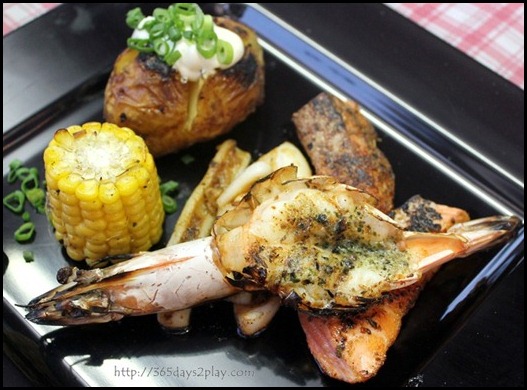 Grilled Seafood Platter $10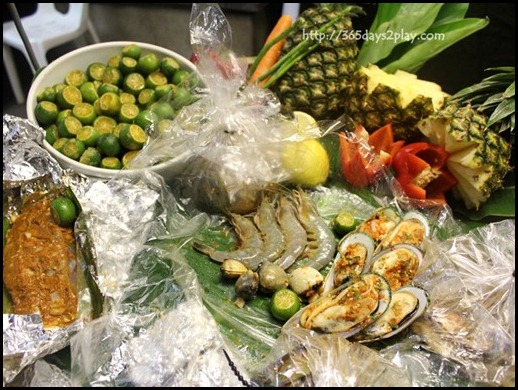 Sambal Seafood platter from the Hawaiian Imu. Be careful, the sambal packs a spicy punch!
Salt-wrapped parcel of monkfish, black mussels and sweet shrimp, with a touch of white wine and roasted tomato $30 — Sorry for the lousy photos, it was pretty dark by then. And since we chose to sit right at the end over the water, it was really dark where we were. Dining in the dark, have you tried it? We enjoyed all the bits like the prawns and mussels. However, the fish was really salty and since it was so dark, we couldn't see that it was really fish that we were eating and at one point we thought it was the pack of salt that was used in the cooking of this dish!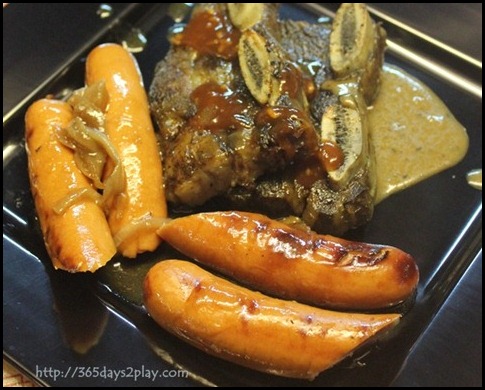 I liked the sausages very much, but the others thought they were too salty! The beef ribs were also very good. It was the last dish I ate for the evening and I made sure to finish it because it was cooked just right with a beautiful flavour.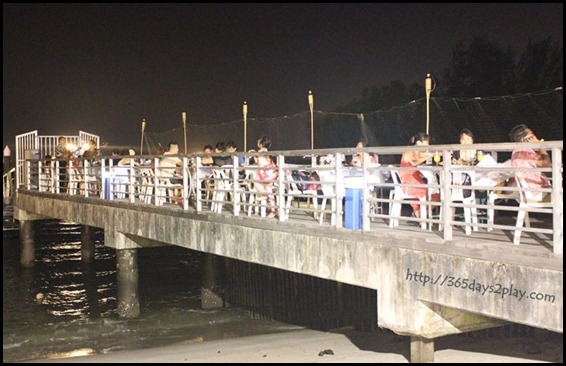 It only looks bright in this photo because I have upped the camera's ISO. Look how grainy the photo is.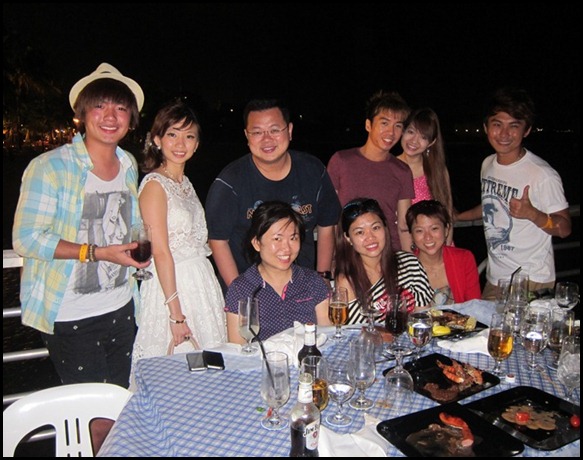 Happy bloggers with their tummies filled! Sentosa BBQ by the Beach, best shared with friends!