*Media Invite*
This has got to be one of my fastest posts as it is not even 24 hours since I left the restaurant that I am penning this down. But dining at Osia at Resorts World Singapore was a wonderful experience and I need to share this news with you before Chef Tim Montgomery flies home to Australia!
Due to popular demand, Osia is once again hosting Cooking with Friends with guest Chef Timothy Montgomery from 16 to 19 July. Returning for a second stint, Chef Montgomery is a talented Australian chef who now holds the Executive chef position for both Berardo's Restaurant & Bar and Noosa International Food & Wine Festival. Prior to taking on these two roles, he previously led Bacchus Restaurant to win four consecutive Chef Hat's — a prestigious Australian restaurant award. In the upcoming month, Chef Montgomery will be presenting Osia's diners with several delectable menus reflecting his food philosophy: simplicity, freshness and a deep respect for seasonal and regional produce.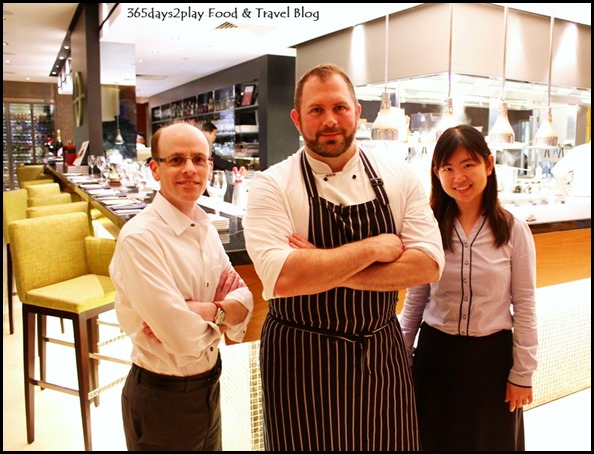 Standout dishes available on Chef Montgomery's a la carte menu include the Moreton Bay Bug, Jasmine Rice Congee with Macadamia and Guanciale; and Kokoda' Kingfish and Scallop with Coconut, Yuzu, Fingerlime and Rice Cracker. For those wanting to add to their culinary belt, a complimentary masterclass by Chef Montgomery will also be held on the 19th of July for dine-in guests only.
3-course Set Lunch: $50++/ 4-course Set Lunch $60++
3-course Set Dinner: $90++/ 4-course Set Dinner $115++/5-course Set Dinner$135++
Available from 16th to 19th July 2014
Free cooking demonstration by Chef Timothy Montgomery: 19th July from 3pm-5pm on a first come first serve basis (max of 15 pax; reservations recommended)
We had the opportunity to try Chef Montgomery's set dinner. The dishes we tried are also available as Ala Carte orders.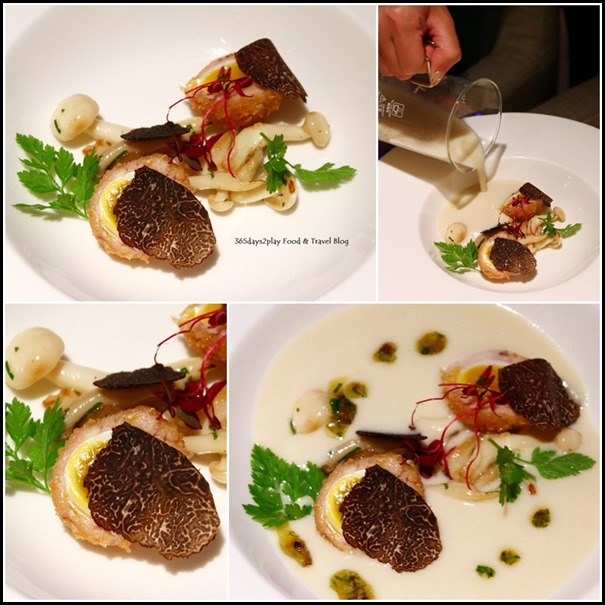 Chef Montgomery – Cauliflower Soup (Quail Scotch Egg, Pickled Mushroom, Truffle) $22
Absolutely loved the cauliflower soup, which had a very light and airy consistency. Interesting use of the quail scotch egg, although I would have preferred liquid insides. And of course, generous slivers of truffle to jazz up any dish. Osia will be having a truffle promotion in early August by the way, watch out for that!
Chef Montgomery – Seabass with Brandade, Organic Egg, Smoked Potato Espuma, Avruga $46
Even though I am not a fan of sea bass, as I often find fish to be too dry and rubbery, I enjoyed this fish. It was tender, flaky and meaty. Loved the smoked potato foam as it just goes so well with fish, or meat for the matter. And for all egg lovers, encased in the crispy nest was a boiled egg with a runny centre. LOVE.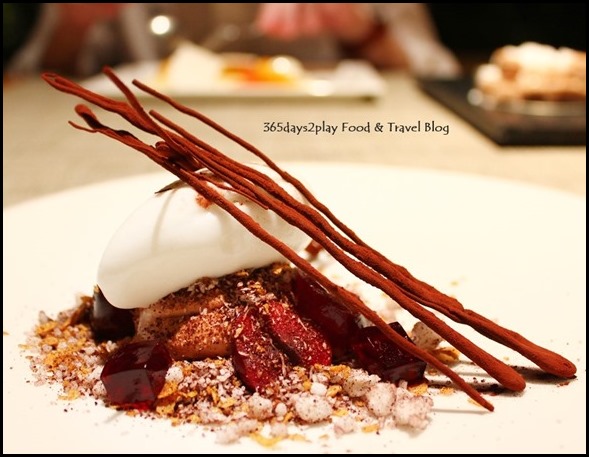 Chef Montgomery – Cherry Ripe made with Chocolate, Cherry and Coconut $20
If Cherry Ripe sounds familiar, that's because Chef Montgomery has taken inspiration from the candy bar Cherry Ripe and come up with a deconstructed version of it. I found this to be a delight to eat. It had all sorts of textures going on, from the crispy bits of coconut, to the pieces of cherry and jelly, and of course the coconut sorbet to tie all of them together. Very refreshing and not overly sweet nor something that would leave you with a heavy stomach.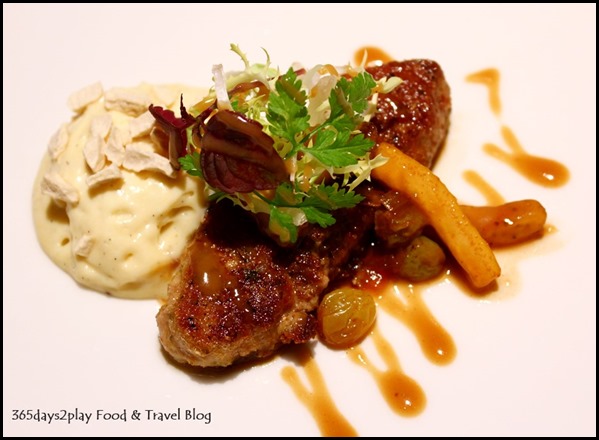 Osia – Foie Gras Pan Fried, Banana Textures, Madagascar Vanilla, Jamaican Rum
We also sampled several other permanent dishes on the menu such as this foie gras. Can't help ordering this because I love foie gras! This was a very good version of it, really crispy on the outside but a creamy pudding like texture on the inside. One of the softest I've tried in fact Love the sweet raisins that go along with it but I didn't really fancy the banana tones. The Madagascar vanilla on the side, while palatable, didn't seem to fit in together with the foie gras.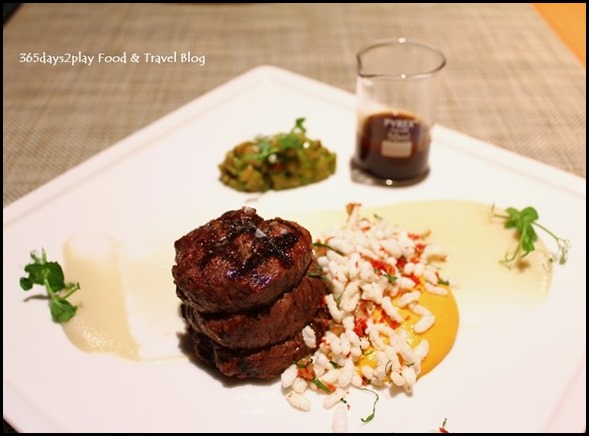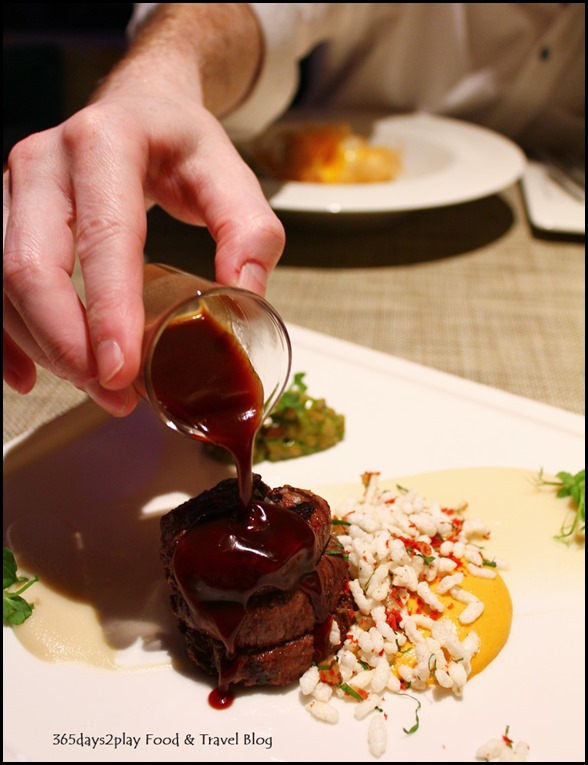 Osia – Grain Fed Black Angus Beef Tenderloin with Creamed Sunchoke, Basil Cepe, Acquerello Rice Tomato Parmesan and Red Wine Sauce $66
For beef coming from a grain fed cow, this tenderloin was surprisingly flavourful. In fact, I would hold back on the smoky red wine sauce that is a little on the salty side. The creamed sides are more than enough to accompany the meat.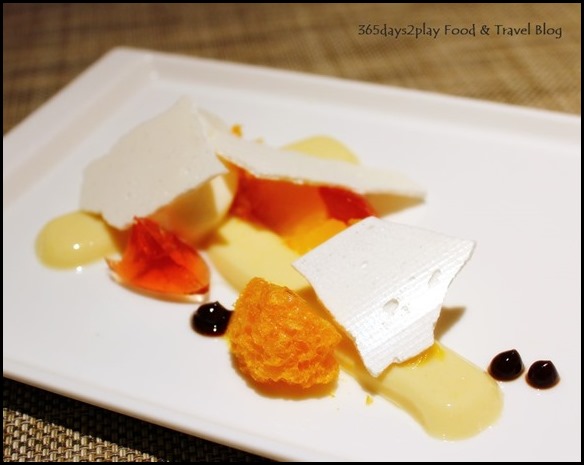 Osia – Orange and Cardamom Panna Cotta with Coffee bits, negroni jelly, coconut sorbet $18
Deconstructed Panna Cotta if you will, the most unexpected thing on this dish was the dehydrated orange. We were both expecting that orange sponge looking piece to be honeycomb of some sort, but it was dehydrated orange! If I hadn't been told, I would have thought myself to be eating a sticky sugary treat. If dehydrated orange tastes so good, why aren't we having more of it?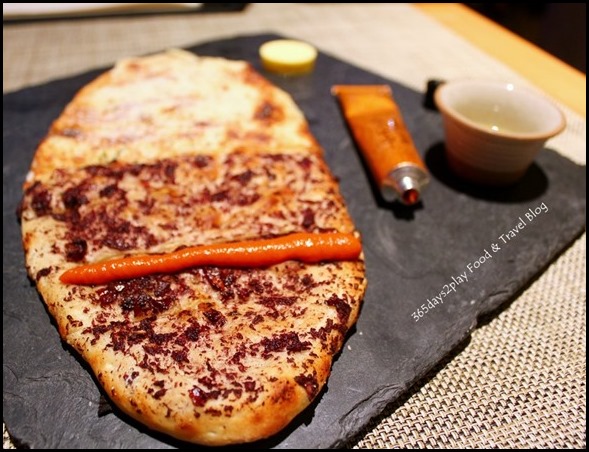 Osia – Stone Heath Flat Bread $11
We chose truffled kalamata olive bread as well as onion sour cream. Both were very delicious. It's home made tomato sauce in the tube there but I preferred to eat it plain or with butter. Go easy on this as it is rather substantial.
---
Add me on Facebook, Instagram and Twitter if you want to be kept up to date with the latest happenings in the food and lifestyle scene in Singapore! 
---
Osia Restaurant at Resorts World Sentosa
#02-140/141  26 Sentosa Gateway  Singapore 098139
Lunch: 12:00pm – 3:00pm (Thu – Tue)
Dinner: 6:00pm — 10:30pm (Thu – Tue)
Closed all-day on Wednesday
DIRECTIONS
Follow Crockfords Tower (facing World Square)
Access through Hotel Level 2
NEAREST PARKING
Park the car at the nearest carpark in the East Zone at either Hotel Micheal or Crockford Tower (B1) 
Click to enlarge