Last month, I had the opportunity to try out a wonderful seafood restaurant. It's a new seafood restaurant located in Sentosa itself, situated behind the Underwater World and next to the Shangri La Rasa Sentosa Resort . Imagine dining amidst the evening glow and lapping of the waters, it's not an everyday occurrence I can tell you that.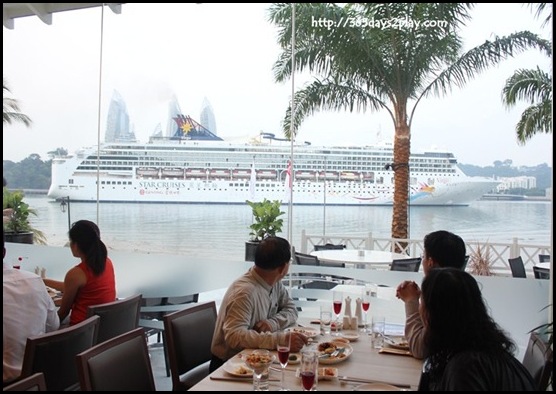 Try to come before night fall to enjoy the scenery while there's still some light. Another reason also is that at approximately 630pm, a humongous cruise liner will sail past to dock at HarbourFront. It's quite an interesting experience, and the people on the cruise liner actually waved at me as the ship sailed past!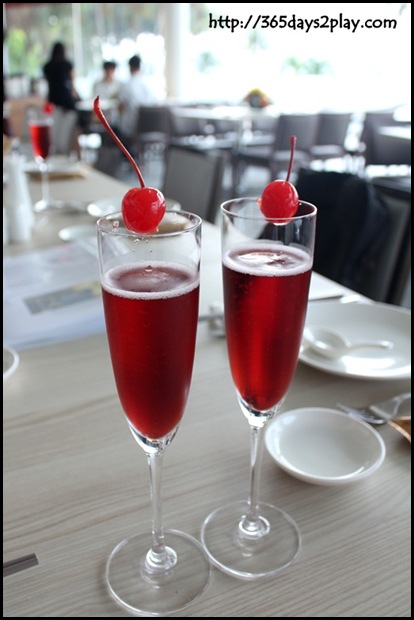 Kir Royale (champagne with creme de cassis)
A welcome drink to start the evening off! Sweet and refreshing!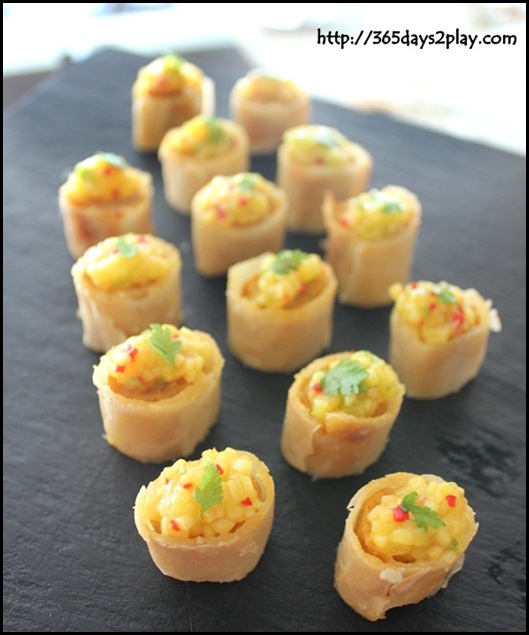 Otah cigar with mango salsa canape
Seldom get canapes with asian fillings. These were unique and delicious.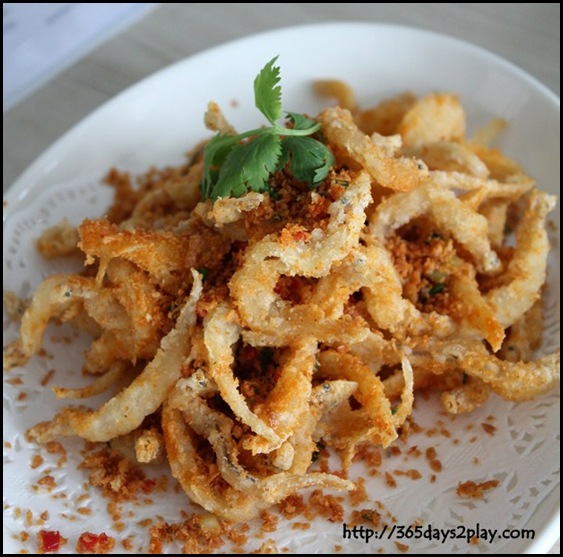 Crispy Peppered White Bait
Wow I couldn't keep my hands off the crispy white bait the whole evening! I had the plate strategically placed near me so ever so often I would sneak some into my mouth. Extremely crispy yet not oily tasting. Good to order and share amongst the table!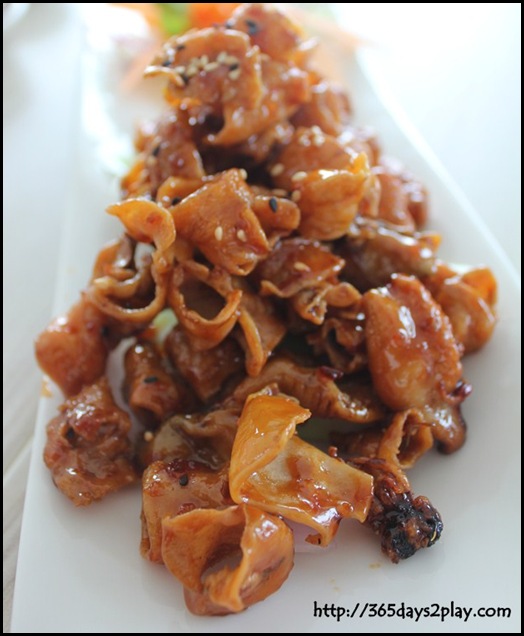 Deep Fried Crispy Baby Squid
I didn't like this as much because they somehow got stuck in my teeth. Must be the sticky sauce on them. Or maybe it's an age thing. Some students from Ngee Ann Poly were also at the tasting and they preferred this dish to the white bait one due to this one being sweeter.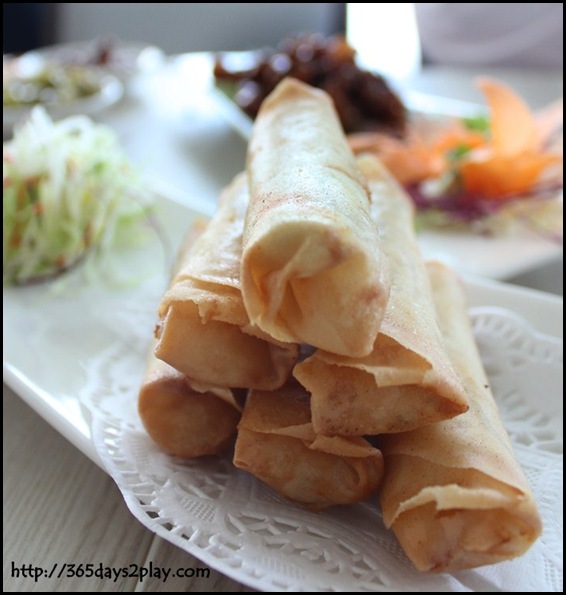 Homemade Fresh Mango Prawn Bar
Mango prawn bar aka spring rolls with mango filling. I thought the mango filling was a little bit mushy. Also would have preferred them to be sweeter as it's a mango filling.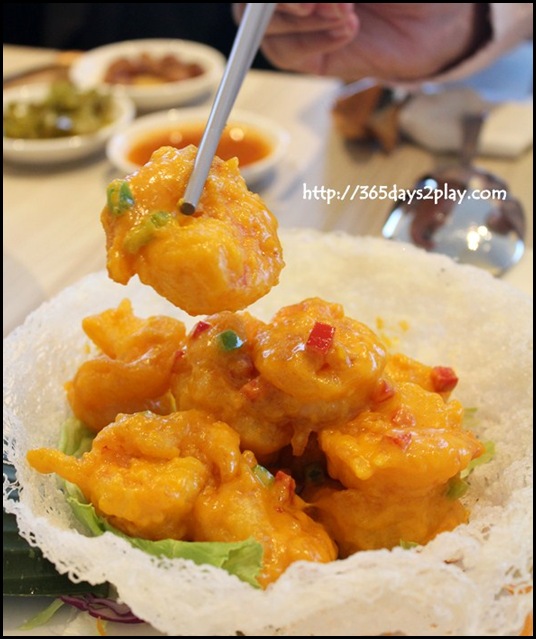 Wok fried prawn with salted yolk
Prawns in salted egg yolk are my favourite! Or rather, tell me "Salted Egg Yolk" and I'll pretty much start drooling. The prawns were succulent and fresh tasting, however I thought the salted egg either wasn't salty enough or didn't have enough oomph. I know some people may like a less salty version, but seriously, if you're going to eat this dish, just go all the way lah.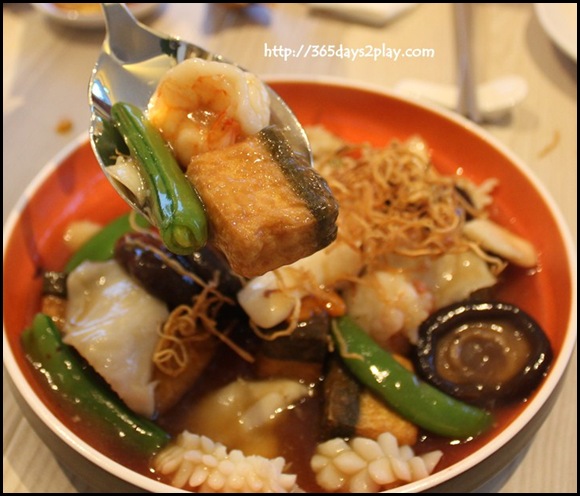 Braised home made wheat tofu with seafood
This was a very homely and tasty dish. My dining partner and I both concluded that if we wanted a comforting healthy dish to go with rice, we'd order this. I especially loved the wheat tofu. Don't recall having ever eaten this knowingly, but it has a very interesting and unique taste! You have to taste it to know. Must order!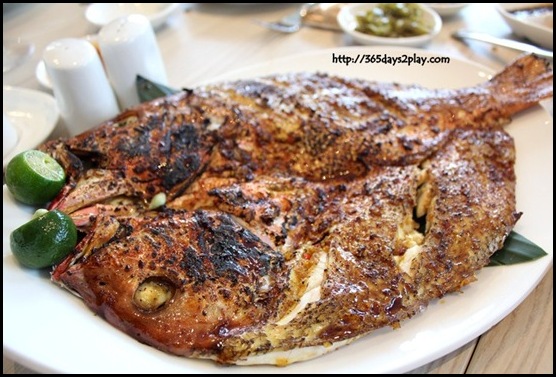 Charcoal grilled marinated red snapper
Some parts of the fish were a little tough, I managed to get a second serving of fish which was more tender and flavourful especially when eaten with the skin. Much flavour resides in the skin due to the marinade, which is spicy and a little tangy. And of course, infused with a charcoal fragrance.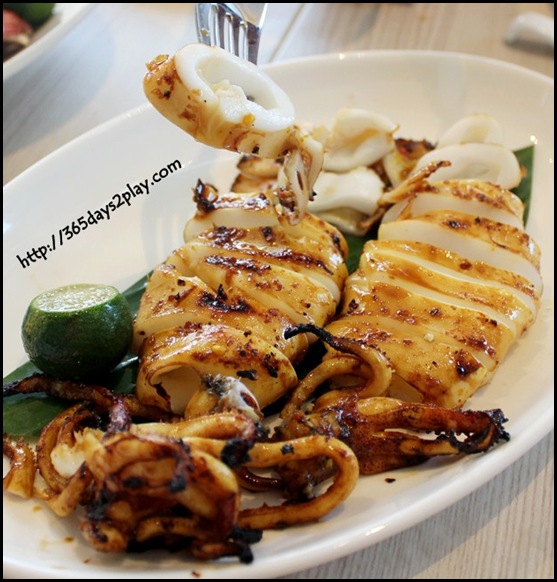 Charcoal Grilled Marinated Squid
Squid if overcooked slightly becomes tough easily. Thankfully, the chefs grilled the squid just right such that the texture was a little firm yet bouncy. Could have done with a bit more of the charcoal flavour actually.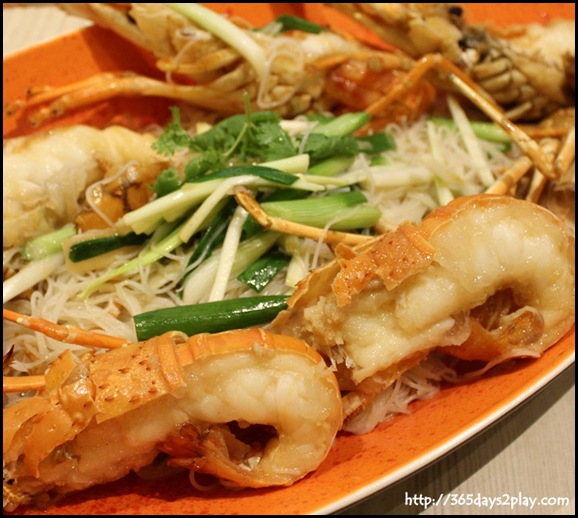 Braised Baby Lobster White Noodles
This is also definitely another must order. The noodles tasted so good thanks to the rich and flavourful lobster broth. And you know it's good when you just keep on eating the noodles and ignoring the lobsters!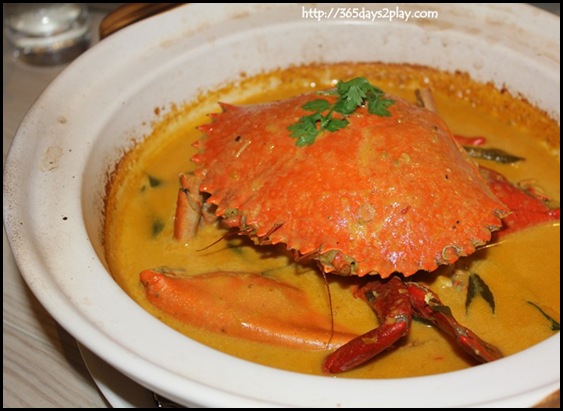 Braised Clay Pot Crab with superior broth and pumpkin
Of all the crabs, I spent my time devouring this one. The crab was extremely fresh, and the flesh was tender and sweet tasting. Definitely wouldn't mind ordering this again. The pumpkin broth was also a refreshing change from the usual chilli crab or black pepper crab. Would have liked to try the salted egg yolk crab, but I guess that would be cholesterol overload!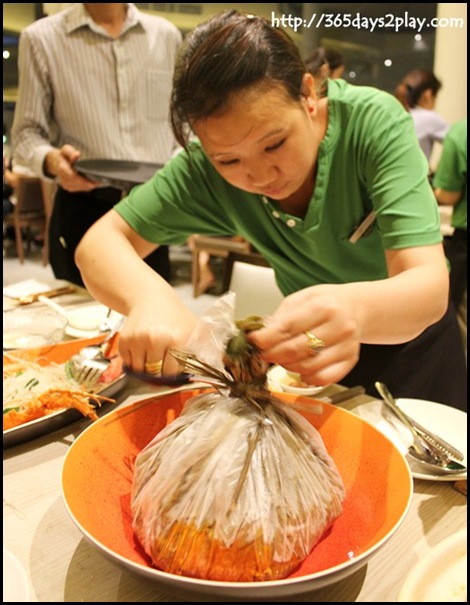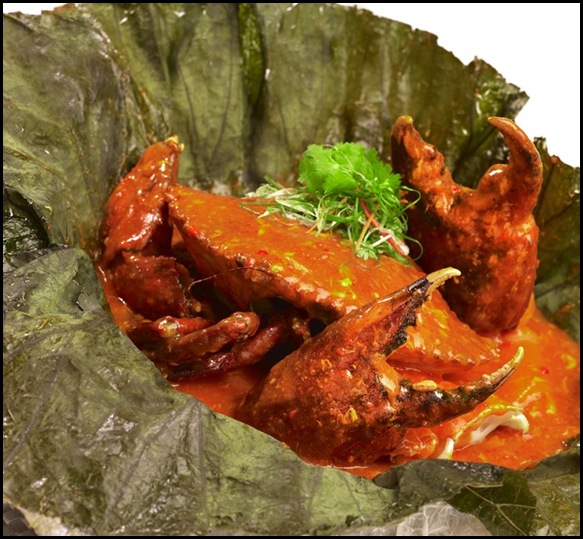 Chilli Crab in lotus leaf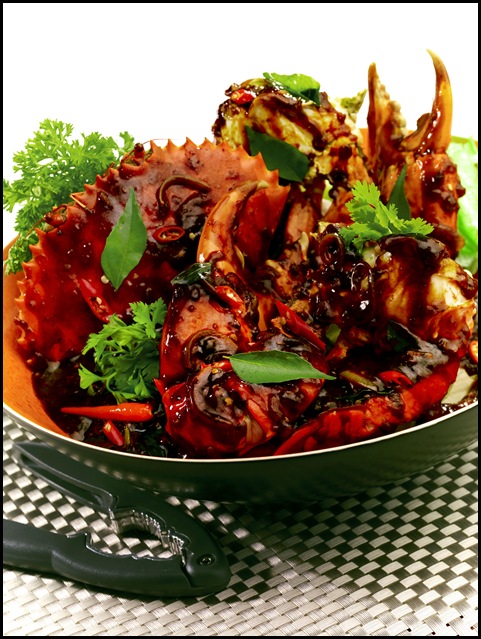 Black Pepper Crab
I actually am not a fan of black pepper, so I gave this a miss.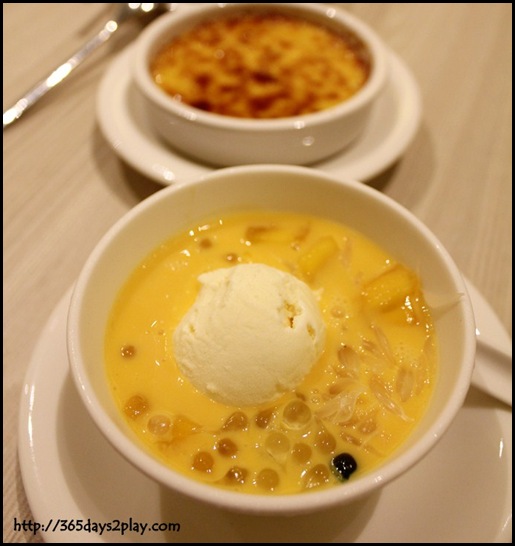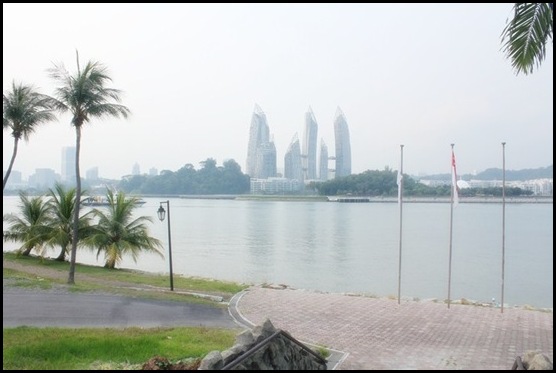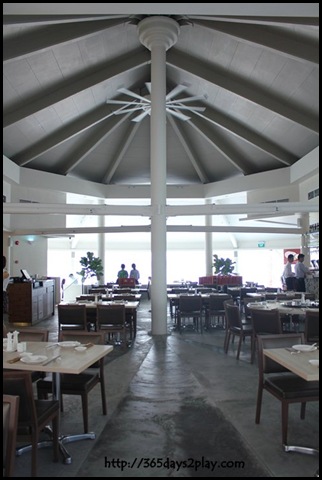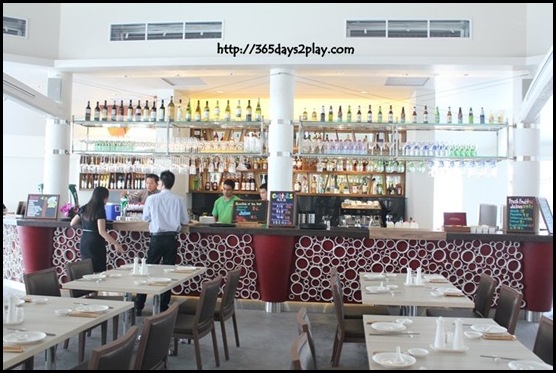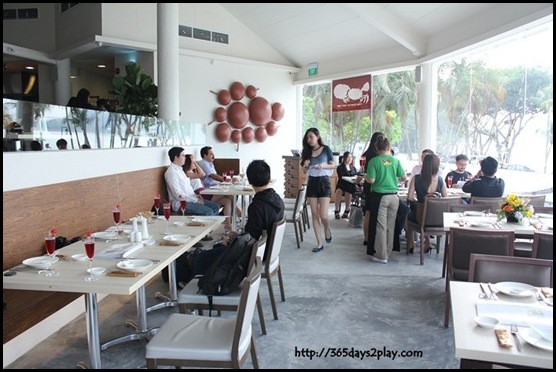 Boxing Crab Seafood Restaurant
80 Siloso Road,
Sentosa Singapore 098969
Tel : (65) 6274 7760
http://www.foodjunction.com/brands/restaurant/the-boxing-crab/
Find out what else there is to eat at Sentosa