Checked out a Halal neighbourhood restaurant today in Tampines. It's called Kraft Kitchen and it recently opened. I was hoping for neighbourhood friendly prices ie, preferably less than $10 or around $10 for a main course. Unfortunately most main courses were $15 and above but I did manage to settle for the Beef Rendang Pot Pie which costs $13 and sounded really promising.
The Beef Rendang Pot Pie looked really appetising when it arrived, with its shiny cap of puff pastry. Cut through that to reveal chunks and chunks of beef in a soupy stew. The beef was pretty tender and I managed to finish all the pieces. I'm not really sure if the taste of the dish reminds me of rendang, Also it was a little too soupy. Perhaps "rendang-inspired" might be a better name. It was not bad as a beef pot pie, but I wanted the rendang spice kick!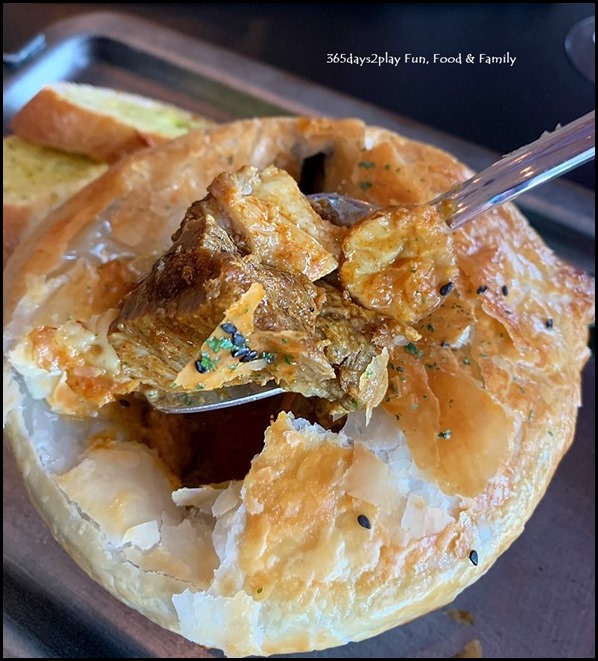 The puff pastry was really lovely but how I wish there was more of it as it was rather thin and a lot of it was stuck to the bowl and difficult to scrape off.
Lastly, the mozzarella bread was a disappointment. I was expecting mozzarella to be covering the bread, but even on closer inspection, I could hardly point out the mozzarella. I told my friend this is mozzarella bread, and she replied oh is it, because it looked more like plain ole buttered bread.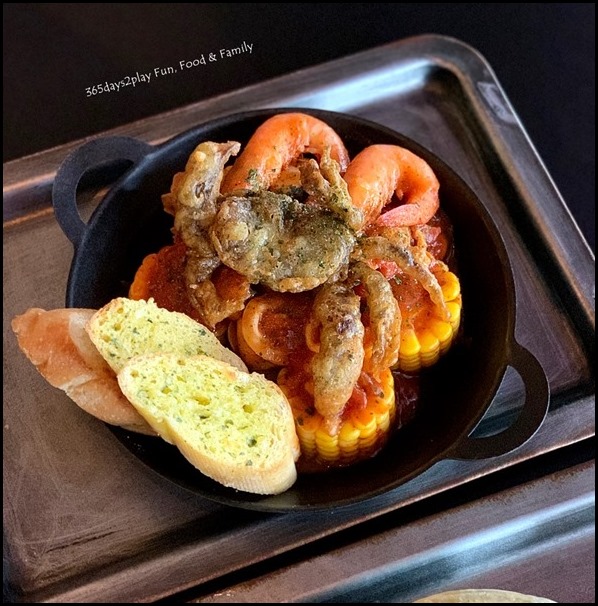 Thankfully, my dining companion's meal was much better. She got the Cajun Seafood Pot with Soft Shell Crab and Toast $18. It was an interesting combination of soft shell crab, squid, clams and prawns sitting on top of quite a generous amount of corn on the cob. I tried some and loved the tangy taste of the tomato gravy. The seafood also tasted pretty good.
Kraft Kitchen has some interesting items on their menu if you're ever in the area and keen to try. They have a pretty extensive menu from hotplates to wraps to ciabatta sandwiches to stews and pot pies. This Rendang Beef and onsen egg on ciabatta sounds just up my alley. I don't think I've come across onsen egg served on bread before, and why not.
Pricing wise and dishes, I think I still prefer Kraft Kitchen's sister outlet Craze Kitchen, also available in Tampines. I particularly like Craze Kitchen's flexible menu which allows you to choose the sauce, pasta type and meat for your pasta dish. More on that in my next post.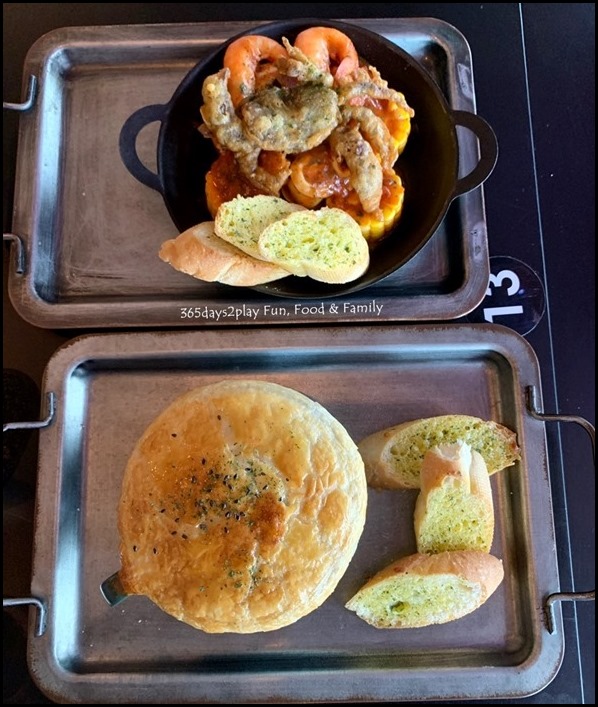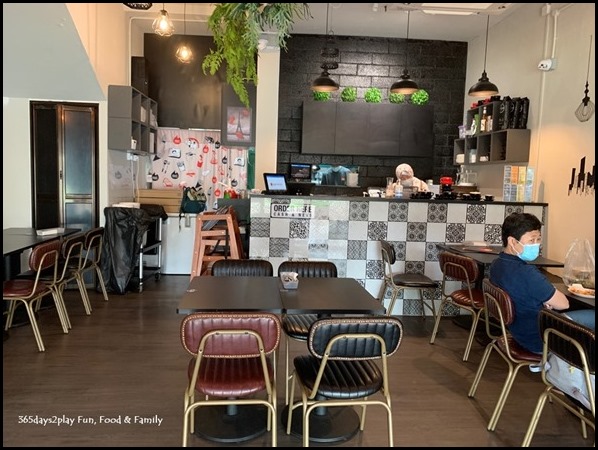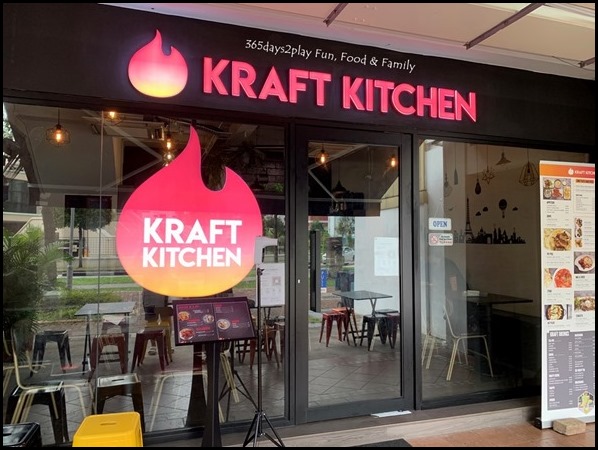 ---
Add me on Facebook, Instagram and Twitter if you want to be kept up to date with the latest happenings in the food and lifestyle scene in Singapore!
Other Halal food options in Singapore
Other food options in the Eastern part of Singapore
---
Kraft Kitchen
820 Tampines St 81 #01-526 Singapore, Singapore 520820
https://www.facebook.com/kraftkitchensg/
Opening Hours: Open daily from 11.30am — 10pm
Menu: Kraft Kitchen Menu (take note this menu is for online orders, and is actually more expensive than eating at the restaurant)