The BMW Women's International Polo finals will be held this coming Sunday 1 October 4pm, and it promises to be an action-packed event even for those who know nothing about the polo sport! I'll explain why in a minute!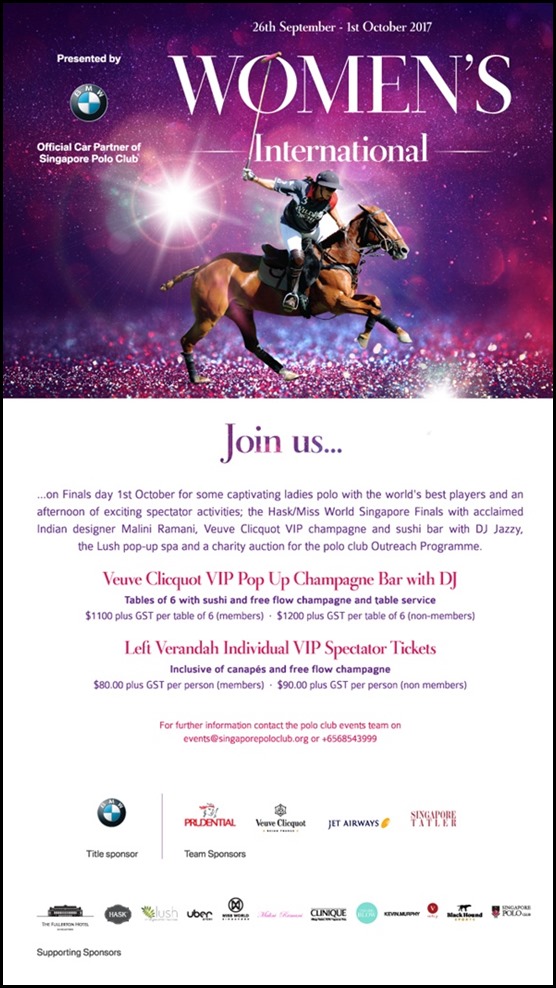 In case you can't see the flyer above, there will be
the Hask/Miss World Singapore Finals
Veuve Clicquot VIP champagne and sushi bar with DJ Jazzy
Lush pop-up spa
Charity auction for the Polo Club Outreach Programme
If you're just going for the individual tickets that comes inclusive of canapes and free flow champagne, that would be $90 + GST per person for non members.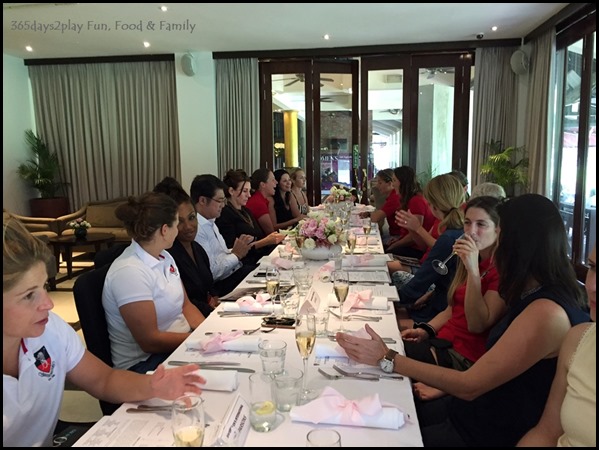 They told me that it was going to be a casual lunch. Casual. The food at the Singapore Polo Club was fabulous.
A few days back, I had the opportunity to sit down for a media lunch with the lovely ladies who are participating in this year's Women's International. I was a little apprehensive because  I knew absolutely ZERO about Polo. But I wanted to hear first hand about it from the professionals. And hear about it I did, especially from Hazel Jackson and Izzy Parsons, both from the UK, who were seated next to me.
They have been playing polo since they were children, and you can definitely sense their enthusiasm for the sport. When a person describes their sport as being "addictive", you know that they really mean it. Apparently Polo is a very fast-paced sport, with each round (aka chukka) lasting just 7 minutes! For this BMW Women's International finals, there will be 4 chukkas, so the whole game will wrap up in just under 1 hour. The chukkas are so fast-paced that you are required to change horses after the chukka lest they collapse from exhaustion! The sport also requires huge upper body strength to control the polo mallets while on a moving horse.
Polo aside, I found the ladies to be a really friendly bunch, and not snooty and aloof like one might imagine them to be, given the sport. It was a hilarious moment when they found out that the Miss World Singapore Finals would be held as a side event, because you know, they would be caked in mud from the games while ladies in fine clothes and thick make-up would be standing nearby?
Prior to the media lunch, I wasn't so sure about attending the finals, but after chatting with the players, I can't wait to watch them in action this Sunday, my 1st ever polo game at the sprawling grounds of the Singapore Polo Club! I've been told it's great fun for the spectators. Everyone dresses up, and there's champagne and nice nibbles. If you want to spend your weekend in a different way, this might just be the event for you.
Btw, did you know the Singapore Polo Club was founded in 1886? The club has been around for 131 years!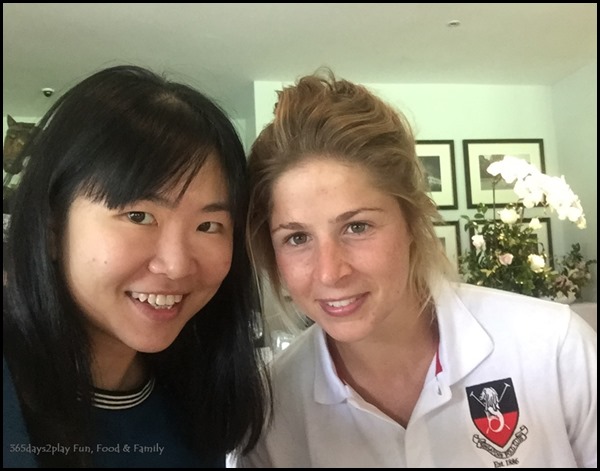 Selfie with Izzy Parsons of the UK. Despite being a professional polo player, she still holds a job in Kenya! She does conservation work with elephants. I'll be rooting for your team Izzy Parsons!
---
Add me on Facebook, Instagram and Twitter if you want to be kept up to date with the latest happenings in the food and lifestyle scene in Singapore!
---
Singapore Polo Club
80 Mount Pleasant Rd, Singapore 298334
Tel:  +65 6854 3999
Email : events@singaporepoloclub.org
Website : http://singaporepoloclub.org