You know what, I've been writing so much about food, I thought that it would only be responsible of me to give some air-time to exercise and healthy living. Calling all sporting enthusiasts out there, now's your chance to take part in some competitive sports! Don't worry, it's all in the name of having fun, bonding with your neighbours and keeping fit at the same time!
So what is this Community Games all about?
The upcoming Community Games 2013 (CG 2013) is a multi-sports competition held across the island, bringing the Games to the heart of the community and connecting residents of different ages, races and living across estates.
CG 2013 is organised by the People's Association and Community Sports Clubs, with support from the National Sports Associations of the sports to be featured. The sports featured under CG 2013 are Badminton, Basketball, Bowling, Dragon Boat, Football, Netball, Road Run and Sepak Takraw, Swimming and Table Tennis.  CG2013 will be taking place from March to June at various facilities across Singapore.
Schedule for Community Games 2013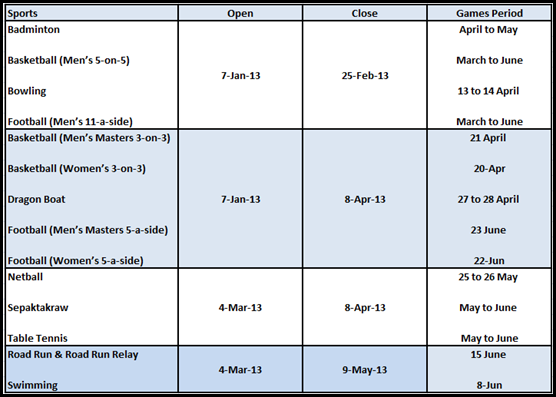 All you have to do is sign up here at http://www.pacsc.org.sg, click on the sport that you wish to participate in, and download the rules and regulations as well as the registration form available on the right hand column.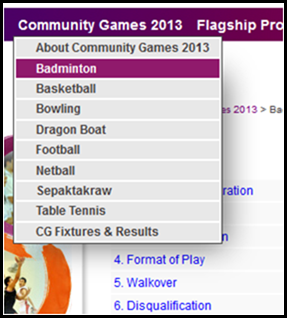 Absolutely anyone and everyone can participate, and it's TOTALLY FREE! For more information, you can visit the Community Games 2013 official website and Community Games Facebook Page. If you tweet, the Hashtag is #CGSG2013.
Since I am one of the Community Games Official Bloggers, I won't be participating in the games themselves. HOWEVER, I've already TOLD my father about it and he has promised to signed up for the East Coast Cluster Badminton competition!! HOW'S THAT eh.
I'll also be attending some of the competitions so see you there! Here's 365days2play signing off for now! Do add me on Facebook and Twitter too so that you won't miss any updates!