*Media Invite*
If there's one chocolate drink out there that I will never tire of, it's Milo. There's just no other chocolate drink quite like it if you ask me. And it's not so much about how chocolaty it is, it's about that special flavour. When I was studying in the US, I discovered that the Americans don't know about Milo. Imagine that. I even had to have Milo shipped over to me, that's how much I missed it.
Nowadays, I usually go for the Milo Australian Recipe one. It seems richer, and when you compare the ingredient list of the Australian recipe versus the Singapore recipe, the Australian recipe uses full cream milk and does not have palm oil additives. It appears the Singapore recipe was tweaked in 2006. No wonder I don't have to add sugar to the Milo now. But hands down, the best tasting Milo I have ever had is the Milo from the Milo truck. I don't know what on earth they put in that Milo, but it just tastes SO DAMN GOOD! And the worst part is, you can't purchase that Milo so it's absolutely down to luck whether you happen to attend an event which has a Milo truck. I believe the last time I encountered the Milo truck was way back in 2004 (!) during the Army Open House! The canned Milo you get from the supermarkets comes pretty close, but not quite. The 3 — in — 1 Milo doesn't come close at all.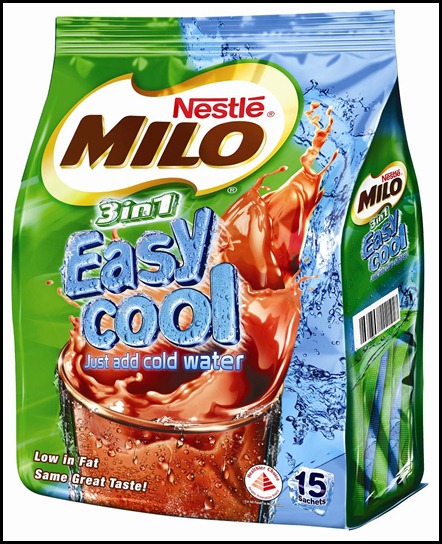 Recently, I discovered yet another Milo product in the market called the MILO® Easy Cool. This Milo is like the 3 — in — 1 Milo, but the amazing thing about it is that you don't need hot water to dissolve the contents. You can just use tap water or cold water! There's no need to find some hot water to dissolve your Milo, then cool down the drink with cold water. Just stir stir stir and the Milo dissolves like magic!
It is really so super convenient because at my Baking School, the idiotic water cooler doesn't dispense hot water. It only dispenses cold water. (Imagine my disappointment when I brought my own soya bean sachet to school, only to find globules of congealed soya bean powder in my cup of cold water.) No such problem with the MILO® Easy Cool. I poured the MILO® Easy Cool into my mug and dumped in a few ice cubes. Within seconds, I had a refreshing mug of ice cold Milo! If like me, you find yourself unable to get access to hot water, for example when you are outside or after a run in the park, you can still be able to enjoy a Milo drink.
Apart from the convenience, the MILO® Easy Cool tastes quite like the Milo Truck Milo. Not 100%, but very very close. Really happy to have discovered this new Milo product, which in my opinion should have been out in the market long ago! So for those of you who swear by the Milo Truck Milo, go get yourselves the MILO® Easy Cool and try it out. Let me know if you think it tastes like the Milo Truck Milo!
MILO® Easy Cool is available at all leading supermarkets and hypermarkets such as FairPrice, Cold Storage, Shop N Save, Giant, Carrefour and Sheng Siong. It is retailed at S$6.30 per pack of 15 sachets. If you buy MILO® Easy Cool in February, you will also be able to get the MILO® Easy Cool shaker bottle! Quick, before it runs out!
In the month of February 2012, MILO® Easy Cool is running a special Facebook contest with huge prizes such as an iPad2 and a Sony PS Vita for users who submit their own videos demonstrating how "It's So Easy to be Cool- If You Know How." Simply log on to www.facebook.com/milosingapore and click on the "Easycool" tab to watch amazing videos showing simple ways to do everyday things. The contest ends on 28 February 2012.