Rise Restaurant at Marina Bay Sands has been open for a couple of years now. I'm sure most buffet fanatics out there would have tried this buffet by now. I've dined at Rise Restaurant on a couple of occasions but they were always ala carte orders. So I decided the time was ripe to take my parents for a nice lunch at Rise Restaurant. I was pleasantly surprised by the pricing. $49++ for weekend lunch buffet makes Rise Restaurant a very value-for-money buffet, don't you think? This is especially when you consider the size of the spread.
Even though I look like I've been gorging on buffets quite often these past few months, the truth is that I haven't actually gone for a lunch or dinner buffet in about a year! All the previous buffets you've read about on this blog this year were Afternoon Tea buffets, which ahem, is quite different from a lunch/dinner buffet!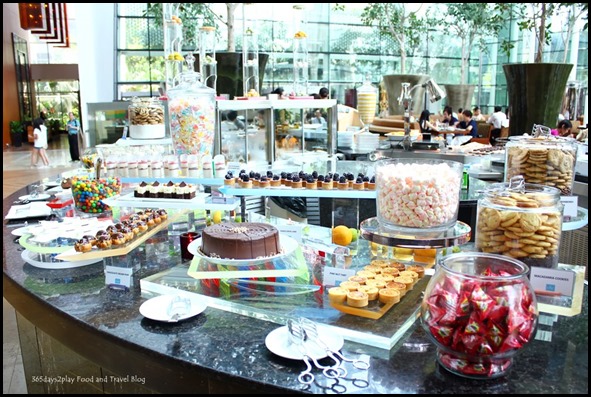 I'm a sucker for pretty desserts. The dessert display at Rise Restaurant is definitely worthy of being part of an Afternoon Tea buffet. My idea of a good afternoon tea dessert display is that it has to be whimsical and eye-popping.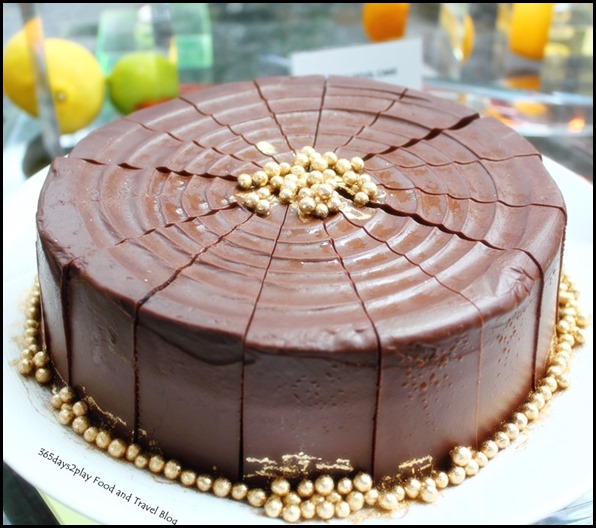 Decadent and regal looking 3 layer chocolate cake
I am not one to eat desserts before mains, but when it comes to posting pictures, who's to say we can't post pictures of cakes and sweet treats first?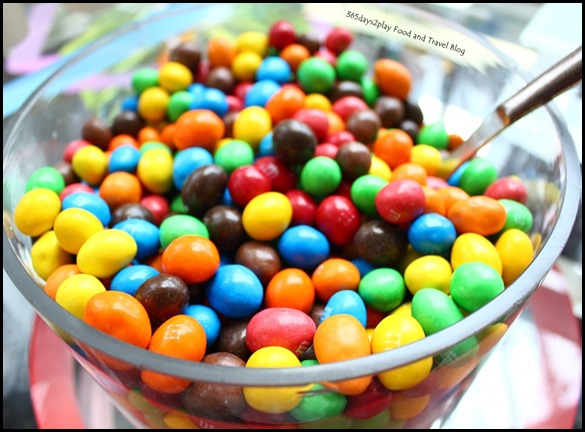 Marina Bay Sands sure knows how to capture the hearts of both the young and old. This jar of colourful M&Ms were a hit with EVERYBODY. Even adults were seen carting back bowls of the M&M's to their tables. Whether they were consumed on the spot or tarpowed back home, no one will ever know…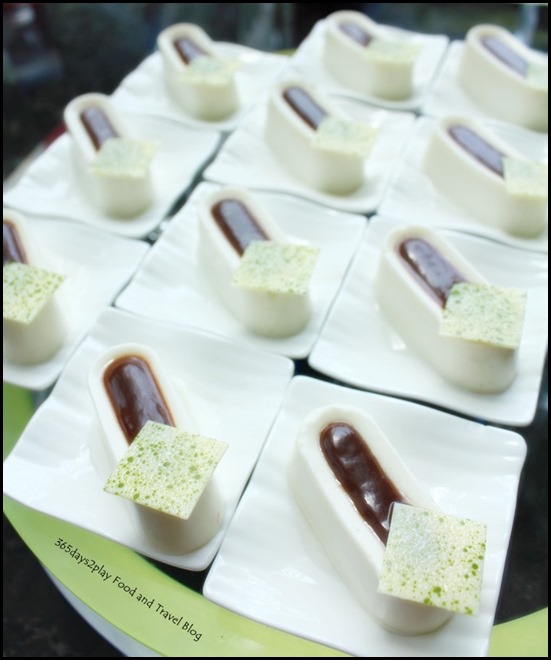 Panna cotta thingy with chocolate sauce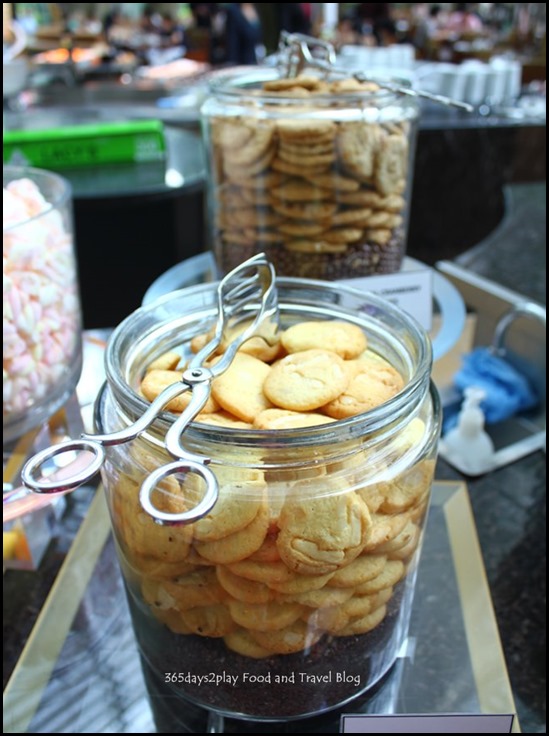 Who stole the cookie from the cookie jar?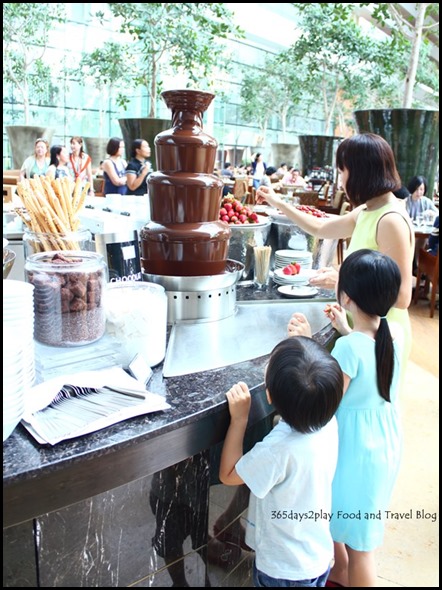 Four tier Chocolate fountain with loads of strawberries and grapes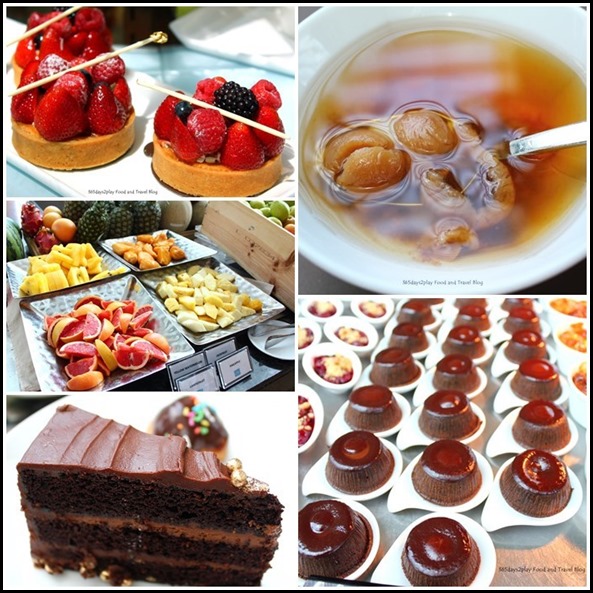 Chocolate souffle cakes at the right bottom and cheng tng at top right. This was probably the 1st time I have ever noticed Cheng Tng being served at a buffet spread and it was definitely a very good idea. The Cheng Tng was in my father's words, "very soothing". It was the cold version, which made it very refreshing to drink, and most importantly, it was only slightly sweet so it was a very good way to end the meal after having gorged on the more sinful chocolatey desserts.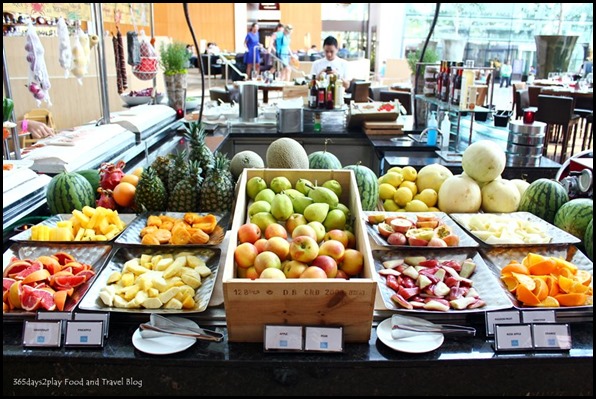 Lots of fruits available and not just the usual suspects like watermelon and orange. There were jackfruit, passionfruit, grapefruit, rose apple and even mango slices. You have to be quick about it though because they may not replenish the fruit with the same item. I unfortunately didn't manage to lay my hands on the jackfruit, which is a fruit that I adore greatly!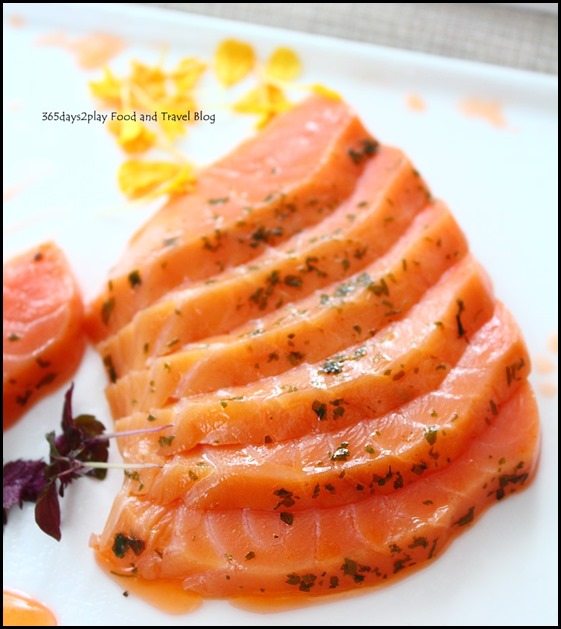 Smoked Salmon
The cold cuts and sashimi bar is where you'll often find me. I realise that when I'm at a buffet, my focus is seldom on the hot food station. Yet the strange thing is, when I'm ordering ala carte, I seldom order appetisers! Adored this smoked salmon with herbs! Smoked meats can sometimes be very salty tasting, but this one had a very mild smoked taste, which was great!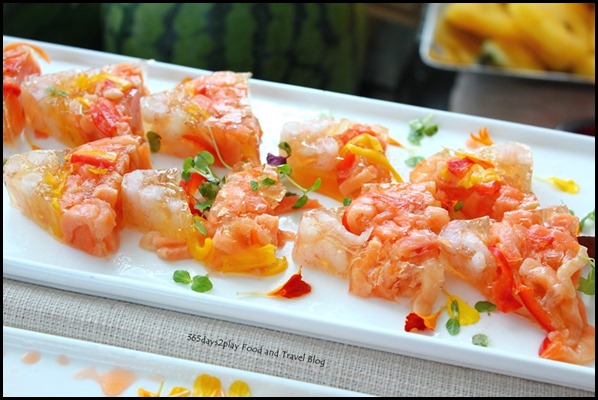 Seafood Terrine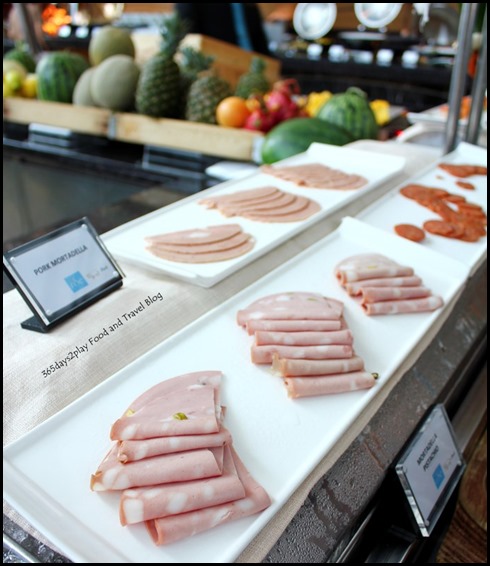 Cold cuts, good to go with the numerous artisanal breads available. Slap on a bit of cheese too and you've got yourself a delicious sandwich!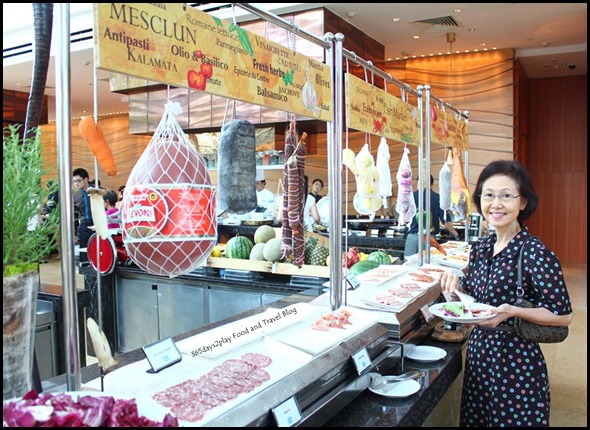 My mother smiling broadly at the fabulous spread available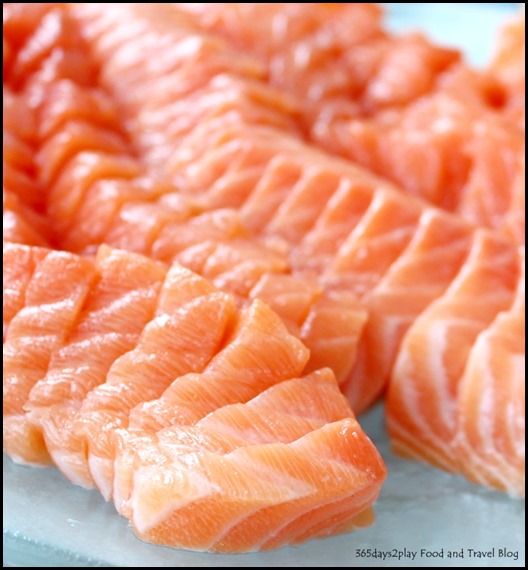 And if smoked salmon is not enough, there are raw slices of salmon and other sashimi available of course.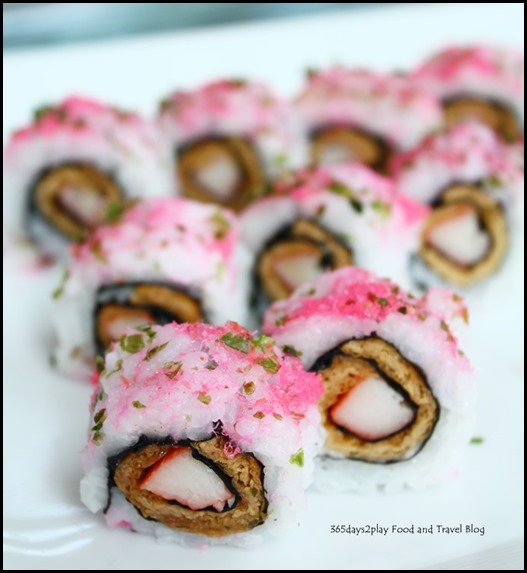 Inari Maki
I seldom go for the sushi and makis at a buffet because quite often, they seem rather plain. This inari maki was surprisingly good as well as a delight to the eyes.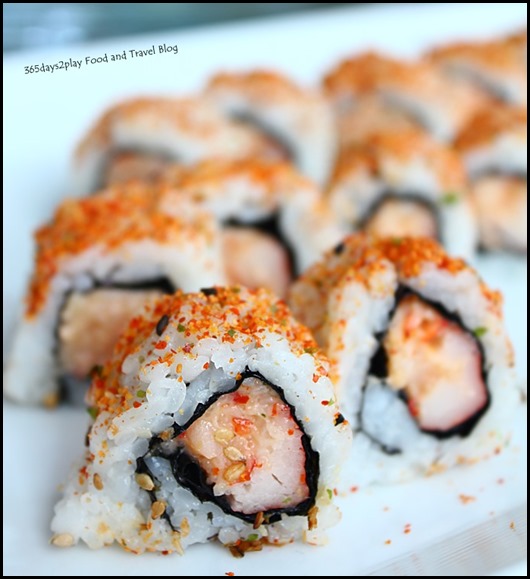 Another type of maki, forgot what.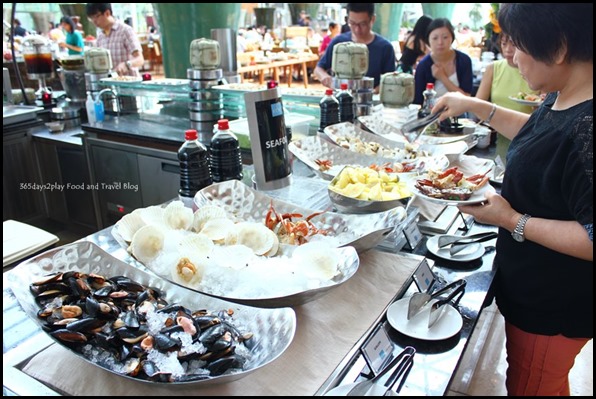 The seafood counter was undoubtedly the most crowded area of the buffet. There were mussels, clams, crabs and other goodies on offer, but no oysters though. These days, I hardly go for the oysters. In my younger days I would make sure that I eat at least 5 or more, which is a lot for me!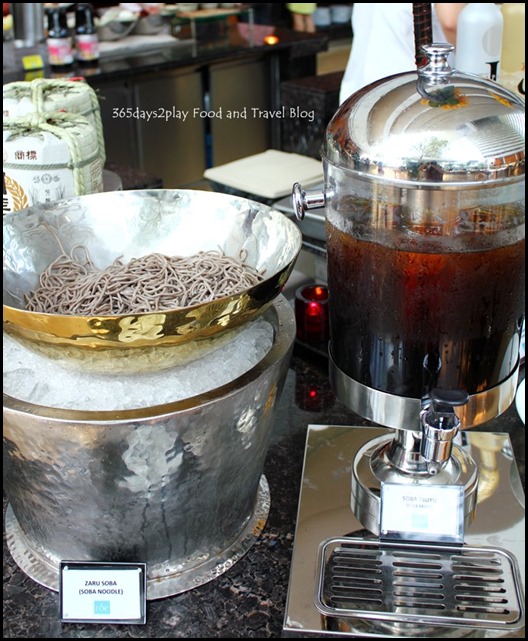 Cold soba noodles with cold soup
As I mentioned earlier, I normally accord very little stomach space to the hot food section in a buffet. However, I must mention that some of the items were very good, such as the duck confit, the char siew and the roast duck! Unfortunately I don't have a picture of the char siew and the roast duck, but you can see the duck confit at the top right. These were amazingly tender, which is a great feat for a buffet where the dishes are stewing there for long periods of time.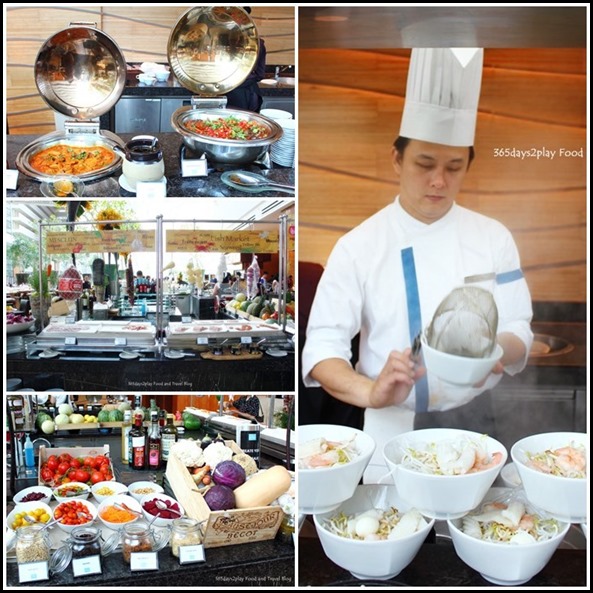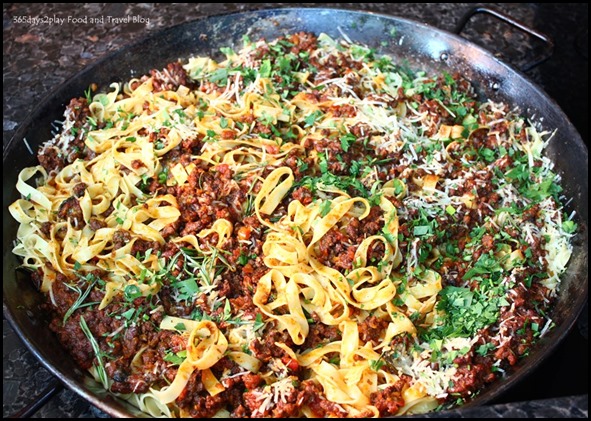 A mega sized pan of fettuccine with bolognaise sauce. Very nice to look at but unfortunately way toooo salty for my liking. You can get made to order pastas at the Pasta station if you desire. Nowadays, every good buffet boasts a made to order pasta station as there's no way a pasta dish will taste good if left to sit for more than a few minutes.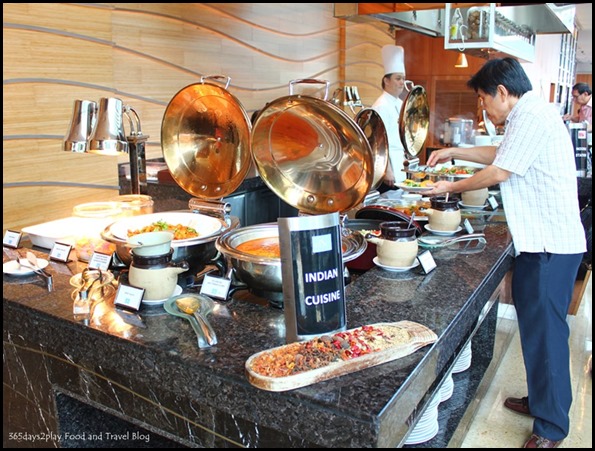 Out of all the hot food dishes, I like to reserve a good % of stomach space for the Indian food section. Based on past experience, the Indian dishes are usually quite good and curries do not suffer much from being heated for long periods of time.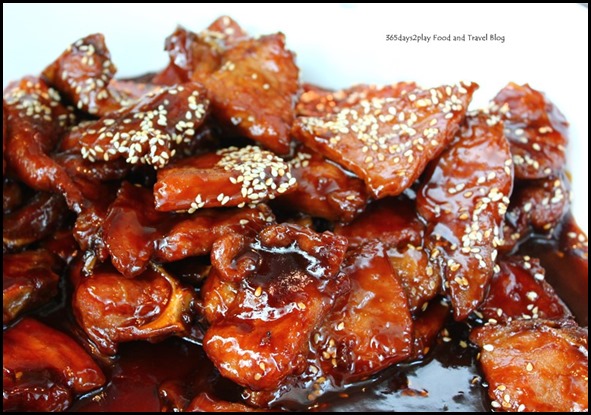 Oh did I mention that the meat dishes at Rise Restaurant are all very good? These pork chops in coffee sauce were insane! Tender as can be with a sweet coffee undertone that wasn't too overpowering.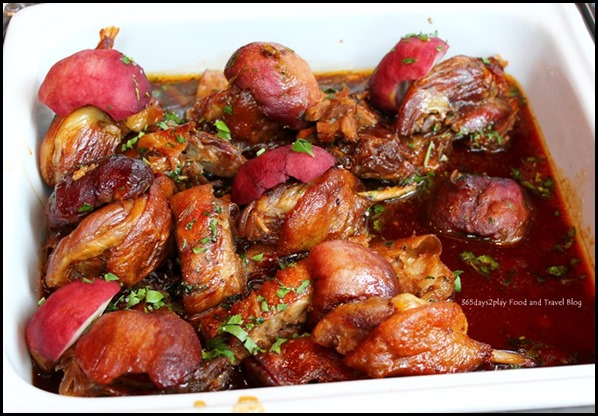 Here's a picture of the duck confit. I had a whole duck leg to myself.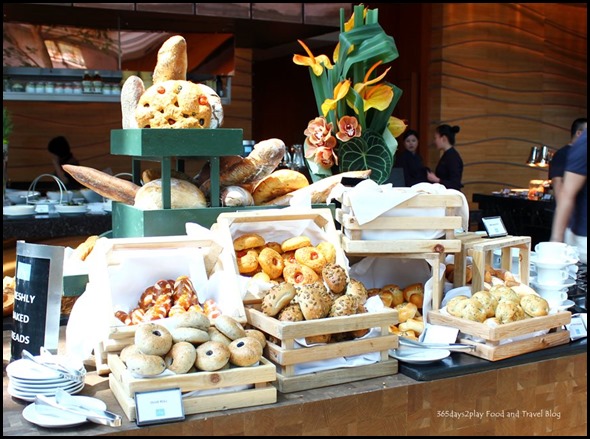 And of course, how can we neglect the bread station? Rise Restaurant at Marina Bay Sands has probably the biggest selection of breads available for you to feast on. On the other side of the table there's more!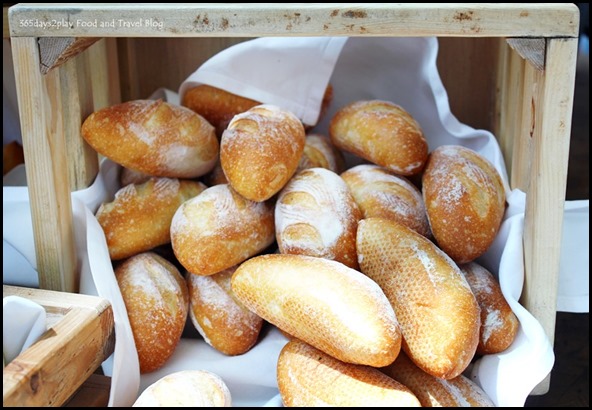 The bread display is also another key component that I look out for, in terms of attractive buffet design. The Rise Restaurant has outdone itself with the number of breads on offer! But despite it all, my favourite choice of bread is still the humble baguette. When made properly, the humble baguette with good butter can send your tastebuds shooting to heaven.
Unfortunately, only the usual President butter was available. One day I hope we can see good AOP butter available more commonly, as it is in France.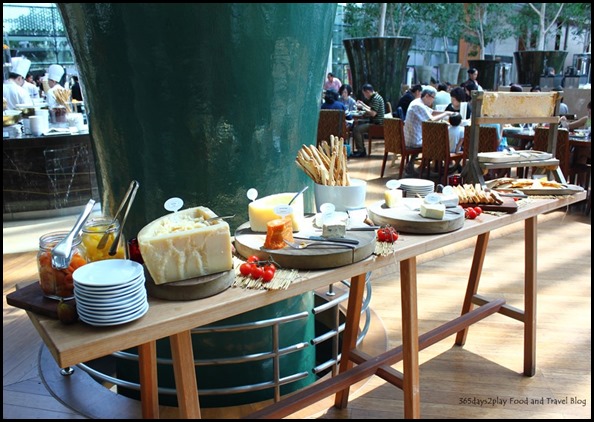 Cheese station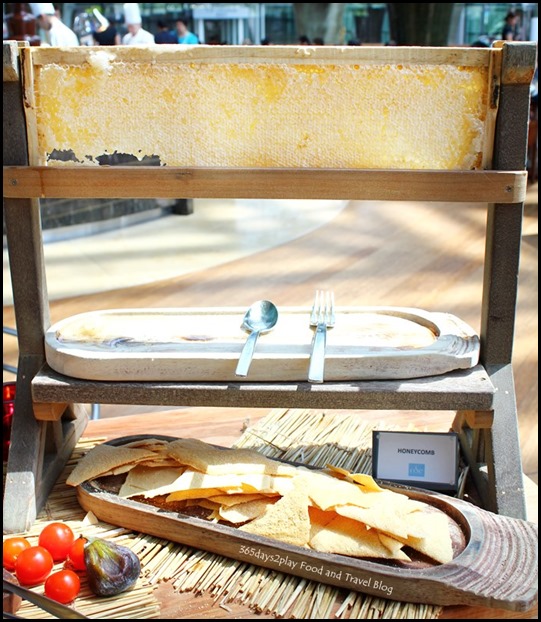 Cheese and honey go so well together.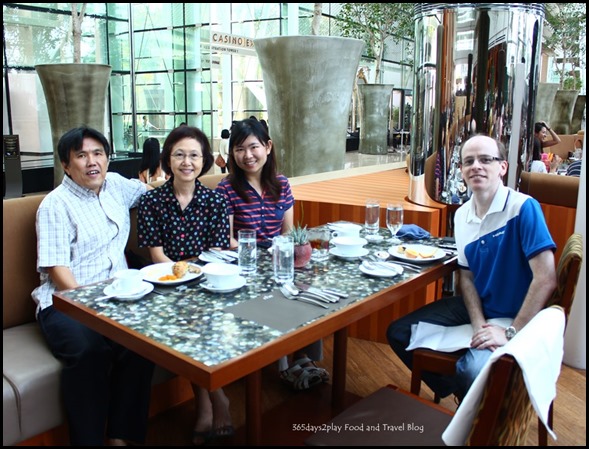 Satisfied customers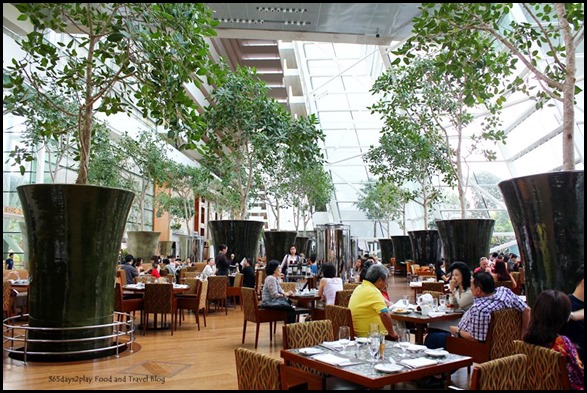 ~~~~~~~~~~
Click here for other hotel dining options.
Click here for more about what to do at Marina Bay Sands
Add me on Facebook, Instagram and Twitter if you want to be kept up to date with the latest happenings in the food and lifestyle scene in Singapore!
~~~~~~~~~~
Marina Bay Sands Rise Restaurant
10 Bayfront Avenue, Singapore 018956 Hotel Lobby Tower 1
Telephone : :+65 6688 5525
Daily Breakfast Buffet : 6:30am – 11am   $39++ per adult   $22++ per child
Daily Lunch Buffet : 12pm – 2:30pm   $48++ per adult  $24++ per child
Daily Dinner Buffet :  6:30pm – 10:30pm  $68++ per adult  $38++ per child
Afternoon High Tea : Sat, Sun, Public Holidays  3pm – 5pm  $30++ per adult  $18++ per child
All day a-la carte menu : 11am – 12am
http://www.marinabaysands.com/Singapore-Restaurants/Casual-Dining/Rise/