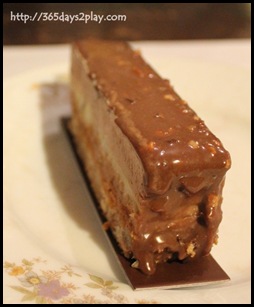 It's no secret that I love chocolate, especially when it comes to cakes, tarts, ice creams and drinks. Yeah bar chocolates I can sort of resist, but more likely than not for pastries, you'll find me choosing the choosing the chocolate ones. So it was with great excitement that I accepted the invitation to attend a dinner at Laurent Bernard Chocolatier's restaurant at the rustic Portsdown Road.
I'd previously been to the Robertson Quay branch for a quick drink. The cute and inviting decor drew me in as it must have for many other ladies. Unfortunately, I didn't quite like the hot chocolate I had, so I was also quite keen to see if this visit would change my impressions of Laurent Bernard Chocolatier.
You know I had no idea that Laurent Bernard was a real person, so I was quite shocked when I was greeted at the door by Mr Laurent Bernard himself! Laurent, he introduced himself. The Laurent???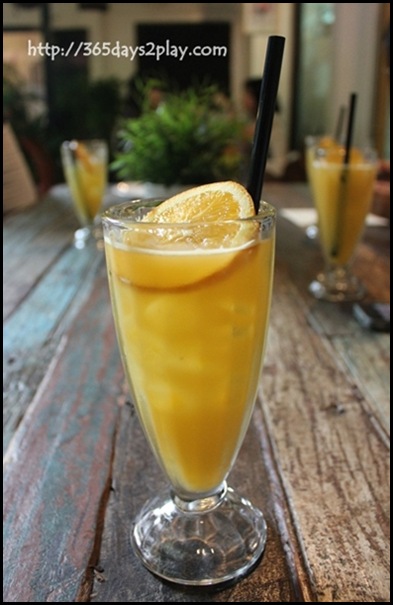 Anyway, we had a drink to calm down first.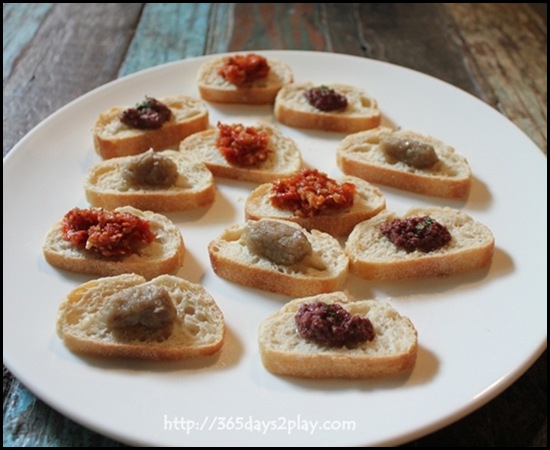 And some canapés. I only tried the duck rillette one and it was pretty good. I was busy taking photos of the restaurant. Love the wooden table in the al fresco area, makes the place look even more rustic! Laurent Bernard kind of shares the courtyard with Pietra Santa, an Italian restaurant which I've tried and loved.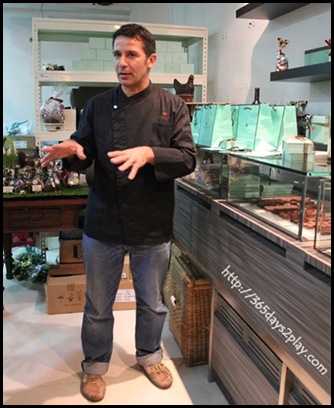 THE Mr Laurent Bernard giving us an introduction to what good chocolate is all about. Apparently the best cocoa beans come from South America, in particular Venezuela.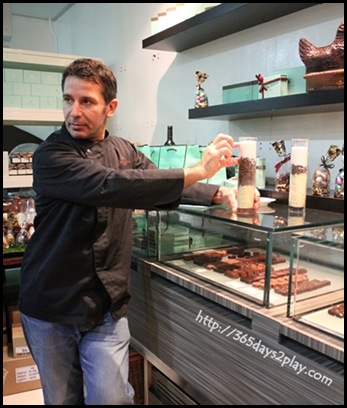 The percentages you so often hear about refers to the % of sugar in the chocolate. However, the % does not tell you if there is more cocoa solids or cocoa butter. It is the cocoa butter that gives chocolate its melting properties, and some nasty companies will substitute the cocoa butter with vegetable oil instead. So if you want to know that you're eating good chocolate, always read the ingredient list!
Laurent Bernard prefers to work with other artisan chocolate suppliers and they even know the farmer who grows the cocoa nibs used in producing the chocolate. Knowing your suppliers well and working with artisans allows you to customise the chocolate that is eventually used in the pralines.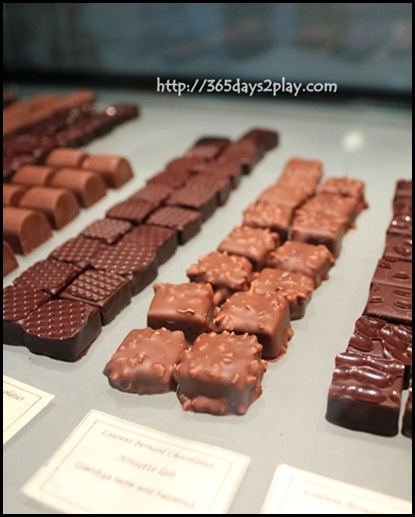 While Mr Bernard was giving us the ins and outs on chocolate, I had one eye on the chocolate praline display case….So near yet so far. Must restrain myself.
Btw, a praline is a filled confection and normally integrates caramelized sugar, nuts and sometimes icing. A truffle (named after the fragrant, highly prized French fungi due to their similarities in appearance) is a purer form of chocolate, made of chocolate ganache and rolled in cocoa powder.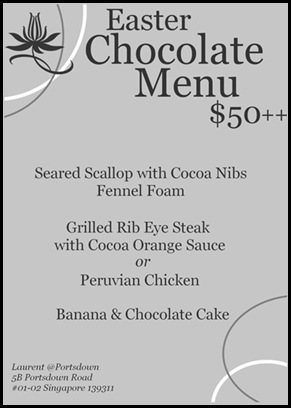 After all the chocolate Q&A was done, we proceeded to dinner. This is Laurent Bernard's Easter Menu, which you can also enjoy up until 10 April 2012!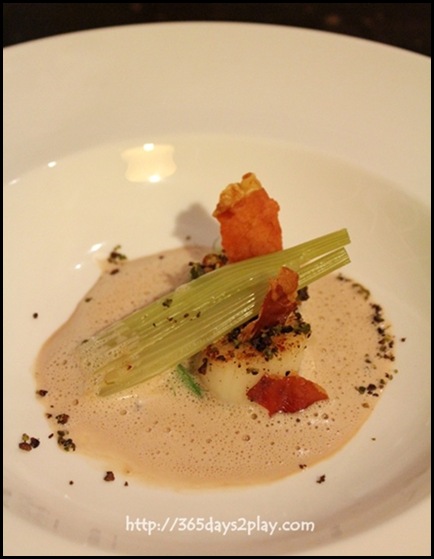 Seared Scallop with Cocoa Nib and Fennel Foam — I found this to be delightfully pleasing. Scallops are hard to go wrong. I'm not a fan of fennel but I quite liked the airy fennel foam. It had the texture and taste of a fennel soup that had been aerated into a foam. The chocolate flavour from the cocoa nib gave the fennel foam an extra oomph.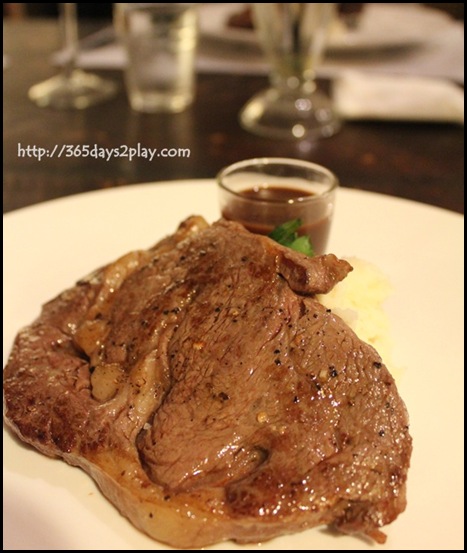 I opted for the Grilled Rib Eye Steak with Cocoa Orange Sauce. Steak was nice and tender even though it was more towards medium rather than medium rare (which is how I prefer my steaks). I ploughed through half the steak before I remembered to try some of the cocoa orange sauce. I have to say that chocolate with steak takes some getting used to. I didn't dislike it, but I think I would still prefer a more traditional savoury sauce. My dining companion on the other hand poured the entire glass of sauce onto his steak and was mopping every drop up.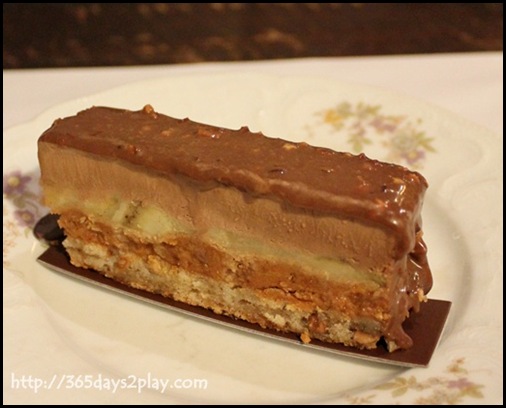 And the pií¨ce de résistance of the entire meal, this banana and chocolate cake. Ok the name doesn't sound so sexy, but I can assure you a mouthful of this cake will send you shooting through to chocolate heaven. Sticky chocolate coating on the top followed by a ganache that has been whipped into a mousse like consistency, followed by a layer of sweet caramelised bananas followed by more chocolate and a crispy sweet base. Superb combination and definitely something I would recommend all chocolate lovers to try. Once again, my dining companion decided to show his appreciation for this cake by ordering 2 more to takeaway!
All in all, a great meal. Do consider Laurent Bernard if you're planning to celebrate the long Easter weekend.
But for us, Laurent had something else up his sleeve….. a special surprise….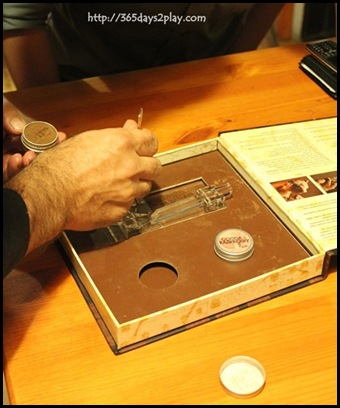 Voila! A contraption to allow you to enjoy chocolate through the olfactory senses!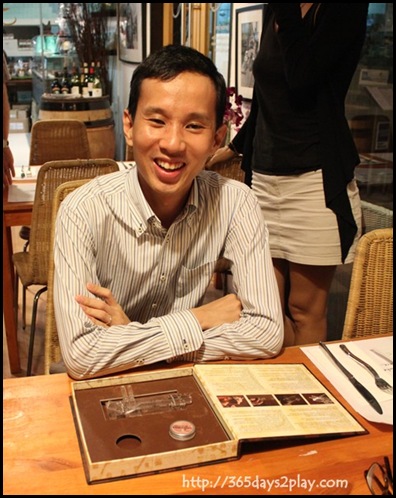 I got my dining companion to try it out first. He looks pretty game for it man…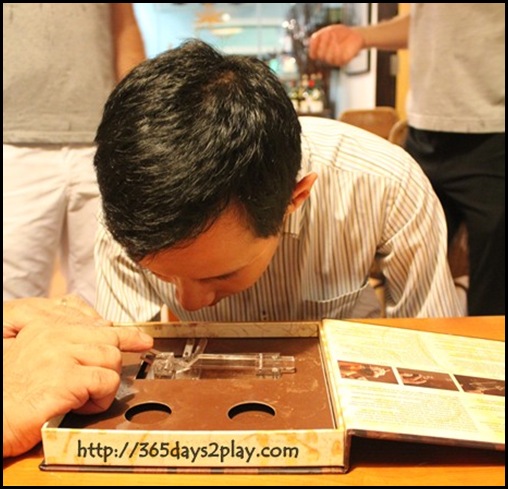 Put your nose as close to the catapult….and wham, the cocoa shoots into the nose.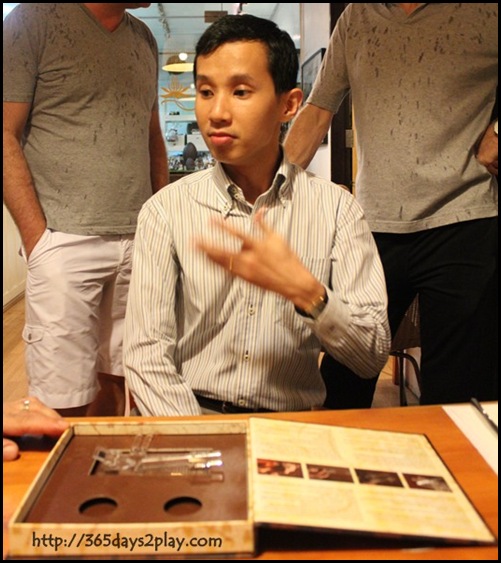 I think he became pretty incoherent after that. Said something about being able to feel the chocolate in his chest….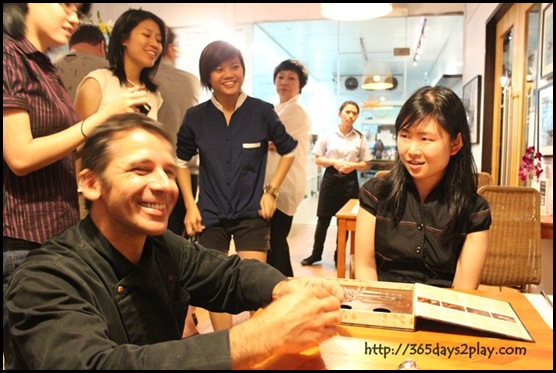 My turn. As you can see, I'm not at all convinced that it's safe. Why did I even sit in that chair?
"This won't hurt a bit!" HEH!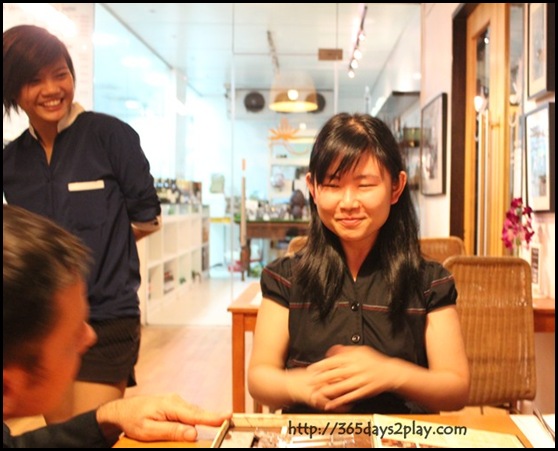 Okay it didn't hurt, but it was shocking nonetheless. What can I say, I'm a scaredy cat!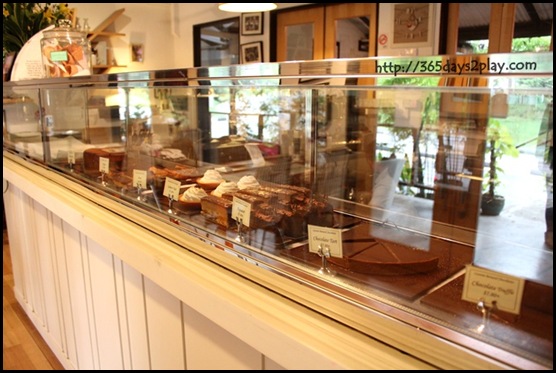 The chocolate pastry display case…Arghhhh. I want to learn how to make these too! My baking school didn't teach me how to make all these eye popping products! Maybe I should ask Laurent for an internship…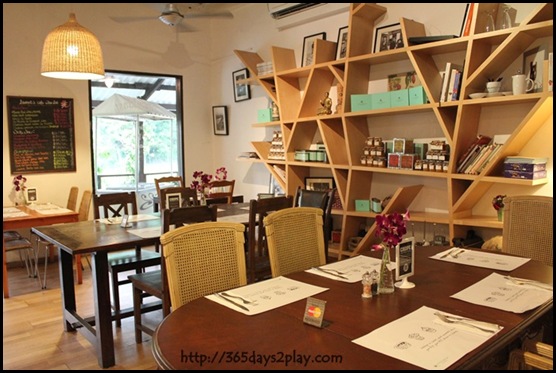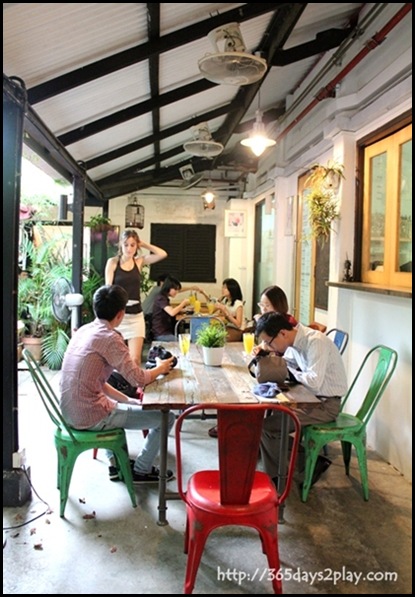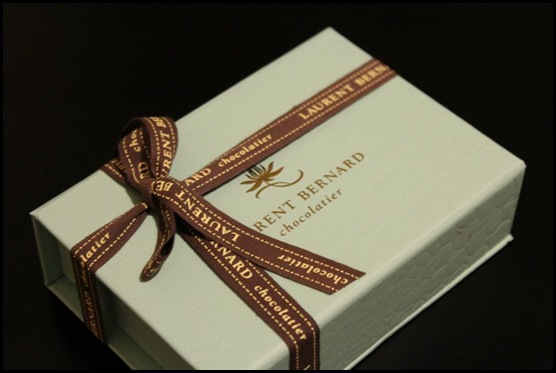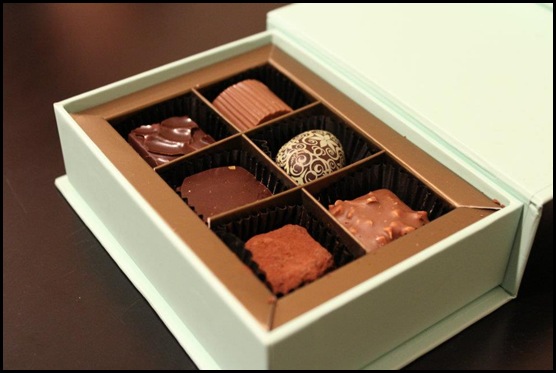 A little gift to take home. Absolutely delicious, why six ONLY??? I've eaten 3 already and I'm saving the egg for Easter.
A very big thank you to Mr Laurent Bernard and Ms Morgane Vedrines for the invite and for a very special evening.
Hmmm, I just read that their corporate events tea time menu of $25/pax includes free flow of hot chocolate. Mmmm I like.
Laurent Bernard Chocolatier @ Portsdown
5B Portsdown Road #01-02 Singapore 139311
Tel: 6475 4182
Check out Laurent Bernard's Portsdown Blog and Menu at :- http://laurentatportsdown.blogspot.com/
Laurent Bernard Chocolatier's official website: – http://www.nibschocolate.net