If you're thinking of having a staycation at the Pan Pacific Singapore, I highly recommend that you pay a little more to get access to the Pan Pacific Hotel Pacific Club Lounge. We thought the Pacific Club to be well appointed with an East meets West design that blended very well together. Throughout our entire staycation, apart from some time spent in the pool, the rest of our waking hours were pretty much spent at the Pacific Club!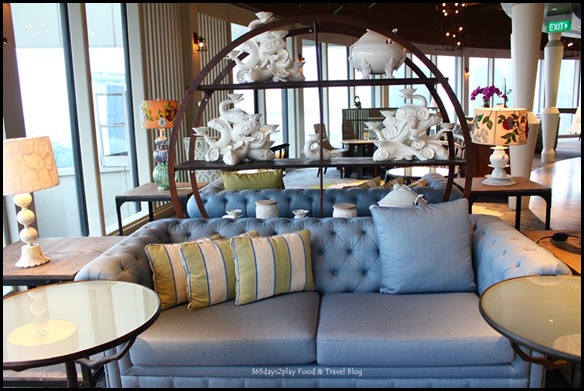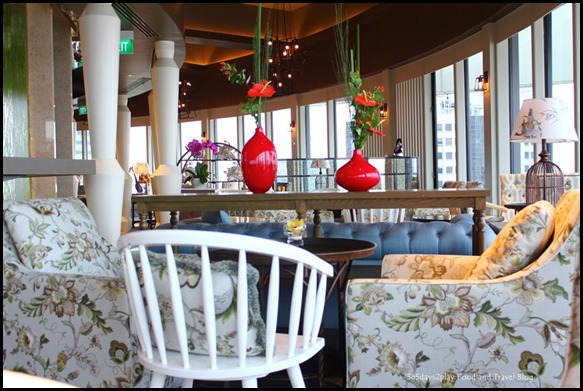 I often like to summarise my liking for a particular type of decor by saying whether it would be something I would like my house to look like. In this case, the Pacific Club passed the test. I certainly would love my living room to be furnished in this manner, comforting, inviting, yet still classy and elegant.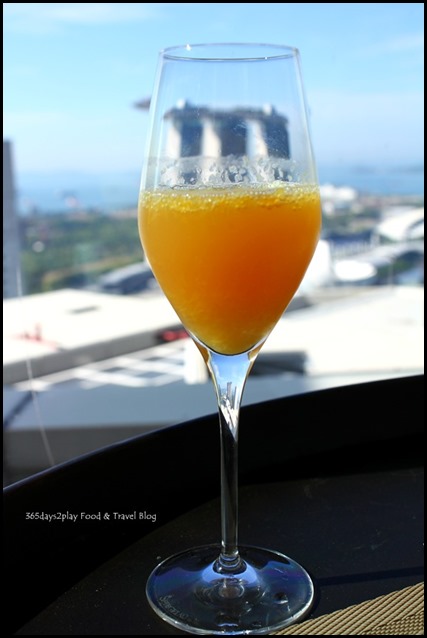 Happy Orange Juice with champagne added
Of course, having club lounge access means having a few special privileges, such as the opportunity to have breakfast on the 38th floor of the Pan Pacific Singapore, rather than at the usual hotel restaurant (The Edge) with everyone else. Afternoon tea and evening cocktails are also provided, so you never have to worry about going hungry. During the in-between hours, you can still get drinks and fruits.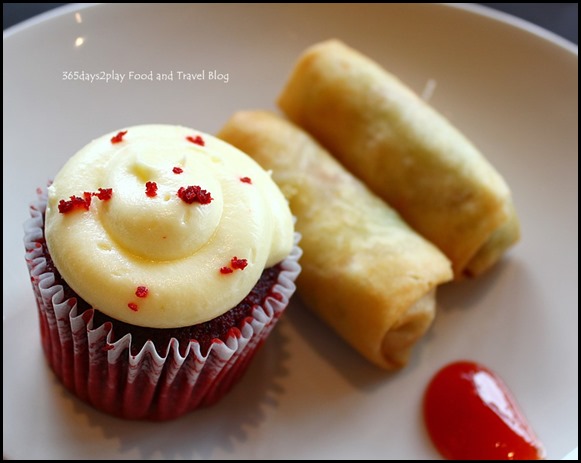 Red velvet cupcake and spring rolls
We checked in at the Pan Pacific Singapore just in time to enjoy the afternoon tea spread from 3pm — 5pm. Of course, don't be expecting an entire afternoon tea buffet like what you would get in a proper afternoon tea.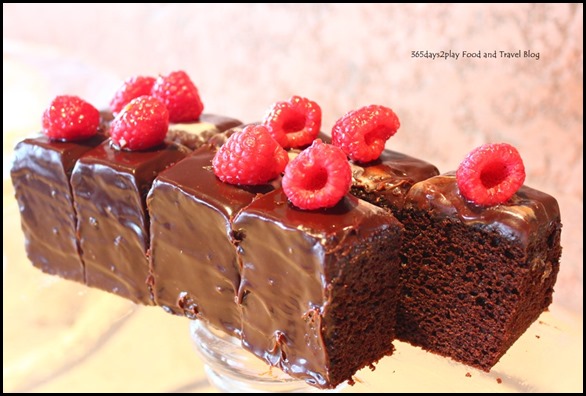 Decadent chocolate cake. These cakes are also available at the Pan Pacific Marketplace.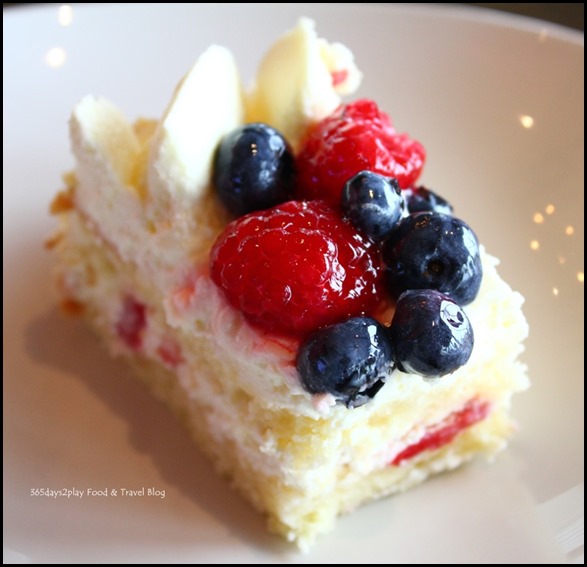 Strawberry short cake, one of my favourite cakes!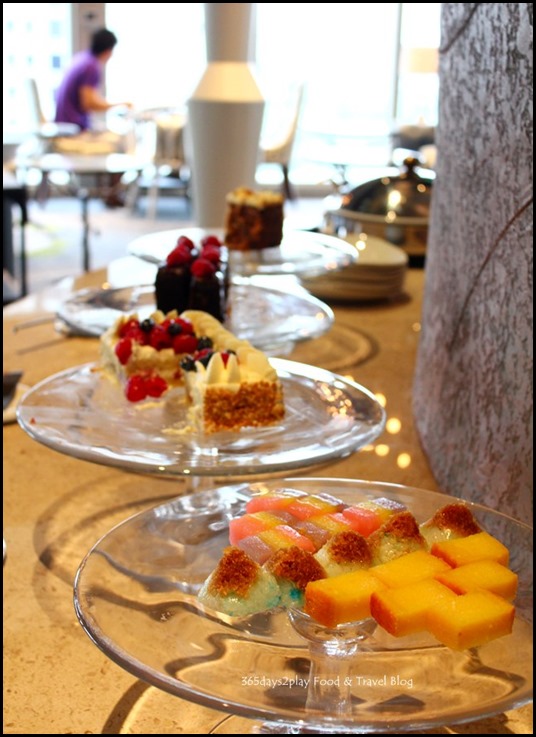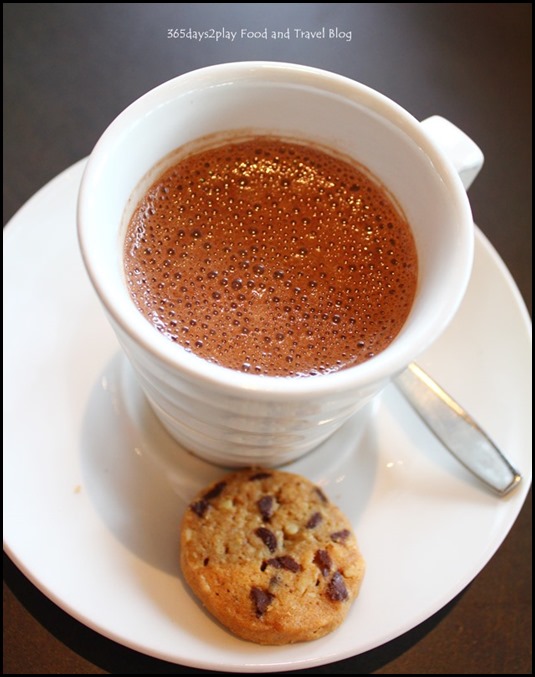 Hot Chocolate plus a chocolate chip cookie! Both were very good, especially the chocolate chip cookie!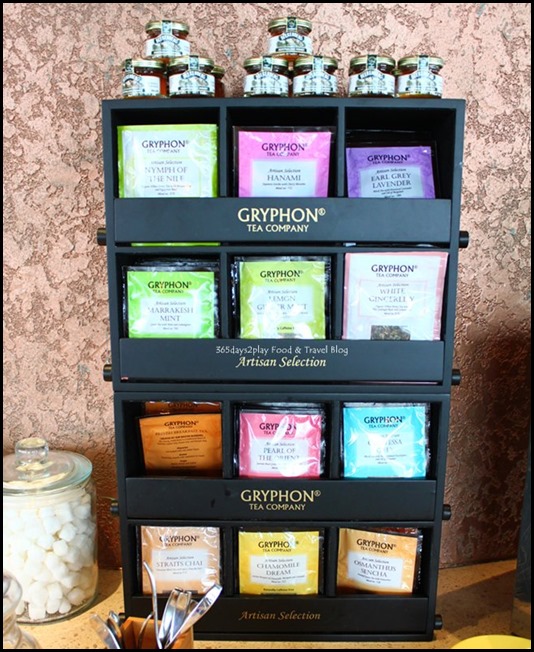 Afternoon tea's no fun if you're just limited to English Breakfast (although that one of my favourites). Here you can choose your favourite Gryphon tea, a Singapore based tea company.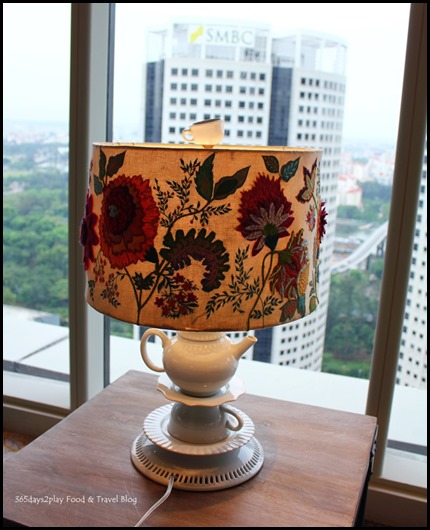 Hey I lost my teapot, can someone help me find it?
**Pictures above are afternoon tea items on day 1 and pictures below are of day 2.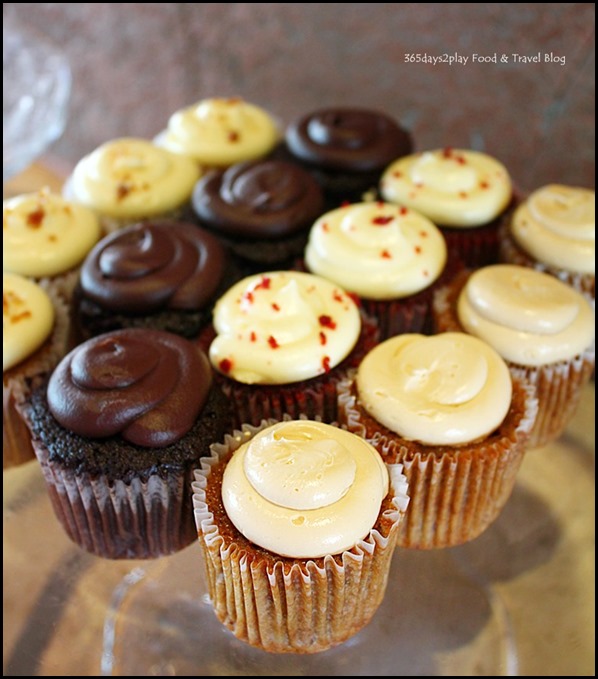 These were the cupcakes available for afternoon tea the next day. Sometimes cup cakes are just pretty but lack flavour. I'm happy to report that these cup cakes are worth the calories! I had 2 red velvet cupcakes, which is a record since I never knew that I liked red velvet cakes all that much! You can also get these cupcakes for about $4 at the Pan Pacific Marketplace on the 1st floor of the hotel too.
The Partner was happy to have his cake and eat it, carrot cake being his favourite. The long suffering Partner has had to endure numerous chocolate cakes because chocolate cake is what I like most!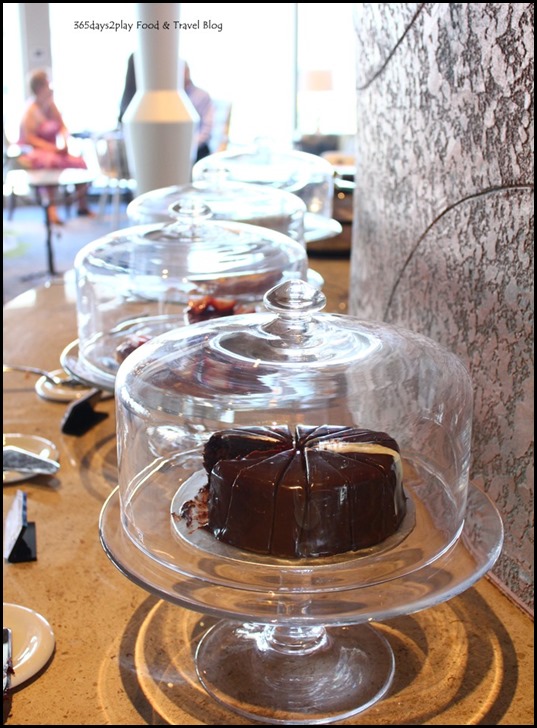 I didn't have a close up shot of the chocolate cake because by the time I wanted to take a photo of it, there were only a few smeary pieces left. It was darn good and had more chocolate cream than usual hence the smeariness. But that's definitely a good thing!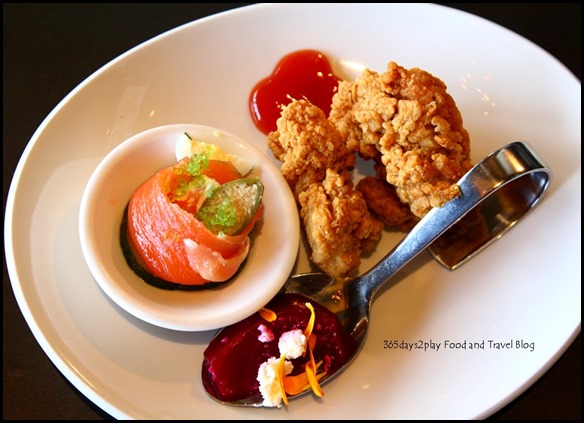 This was what we had for evening cocktails!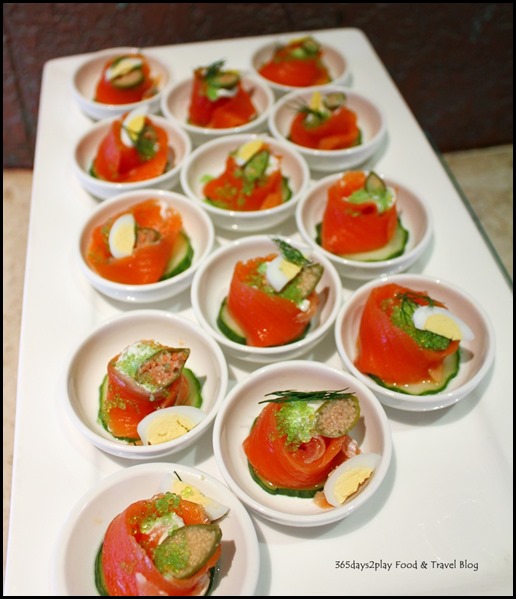 Smoked salmon with fig and roe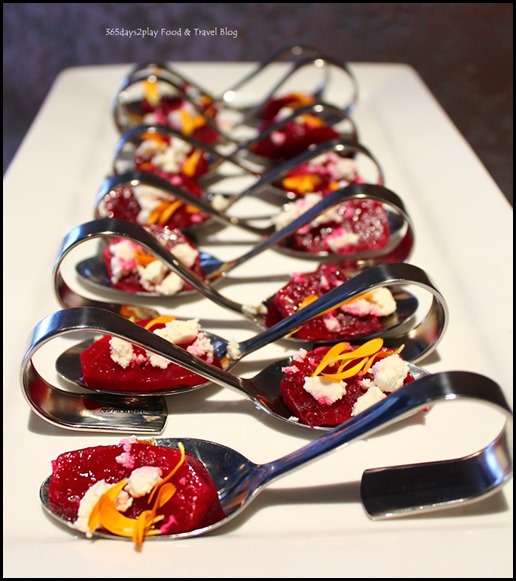 Beet root with cheese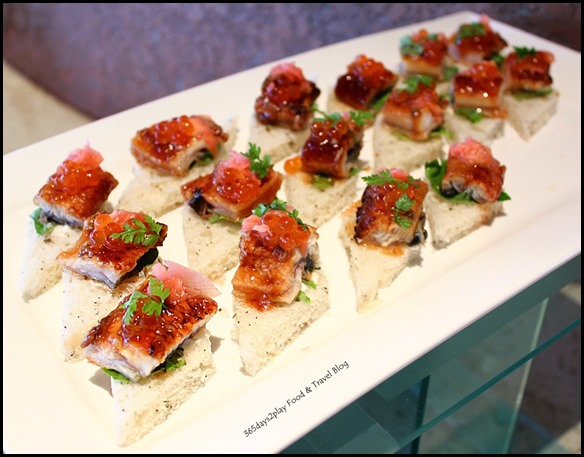 Unagi on bread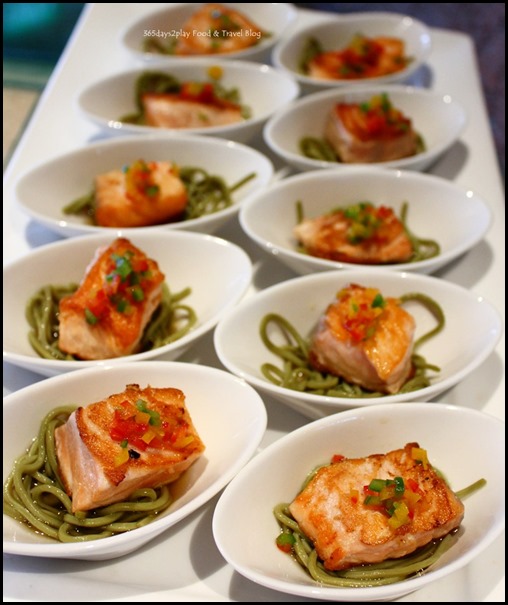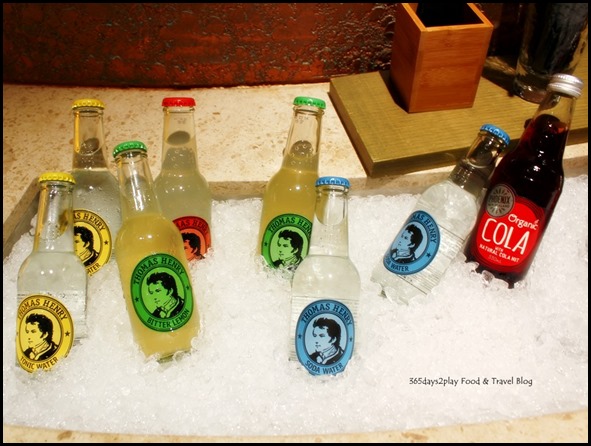 Thomas Henry Soda Water, colas and other drinks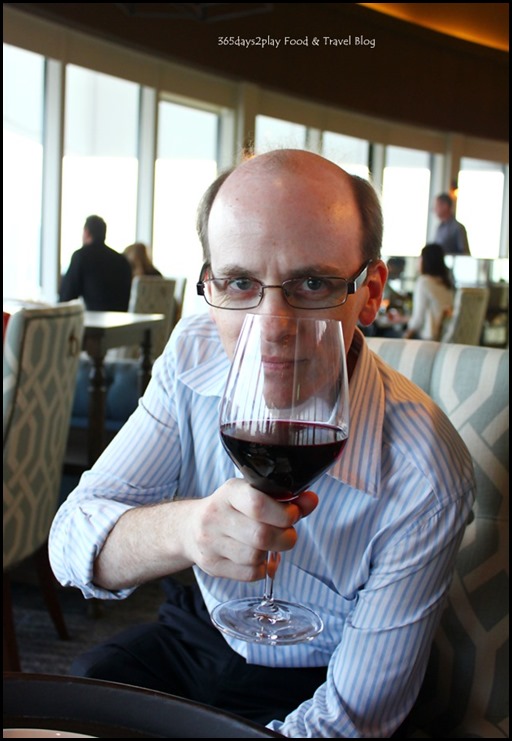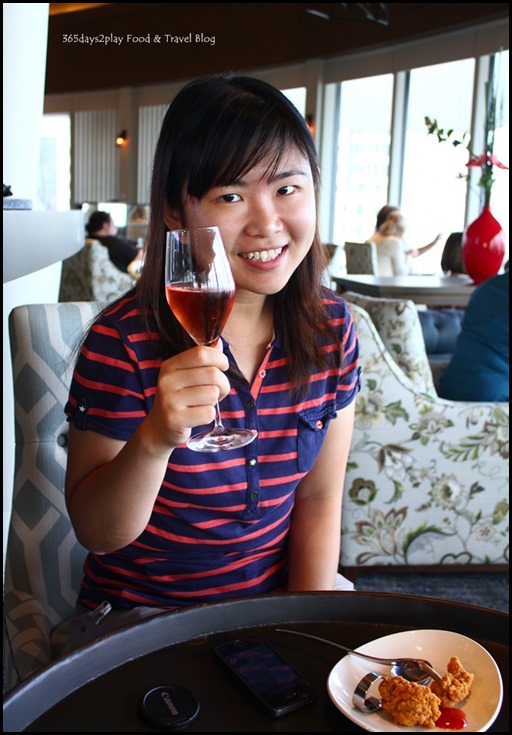 Not forgetting the alcohol! Cheers mate, hic!
We were actually at the Club Lounge enjoying the evening cocktails when the National Day fighter jets flew past. Some of the guests were already watching bits of the National Day Preview parade by the windows. I can tell you, the noise was so loud on the 38th floor, it was worse than deafening. It felt as if World War III was going to erupt!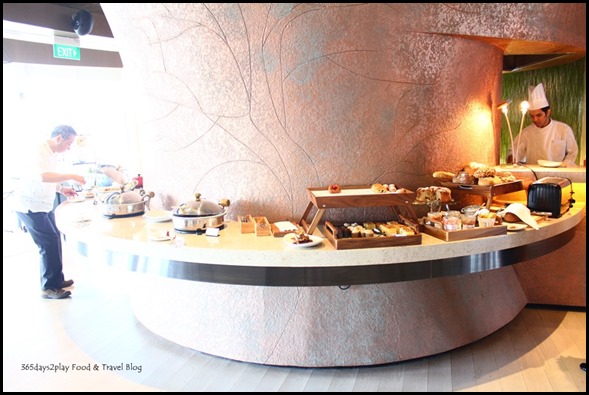 And last but not least, the breakfast photos. The spread is obviously not as large as if you were to go to The Edge restaurant to partake in breakfast. It's a choice you will have to make, but if it makes it easier, may I remind you that champagne is included in the breakfast at the Pacific Club Lounge? Makes the decision easier huh.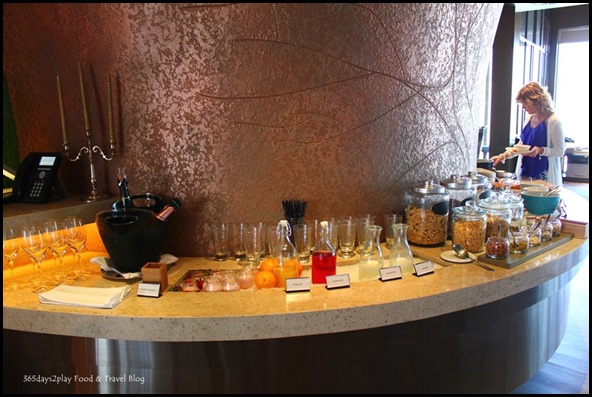 Juices, yoghurts of various kinds and breakfast cereals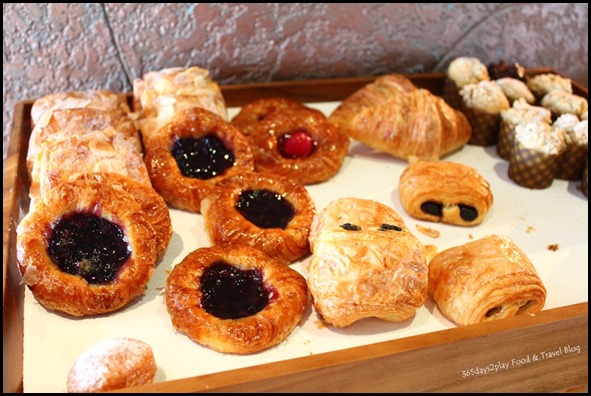 Danish pastries and croissants! Reminds me of my recent holiday in Europe where I'd have a croissant, or 3, without fail every single day, slathered with extra lashings of Nutella when available.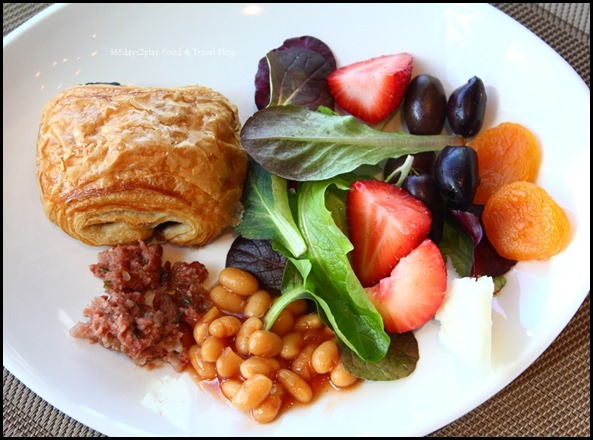 This was what I had for breakfast, round 1.

Eggs of your choice for breakfast. The Partner always takes his scrambled.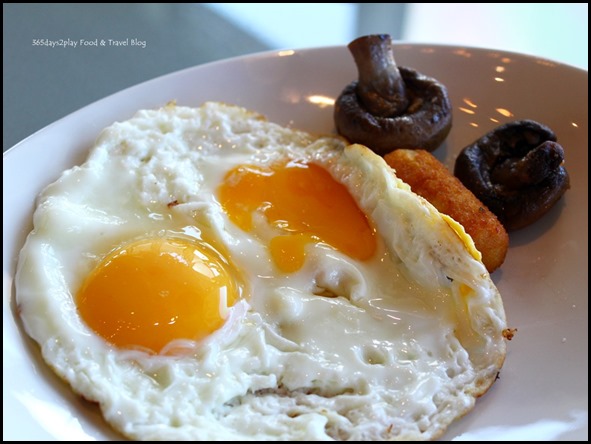 Where as there's no doubt that mine will be sunny side ups.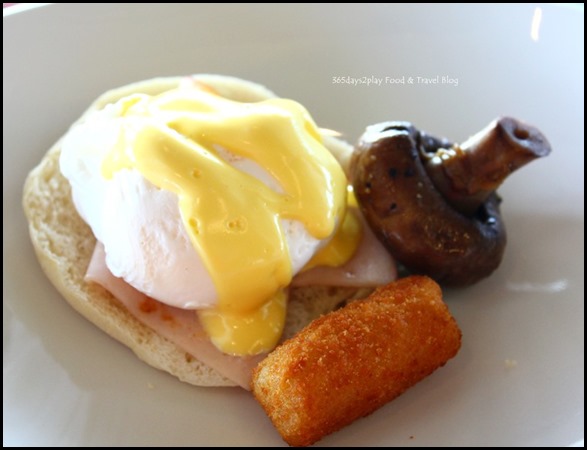 We ordered an eggs benedict too for good measure.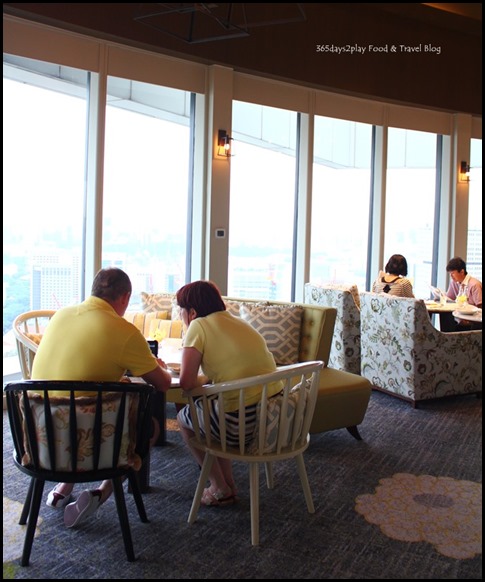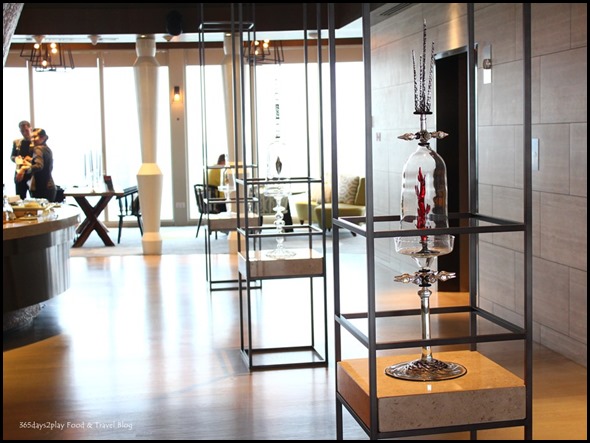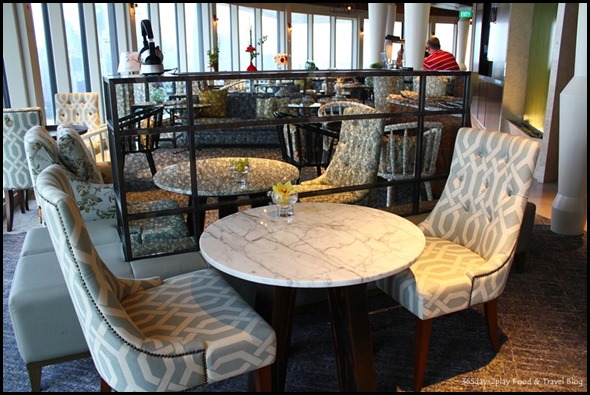 There are sockets all over the Pacific Club lounge so there's no worry that your laptop will run out of juice. Free wifi too.
~~~~~~~~~
Read review of Pan Pacific Singapore (hotel room and swimming pool)
See view of the fireworks from my Pan Pacific hotel room.
Add me on Facebook, Instagram and Twitter if you want to be kept up to date with the latest happenings in the food and lifestyle scene in Singapore!
~~~~~~~~~
Pan Pacific Singapore
7 Raffles Boulevard, Marina Square, Singapore 039595
Toll Free Reservation Within Singapore : 1800 7224 342
International Toll Free Numbers here
Tel: +65 6336 8111
Fax: +65 6339 1861