I don't know about you, but I seldom choose to dine at Tapas restaurants or order Tapas style dishes. For those of you who are uninitiated, tapas style simply means small bites or small dishes. Think of dim sum dishes, but for Western cuisine. It's not that I don't like the food that is served, it's that the bill ends up more exorbitant than if I were to order a full fledge main course itself. Tapas in Singapore are not cheap. A small appetiser dish can cost around $10 or more. Order a few of them and they start adding up.
I didn't know Immigrants Gastropub served their dishes in Tapas sizes when I stepped in. In fact, I'd actually planned to dine at one of the Tanjong Katong restaurants, but some how I got dropped off at Joo Chiat Road instead so I decided to eat at the eatery that I happened to stop at.
After perusing the menu and doing some mental calculations, I nearly wanted to leave the place, but the Partner seemed quite keen so I pressed on. A lot of the dishes seemed quite interesting but we finally decided on Seafood Fritters and Sambal Buah Keluak Fried Rice. We expected the seafood fritters to be on the small side, after all the waitress had reminded us that these were tapas sizes. However, because the sambal buah keluak fried rice was $20, as compared to most other dishes which were under $15, we were under the impression that the fried rice would be a full portioned fried rice! Our thoughts were further affirmed when the waitress mentioned that the fried rice was a very popular dish!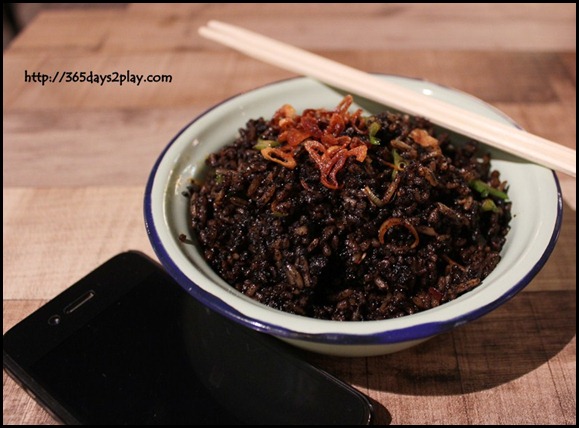 Sambal Buah Keluak Fried Rice $20
Can you imagine our shock when we realised that this was the size of the sambal buah keluak fried rice? The diameter of the dish was the same as the length of my iPhone.



I mean who serves rice in appetiser size?!?! Anyway, thank god the rice was extremely delicious. It was rather spicy, but I guess if the Ang Moh Partner could handle it, the average Singaporean can too. The pungent and earthy flavour of the buah keluak was very evenly distributed throughout the grains and on the whole, I really liked the dish very much. We both agreed that this was a very unique and tasty fried rice (this coming from a guy who doesn't eat Buah Keluak!) and if it wasn't so expensive, we would definitely return to order this again.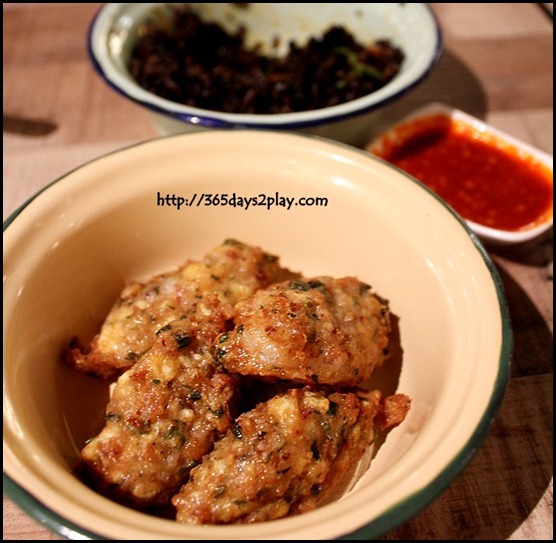 Seafood Fritters $14
The seafood fritters were also excellent. At $3.50 per piece, they were also of course rather pricey. A combination of crab, prawn and squid, fried such that it and a slight crisp on the outside, but so juicy and flavourful on the inside! I liked it that the ingredients weren't minced to a pulp, but were diced finely so they still retained a little bite to it. They paired very well with the sambal buah keluak fried rice. If I ever return to Immigrants, I would definitely order this too!
At that time, I was a little upset over the food portion, so we didn't order anymore and instead hopped across the road to 112 Katong Mall to have dessert. We did agree though that had the prices been lower to reflect that the place was a casual gastropub, we most definitely would have returned to try out more of the dishes. They have really exciting dishes such as squid bombs, ayam pop, prawn stuffed grilled bean curd and even cockles! All the food they serve is inspired by the foods that our forefathers used to eat when they first arrived in and includes dishes from the major ethnicities of Singapore — Chinese, Malay, Peranakan, Indian and Eurasian.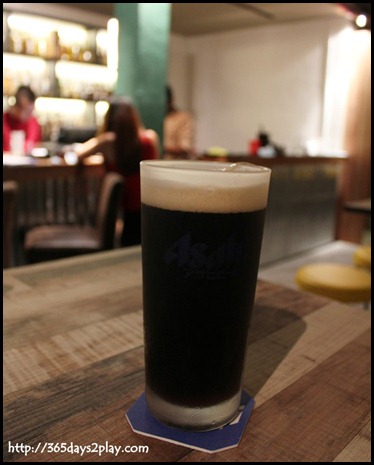 Asahi lager. Yes, very dark.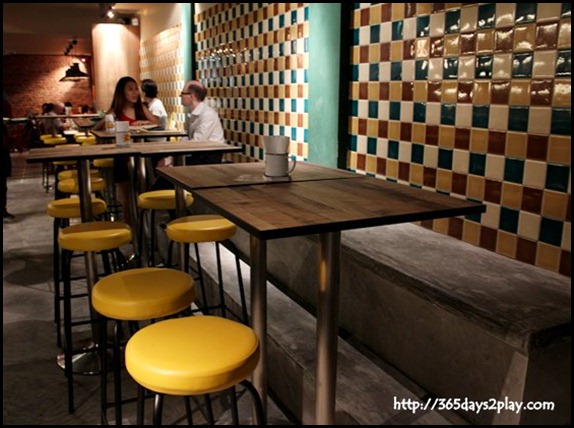 It's a bit weird that the lower step is so wide, cuz it meant that the table could not be pulled closer to you and you had to lean forward. Despite that, I enjoyed sitting there, elevated from the rest of the customers.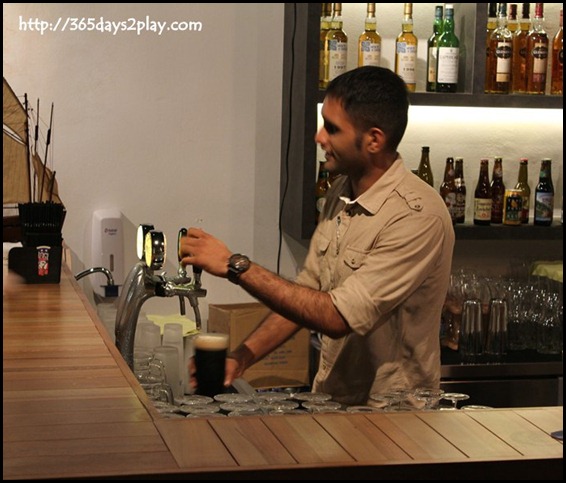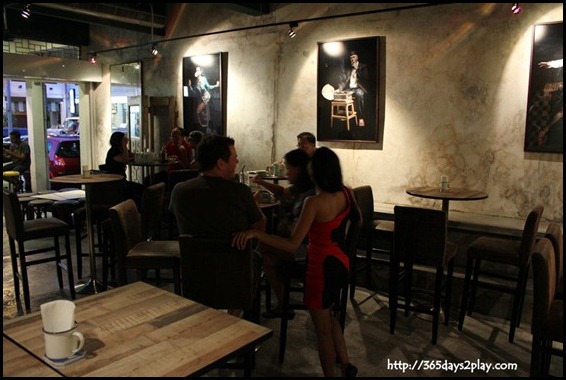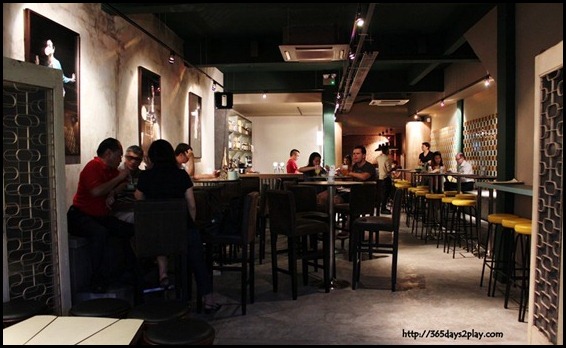 How the place looks like from the front door.
IMMIGRANTS
The Singapore Gastrobar
467 Joo Chiat Road
Singapore 42767
Tel : +65 85117322
info@immigrants-gastrobar.com
http://www.immigrants-gastrobar.com
http://www.immigrants-gastrobar.com/uploads/1/3/6/8/13681471/120919_immigrants_food_menu.pdf
Opening Hours 5pm-12midnight Daily