2 weekends ago, I was kindly invited to check out the relatively new Intrepid Gastro Bar at Far East Square. Intrepid Gastro Bar is a Melbourne-inspired eatery that aims to serve Melbourne-inspired cuisine with a great selection of craft beers. You can get Kangaroo and Crocodile meet here, mates!
I was quite keen to check out this place because everyone knows about Melbourne's great coffee culture. Also, I had a friend who would have been returning from his travels in Melbourne and I wanted to be able to surprise him with this great find, should he be missing Melbourne. By the way, did you know you can get AUD$1 coffees in Melbourne? Insane right, what are we doing wrong in Singapore?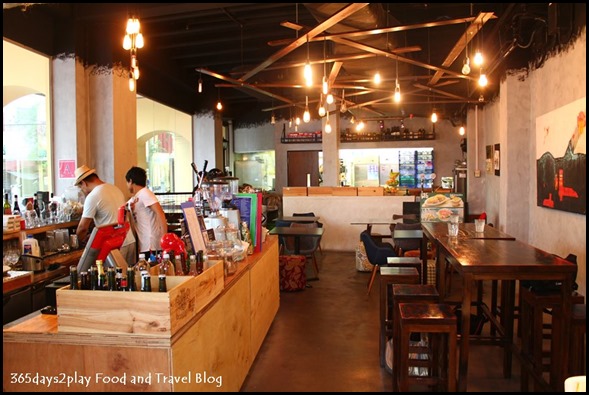 So, does this look authentically Melbournian? I have been to Melbourne years ago, but I was too young to appreciate the coffee culture back then. Pity, because we didn't visit a single cafe when we were there. I've been to Sydney, Brisbane and Perth (twice!!) since so I really want to visit Melbourne again soon.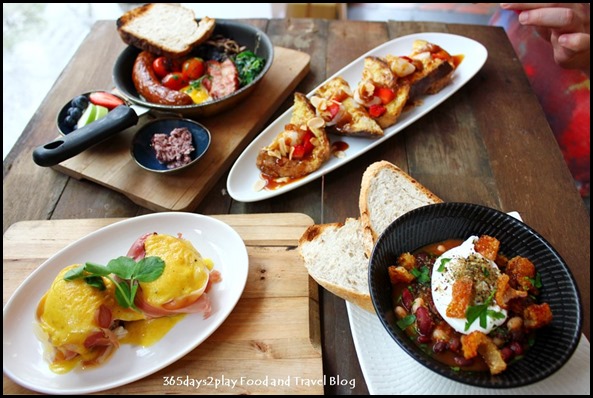 We were at Intrepid Gastro Bar to check out the brunch menu, and boy do they have a great number of dishes on the menu for the choosy eater. There are many cafes serving brunch these days, but many of these cafes serve only a handful of brunch dishes, offering just the usual suspects like eggs benedict or a simple egg, sausage and bacon fry up. I love the wide variety of brunch and lunch dishes you can get here, which is I suppose inspired by the eclectic and diverse cuisine that is what Melbourne is all about. Dr Seuss fans, you can get your green eggs and ham here!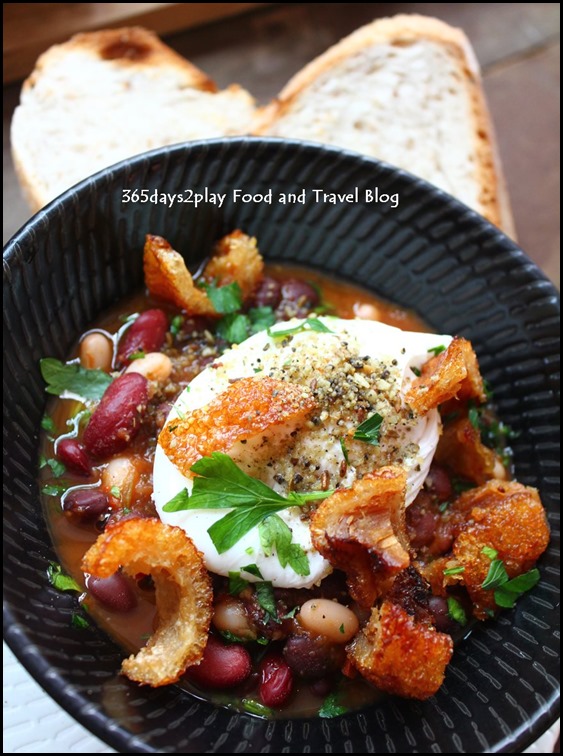 Dukkah Spiced Baked Beans $16
This was probably the most exotic dish for me. Egyptian-inspired, if you are a bean lover, you would enjoy this comforting, mildly-spicy dish of baked beans in tomato and herbs ragu, topped with a poached egg and roast pork belly. I say the best way to eat this is to burst the poached egg so that you can slurp up the eggy broth! Roast pork belly aside, I think this is one of the healthiest brunch meals you can have, no?
Breakfast Pan — Two eggs, pork sausage, thick cut smoked bacon, spinach, tomato and grilled mushrooms served in hot pan and side toast ($19 )
Even though I like variety, quite often I end up ordering the big breakfast / fry up / breakfast pa for the simple fact that it has a bit of everything and it is hard to go wrong. As expected, this was my favourite brunch dish that we tried at Intrepid Gastro Bar. You have the healthy bits like the mushrooms, tomatoes, and even spinach, and you have the sinful "weekend is here" bits like the bacon and sausage. Eggs are a must in my dictionary, if you want to call it brunch. They even had this interesting olive butter on the side for the bread. It had a pleasant and mild flavour to it. If I have a grouse for this dish, it is that the eggs should have been fried a tad longer so as to achieve a crisper white.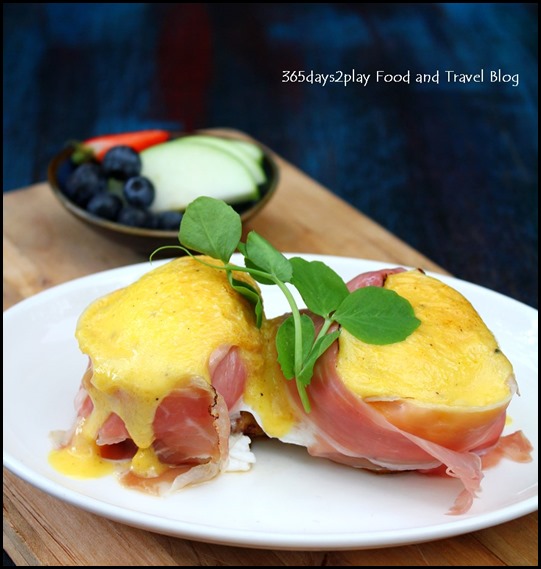 Benedict Twins — With proscitto or house-smoked salmon, potato rosti, and hollandaise ($16)
This was an eggs benedict with 2 twists! First was that the hollandaise sauce had the added touch of being flambeed in front of us, and secondly, instead of buns, the poached eggs were served on a bed of rosti instead! I'm not sure if the flambéing did much to the sauce though. As you can see from the picture it is hardly browned. Most of us thought that the eggs benedict was slightly saltier than usual, but that is because the more expensive prosciutto is used instead of normal ham. The rosti was very nice on its own and I would gladly eat loads of it, but as a vehicle to mop up the eggyolks, I'm not so sure. A pity that the additional effort used here do not result in a definitively better dish.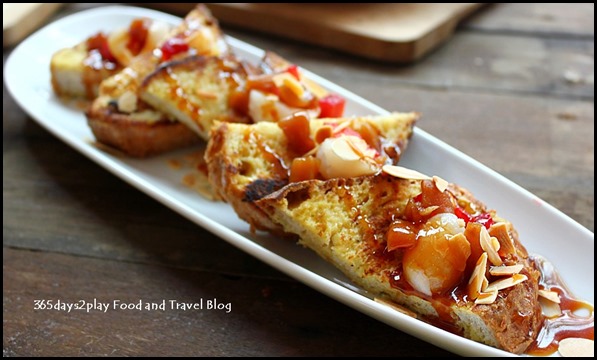 French Toast — Stewed apples, lychees, caramel and almonds ($13)
The French toast struck me more as a dessert dish rather than a brunch dish because of the sweet toppings on it. Also, I did not manage to detect much egginess in this. I guess I am a traditionalist when it comes to French Toast. I want them thin and soaking in eggy mixture when fried. Here, sourdough is used, which explains the thicker texture of the bread. Apparently this is reflective of how it is like in Melbourne, for a more hearty fill.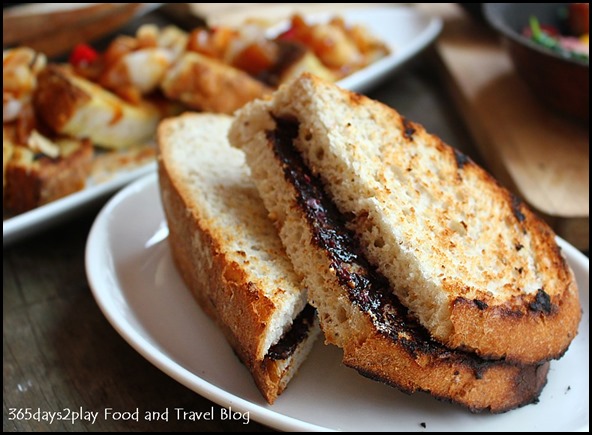 Vegemite, Mate! — Kalamata olive butter on sourdough toast ($4.90)
Marmite, Vegemite and Brovil, which is your favourite? Vegemite is what the Australians eat, while Marmite is what the New Zealanders and British eat. But don't be mistaken that the New Zealanders and British like the same thing, because the Marmite you get in NZ is quite different from the one you can find in the UK, so the Partner tells me.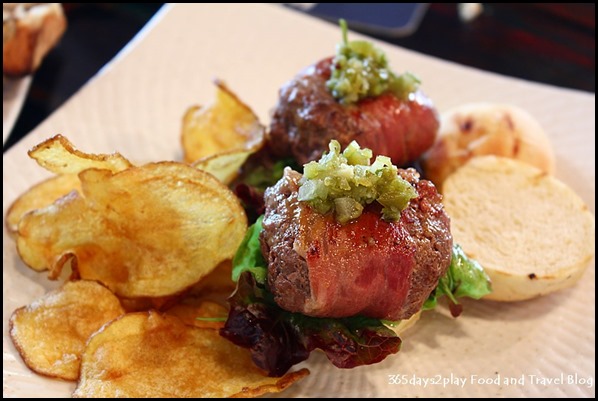 Kangaroo Sliders — Parma ham, truffle aiolo and onion-chili relish served with a side of homemade crispy potato chips ($18.50)
This is from the lunch menu, which runs at the same time as the brunch menu on the weekends. Can't leave Intrepid Gastro Bar without trying something really signature from Australia right? Hmm, if you've never tried Kangaroo meat, well, it tastes like chicken? No actually it tastes like a blend of chicken and pork. Kangaroo meat is very lean thanks to all the hopping that they do.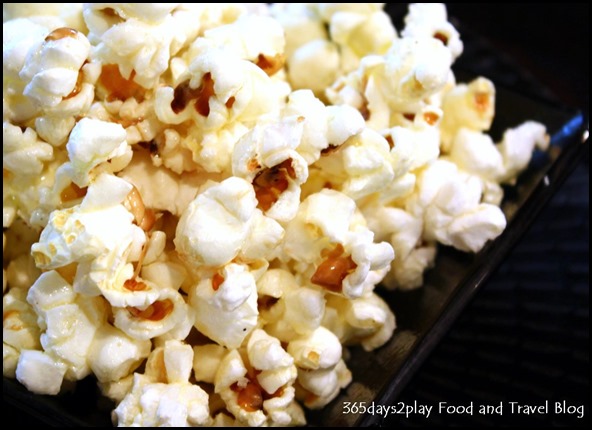 Truffle Popcorn $6
And last but not least from the munchies, the Truffle Popcorn. Order this at your own risk because they are super addictive! If you like truffle fries, you will surely like this truffle popcorn. And it's so much more healthy as compared to fries!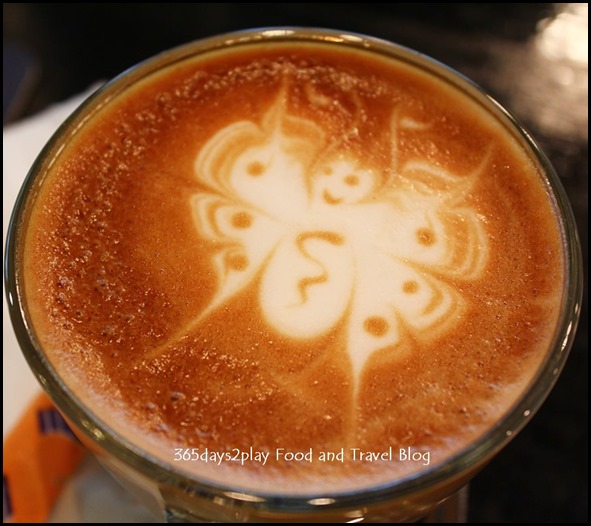 Cafe Latte $4.50 — $5.50
You can get the Oro (Gold) which boasts robust flavour and generous crema, or the Equa (Organic) which has a strong fruity and flowery aroma. The Equa is a 100% Arabica. One thing's for sure, the coffee here is good! The barista is really good at the latte art. I got a butterfly!
The Melbournites — Organic espresso, coffee absinthe with milk $18
And if you want something that really spells weekend, get this iced espresso with coffee absinthe. The alcohol taste is much stronger than the coffee taste so be careful!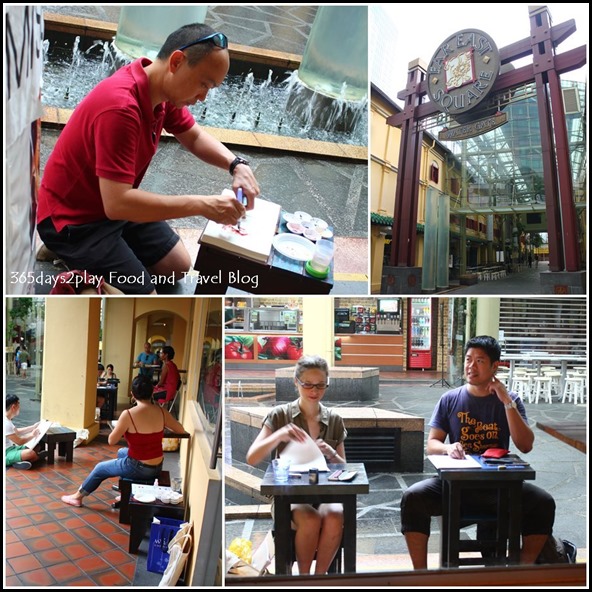 Art Jamming sessions are held just outside the premises at 11am on Saturdays. For only $25, you get the attention of an art teacher, but it's a bring your own art materials thing.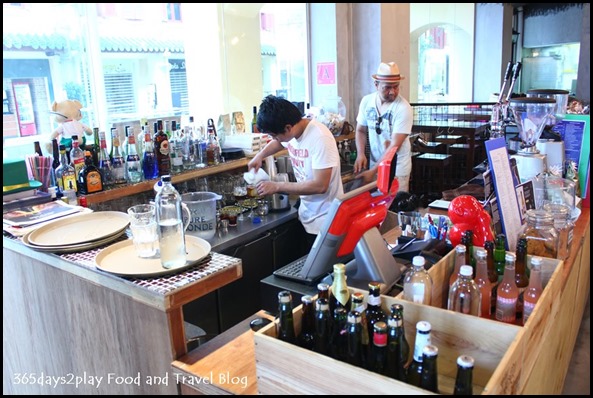 Intrepid Gastro Bar was started by Rommel and Michelle who both grew up in Australia. The menu here is designed by Chef Iskander Latiff, winner of the Channel New Asia's "The Perfect Meal", and who previously worked in restaurants such as the Tiffin Club and Oosters Belgian Oyster Bar.
Intrepid Gastro Bar also boasts a Sunday roast menu, available every 1st Sunday of the month. You can also get New Zealand and Australian craft beers here.
---
Add me on Facebook, Instagram and Twitter if you want to be kept up to date with the latest happenings in the food and lifestyle scene in Singapore!
---
Intrepid Gastro Bar
40 Pekin St #01-01 Far East Square
Singapore 048770 (next to Water Gate)
Tel : 9068 8297
Reservations: Call or http://chope.com.sg/categories/restaurant/intrepidgastrobar
Website : https://www.facebook.com/IntrepidByZumo
Opening Hours : Mondays to Fridays: 8.00am — 10.00pm
                           Weekends: 10.30am — 5.00pm
                           Closed on Public Holidays.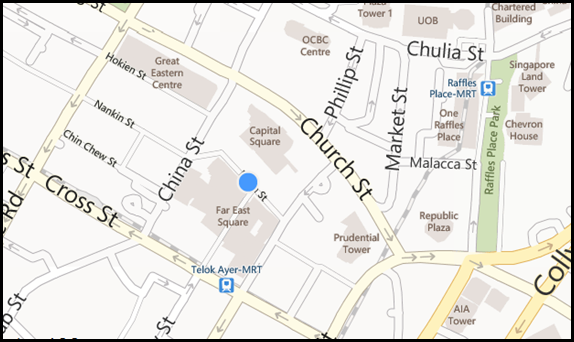 Intrepid Gastro Bar is where the blue dot is.