Coexist Coffee at Paya Lebar's Lifelong Learning Institute is one of the more popular cafes in Singapore thanks to its very instagrammable space and delicious brunch food. That is how they managed to have 2 outlets running at the same time, although the Hillview outlet has since closed down a few weeks ago.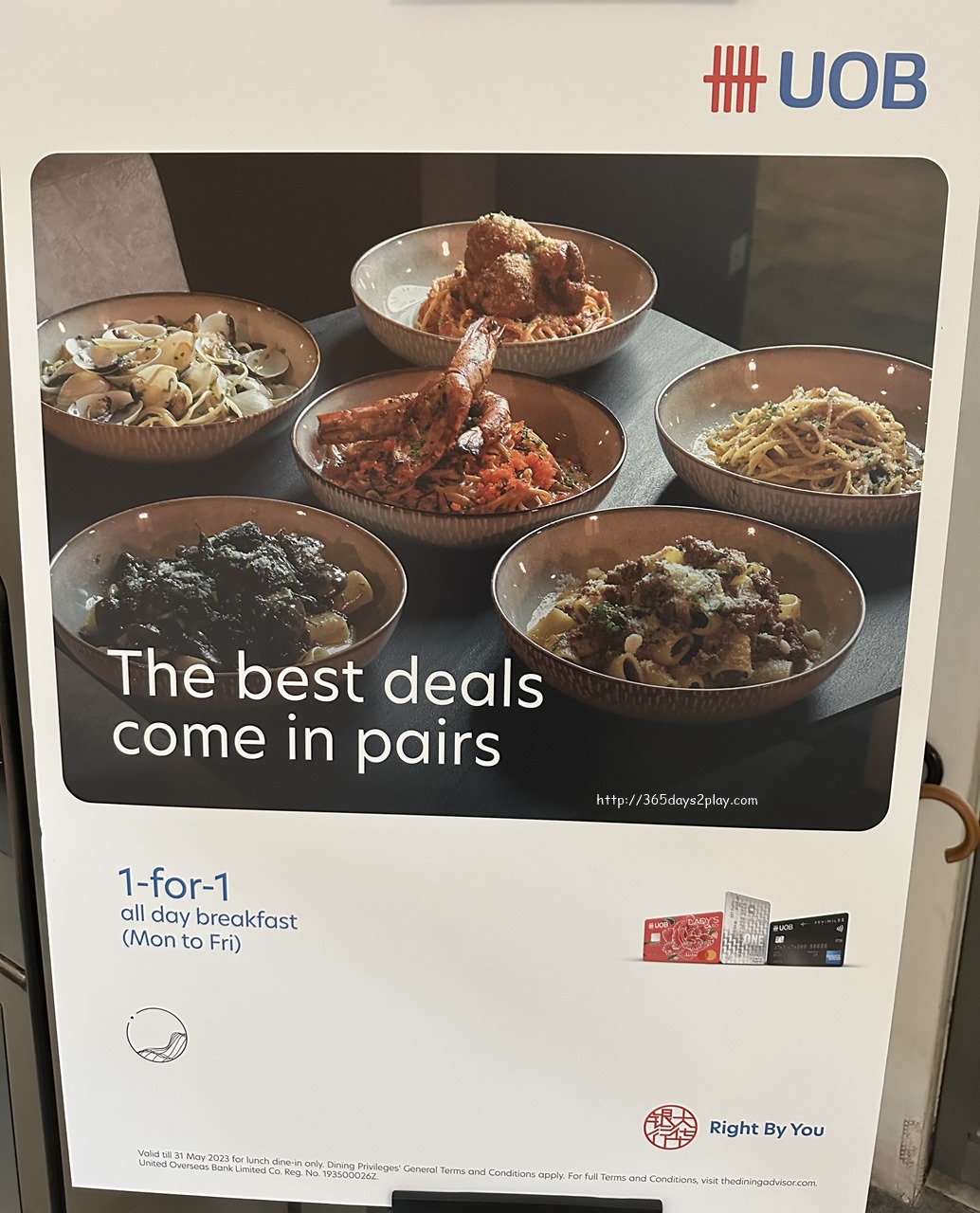 Fans of Coexist, you will be happy to know that they are running a very attractive promotion. From now until 31 May, enjoy their 1-for-1 promotion when you order from their All Day Breakfast category, during lunch, from Mondays to Fridays. OR, if you have the Entertainer App, you can enjoy the 1-for-1 promotion anytime, any day, as is the usual practice for Entertainer App vouchers.
There's actually only 3 dishes listed under their All Day Breakfast category
Coexist Breakfast $26
Chicken French Toast $20
Bangers and Mash $18
But if one of these 3 dishes strikes your fancy, it's worth checking out the deal.
So that's exactly what we did today in celebration of the husband's birthday. What's great about the savings is that we can visit another cafe and celebrate again!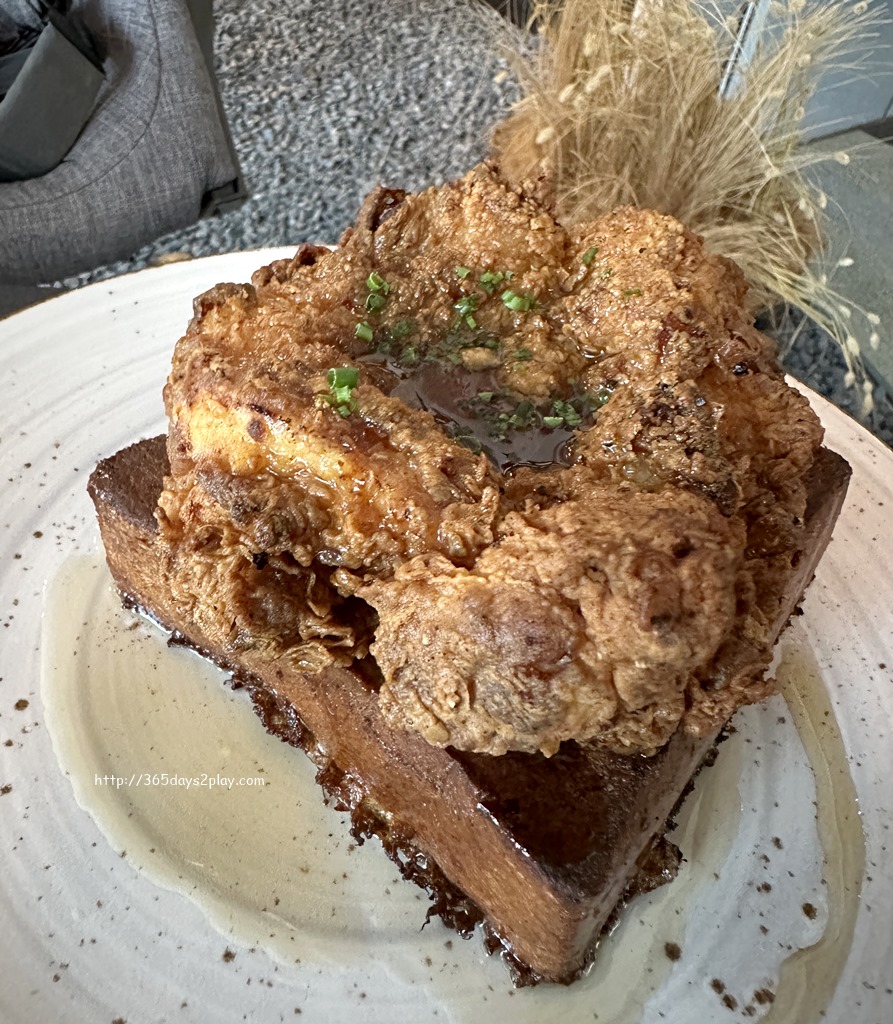 I must say I thoroughly enjoyed the Chicken French Toast. The very generously-sized Buttermilk Chicken thigh was served piping hot, encased in a crispy exterior, yet boasting a really tender and juicy interior. The brioche French toast was lovely as well, so pillowy soft that I enjoyed eating it on its own.
Take note that maple syrup will be drizzled on the chicken. Some people have a problem with this sweet and savoury combination, however I actually enjoyed it and mopped up every last drop. If sweet and savory doesn't cut it for you, ask for the maple syrup on the side, or maybe ask them to leave it out.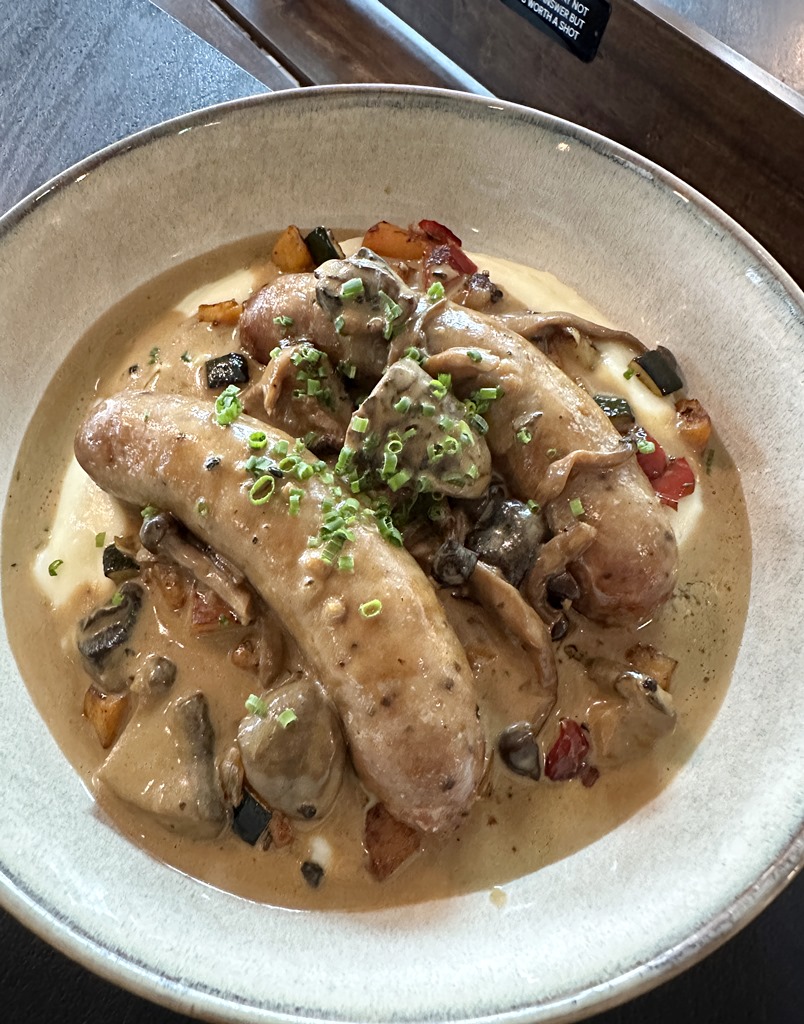 The Bangers and Mash also hit the spot for my husband. It came with 2 fat pork sausages. The mashed potato was particularly flavourful thanks to the sauteed mushrooms and pork gravy ladled all over.
We both polished clean our plates.
Guess what, our bill for the food alone came up to $23.60 only after tax and service charge, for two persons! It feels like such a steal when cafe food is often exorbitantly overpriced, and increasing ever so often thanks to inflationary pressures.
Seriously considering a repeat visit before the end of May!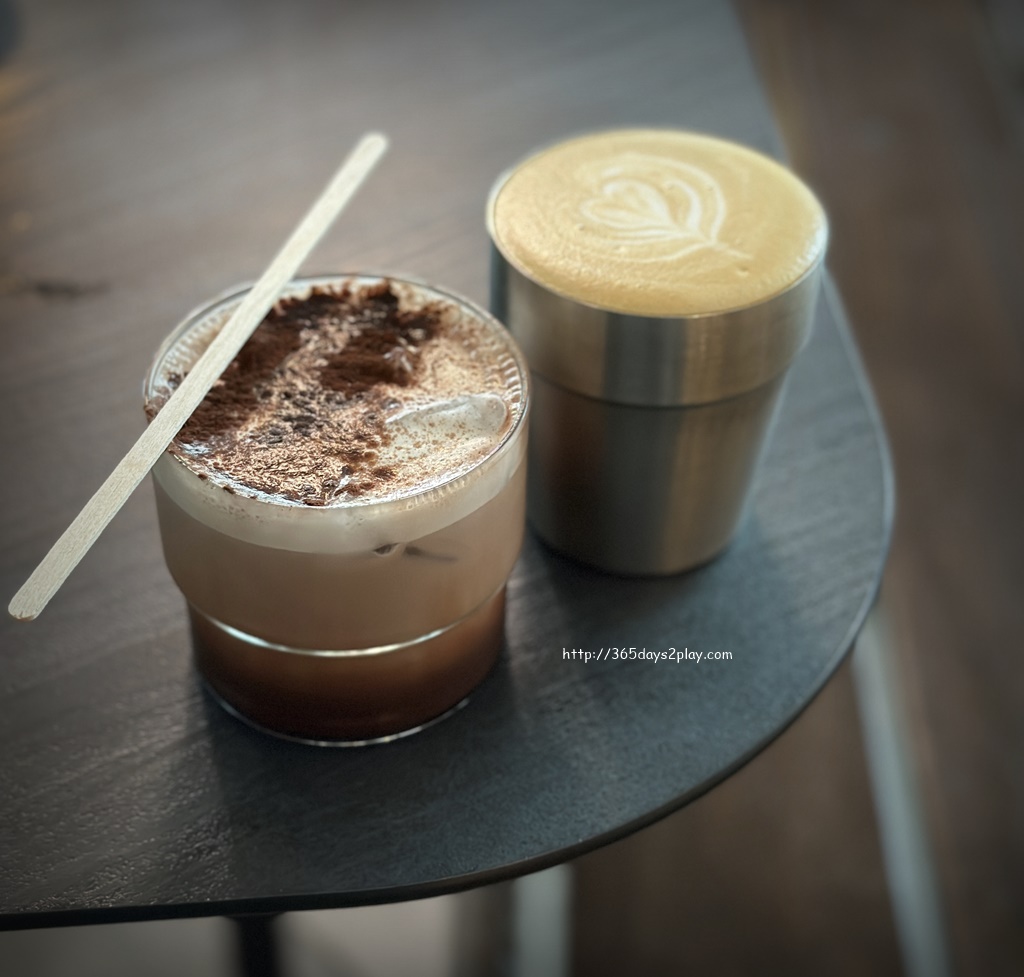 Drinks aren't cheap at Coexist Cafe though. An 8 oz. Flat White will set you back by $6.50. And given my picky habit of ordering chocolate beverages at cafes, my iced chocolate set us back by $8, or $9.44 after tax! Imagine paying $17 after tax for both drinks, another $5 and we could have gotten 2 mains! Very good coffee and iced chocolate though, I have to add.
But luckily my good old Entertainer App came to the rescue and the Flat White got waived off, for being the cheaper drink.
Moral of the story? Always be on the look out for cushy deals like this, they do exist! These are the apps and websites you need to check before you dine at any F&B establishment for good deals and discounts
Burpple App
Eatigo (Eat at off peak hours to enjoy up to 50% discount)
Bank Credit Cards (These are some of the more popular credit cards with good dining programmes)
Scroll down for more photos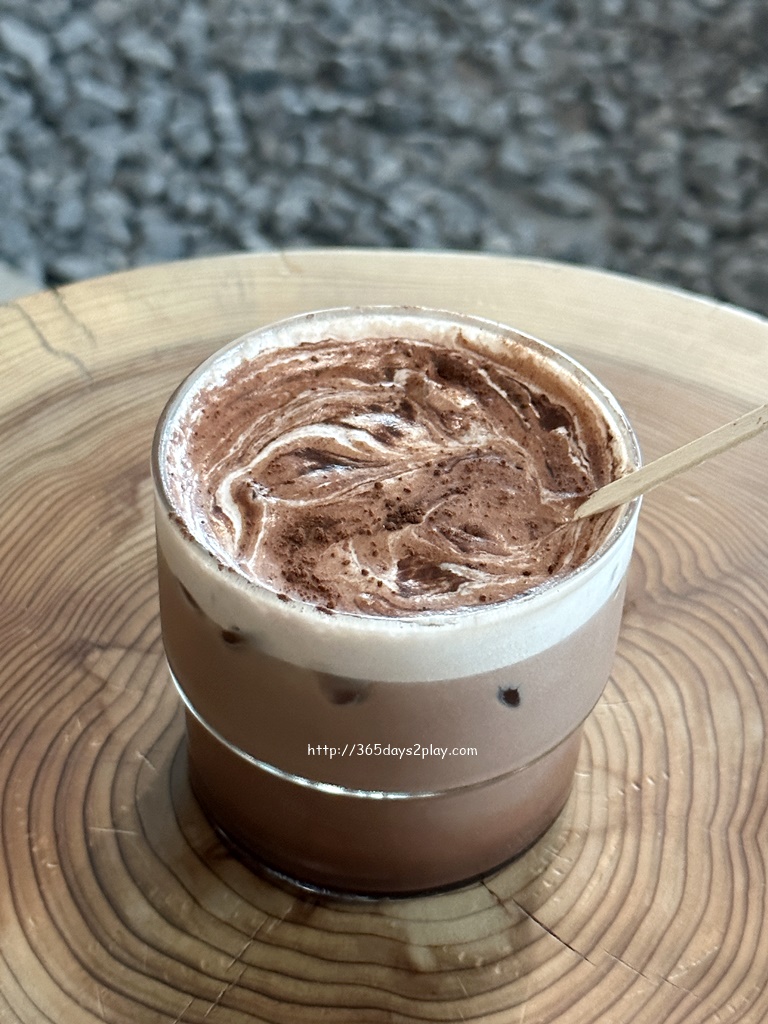 Iced chocolate stirred. Will you pay $9.44 after taxes and service charge for an iced-chocolate? It was very good though as they used Valrhona chocolate.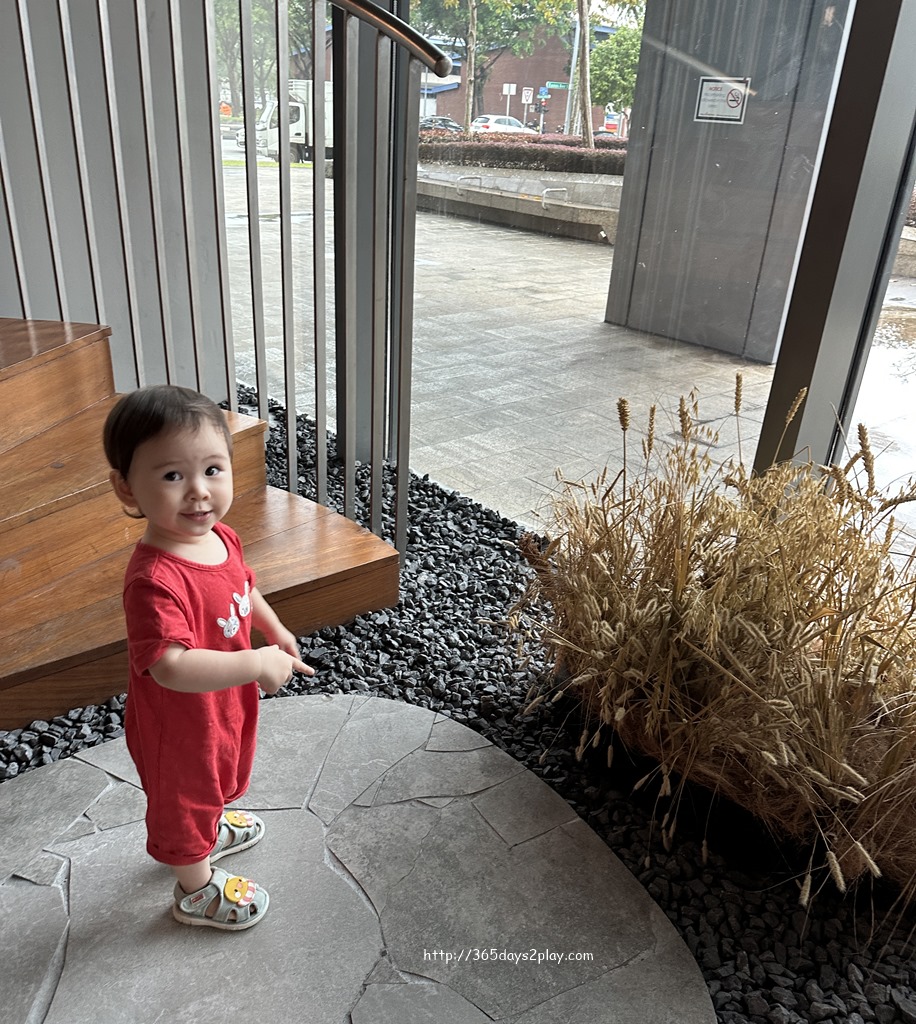 Little cutie pie thoroughly enjoyed herself walking around the cafe and going up the spiral stairs countless times. They've decked it out such that the flooring is like that of a park and she enjoyed hopping from spot to spot.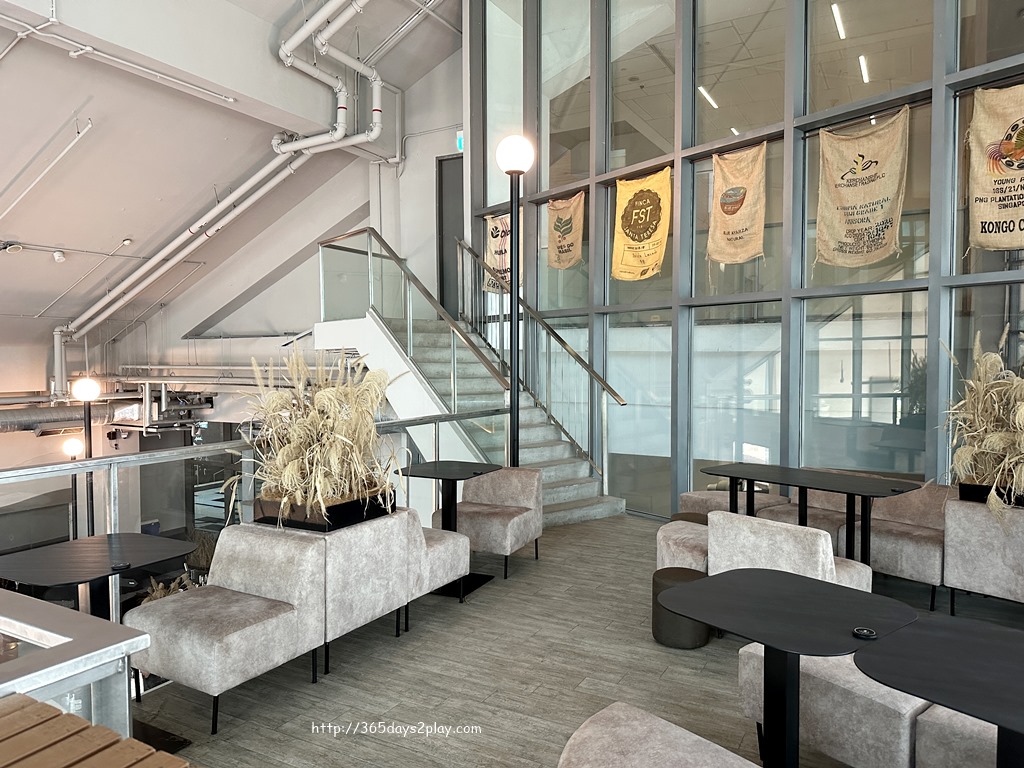 You may not notice this but there's actually seating on the second floor. Good for when you need a quiet spot, yet have a bird's eye view of everyone else. There's also sheltered al-fresco seating on the 1st level.
Recently opened Cafes in the East to visit
Coexist Coffee Co
11 Eunos Rd 8, #01-02 Lifelong Learning Institute, Singapore 408601
Hours: Open daily from 8.30am to 9pm
Tel: 8757 0539
Website | Facebook | Instagram | Reservations | Menu