Christmas is in 5 days time! Have you gotten all your Christmas gifts yet? If you are still looking for some last minute good Christmas gift ideas in Singapore, well you are not alone! I too have not completed my shopping. But hopefully with the Christmas gift ideas below, you are now armed with some choices! Some of the Christmas gift ideas are experiences so they can be purchased online instantly without having to worry about delivery. Oh btw if you're looking for affordable places to dine for Christmas, or where to get unique log cakes, click on those links.
Entertainer App / Burpple App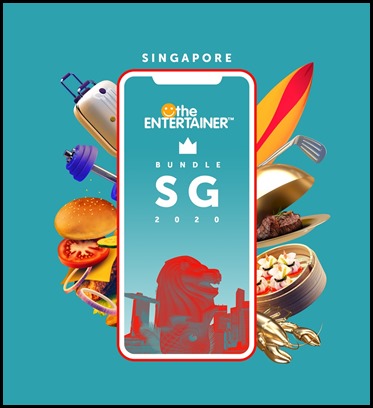 Here are another two gift ideas that cost you less than $100 upfront, but is potentially worth so much more to the receiver. It's no secret that we all love to eat out, after all there isn't all that much to do in Singapore, especially after work on a weekday. The Entertainer and Burpple apps are apps that allow you to enjoy 1-for-1 dining deals at numerous eateries in Singapore. There are some overlaps in the restaurants / cafes covered, but in general, I would say that the Entertainer covers main course dishes at restaurants (including some fine dining restaurants), as well as some fun attractions and hotels. They are even throwing in deals with merchants in Bali and Johor Bahru! If however cafes are more your thing, go for the Burpple App as it covers more cafes. Get the app which you think suits the dining habits of your gift recipient.
Entertainer App
Here's what you get for the full version Singapore Bundle 2020 at $95 / year —–>
Singapore 2020, express 2020, Travel 2020, Gourmet 2020 (includes Fat Cow, Bedrock Bar & Grill, and other fine dining merchants), Cheers Singapore 2020, Bali 2020, Johor Bahru 2020
You can get a 10% discount on the app if you use my Entertainer referral code : 365days2play when you purchase online https://www.theentertainerme.com/products2020.
Burpple App
Burpple currently has 2 pricing plans
Lite (2 deals per place) – $49 / year
Premium (4 deals per place) – $99 / year
You can get 30% discount on the pricing plans if you click on my referral code here : https://burpple.com/invite/DAWN278
Go Singapore Pass
Experts say people these days are in search of experiences rather than material goods. If you strongly believe in this principal, then this is the perfect gift to gift your friends.  The Go Singapore Pass offers travellers savings of up to 52% on entry to over 35 of Singapore's most popular attractions and experiences that includes Universal Studios Singapore, Singapore Cable Car, Gardens by the Bay, Singapore Zoo, and more.
You pay a 1-time fee for Go Singapore pass and nothing else at the gate, saving up to 52% compared to buying tickets separately. There are two versions of the Go Singapore pass, each one designed for a different type of travel style:
All-Inclusive: Buffet style, cover as much as you can in a set amount of days. Available to purchase for a span of two to seven days. This is a great option for travellers who get bored easily and like to hop from attraction to attraction. A 2-day adult pass starts at S$249 and a 2-day child pass starts at S$199.
Explorer: This pass is designed for travellers who prefer to take their time and explore a few select attractions. Available for three to seven attractions. A 3-choice adult pass starts at S$139 and a 3-choice child pass starts at S$99.
And us being Singaporeans, we want to know if this indeed value for money. If you choose Universal Studios (Usual Price $79), Food Playground Cultural Cooking Class (Usual Price $119) and the Mega Zip + Express Pass (Usual Price $85), you've more than made your money's worth. There are also quite a number of attractions worth $50 or more such as AJ Hackett Sentosa Giant Swing and Historical Singapore Bike Tour.
As a Christmas present for someone, this is perfect because you aren't tying down the receiver to a particular activity. The receiver still gets to choose which activities he or she wants to do!
More information and to purchase : Go City Website (Choose Singapore, or other cities, there are many!)
Amazin' Graze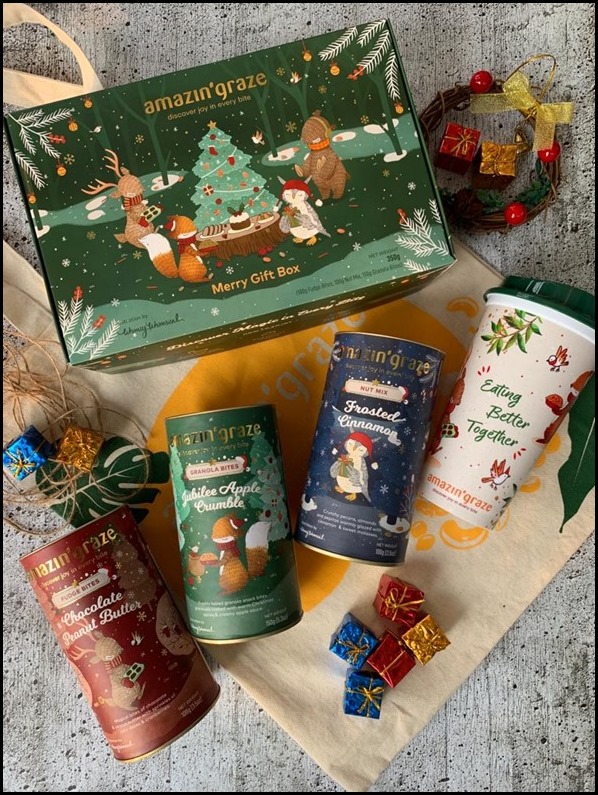 Ok here's a physical gift idea. If you don't want to be the uncreative person known for giving out chocolates yet again, but yet you just can't think of any other gift that is as convenient, affordable and non-gender specific, well here's an idea. Amazin' Grace are the people specialising in granolas, nut mixes and other healthy snacks, and they've come up with a gift box comprising
Frosted Cinnamon Nut Mix (100g)
Chocolate Peanut Butter Fudge Bites (100g)
Jubilee Apple Crumble Granola (150g)
Each gift box costs $18.90 or you can get an individual one for $6.90! They look really festive, and their products are not that common in the market, well as least not as common as plain ole chocolate! The best part is, you can simply get these at your nearest Fairprice Finest outlets, or online.
More information : https://www.amazingraze.co/sg/
Go visit a supermarket
No that's not the name of a product, but that I'm telling you to go visit one! If you did not already know, the supermarket is a fabulous place to get a variety of affordable Christmas treats. Many companies have launched Christmas editions of their products, making them festive and just a little bit more special. Christmas Nutella, various jams packaged into little Christmas boxes, biscuit tins with snowy landscapes, flavoured teas hinting of holly holidays, these are my favourite go to products for Christmas gifts. Hey even Christmas decorations can be obtained at your nearest humble supermarket. There is only one catch, the receiver may know the cost of the gift if they've visited the supermarket recently. Or worse, they might think the gift was bought in haste. To sidestep this, I always package a few items together into 1 gift, to make it look more thoughtful.
Naiise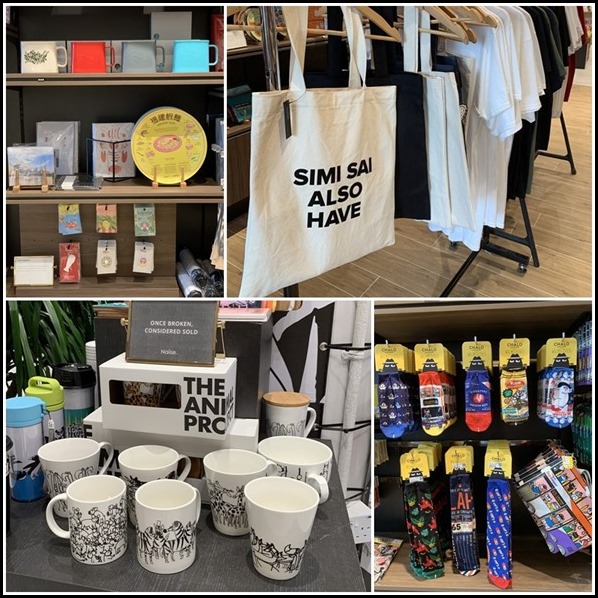 Now tell me if your eyes didn't immediately shoot to the "Simi Sai Also Have" tote bag!
And if all of the above gift ideas don't appeal to you, you might as well just go visit a shop specialising in gifts. Naiise Iconic at Jewel Changi Airport comes to mind. Think of it as a department store full of well-curated products sourced from independent/indie suppliers. Products range from quirky magnets to souvenir food from Singapore to even books without covers. What are books without covers? Read my article on Naiise to find out! And while you're at it, they also provide a customised gift wrapping service, the first in Singapore!
*Disclaimer: Paid Partnership / Received sponsored products from several of the merchants above.
---
Add me on Facebook, Instagram and Twitter if you want to be kept up to date with the latest happenings in the food and lifestyle scene in Singapore!
---