As I was saying, my friend and I had a lovely time dining at Vineyard. I called a few days earlier to make reservations and was told that the indoor seating was fully taken! We had to sit at the Patio, but I have no regrets about that since that gave us the opportunity to enjoy the sunset as well as be out in the open. There weren't any fans or anything, but since it was night, it wasn't hot at all.
Unfortunately, the dumb thing about sitting outside is that while I got some really good fotos of the sunset, it was pitch dark by the time my mains arrived! Pictures tagged with 365days2play are mine, the rest of the photos are courtesy of Vineyard.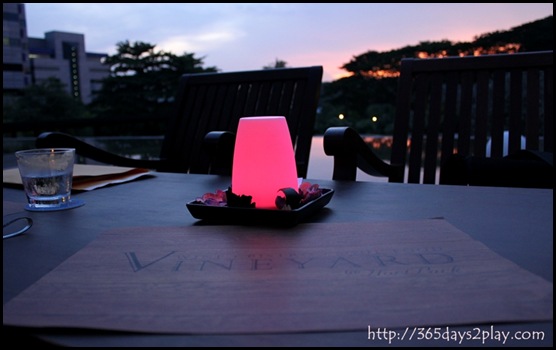 Make sure you come before it's dark so that you can walk around for a bit and take photos!
See pictures of sunset at HortPark
I love these rocking chairs! Different view, different seating! The tables are a little low for the rocking chairs, but that's the price to pay if you want to sit outside. The kids at the next table sure loved it. Speaking of kids, Vineyard does have a kids play area behind the restaurant.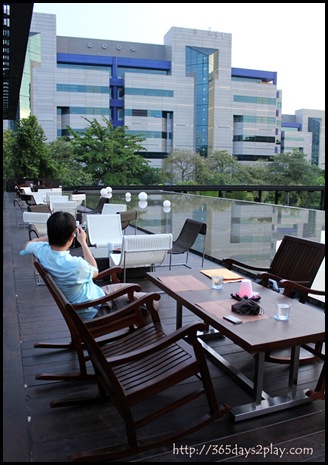 Snap snap snap, just can't resist when you're in such nice surroundings.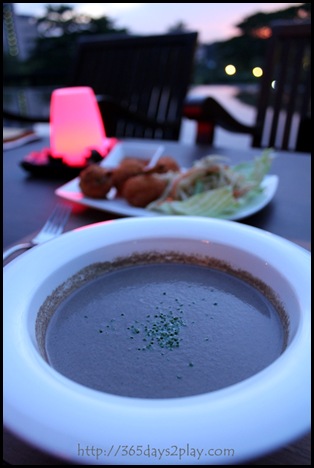 Forest Mushroom Soup $10 — It has a very strong smell, almost pungent even. Luckily taste wise, the soup was pretty good and full of mushroom flavour.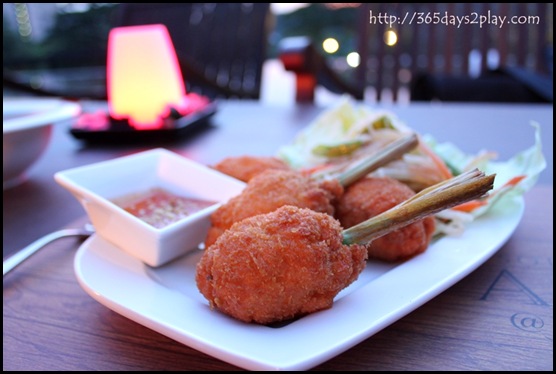 Lemongrass Prawncakes with Green Papaya Salad $12 — 4 prawncakes. They looked really delicious when served, and I love the crispy exterior. However, I felt the prawn cakes were kind of lacking in prawn flavour. Felt as if the prawn cakes had more flour filler than prawn.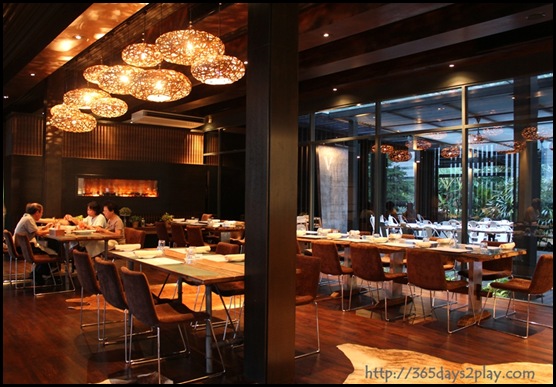 The interior of Vineyard, a totally different vibe as compared to sitting out at the Patio
~~ Photos below are from Vineyard ~~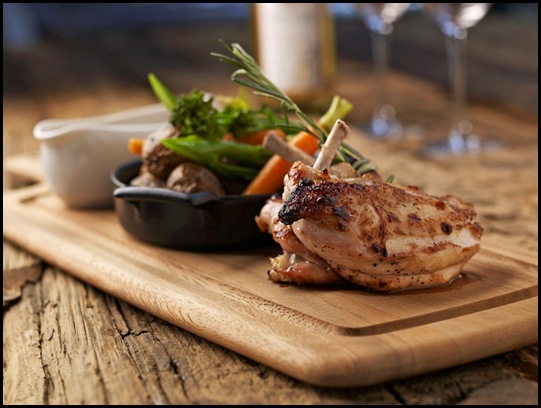 Oven Roasted Cornish Game Hen, Roasted Potatoes, Rosemary Gravy $26 — You get 2 pieces of meat (1 thigh and one breast meat). Game hen is obviously tougher than the usual type of chicken, but has more flavour. I am very fussy with chicken and I don't eat breast meat, so I only enjoyed half the meal. The thigh was delicious and bursting with flavour, wish it wasn't so small! My friend helped me to polish off the breast meat.
From the picture above, you can see 2 bones sticking out, which is why the staff also mistakenly told me that 2 thighs were served, when in fact it is only 1.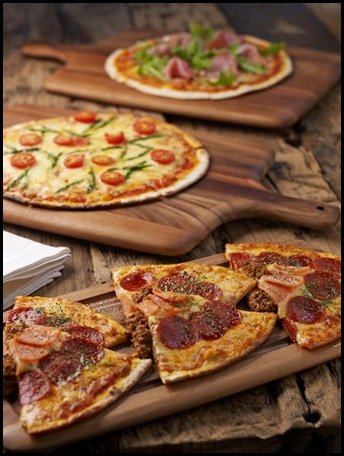 Wild Picked mushrooms with australian aged brie & Smoked Bacon $20 — We ordered this pizza, believe that's the one right at the back of the photo. Surprisingly, we loved the pizza! Having tried really good Italian pizzas in Singapore, I've come to conclude that one can only get good pizza at a good Italian restaurant. I'm glad to report, Vineyard's pizza is pretty good too! Loved the floppy and moist texture of the pizza. Loved the toppings and the smoked bacon! Definitely a must order!
Those pancakes look decadent!!
There's a little play area for the kids at the back of the restaurant
Looks posh, but Vineyard doesn't impose a dress code.
More information on Vineyard
Vineyard is inspired and has been designed around the location and aims to suit many different customer groups, catering to parkgoers, execs and the more typical diners via a varied menu of Thai, Italian and French specialties.
As a wine bar, Vineyard carries about 100 labels of wine that are priced very affordably (ranging from $40-99) To encourage wine drinking at our venue, especially along the beautiful al fresco patio, they have comfortable low chairs and rocking chairs for lounging and also bar snacks menu for lighter bites.
The restaurant also caters to families and children by demarcating a Children's Play Corner during the day with Mini Archery, Drawing and Mini Bowling.
On going promotions :-
1) Set Lunch @ $22++
    Valid on Weekdays (Mon – Fri excl. Eve of PH & PH)
2) Family Set Meals @ $40++
    Choice of a 3 course set meal from a special menu
3) One child per paying adult dines free when ordering from the Kid's Menu
See pictures of sunset at HortPark
Vineyard at HortPark
ADDRESS : 33 Hyderabad Road HortPark Singapore (119578)
TEL : + 65 6479 7977