The Fabulous Baker Boy cafe at the foothills of Fort Canning Park has gone through a renovation and is now more comfortable than ever before because it is now TOTALLY AIR-CONDITIONED! I visited once several months back prior to the renovation and despite the cafe looking really nice and like a place I would want to spend my time chilling out in, chilling out was the last thing on my mind due to the sweltering heat. This time round, when I visited with my colleagues, it was a much more pleasant experience, with us being able to look out into the gardens and to enjoy the views minus the heat.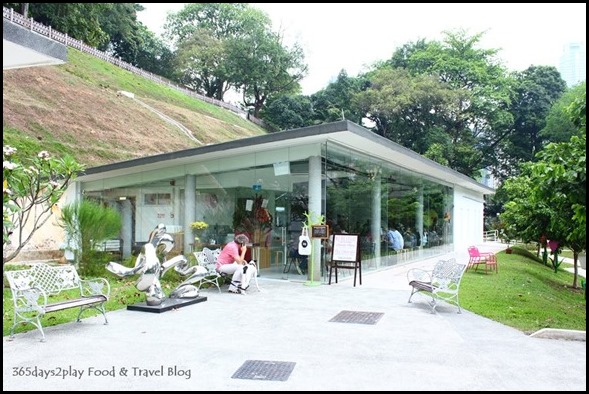 The Fabulous Baker Boy cafe is one of those cafes which I would consider to be all-rounded cafe, meaning they're good at cakes, coffee and food! You can't run away from the baked goods here, it's quite obvious from the name of the cafe wouldn't you agree? I had the opportunity to catch a glimpse of Chef-Owner Juwanda assembling his cakes together, and I could sense a serenity and contentment in him as his fingers deftly put together pieces of sponge and cream into the finished cakes. Quite different from when I'm trying to ice my cakes, I can tell you that.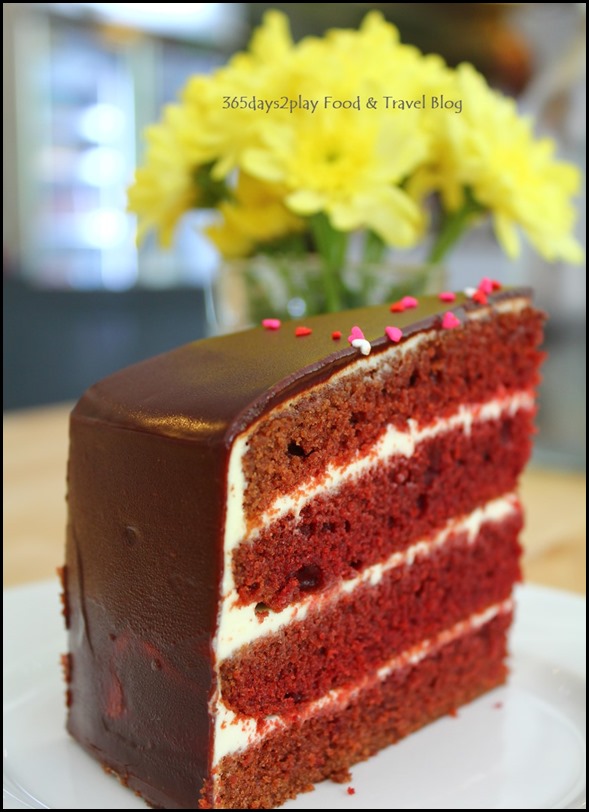 Red Velvet Cake $9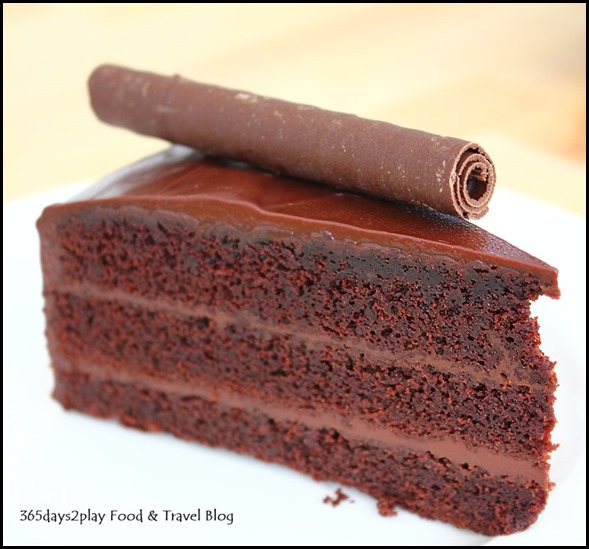 Valrhona Chocolate Cake with 70% cacao $8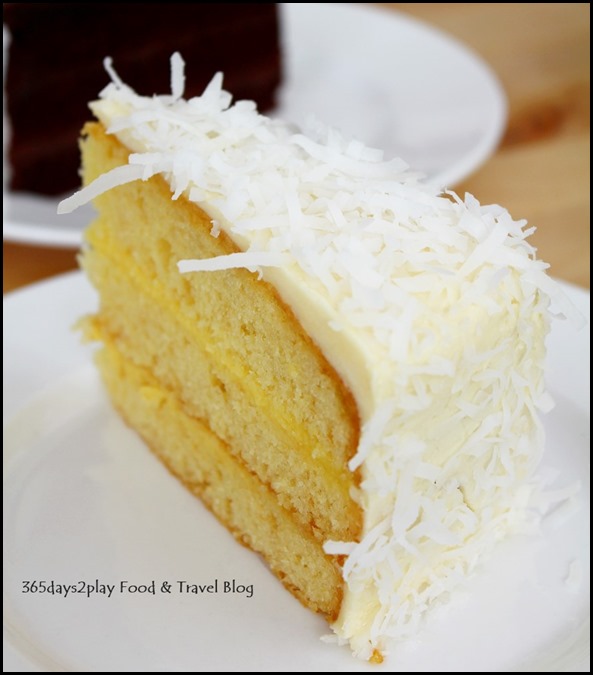 Caribbean Lemon Slice $7.50 – A french butter torte filled with a lemon emulsion and covered with grated coconuts and swiss meringue butter cream.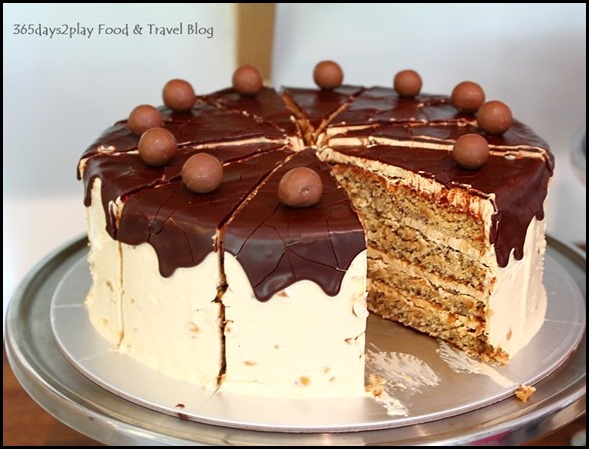 Nutty Monkey $8.50 – Banana coconut cake, filled with a swiss meringue peanut butter cream and covered with chocolate frosting. An additional topping of valrhona ganache is added to complete the whole Elvis experience!
These were some of the cakes that my colleagues ordered. I only managed to try the red velvet cake which I thought was nice but could do with more of the cream cheese to give it more oomph. Have to come down again to savour the cakes myself. It kinda all gets lost on you when you're just having one mouthful of each cake. I know people like to do that, but the cakes become such a mess when so many forks go into it that my appetite is lost.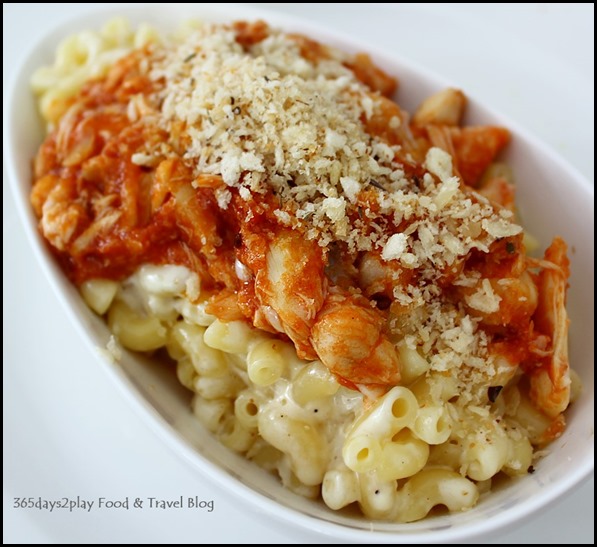 Chilli Crab Mac & Cheese $18
This was what one of my colleagues ordered. It elicited a lot of ooohs and ahhhs when the dish arrived. I partook in a spoonful of this, which I regretted very much because it was SO DELICIOUS and I was so sure my sandwich would pale in comparison to this cheesy dish which packs a sweet fiery punch.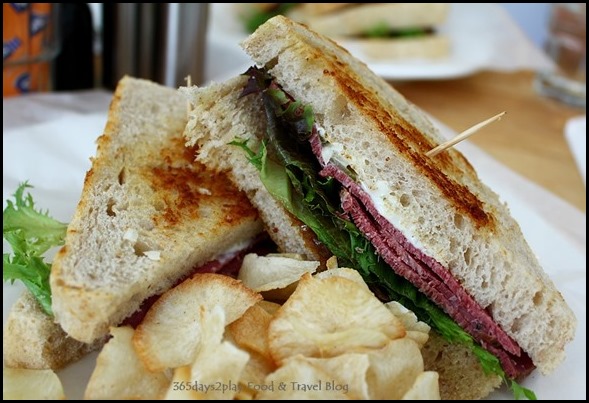 Beef Pastrami Sandwich (beef pastrami topped with caramelised onions mesclun, sriracha on sour dough, casava chips) $14
I was quite right about my sandwich not matching up to the Chillic Crab Mac & Cheese. I'd in fact chosen this sandwich because it sounded healthy. Healthy sandwiches can still be tasty, but I think this sandwiched lacked a binding factor. Either there were too little caramelised onions, or that the beef pastrami ought to have been more moist and tender. The fillings, or lack of, made the sandwich taste rather "empty".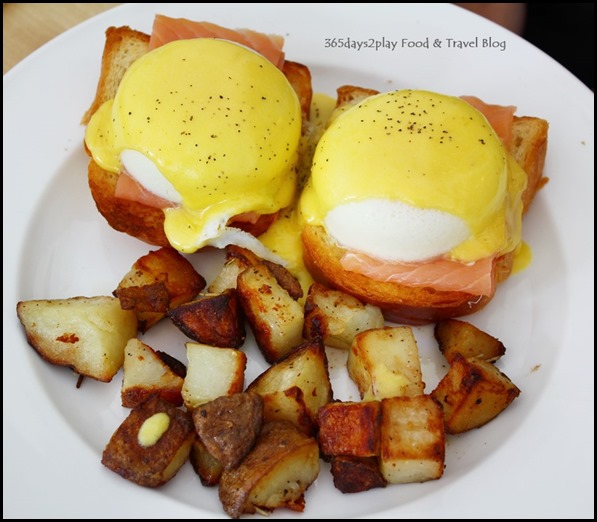 Fab Egg Benedict with scottish smoked salmon $16.50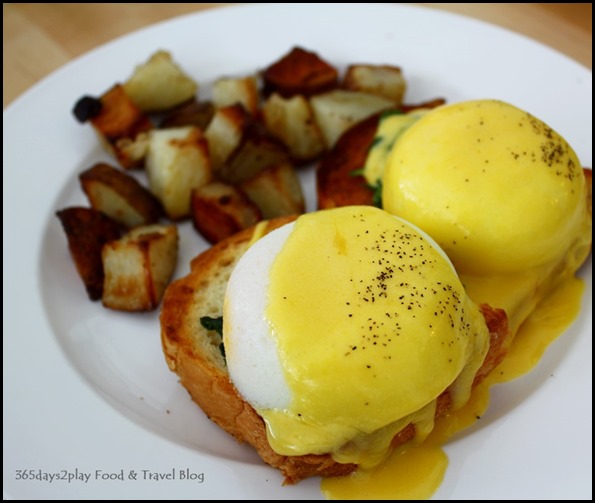 Towkay Ng's Egg Benedict $12.50
These eggy dishes were ordered by my colleague. Pay $4 more to essentially get the eggs with smoked salmon. I had the eggs benedict the last time. You can read about it here.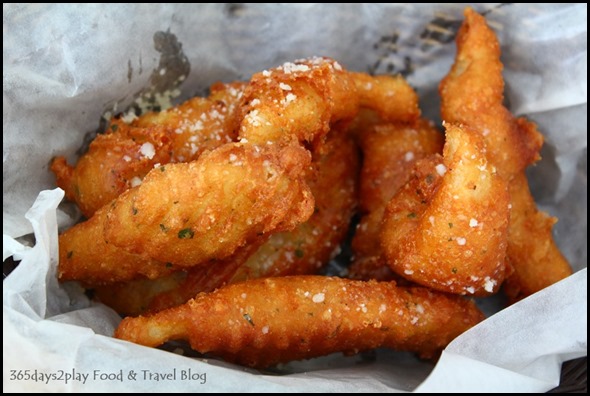 Parmesan Fish Goujons (Bite Sized Dory Fillets dipped in a spiced batter and finished with grated parmesan cheese) $10.50
These are listed under the finger food / snacks section, but I would think they quite qualify as meals! I found this refreshingly tasty and piping hot when served. After my lacklustre sandwich, a colleague and I decided to share this, which was a good move for me. She didn't particularly like these though as she thought the fish was a tad bland. I've always liked dory, and when eaten together with the cheesy batter coating, I found it very enjoyable, although a tad on the greasy side.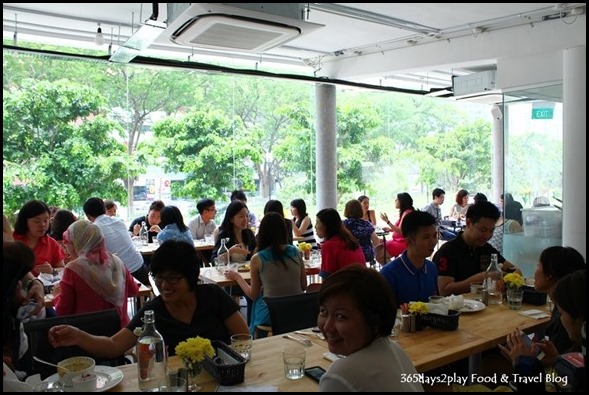 Near full house on a weekday!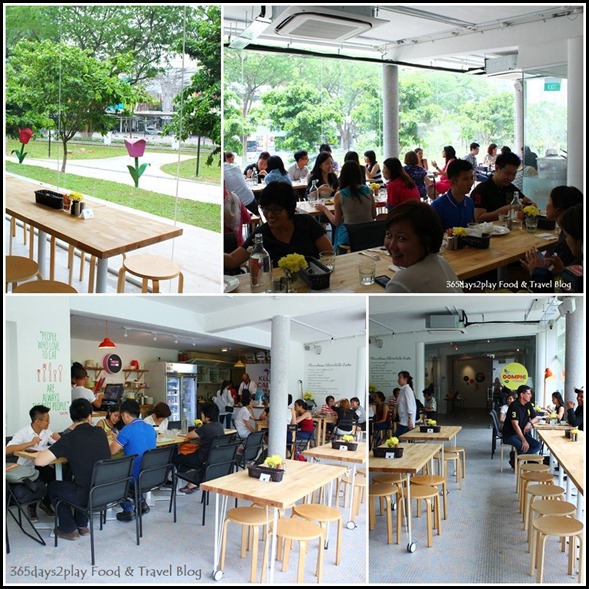 It was almost empty when we arrived for lunch, but packed by the time lunch was in full swing.
---
Add me on Facebook, Instagram and Twitter if you want to be kept up to date with the latest happenings in the food and lifestyle scene in Singapore! 
Read about other interesting cafes to visit in Singapore!
---
The Fabulous Baker Boy @ The Viridian Art House
The Foothills, 70 River Valley Road, #01-15 Singapore 179037
OPENING HOURS"‹
CLOSED ON MONDAYS
CLOSED from 4:30 pm to 6 pm Daily
Tue to Thurs : 11am to 10 pm
Fri : 11 am to 11pm
Sat : 11 am to 11 pm
Sun : 9 am to 5pm
Brunch/Lunch Till 2:30 pm   Tea Till 4:30 pm   Dinner till 9 pm
Phone:  +65 66948336
info@thefabulousbakerboy.com"‹
http://www.thefabulousbakerboy.com/