Yes, despite my new policy of not eating at the same place twice, or at least not so quickly, we made it back to Epicurious again, this time with the Partner in tow. There are actually quite a number of cafes in the Robertson Quay area. I really ought to give them a chance. It is sad but true that it is possible to actually overdose on baked eggs.
As expected, the service was so so. Although we arrived at 10am to beat the crowd (the website says their busiest hours are 11-1pm), it was actually more crowded than the week before. We waited 10 minutes before we got a seat, and we waited 40 minutes before we got our food. More than half the tables were waiting for food when we got there, so I really do wonder if Epicurious is crowded simply because the patrons have to wait so long.
But, as they say, there's no free lunch, so you just have to wait if you want good and cheap food! If the pictures in the previous post did not entice you enough to go, maybe these 3 pictures will.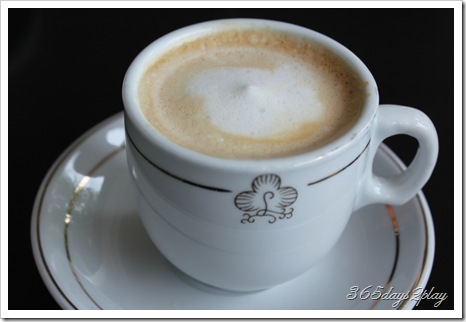 Baked Eggs with Prawns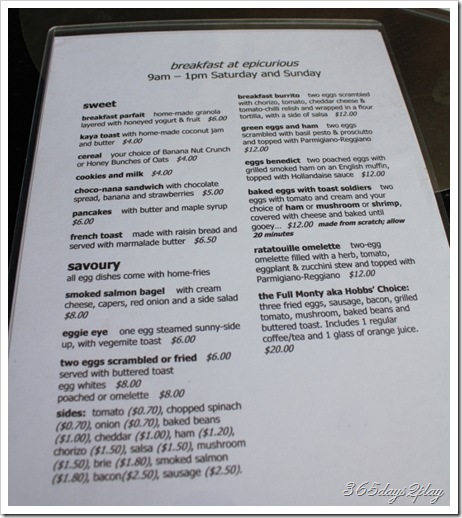 Scrambled Eggs with bacon, sausages and tomatoes.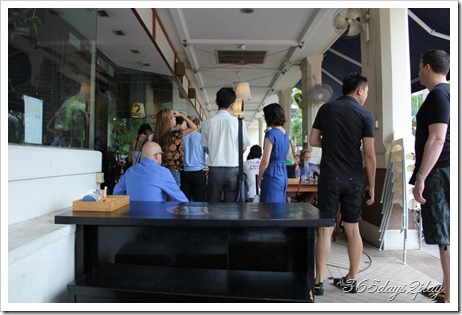 Sunny side up. The REAL way to eat eggs!
Read about my 1st visit to Epicurious.
Epicurious at The Quayside
#01-02 The Quayside, Robertson Quay
Tel: 6734-7720
Lunch
11:30am to 2:30pm, Tuesday—Friday
Dinner
5:30pm to 10pm, Tuesday—Sunday
Brunch
9am to 4pm, Saturday & Sunday