When you think of what to do at Sentosa, you think of the sun, the sand and the sea. Yes there are plenty of beach activities to enjoy at Sentosa, but there are also quite a number of luxury and relaxation options too. One such option is to have afternoon tea at the new W Hotel on the Western side of Sentosa.
Of course, afternoon tea options are aplenty too on mainland Singapore, but you will see that W Hotel Singapore's W T Time aka Drop the Ts presents many small surprises. Chef Matthew Woolford has taken care to put in creative touches such starting with the whimsical use of the birdcage to house the sweet items. We are told the inspiration stems from days of yesteryear where people would bring their songbird cages to the park. I believe you can still find that happening in parts of Chinatown.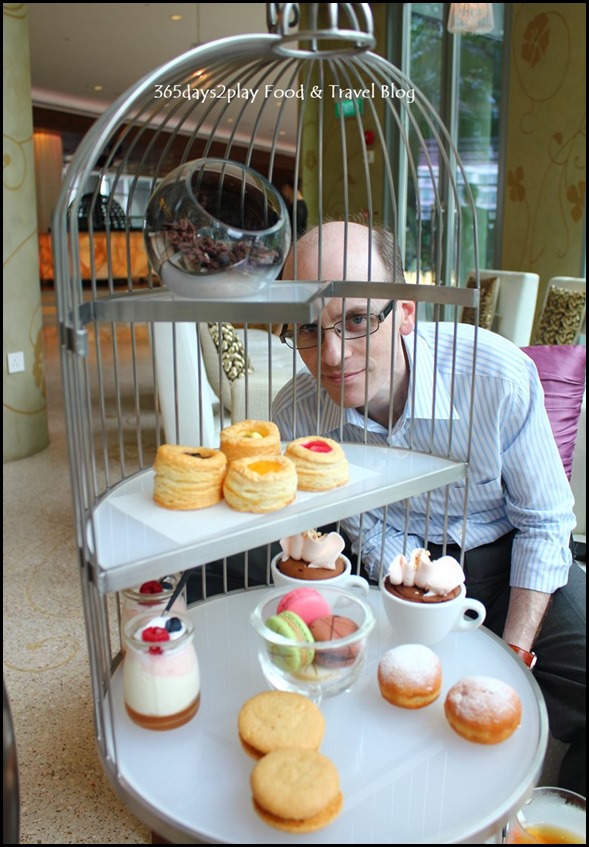 Well there's all the sweet treats laid out on an open birdcage. Don't mind the Partner there photo-bombing my photo.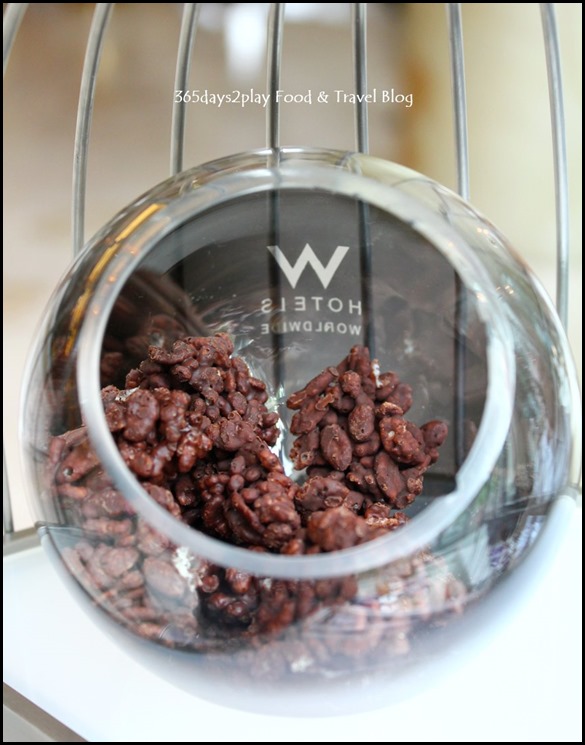 Starting from the top, you have nibbles in the form of chocolate crackles. Second tier comprises of W Crones with Pastry Cream. Four flavours to choose from : Passion fruit Butter, Marmalade, Strawberry and Blackberry Preserves.
In the bottom tier, check out the chocolate cupcakes with orange cream and nougat. Cupcakes, cakes in a cup. Gettit? Followed by bambolini orange pekoe infused lemon curd ball, almond whoopie cookie sandwich, and finally fresh berry trifle shots with silver tip white tea jelly. Oh, and how could I forget the macarons, the piece de la resistance for many a lady?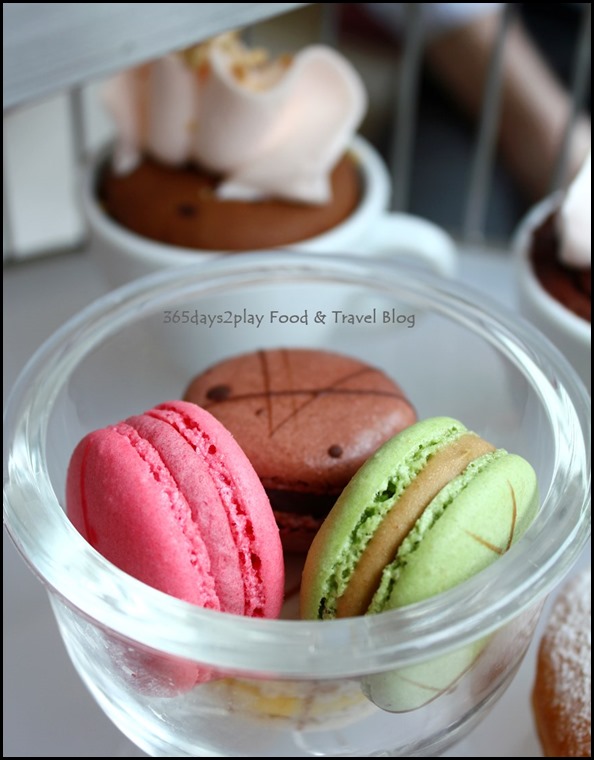 My personal favourites were the berry trifle shots and the macarons. Didn't quite fancy the W Crones though, would have preferred the traditional scones and clotted cream. As much as we all crave for innovation, there are key elements that must never be rocked.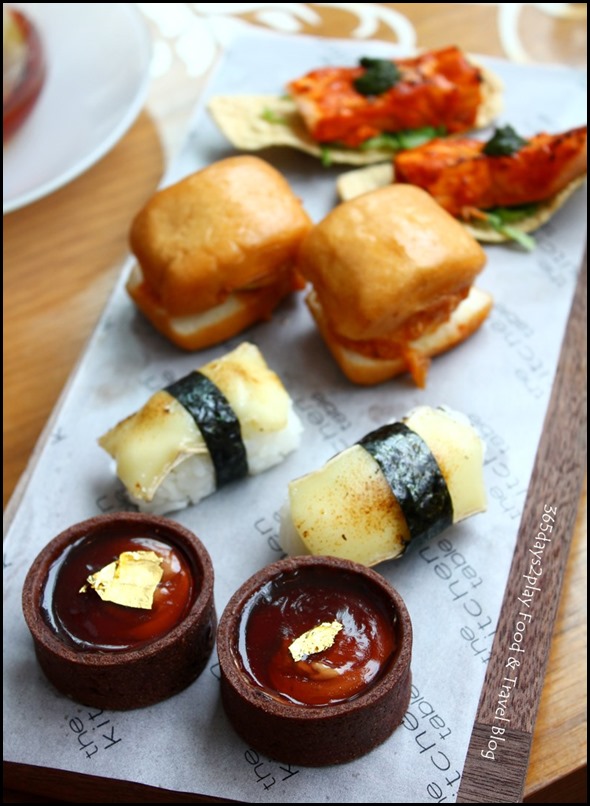 Personally, I think the highlight of the afternoon tea at W Singapore has got to be in the savoury items. A picture speaks a thousand words, wouldn't you agree that the savoury nibbles above just whets the appetite? The savoury items were all very well executed both in terms of creativity and taste, and I really wish there were more of the savouries to savour!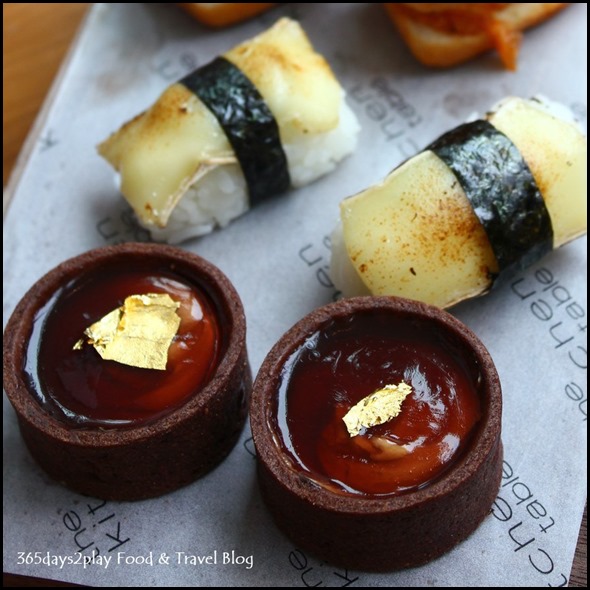 Chocolate Foie Gras Ganache Port Wine and Gold Leaf, Torched Double Brie Pickled Cucumber Nigiri
Closer look at the Chocolate Foie Gras Ganache in port wine and gold leaf. Yes you heard me right, foie gras mixed with chocolate. Surprisingly, so good! The foie gras mousse was slightly sweetened with the port wine, and the chocolate tart casing was crisp and such a delight to eat. I could have downed a few more of these. The brie sushi was a delightful twist to what we are usually used to, don't mind having more of those either.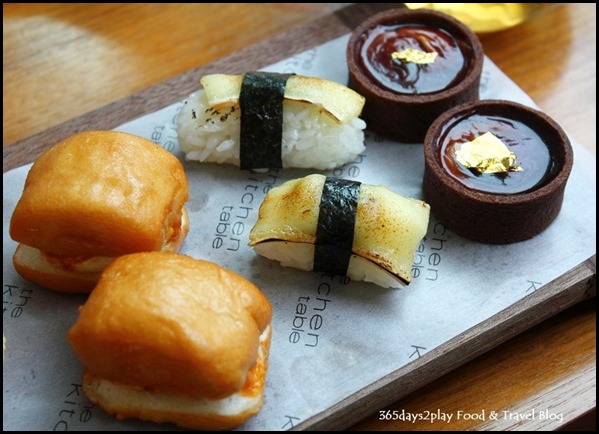 Crab mantou was so so. It had much promise as the crab filling was punchy and delicious, but there was too little filling for the amount of mantou it had to cover.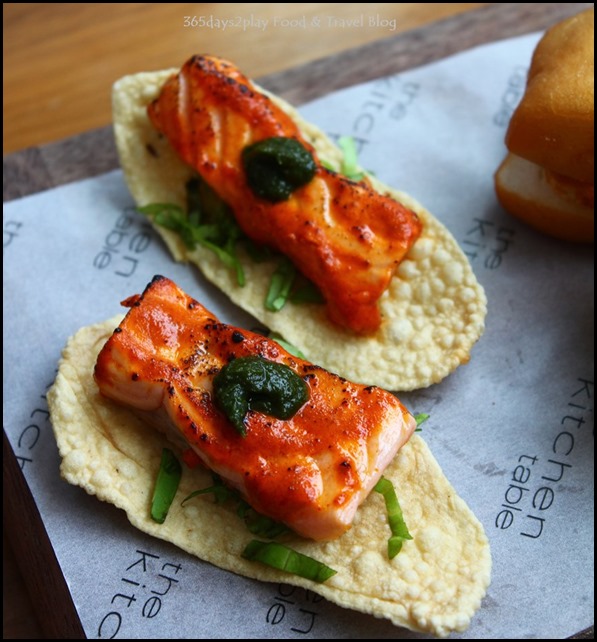 The Tikka Inspired Salmon Mint and Spiced Papadum was also a winner. Usually don't find Indian inspired dishes as part of an afternoon tea set, but it works!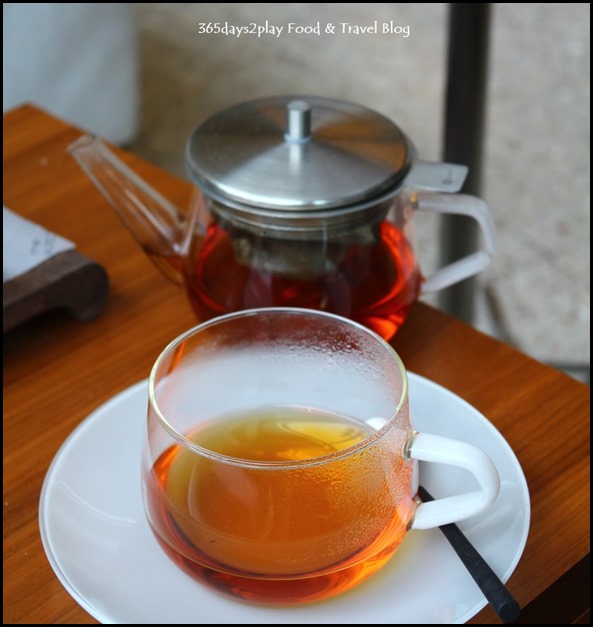 Let's not forget that afternoon tea comes with tea. The tea brand used here is Dilmah 2014 seasonal flush.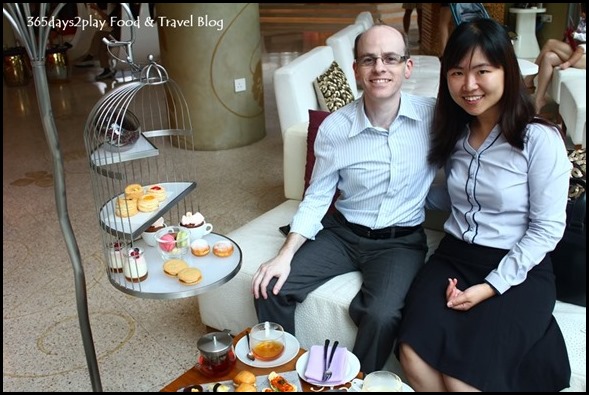 Me with the Partner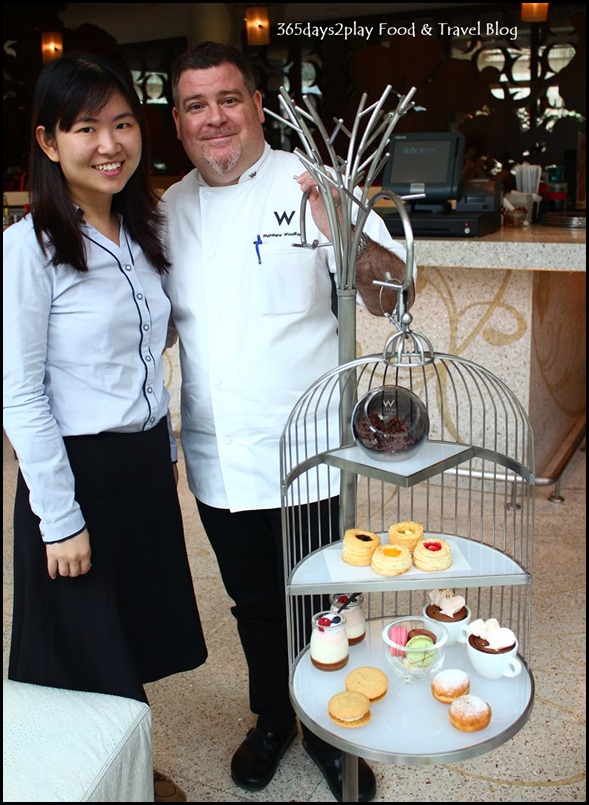 Me with Chef Matthew Woolford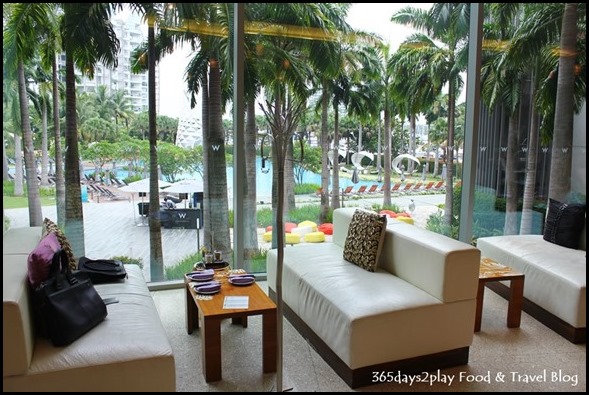 Nice view of the humongous swimming pool at the W Singapore. I heard it is one of the largest hotel pools in Singapore, and one Sunday each month, there is a pool party that is open even to non-guests of the hotel for about $45.
---
Add me on Facebook, Instagram and Twitter if you want to be kept up to date with the latest happenings in the food and lifestyle scene in Singapore! 
Check out other places in Singapore to have afternoon tea
---
W Singapore Sentosa Cove
21 Ocean Way, Sentosa, Singapore 098374
W T TIME / DROP THE T² Daily 15:00 – 17:00
Weekday
SGD58++ per cage/2 persons
SGD98++ per cage inclusive of a half bottle of champagne serves two 
Weekend and Public Holidays
SGD68++ per cage/2 persons
SGD108++ per cage inclusive of a half bottle of champagne serves two
Reserve a cage
Book your table online on spg.com/restaurantsandbars
+65 6808 7258
woobar.singapore@whotels.com