Corner House, the restaurant that has taken over the previous Au Jardin's location, is finally open! As much as I was sad to see Les Amis' Au Jardin go, I am happy to report that the colonial building that sites Corner House will once again be bustling with diners.
I was fortunate to be able to partake in Corner House's grand opening due to a last minute turn of events. Hadn't even brought my bag along with me actually! Nor my usual trusty DSLR. These pictures are all taken with my iPhone 4!!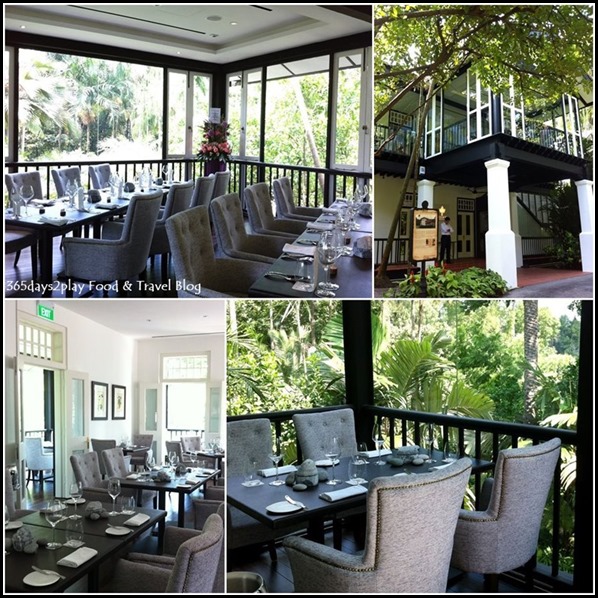 This conservation building, the residence of the former assistant director E.J.H. Corner of the Singapore Botanic Gardens now houses the Corner House restaurant. While we won't have the luxury of living in this building like E.J.H Corner, wouldn't you agree that dining in this history steeped building amidst lush greenery might be the next best thing? You will be able to see some black and white photos of this former residence hung around the restaurant.
Corner House serves fine-dining French cuisine with strong elements of gastro-botanica. You will see that the the herbs and vegetables that make up your meal are given equal emphasis as with the meats and seafood.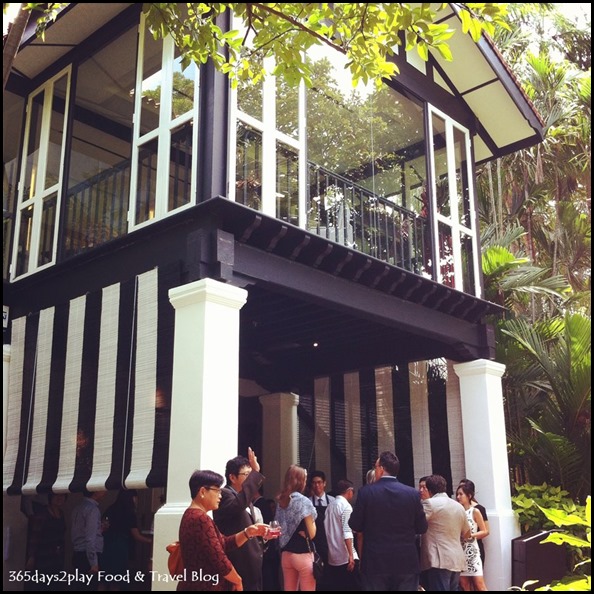 Guests arriving and milling around on the opening day of Corner House prior to the arrival of guest of honour Professor Tommy Koh.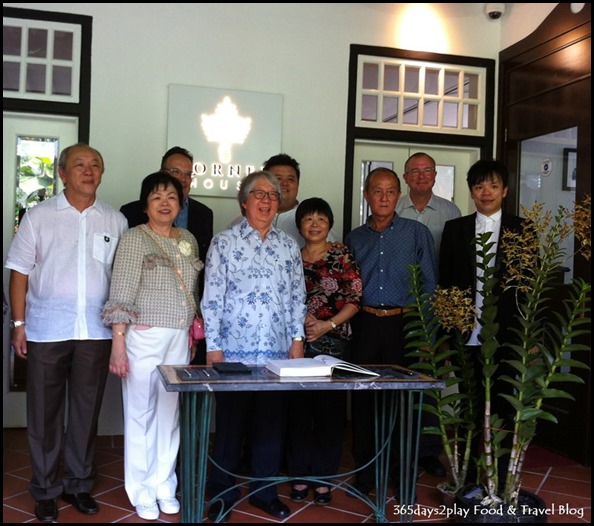 Corner House is co-owned by both Mr Renny Heng (far right) as well as Chef Jason Tan (standing behind Professor Tommy Koh). Both Renny and Jason's parents are in the picture too. They must be really proud of their sons. Even Julien Bompard is in the picture, as he is Chef Jason's mentor.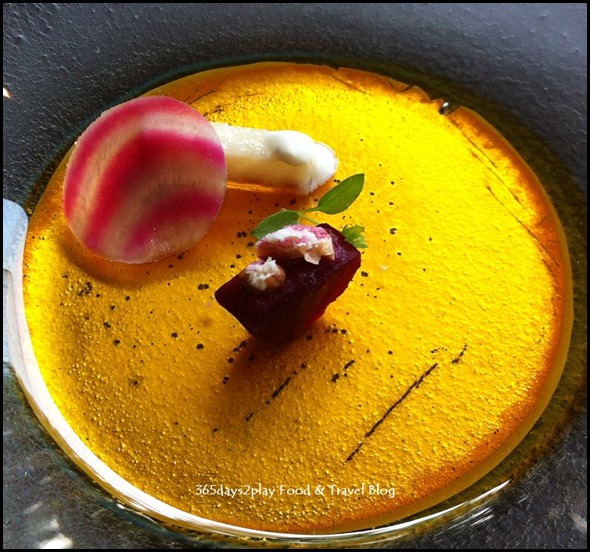 This was the amuse bouche served before the start of the meal, comprising of beetroot. I'm afraid I can't quite recall the full treatment of the beetroot as you can imagine that it disappeared quite quickly.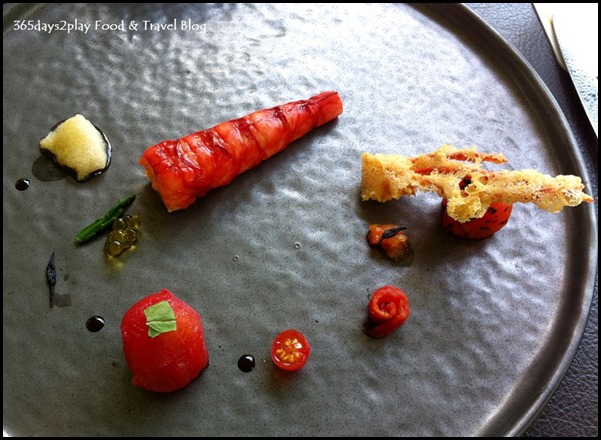 Carabinero Prawn with variation of best season tomato, vintage sherry
For our 1st course, you can already witness Chef Jason's creativity in dishing up the humble tomato in numerous forms. The little white spongy thing on the left of the picture is tomato as well, yes I kid you not. How this "tomato cloud" came to be in sponge form is utterly beyond me (some molecular gastronomy thingy going on no doubt), but I was told it was left to drip overnight to retain its natural essence.
The carabinero prawn, with its distinctive red colour was of course succulent and sweet. Check out the prawn whiskers that have been dehydrated and deep fried to a crisp. What a wonderful way to ensure all parts of the prawn does not go to waste!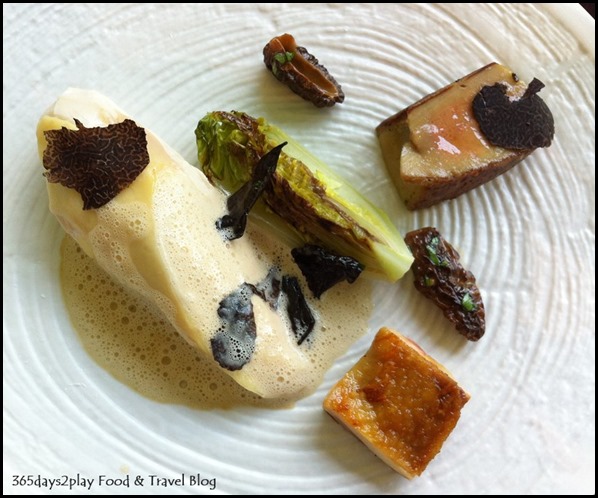 Free-Range Chicken with Surf & Turf Sauce, foie gras, romaine lettuce, Manjimup black truffle, morel
This was the main course, and a memorable one for me. If you know me, I would not be caught ordering chicken breast. 99% of the time, no matter how well it's prepared or marinated, it will still be tough and tasteless to me. I have to admit, this is probably the nicest and most tender chicken breast I have ever eaten! The rich surf & turf broth with elements from sea and land also added to the flavours. I finished the entire chicken breast before even moving on to the chicken thigh, the square piece you see there. Foie gras as also very nicely prepared, with a crispy exterior, and creamy insides.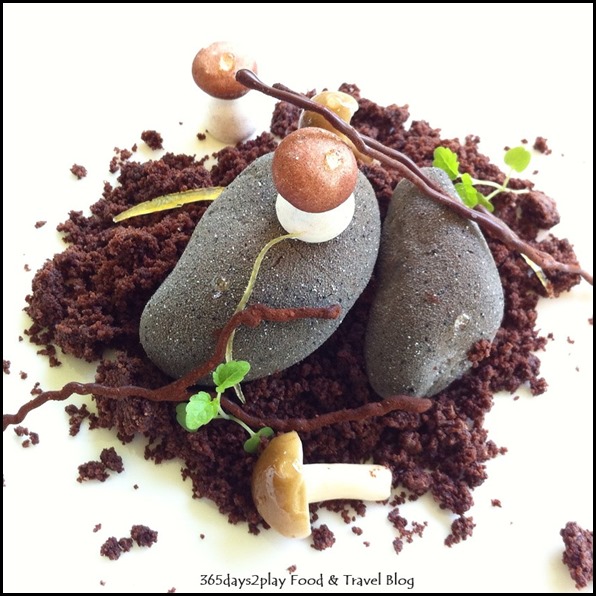 Cocoa Pebble with Alpaco, mandarin, shimeiji
The dessert was a head turner at our table, with more than one person proclaiming it to be too good to eat! Those pebbles sure do look real. If only all pebbles could be eaten like this! The pebbles were in fact ice cream in 3 layers, with the exterior being a chocolaty one, enveloping two fruitier layers. A dessert that would please both chocolate lovers or fruit lovers. Enjoyed the cocoa soil too which had an intense chocolaty flavour. I could imagine myself having a bowl of this and just chomping away on it.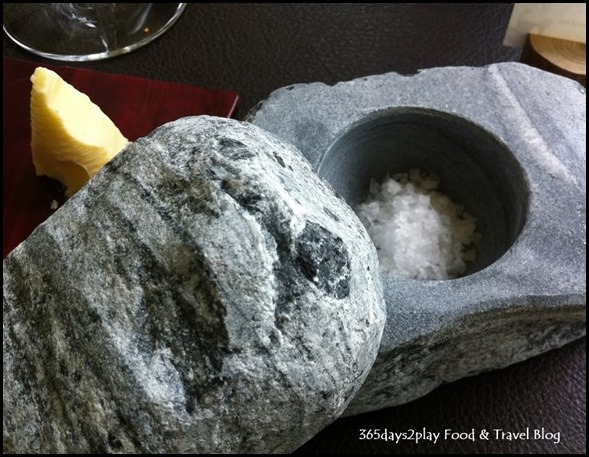 Check out the pretty salt holder made from stone. That thing is so heavy you might mistaken it for a centrepiece. Not such a convenient thing to have at your table should your lunch conversation get heated….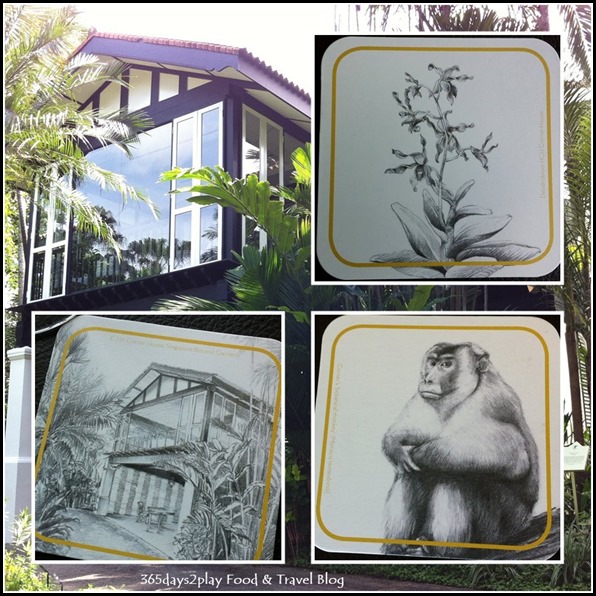 Lovely coasters specially designed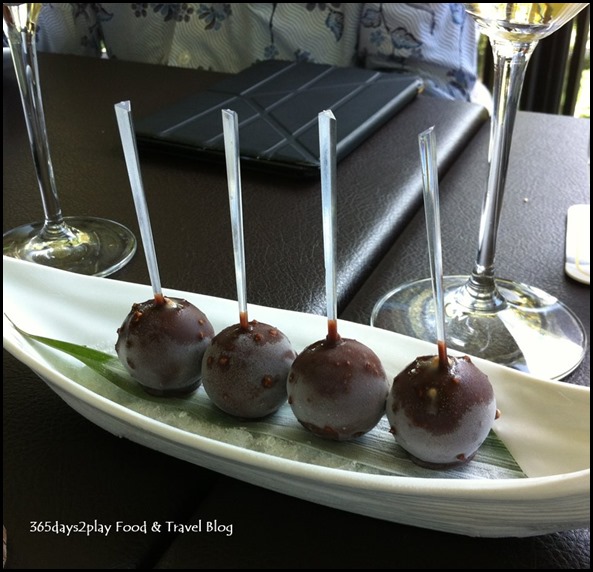 Ice cream petit fours to end off the meal! If you have sensitive teeth, don't pop the entire thing into your mouth! I learnt the hard way! And eat it quickly too instead of taking 10 pictures of it, as the ice cream inside starts melting fairly quickly!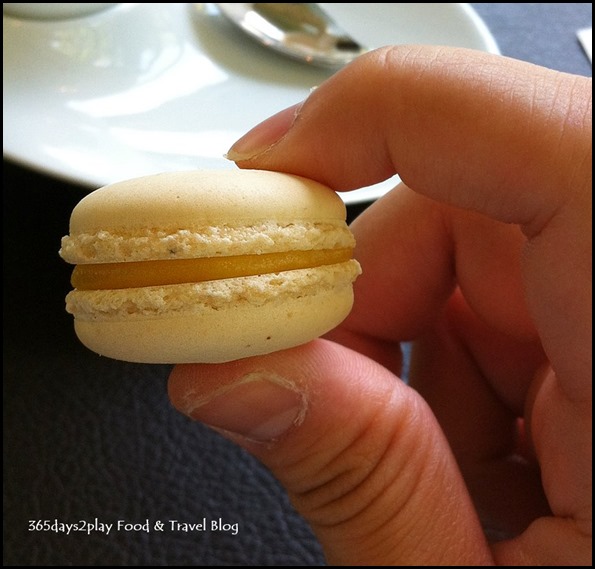 Macarons as part of the petit fours too. This is liu sha bao macaron, aka salted egg custard macaron. Once you've had this, you'll never look at macarons the same way again! Who would have known that a salted egg cream would go so well in a macaron? Not a sugar overload for once.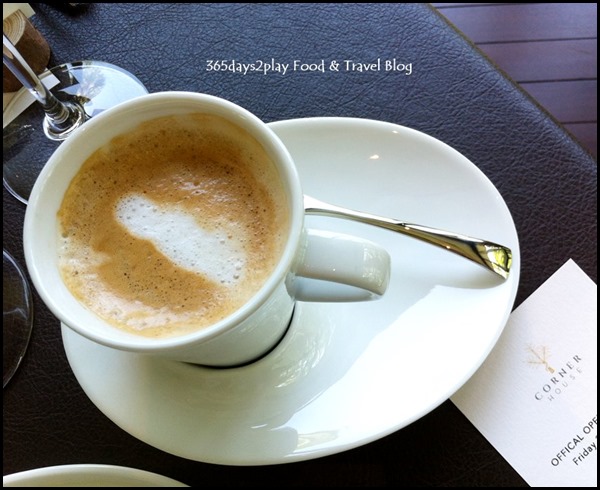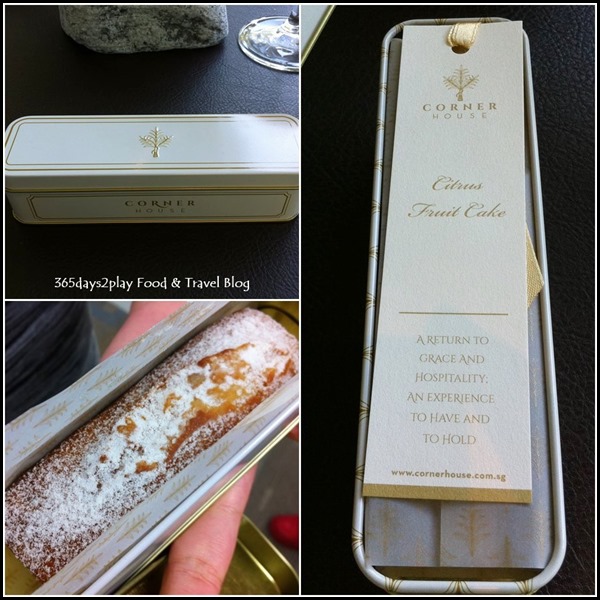 And lastly, a little gift from Corner House to bid us adieu. I'm sure all the ladies would love this, from the gift box to the elegant bookmark and the tasty treat to savour back home.
A return to grace and hospitality. An experience to have and to hold. A befitting statement for Corner House at the Singapore Botanic Gardens.
---
Add me on Facebook, Instagram and Twitter if you want to be kept up to date with the latest happenings in the food and lifestyle scene in Singapore! 
Other places to eat at the Singapore Botanic Gardens
---
Corner House
1 Cluny Road , E J H Corner House, Singapore Botanic Gardens (Nassim Gate) | Singapore 259569
T: +65 6469 1000 | F: +65 6469 0136 | enquiries@cornerhouse.com.sg