I guarantee you, this will be the most intriguing Yu Sheng that you will see this year. No there ain't heaps of lobsters, crabs, abalones, uni or other manner of seafood. In fact, this Yusheng has no raw fish in it! If this isn't the most creative Yu Sheng for 2015, I don't know what is! But to keep you in suspense, here's a picture of some of Antoinette's Chinese New Year goodies. You'll have to go below the fold to see the picture of the Yu Sheng I'm talking about.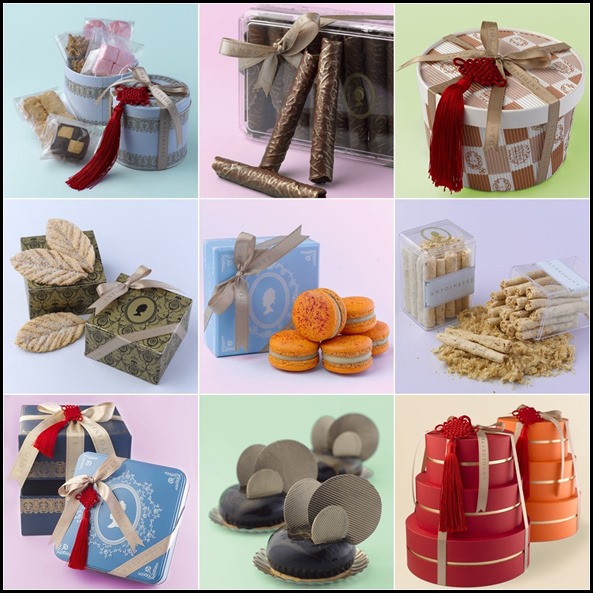 Inspired by Chinese traditions and local flavours, Executive Chef Pang Kok Keong has created a range of Chinese New Year confectionery and specialty cakes to delight the senses. If you want to please the in-laws or relatives, I'm sure these exquisite looking packaging and morsels will be the talking point of your CNY visit.
I particularly love the Chocolate Love Letters which are enrobed in Valrhona caraibe 66% dark chocolate and dusted with gold prosperity dust to bring wishes of wealth and fortune. Love Letters are a must have for me during CNY, and it's really double decadence with the chocolate on it. Pretty good value too considering that it's Valrhona, and considering how much Royce charges for their chocolate coated chips.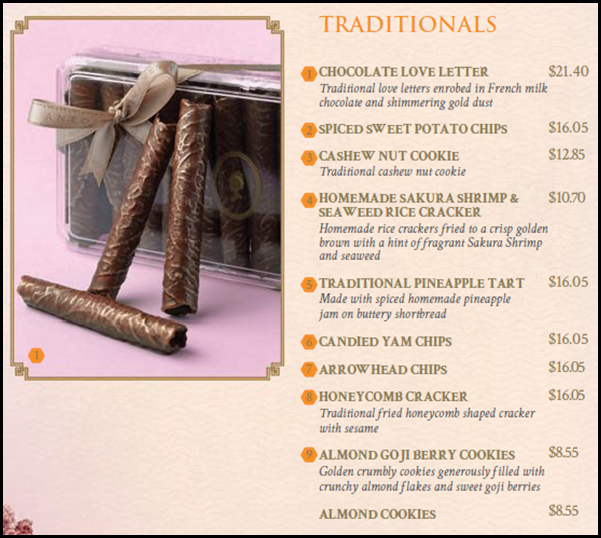 The homemade Sakura Shrimp & Seaweed Rice Cracker is also very moreish. It's the type of thing where you can finish the entire box if you're not careful and busy talking to the relatives!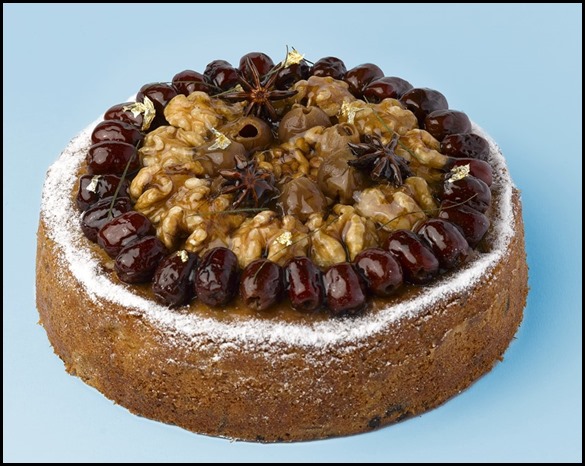 Have you heard of 8 treasures tea, aka ba bao cha, that used to be drunk by royalty? Well here's a cake version, the Eight Treasures Cake. It's a rich butter cake infused with flavours of 8 treasures, ie red dates, roasted pine nuts, dried longan, candied ginger, kaffir lime leaves, walnuts, goji berries, tangerine peel and spices.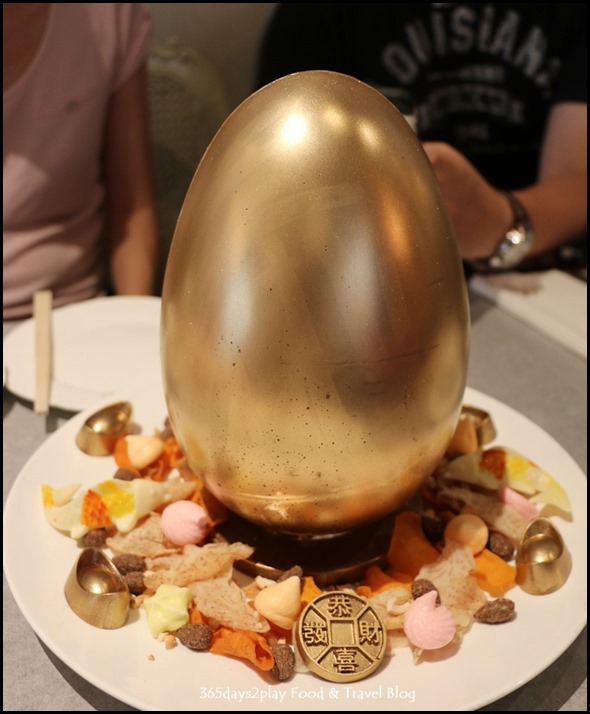 Ok and here's the Yu Sheng I was talking about, the Antoinette's Queen Yu Sheng! I kid you not, and much thought has gone into the creation of this Yu Sheng This large chocolate Golden Egg symbolises birth and renewal. There are auspicious sweets such as chocolate fish, ingots and coins, 5-spiced almonds and cashews, mandarin orange butter cake and meringue kisses. You use a wooden hammer to smash the Chocolate Egg, where out pours a "birth" of Asian fresh fruit. Finally, a mandarin orange, plum and gula melaka dressing is poured on the mix, the dressing symbolic of "10,000 times of profit" and smooth journeying.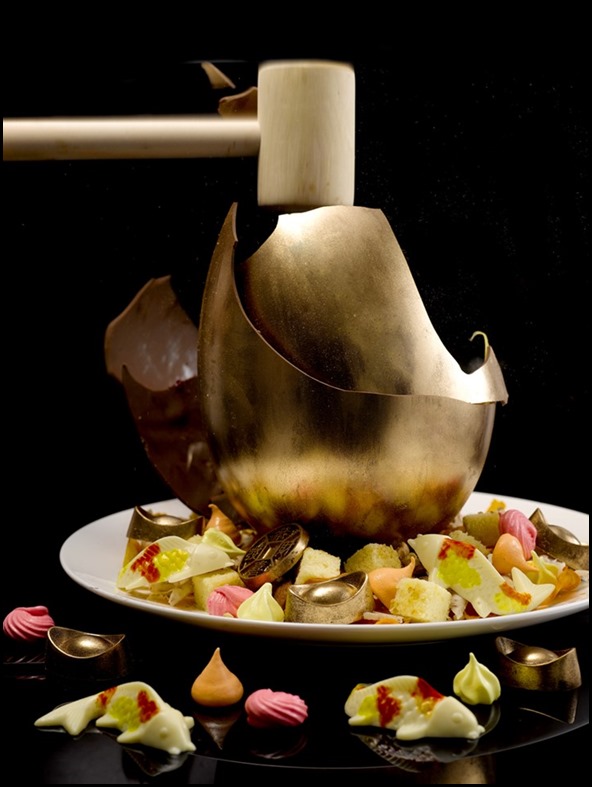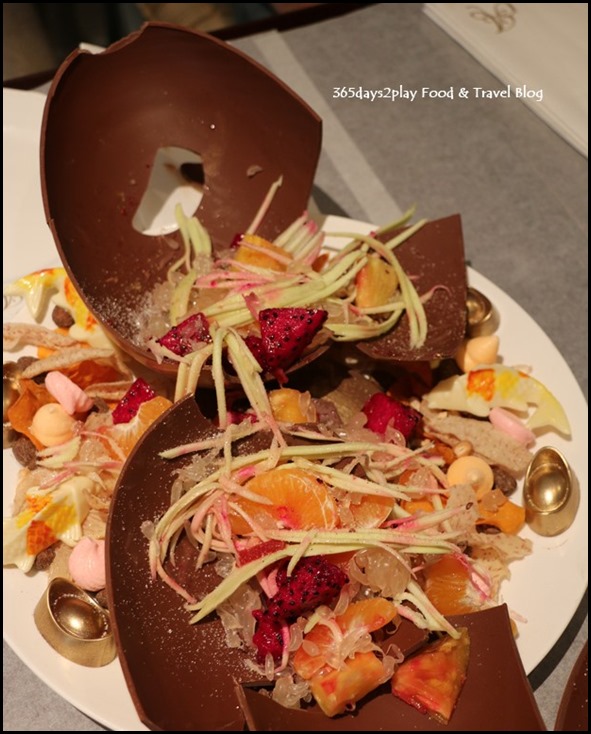 Pineapple, Thai green mango, red dragon fruit, pomelo are all diced and shredded just before serving to preserve its dewy freshness. Let the tossing commence! Huat ah!!
Just in case you were wondering how this Yusheng came to be in an egg form and fishless, it's because Chef Pang has always felt sorry for his 2 beautiful daughters who couldn't join the lo hei' because they were too young to stomach raw fish. And now with the third little one just born, the pressure was on. So the thought came to the Chef: "Why not make a Yu Sheng of dessert and confectionery, to be eaten as a sweet ending to the Chinese New Year meal?" The young and old could then enjoy it; it would contain the same well-loved symbols of fortune and prosperity and make a wonderful gift to his fellow citizens on Singapore's 50th year of independence.
The Queen's Yu Sheng is available for dine-in and take-away from 9 February until 5 March 2015, and priced at $88++ each. It serves 6-8 persons. 1 day advance order (both dine-in and take-away) is required, and the Queen's Yu Sheng is only available at the Penhas Road outlet.
---
Add me on Facebook, Instagram and Twitter if you want to be kept up to date with the latest happenings in the food and lifestyle scene in Singapore! 
---
Antoinette at Penhas Road
Established since June 2011
Address 30 Penhas Road (off Lavender Street), Singapore 208188
Reservations Tel (65) 6293 3121
Operating Hours Monday to Thursday — 11am to 10pm (last order 9.30pm); Friday and eve
of public holiday — 11am to 11pm (last order 10.30pm); Saturday — 10am to 11pm (last order
10.30pm);
Sunday and public holiday — 10am to 10pm (last order 9.30pm)
View the entire Antoinette CNY Catalog here