This year, I have been trying to make it a point to actively check out new experiences instead of settling for the usual cafe hopping thing every weekend. So when PR Communications contacted me to check out Joe Labero's magic show, I keenly accepted. I still remember the awesome time I had a gazillion years ago when my aunt and uncle brought me as a kid to watch David Copperfield in Singapore. I was amazed with the reality defying tricks!
Of course, watching a magic show as an adult would be quite different, and I was keen to see how Joe Labero would perhaps stun me like vegetable (oops…). Besides, the show would be held at the Jubilee Hall, and I was quite keen to reminisce the last time I stepped in there, which was in secondary school for my school play!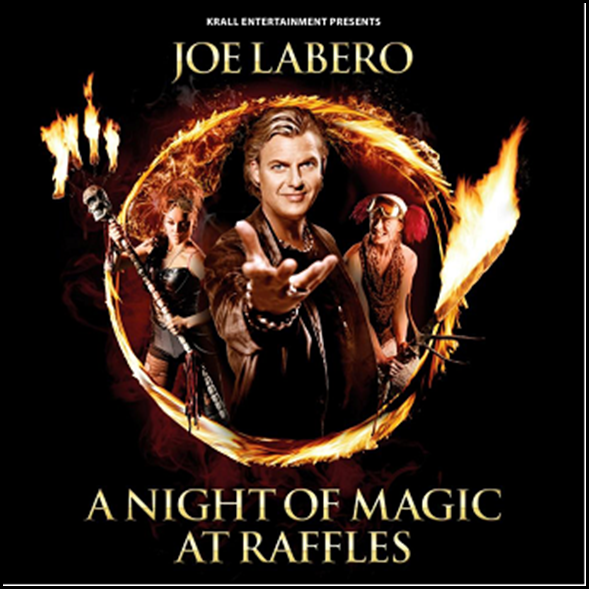 I can't show you any pictures of the show as you're not allowed to use any recording devices, but you can check out snippets from this youtube video clip.
Joe Labero's A Night of Magic at Raffles is on a more intimate scale due to the size of the theatre. As compared to viewing David Copperfield from afar at the Indoor Stadium, every seat at Jubilee Hall makes you feel like you are in the thick of the action. In fact, Joe Labero often gets off the stage to mingle with the crowd. And there are lots of hilarious opportunities for volunteers to participate in the magic. I had to sit low in my seat so as not to be hauled up onto stage. His two sidekicks "The Burnt Out Punks" are very funny too, especially Mr Animal. It surely must be a dangerous job rubbing all that fire all over the body!
Only one last weekend until May 3rd to catch Joe Labero in Singapore! Tickets can be bought online at Sistic. Don't forget the promo code "MAGIC" which gets you one for one tickets!