If you were wondering what happened to Joo Joo, the Kushiyaki outlet opened by the people from Awfully Chocolate, well that no longer exists. In its place now stands a brunch type place called Mooshi Bakes. Actually Mooshi Bakes existed long ago beside Joo Joo, and was bakery arm of the business. This new brunch cafe just shares the same name.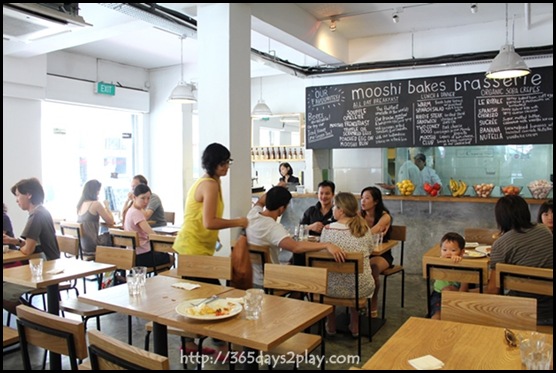 I'm quite glad that Joo Joo is gone because back then I thought the place was over priced for a casual non air-conditioned eatery. I'm quite glad that Mooshi Bakes has since realised the benefits of keeping their customers cool as well as keeping the noise from the roads out. Joo Chiat Road is literally 2 steps away from the front door! Other than the air-conditioning, the place looks pretty much the same. They've kept the same chairs and the black chalk board, more apt for a brunch place than a Japanese Kushiyaki place.

At first glance, the menu looks pretty enticing. They have the usual Big Breakfast, which they've named The Really Big Breakfast. That goes for $22 and is I believe the most expensive dish on the menu. The rest are not far though, with most going for about $16 – $18. I was torn between wanting to order the Really Big Breakfast and trying something more exotic like the Souffle Omelette. I'm greedy lah, I like the big breakfast because it comes with everything!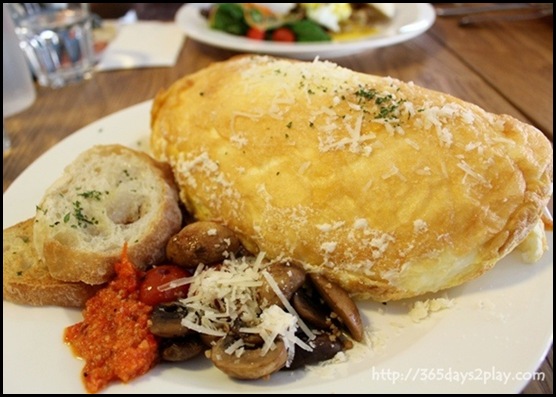 Soufflé Omelette with red cheddar and parmesan cheese sprinklings $18
Ok this Soufflé omelette is really a feast for the eyes. If you think it looks big here, it looks bigger in real life! It was really quite shocking when it arrived at the table. You know how it is when you order at Komalas, the puffy bread thingy which I don't know the name of that threatens to spill out of the plate? Well this gave me the same ginormous feeling.
The first few bites were fantastic. The outer layer was browned and had a somewhat crispy texture. Eating the insides was like eating cloud puffs of eggs. I think the omelette is really too enormous for 1 person. I don't think they used that many eggs, because egg whites can be whipped to many times their original volume, but I have no idea why I got so full so fast. It can get quite messy eating this though, as a lot of liquid leaks out from somewhere too. And if you're a yolk lover, there isn't too much of it.
On the whole, I think it's a really innovative dish but I'll stick to the more traditional eggs as I want my runny yolks. I definitely would consider ordering this to share amongst 3 or 4 people though, in addition to my perhaps smaller dish.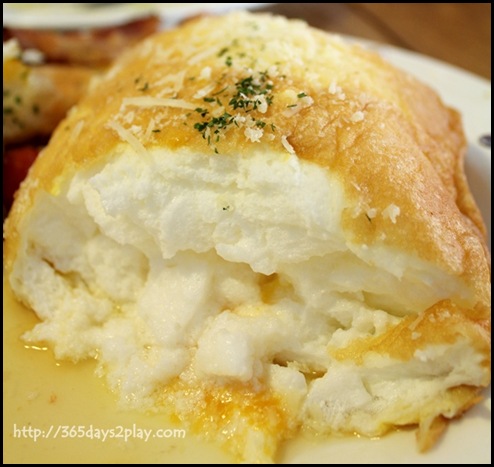 This is how the inside looks like, kinda like eating cooked egg froth.
Le Royale (Honey baked ham, mushrooms, soft egg, parmesan, cherry tomatoes on organic buckwheat pancake) $21
I ordered this for my mother as she too could not decide on a dish. Love the presentation of the dish. The 2 gleaming and wobbly egg yolks were so enticing to me that I kinda regretted not ordering this myself. Aside from the bacon, which was very crispy and tasty, I think this sounds like a pretty healthy dish. Organic Soba crepes, you don't get that quite often do you? As its made of buckwheat, it's not as smooth as the usual wheat crepes, but I don't think that's a big problem. Instead, it lends a nice nutty flavour with a nice bite. I didn't try the honey baked ham under the eggs but my mother said they were quite run of the mill and forgettable.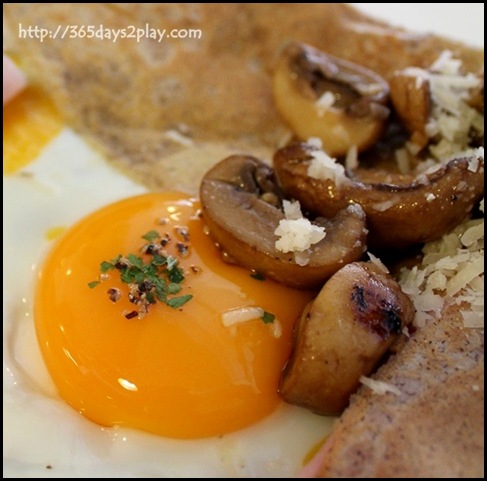 Egg yolks….the light of my life.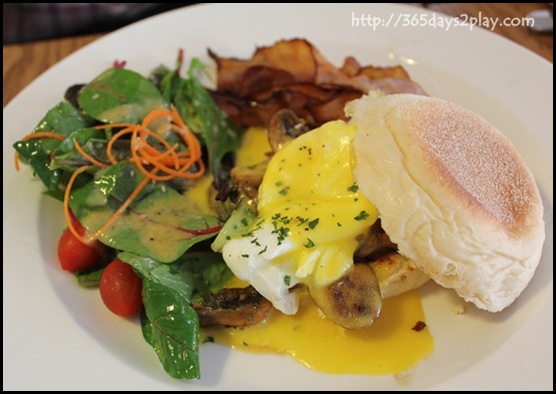 Mushroom Benedict (Poached egg tucked into fresh mooshi bun, sautéed mushrooms, homemade hollandaise sauce) $15
My father almost always orders eggs Benedict. Don't know why he does that. I've never been that big a fan of poached eggs, plus the hollandaise sauce really puts me off. My father said this was okay, average, nothing to shout about. He said his mushrooms reeked of oil that had an off flavour. And of the 4 of us, his dish was the least filling. And that was even after eating 1/4 of my egg soufflé!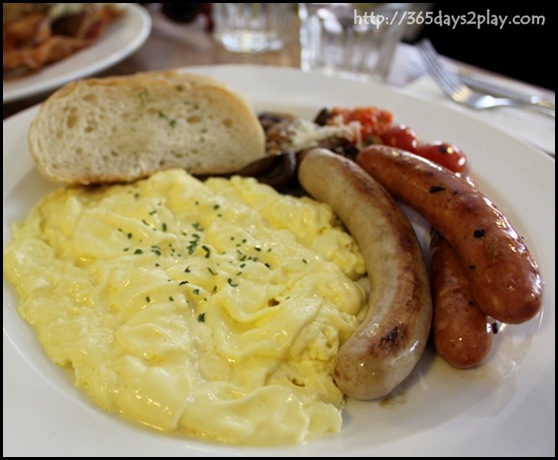 Truffle Oil Infused Scrambled Eggs, Sausages, Grilled Tomatoes, Handmade ciabatta $16
The Partner ordered this. When the eggs arrived, they had a kind of weird sheen to it, plus the ripples and folds on the egg looked somewhat different. It just seemed a little bit too smooth for scrambled eggs. It was probably due to the truffle oil, and boy did the truffle oil infusion hit you at first bite. It was very tasty at first, but towards the end, it got a bit cloying/jerlak. This dish does seem more value for money as there are THREE sausages. One of the sausages was a cheese sausage, the type that oozes little dribbles of cheese as you slice it. LOVE IT. The 2nd sausage was bland. Didn't try the 3rd sausage.
I believe all the breads were baked onsite at Mooshi  Bakes. Unfortunately, I didn't find the breads to be particularly astounding. They were just average tasting and the bread that came with my Souffle Omelette was hard as a rock.
I think Mooshi Bakes Brasserie is interesting enough for a 2nd visit, especially since I live in the East. I would love to try their other savoury crepes. There are a total of 7 savour crepe toppings to choose from. But I hope they get their oil right.
~~~~~~~~~~
Mooshi Bakes Brasserie (from the owners of Awfully Chocolate)
131 East Coast Road 428816 (Diagonal to 112 Katong Mall)
Mon – Thu:12:00 pm-10:00 pm  Fri:12:00 pm-1:00 am
Sat:10:00 am-1:00 am   Sun:10:00 am-10:00 pm